Florida Archive:



Friday, September 29, 2006
FL-16: Tell Mark Foley to Donate His Campaign Account to Charity
Posted by
James L.
After issuing a flurry of self-righteous, outraged denials last night, Mark Foley is resigning from Congress today after realizing that he won't be able to stop the full exposure of the extent of his inappropriate and predatory advances towards current and former Congressional pages under the age of 18. That a Congressman would abuse his position of authority to make predatory advances to 16-year-olds is one of the most shameful stains on political office imaginable. This requires more than a resignation: this requires atonement.
In the comments section, Democraticavenger points out that Mark Foley's campaign cash will likely find its way back into the National Republican Campaign Committee's coffers, much like how former CA-50 Rep. Duke Cunningham spread his campaign cash before he began his prison term. If Foley had any sense of remorse, or any sense of shame, he would surrender all $2.8 million of his cash-on-hand (Aug. 16 numbers) to charities for exploited children. The National Center for Missing & Exploited Children would be a great and obvious choice, but I'm sure that there are many other worthy charities for exploited children in Florida that Foley could contribute his campaign stash to, as well.
If you're from Florida, please use this tool to write Mark Foley or call him at one of the numbers listed below and demand that he apologize in a meaningful way by donating his political funds to children's charities. If you're not from Florida, please call his D.C. office and share the same sentiments.
Washington, DC
202-225-5792
202-225-3132 (fax)

Palm Beach County
561-627-6192
561-626-4749 (fax)

St. Lucie County
772-878-3181
772-871-0651 (fax)

Charlotte County
941-627-9100
941-627-9101 (fax)

Highlands County
863-471-1813
Posted at 04:50 PM in 2006 Elections - House, Florida | Comments (3) | TrackBack (0) | Technorati
FL-16: Foley Resigning! (headline updated)
Posted by
DavidNYC
This banner is up on CNN right now:
Republican Rep. Mark Foley of Florida will not run for reelection amid questions about e-mails he sent to a former Capitol Hill page, Republican sources say.
More news as it breaks. Let's hope this is accurate.
UPDATE: ABC's blog is reporting the same:
Congressman Mark Foley (R-FL) planned to resign today, hours after ABC questioned him about sexually explicit internet messages with current and former Congressional pages under the age of 18.

A spokesman for Foley, the chairman of the House Caucus on Missing and Exploited Children, said the congressman submitted his resignation in a letter late this afternoon to Speaker of the House Dennis Hastert.

Hours earlier, ABC News had read excerpts of instant messages provided by former pages who said the congressman, under the AOL Instant Messenger screen name Maf54, made repeated references to sexual organs and acts.
Check out that last graf. Wow.
UPDATE: So, what happens? Section 100.111(4)(a) of the Florida election code, courtesy Adam B.:
"In the event that death, resignation, withdrawal, removal, or any other cause or event should cause a party to have a vacancy in nomination which leaves no candidate for an office from such party, the Department of State shall notify the chair of the appropriate state, district, or county political party executive committee of such party; and, within 5 days, the chair shall call a meeting of his or her executive committee to consider designation of a nominee to fill the vacancy.

The name of any person so designated shall be submitted to the Department of State within 7 days after notice to the chair in order that the person designated may have his or her name on the ballot of the ensuing general election. If the name of the new nominee is submitted after the certification of results of the preceding primary election, however, the ballots shall not be changed and the former party nominee's name will appear on the ballot.

Any ballots cast for the former party nominee will be counted for the person designated by the political party to replace the former party nominee. If there is no opposition to the party nominee, the person designated by the political party to replace the former party nominee will be elected to office at the general election. For purposes of this paragraph, the term "district political party executive committee" means the members of the state executive committee of a political party from hose counties comprising the area involving a district office."
Posted at 03:12 PM in 2006 Elections - House, Florida | Comments (6) | TrackBack (0) | Technorati
Tuesday, September 05, 2006
Florida Primaries Open Thread
Posted by
DavidNYC
Several contested primaries are afoot tonight in Florida, on both sides of the aisle. We've got Gov for both parties, plus a number of House contests. Even poor Kathy Harris might actually win an election this year, if she managed to beat the no-names running against her tonight.
Full results are available here. Got any races in the Sunshine State that you're following?
Posted at 09:43 PM in 2006 Elections, Florida | Comments (8) | TrackBack (0) | Technorati
Wednesday, May 10, 2006
FL-Sen: Bense Not Running
Posted by
DavidNYC
Well whaddya know. Alan Bense just said today that he will NOT run for FL-Sen. I think I oughta stay out of the predictions business! Anyhow, I can certainly understand why Bense isn't interested. It's a seriously uphill fight, and he's got little name rec. All I can say now is, go Kathy Harris!
Posted at 02:39 PM in 2006 Elections - Senate, Florida | Comments (3) | TrackBack (0) | Technorati
Tuesday, May 09, 2006
FL-Sen: Friday's the Deadline
Posted by
DavidNYC
Friday is the deadline for Alan Bense to file for the Florida senate race. With talk like this coming from Gov. Jeb, it's just gotta happen, right?
Even if Bense does jump in, though, he's got a tough row to hoe. The CW says he'll need $20 million to have a shot in a big state like Florida. Sounds about right to me. And since Harris doesn't seem likely to drop out, he'll need to beat her and Bill Belson. Florida's got a very late primary (Sept. 5th), making that dual task even harder. Good luck with that.
Posted at 02:55 PM in 2006 Elections - Senate, Florida | Comments (4) | TrackBack (0) | Technorati
Friday, April 28, 2006
FL-Sen: My Spidey Sense Is Tingling
Posted by
DavidNYC
The other day, ye olde blogger DavidNYC said this:
Ten days left in the legislative session, but nineteen until the filing deadline. Something about Bense's phrasing - the fact that he allegedly refuses to look further than ten days into the future - makes me think he really is serious about jumping in.
Yesterday, ye olde Gouverneur of Florida said this:
Once again undercutting U.S. Senate candidate Katherine Harris, Gov. Jeb Bush said on Wednesday that House Speaker Allan Bense ``would be a great United States senator.''
Tingle, tingle.
(Thanks to Political Wire via McJoan.)
Posted at 03:03 PM in 2006 Elections - Senate, Florida | TrackBack (0) | Technorati
Tuesday, April 25, 2006
FL-Sen: Will Bense Jump In?
Posted by
DavidNYC
Every month or so, for the past half year, the Florida GOP has sworn up and down that the Republican senate nomination belongs to Kathy Harris alone. Whenever someone suggests that maybe this isn't such a great idea, they get smacked down. But now with Harris at levels not seen since the USS Maine sank to the bottom of the ocean, the tide may be turning.
Florida State House Speaker Alan Bense has long been a possible alternative to Harris. The St. Petersburg Times blog notes some rumblings from his quarter:
[Bense] called the idea of a challenge against the better-known Harris intriguing "because all my life I've loved a good challenge."

"I'm thinking about it," Bense said when asked what he tells members who quiz him about his plans. "I'm thinking about it but I'm focused on what I'm doing now."

With 19 days until the Senate candidate qualifying deadline, Bense would not directly say whether he would consider taking on Harris in the primary. "I really don't want to focus on that," he said. "We've got 10 days to go in the session."

Elaborating on his much-talked-about comment of last Friday when he said there was a "50-50" chance, Bense said he meant 50-50 "that I might do something else down the road. It wasn't the Senate race." (Bense is widely rumored to be on a long list of potential lieutenant governor candidates).
Ten days left in the legislative session, but nineteen until the filing deadline. Something about Bense's phrasing - the fact that he allegedly refuses to look further than ten days into the future - makes me think he really is serious about jumping in. If he does, our biggest risk is that Harris drops out. But if there's a competitive primary, that might not be such a bad thing, considering that Florida's primary is not until Sept. 5th.
Posted at 09:33 AM in 2006 Elections - Senate, Florida | Comments (1) | TrackBack (0) | Technorati
Wednesday, March 15, 2006
Dropout News Roundup
Posted by
DavidNYC
There are two media events going on today in races swirling with confusion. One is taking place as we speak: Elton Gallegly is conducting a press conference right here in DC. We should hopefully get press reports back soon.
The other takes place at 9 o'clock tonight, when Kathy Harris seeks the warm, lickspittle embrace of Sean Hannity to announce her future plans. The rumour du jour is that she will resign from the House to focus only on her Senate race. Personally, I wonder why more people don't do this - after all, it's not like she gets to keep her House seat if she loses the Senate race. But doing so might also require a special election (something I haven't looked into yet).
In other dropout-related news, Markos points to this short note at the Hotline blog which says that Conrad Burns just hired a political director - not the sort of move someone on the verge of dropping out tends to make.
UPDATE: Gallegly will indeed run again. I still say he bails shortly after winning, forcing a special election. We should be ready for that eventuality. What Dems in the area might make strong candidates?
UPDATE: Harris is staying in, too. Haven't heard anything about her resigning from the House, though.
Posted at 04:20 PM in 2006 Elections - House, 2006 Elections - Senate, California, Florida, Montana | Comments (11) | TrackBack (0) | Technorati
Monday, March 06, 2006
FL-Sen: Time to Start a Dead Pool
Posted by
DavidNYC
Go read this post on Kathy Harris over at Kos. Then come back here and tell me it isn't time to start a political dead pool. But I'm not in the least bit happy at this development - I've long been rooting for this kind of thing not to happen. If Harris goes, someone with a lot less baggage (like FL state House Speaker) Alan Bense will jump in. Florida's filing deadline isn't until May 12th, so a lot could happen before then.
Posted at 11:40 PM in 2006 Elections - Senate, Florida | Comments (6) | TrackBack (0) | Technorati
Thursday, February 23, 2006
FL-Sen: Second Finance Director Bails on Harris
Posted by
DavidNYC
Kathy Harris' second finance director quits - and just when things were looking up:
Just as her wobbly campaign for the Senate appeared to be steadying itself, Katherine Harris lost her finance director.

Mike Miller, a veteran Republican fundraiser, resigned Friday. He is the second finance director to leave the Harris campaign since she started running to unseat Democratic Sen. Bill Nelson, but Miller said his departure is purely for personal reasons.
Personal reasons - or was he pushed out?
In December, Harris hired Anne Dunsmore and her California company, Capital Campaigns, to lead a national fundraising effort.

"We're thankful for all Mike has done, but Anne is setting up her own team, her own structure," said campaign spokeswoman Morgan Dobbs, who, like Miller, downplayed his departure.
Now that's interesting. In fact, I think I'm seeing a pattern here. In MD-Sen, the national boys march in and instantly cause turmoil, leading to the departure of several local hands. Is the same thing going on here? What I'm sensing is that as the DC-based GOP leadership grows more and more nervous about its election prospects this year, it marches in the infamous "outside consultants" into races which are looking bad. It's a sign of desperation, and it also hasn't been working out very well.
In any event, it's pretty sad-sack that Harris has to hire someone from out-of-state to run her anemic fundraising operation. It certainly opens her up to the easy charge that ordinary Floridians don't want to donate to her. Meanwhile, Bill Nelson has raised the third-most ($7.5M) of anyone seeking election to the Senate, behind only Clinton and Santorum. Plus, he's got $8M cash-on-hand, while Harris has just $1M.
Posted at 02:17 PM in 2006 Elections - Senate, Florida | Comments (2) | TrackBack (0) | Technorati
Tuesday, February 14, 2006
FL-Sen: Harris Makes Up Ground
Posted by
DavidNYC
A new poll from Rasmussen (likely voters, Jan. in parens):
Nelson: 49 (54)
Harris: 40 (31)
(MoE: ±4.5%)
Now, that's a monster leap. Harris went from being down 23 points to being down just 9 in one month. Rasmussen's explanation is that the GOP has stopped trying to push Harris from the race and that big-timers (like Jeb) are backing her. But man, that's just way too much inside baseball - who even pays attention to that kind of crap (except us) this far out? I refuse to believe this kind of thing is responsible for a 14-point swing. (The one bit of bright news is that Nelson leads among independents, 64-18.)
When you have situations like this, you're always left with the same question: Which poll was out of whack? Without a third month's worth of data, we can't know. (I'm pretty sure the January poll was Rasmussen's first on FL-Sen.) If this newest poll is accurate, though, then this worries me. Nelson is still the favorite, but I was hoping we wouldn't have a serious fight on our hands here.
Posted at 02:45 PM in 2006 Elections - Senate, Florida | Comments (12) | TrackBack (0) | Technorati
Tuesday, December 20, 2005
FL-05: How About a Comeback for Karen Thurman?
Posted by
DavidNYC
In the past few weeks, I've written a bit about House race comebacks (see here and here). I think that 2006 is definitely the year for any Democrat who ever lost or retired prematurely to get back in the game. You'll have the wind at your backs, an energized base, a crumbling president whose entire administration is in disarray, and a powerful, ready-made issue (government ethics) that can be deployed in almost any district. This is the time to jump back in.
In that vein, here's a name I'd like to toss at ya: Karen Thurman. Thurman represented Florida's 5th CD for a decade, first winning her seat in 1992. In 2002, however, she became an unfortunate victim of redistricting, as FL-05 was re-drawn to be much more conservative. Nonetheless, Thurman lost the new FL-05 by only two points (48-46) to Republican Ginny Brown-Waite. After losing, Thurman did not sit idly by: Earlier this year, she became chair of the Florida Democratic Party. And according to Hotline (no link available), she's been doing a very solid job:
After a horrible year for the FL Dem Party, signs of improvement are showing. Ex-Rep. Karen Thurman as party chair has helped to reduce the debt and manage to raise $1M during the third quarter of the year - its best off-year posting since the days of Lawton Chiles' GOV tenure in '97. The party, under new exec. dir. Luis Navarro, has begun to consolidate the fundraising arms for its campaign cmtes, and is well on its way to establishing an early coordinated campaign plan for '06.
Of course, if she were to run for Congress again, she'd have to step down from her party chair post in the midst of a big election campaign (the state has both Gov and Senate races this year). But the FL Dems look like they're doing pretty well, and it would certainly be easier to replace her as chair than to find a candidate as strong as she would be in FL-05. The Almanac of American politics once described her as "a Democrat who has shown something like perfect political pitch." The Almanac also says she was known for her constituent services, so at the very least, she'd have strong name recognition in her old district.
Now, the cold bracing dose of reality: The district got a lot more Republican after the post-2000 census round of redistricting. In 1996, it went for Clinton 50-37 over Dole. In 2004, it went for Bush 58-41 over Kerry. By way of comparison, in 1994, the last big "tidal wave" type of year, only two Dem incumbents lost in districts that were as heavily Dem as FL-05 is pro-GOP. One was the scandal-embroiled Dan Rostenkowski in IL-05 (18% Clinton margin in 1992). The other was the ultra-liberal ("Let's grow our own weed") Dan Hamburg in CA-01 (17%). And the guy who beat Rostenkowski (Mike Flanagan) lost the very next time out, while the guy who beat Hamburg (Frank Riggs) retired two terms later. Both districts have since safely been in Democratic hands.
So yes, it's possible to win in such a lopsided district, but obviously, it's pretty rare. Brown-Waite would probably be more formidable than Rostenkowski or Hamburg - but she did take $20,000 from Tom DeLay's PAC, voted for the DeLay rule, and gave $1,000 to his legal defense fund. We could tie that around her neck pretty good.At the same time, Thurman would make for a much stronger challenger than either Flanagan or Riggs - quite possibly on a different plane altogether. With her deep connections throughout Florida politics, she could have an enormous amount of ready-made support.
The filing deadline is May 12th, so Thurman has plenty of time to decide. I should note that two Dems have already filed in the district: Vietnam vet and teacher Rick Penberthy and RN John Russell, who came in second in the Democratic primary for this seat in 2004. But I don't think it would be at all unfair to say that Thurman would make a stronger candidate.
So, what do you guys think? How does a Karen Thurman comeback in FL-05 sound?
Posted at 04:01 PM in 2006 Elections - House, Florida | Comments (17) | TrackBack (0) | Technorati
Monday, November 28, 2005
FL-Sen: No One Wants to Work for Harris
Posted by
DavidNYC
From the Herald Tribune of SW Florida:
In just under three years, U.S. Rep. Katherine Harris has had four chiefs of staff, four district directors and four press secretaries.

Harris has had to replace key people on her staff every nine months, a rate of staff turnover that far exceeds most of those in Congress.

On average, members of Congress hold onto their high-level staff for four to five years.

Turnover isn't limited to Harris' congressional office, either. As she prepares to run against Democratic Sen. Bill Nelson, Harris has been hampered by turnover on her campaign staff. Her campaign manager quit last week, after just a few months on the job and not long after she lost a pollster and a campaign finance director earlier this year.
Here's the thing that I'm just not getting: Katherine Harris is not stronger than the Florida GOP or the national GOP. I mean, that goes without saying. So why the hell is she still in the race? She obviously sucks, her poll numbers are weaker than Ken Mehlman's chin, and her staff is fleeing even faster than the entire roster of the Florida Marlins.
Like the team itself, Harris may soon be on her way out. At least, that's the only prediction that makes any sense to me. On the flipside, there is one nagging detail which may ensure her presence on the ballot through next November: the Bush clan's veneration of loyalty at all costs. Competence, accuracy, skillfulness, wisdom - none of these virtues matter to Team Bush - only loyalty does. And again, it goes without saying that George Bush has every reason to remain fiercely loyal to Katherine Harris, just as she was loyal to him.
If I'm right and they do "pull a Torricelli" on Harris, then Bill Nelson better be prepared for a much more serious fight against a much more formidable opponent.
Posted at 11:24 AM in 2006 Elections - Senate, Florida | Comments (2) | TrackBack (1) | Technorati
Tuesday, November 15, 2005
FL-Sen: About That Senate Race...
Posted by
DavidNYC
In case you were wondering why the Florida GOP is so desperate to replace Kathy Harris, wonder no more. Quinnipiac poll (registered voters, late Aug. in parens):
Nelson: 55 (57)
Harris: 31 (33)
Undecided: 12 (9)
(MoE: ±3.4%)
Couple of things. If Harris does fall on her sword, I think we might have a fight on our hands. Nelson's re-elect is only 37-33 (but obviously with a huge bunch of undecideds, 29%). And on partisanship scores, Nelson does well at 83-7 among Dems, but Harris trails badly at just 63-22 among Republicans. A more likeable GOP candidate would definitely improve on those numbers, and in a state where the edge goes narrowly to the Republicans, that would really tighten this race up.
On the flipside, Harris clearly has some kind of hardcore fanatic base of support. A hypothetical matchup between her and Rep. Mark Foley shows Harris leading 46-29. Quinnipiac didn't poll on Bense, but I think Harris could win a three-way or a head-to-head with Bense as well. We can't relax about this race, and we cerainly can't even get a little bit comfortable until after the candidate filing deadline. And even then, the FL GOP might try to pull a Torricelli. But if it's Nelson v. Harris 'til the bitter end, then we should be alright.
UPDATE: Whoa, check this out: Harris' campaign manager just quit. Maybe Harris will be next to quite. (Via Political Wire.)
Posted at 01:48 PM in 2006 Elections - Senate, Florida | Comments (8) | TrackBack (0) | Technorati
Monday, November 14, 2005
FL-Sen: Possible Republican Primary?
Posted by
DavidNYC
Via Political Wire:
Florida House Speaker Allan Bense (R) "is back on the political radar screen as a potential primary foe for Republican Katherine Harris," according to the Sarasota Herald-Tribune. After "rejecting overtures from" Florida Gov. Jeb Bush (R) and Sen. Elizabeth Dole (R-NC), Bense has "rekindled speculation that he may still be interested."

"First, Bense put out a press release stating his support of the nomination of Samuel Alito Jr. for the U.S. Supreme Court, something he didn't do for either of the two previous court nominations. Then last week, Bense refused to tell Tallahassee reporters that he definitely won't run when asked about the race."
Everyone knows that the FL GOP doesn't want Harris to run - her negatives are terrible, and she'll almost certainly lose to incumbent Democrat Bill Nelson. Since Harris has refused to step aside, if Bense gets in, I'd predict a nasty primary fight. Even if Bense wins a hypothetical primary, he'll be bruised.
Posted at 09:40 PM in 2006 Elections - Senate, Florida | TrackBack (0) | Technorati
Thursday, October 13, 2005
FL-Sen: Nelson (D) Crushes Harris (R)
Posted by
DavidNYC
Oh man. The Florida GOP, already pissed at Katherine "Cruella" Harris for not dropping out in favor of a less-hated candidate, must be really steamed now:
Nelson 3Q Amount Raised: > $2M
Harris 3Q Amount Raised: < $1M

Nelson Cash-on-Hand: $6.5M
Harris Cash-on-Hand: D/K
Less than 1 mil for Harris? Yeesh. Jim Pederson raised about three quarters of a mil in about three weeks - in a much smaller state. Harris clocks in at under a mil in the two months since she first officially announced. It's also nice to see Bill Nelson with so much scrilla in the bank. Makes me breathe a bit easier about this race, that's for sure.
Posted at 08:30 PM in 2006 Elections - Senate, Florida | Comments (3) | TrackBack (0) | Technorati
Wednesday, August 31, 2005
FL-Sen: Blowout
Posted by
Tim Tagaris
This is one we thought we were going to have to worry about a lot more than it looks like we do today. No wonder the GOP is trying so hard to replace Katherine Harris. The rout is on:
"If the election for United States Senator were being held today, and the candidates were Bill Nelson the Democrat and Katherine Harris the Republican for whom would you vote? (MoE +/- 2.8%)

Bill Nelson: 57% (50)
Katherine Harris: 33% (38)
No Answer/Don't Know: 9%
Wouldn't Vote: 1%

"Is your opinion of Bill Nelson favorable, unfavorable, mixed, or haven't you heard enough about him?"

Favorable: 35%
Unfavorable: 8%
Mixed: 24%
Haven't Heard Enough: 31%
Many fun internal numbers in the poll as well. Among those that know Nelson well enough to form an opinion, he is thought of as an honest leader who actually works for Floridians.
Posted at 11:22 AM in Florida | Technorati
Sunday, August 21, 2005
FL-Sen: Joe Scarborough Out; Katherine Harris to Lose
Posted by
Bob Brigham
Don't take my word for it, ask NRSC Chair Elizabeth Dole who has been working for weeks to get Joe Scarborough to run. But Scarborough decided to chicken out (probably didn't want to revisit the tale of his how his right to life platform might have conflicted with what happened to his intern). This is now a safe seat. The only question is how thoroughly Katherine Harris is trashed during the campaign (paybacks are a bitch).
Posted at 12:08 PM in 2006 Elections - Senate, Florida | Technorati
Tuesday, June 07, 2005
FL-Sen: Cruella De Vil for U.S. Senate
Posted by
Bob Brigham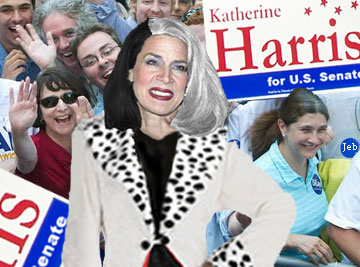 TALLAHASSEE -- Representative Cruella De Vil (FL-13), who was vilified for her role as Florida's secretary of state in the 2000 presidential voting scandal, said Tuesday she will run for the U.S. Senate next year against Senator Bill Nelson.

Her announcement brings a french-sounding nickname and the potential to waste substantial amount of money on a race Republicans had assumed they would lose.

"Those who called me 'czarina,' or 'Cruella de Vil' ... they still can't point to a single solitary thing that I did wrong," she said.
Posted at 07:53 PM in 2006 Elections - Senate, Florida | Technorati
Monday, May 09, 2005
FL-Gov: Attorney General Charlie Crist to Announce
Posted by
Bob Brigham
From the AP:
TALLAHASSEE, Fla. - The state attorney general plans to file paperwork this week to seek the Republican nomination for Florida governor, sources close to the attorney general said Sunday.

Charlie Crist, 48, would become the first Republican to announce formally his intention to replace Gov. Jeb Bush, who is limited to two terms.

Three sources close to Crist confirmed the decision on condition of anonymity. They said Crist planned to make a public announcement by midweek. [...]

Crist, a former state senator, unsuccessfully challenged incumbent Democrat Bob Graham for the U.S. Senate in 1998. He followed Gallagher as education commissioner in 2000 before winning the attorney general's race in 2002 when Gallagher became chief financial officer.
2006 Florida Gubernatorial Race Cattle Call:
Democrats
Congressman Jim Davis
Democratic Party Chairman Scott Maddox
State Senator Rod Smith
Republicans
Attorney General Charlie Crist
Chief Financial Officer Tom Gallagher
Lt. Governor Toni Jennings
Posted at 12:09 AM in Florida | Technorati
Thursday, April 07, 2005
Tom DeLay and Brian Darling
Posted by
Bob Brigham
Last night, MyDD's Jerome Armstrong exposed the link between former consigliere to Senator Mel Martinez, Brian Darling and Republican Majority Leader Tom Delay.
Now the Campaign for America's Future is demanding an explanation:
FOR IMMEDIATE RELEASE: THURSDAY, APR 7, 2005

CAMPAIGN FOR AMERICA'S FUTURE DEMANDS EXPLANATION OF TOM DELAY'S DARLING RELATIONSHIP

Majority Leader Connected to GOP Schiavo Strategy Memo Author

WASHINGTON – The Campaign for America's Future today challenged House Majority Leader Tom DeLay, R-Texas, to explain his relationship to corporate lobbyist Brian H. Darling. Darling is the author of the Republican strategy memo that said the personal tragedy of Terri Schiavo presents a "great political issue" for Republicans.

Rep. DeLay last month told the conservative Family Research Council that "God brought to us" the Terri Schiavo tragedy and linked it to a strategy to defend the conservative movement.

Darling worked for the Alexander Strategy Group, a Washington-based corporate lobbying firm heavily connected to Rep. DeLay. Darling's clients included Universal Bearing, Inc., a company owned by the Hanwha Group, which has direct ties to the foreign agent that paid for Rep. DeLay's improper trip to Korea. The Korea-U.S. Exchange Council was created to promote Hanwha Group Chairman Seung Youn Kim, according to the New York Times.

The Alexander Strategy Group was formed by Rep. DeLay's former Chief of Staff Ed Buckham, who also introduced Rep. DeLay to corporate lobbyist Jack Abramoff. Former DeLay aide Jim Ellis, who was indicted for money laundering, was a consultant to ASG. Former DeLay staffer Tony Rudy, former DeLay PAC director Karl Gallant, and Rep. DeLay's spouse, Christine DeLay, all worked for ASG.

The Campaign for America's Future last week launched a television and newspaper ad campaign to hold Rep. DeLay accountable, highlighting the controversy surrounding the House Majority Leader who is increasingly seen as a liability to his party.
The DeLay corruption appears to have infested the entire Republican Party. Every day we learn more and every day more Republicans are joining Senator Rick Santorum in being publically linked to DeLay. And things are just warming up...
Posted at 05:42 PM in 2006 Elections, 2006 Elections - House, 2006 Elections - Senate, Florida, Texas | Technorati
Brian Darling is only the fall guy
Posted by
Bob Brigham
Yes, Republican's wrote the Schiavo memo. Yes, the write wing bloggers (Powerline) have egg dripping off their long noses. Or was that egg on their keyboards. Yes, liberals won. Yes, the wingers wanted to make a big deal out of the memo and we should oblige.
But the one thing that is missing from the conversation is the fact that Senator Mel Martinez has a history of forcing staffers to take the fall for his decisions.
In fact, when Mel Martinez won, his blaming of staff was a major concern for the editorial board of the St. Petersburg Times (Nov. 4, 2004):
When challenged, Martinez was too eager to assign blame to his staff or to groups he said he couldn't control. As a senator, he will need an office and a staff that speaks with the measured and centrist tone he says will be his own. He can't pretend to be above it all if the people he employs are not.
In Florida it is even a running joke:
From Jim Defede, Miami Herald October 3, 2004 (B1):
In the hotly contested race for U.S. Senate, candidate Mel Martinez has stayed on the offensive, first against fellow Republican Bill McCollum and now against Democratic nominee Betty Castor. Since we expect more of the same in the final weeks leading to the Nov. 2 showdown, the following is how I imagine next week's strategy session will go between Martinez and his campaign staff.

Martinez:Good afternoon everyone. Where are we?

Staffer No. 1:Well, the polls are still very close. It's a dead heat between you and Betty Castor.

Martinez:OK, any ideas?

Staffer No. 2:We could try debating her on the issues.

Martinez: Issues! Are you crazy? No, what we need to do is slime her just like we did Bill McCollum in the primary.

Staffer No. 1:Are you sure you want to go negative, sir?

Martinez: Oh, I'm not going to go negative. You guys are. This week, Danny and Tom will issue statements suggesting the reason Castor supports stem cell research is because she has been diagnosed with Alzheimer's and that she is mentally incompetent to be a senator.

Staffer No. 2:Is that true, sir? Does she have Alzheimer's?

Martinez:Of course not. But once you guys say it, some nitwit's going to believe it. And if the media goes nuts and blasts us for being insensitive, I'll step in, act disgusted by your assertions and repudiate you as a couple of ''young turks.'' But even after I distance myself from your remarks, some people will still believe Castor is sick. This is going to be great.

Staffer No. 1:I'm sorry, sir. There is only one problem. You can't call Danny and Tom ''young turks'' because you already called Pete and Bobby ''young turks'' after you had them accuse McCollum of being in bed with the ''radical homosexual lobby.''

Martinez:Darn it! [Pause in conversation. Martinez can be heard talking to himself.] Think, Mel, think. I got it! We'll call them overzealous.

Staffer No. 1:Nope. We used that one for the guys at the ad agency that produced the commercial labeling McCollum ''antifamily.''

Martinez: OK, how about rogue staffers? You guys wouldn't mind being rogue staffers would you?

Staffer No. 1:No, sorry sir, you called Carlos and Hector rogue staffers after they issued that news release you wrote for the Spanish-language radio stations calling the federal agents who seized Elián González ''armed thugs.''

Martinez: Well-intentioned but misguided?

Staffer No. 2:That's what you said about Sandy and Diane after they said Castor was an accomplished thespian in college.

Martinez:Renegade? I don't remember condemning anyone on my staff for being a renegade.

Staffer No. 1:Well, we were saving renegade for the commercials suggesting Castor may have been a founding member of al Qaeda.

Martinez:[Sounding annoyed.] Look people, I can't do this on my own. I need your help. I realize none of you like being repudiated. Do you think I like repudiating you? I don't. But I made it very clear from the beginning that this campaign was going to be based on one simple theme: plausible deniability. I can't get elected if people are going to hold me accountable for the mean and nasty things we're doing. My only hope is to blame each and every one of you.

Staffer No. 2:You're right, sir. And, I think I speak for everyone in this room when I say we are all honored to be the kindling in the bonfire of your vanity.

Martinez:OK, I have no idea what you just said. Sounds like homosexualist talk to me, but nevertheless if it was an apology, I accept it. Now let's get back to the hard work of this campaign. Remember, the mud isn't going to sling itself people. In the meantime, get me a thesaurus because for the next 30 days I'm going to repudiate each and every one of you like my life depended on it.
Martinez was given this warning before he was even sworn in as a Senator. He's in the big leagues now and he was given proper public notice that his old tricks would no longer be tolerated. Brian Darling isn't the one should be taking the fall.
Posted at 02:46 AM in 2006 Elections, 2006 Elections - House, 2006 Elections - Senate, Florida, General | Technorati
Sunday, March 20, 2005
No Shame. Period.
Posted by
Tim Tagaris
By no means am I a political veteran. I have worked three campaigns in my life, and understand that I am very far from "having seen it all." At the same time, I am a realist and a political cynic; rarely do I do a double-take in astonishment. But if what the Seattle Times, ABC News, and Washington Post reported today is true, I think we might currently be witnessing the most spectacular display of shamelessness and some other adjective that my 753 page thesaurus in front of me cannot even capture:
The one-page memo, distributed to Republican senators by party leaders, called the debate over Schiavo legislation "a great political issue" that would appeal to the party's base, or core, supporters. The memo singled out Sen. Bill Nelson, D-Fla., who is up for re-election next year.

"This is an important moral issue, and the pro-life base will be excited that the Senate is debating this important issue," said the memo, reported by ABC News and later given to The Washington Post. "This is a great political issue, because Senator Nelson of Florida has already refused to become a co-sponsor and this is a tough issue for Democrats."
Then there is Drudge, ripping a page right out of the National Enquirer, Sun, or Washington Times (pick your favorite tabloid rag):
DRUDGE RADIO to present audio of Terri Schiavo responding to her father on Friday, immediately following the removal of her feeding tube.... Check local listings...
There is no shortage of irony in this story. The biggest chunk to strike me is the fact that Medicaid is footing most of the bill to keep Terry Schiavo alive.
Posted at 10:41 PM in 2006 Elections, 2006 Elections - Senate, Florida | Technorati
Friday, February 25, 2005
Florida Senate Race 2006
Posted by
Tim Tagaris
Another Quinnipiac poll--this time regarding Florida 2006. The data covers both races, Governor and Bill Nelson's re-election bid. For the purposes of this post, I am going to focus on the race for Senate; visit the link above for more information on the Governor's race. (MoE +/- 3.1%)
Bill Nelson: While his approval ratings have breached the all-important 50 percent mark, his re-elect numbers are troubling. At the very least, his numbers are on the rise from the last Quinnipiac polling:

Approve: 50% (46)
Disapprove: 17% (17)
Don't Know: 33% (37)
Ironically, his approval ratings are higher among Republican (52%) than they are Democrats (49%).
Should Bill Nelson be re-elected, or should Floridians elect someone else:
Re-Elect: 37% (36)
Someone Else: 37% (40)
Don't Know: 26% (24)
And who do Floridians want to run against Nelson? Yep. Katherine Harris leads the way. Since Republicans vote in the primary, they are the important number; overall is in parentheses.
Harris: 37% (26)
Gallagher: 20% (19)
Crist: 16% (14) -- Crist leads the way among Republicans for Gov.
Jennings: 11% (10)
Posted at 12:11 PM in 2006 Elections - Senate, 2006 Elections - State, Florida | Comments (1) | Technorati
Friday, February 04, 2005
Taking it to Bush in Omaha
Posted by
Tim Tagaris
President Bush arrived in Nebraska this morning to campaign for the corporatization of social security. The University of Nebraska (Omaha) College Democrats met the president, 300 strong, to protest.
You can find the entry on their blog. The group also has photos from the protest that you can take a look at here. We certainly need more of this type of on-the-ground reporting through the blogosphere. I am thankful they took the time to detail, online, the days events through photos.
It is worth noting that 4 of the five states on the president's current trip have contested US Senate elections in 2006. Three of those states, Nebraska, Montana, and Florida have Democratic senators and are all "red states."
In Nebraska, Senator Ben Nelson has dodged two bullets in the early stages of the campaign. First, Governor Mike Johanns was named Secretary of Agriculture in the president's administration. Then Nebraska football coach and beloved congressman, Tom Osborne, decided he would stay put in the House, for the time being.
Nelson eeked out a victory in 2000--51% to 49% over Republican Don Stenberg.
Posted at 08:02 PM in 2006 Elections, 2006 Elections - Senate, Florida, Montana, Nebraska | Technorati
Saturday, December 11, 2004
US Senate 2006: Florida Run-Down
Posted by
Tim Tagaris
There is a big target on Senator Bill Nelson's back in a bid to retain his U.S. Senate seat in 2006. With the election of Mel Martinez last month, Nelson is the only statewide seat held by a Democrat in Florida. That's the main reason Republicans are salivating at the prospect of running the table.
It's not that Nelson is a weak candidate, quite the contrary. But in a state trending decidedly red, and a slew of "quality" Republican candidates, GOPers certainly see this seat as a high-profile pick-up chance in 2006. This is what is meant when you hear people talk about a "deep bench."
In 2000, Nelson claimed his first term as a U.S. Senator garnering an uninspiring 52% of the vote against U.S. Representative Bill McCollum.
As we all know, George Bush carried Florida
in 2004 with 52% as well.
What we know so far:
Jeb Bush is out. Thankfully the term-limited Governor has declared he would not attempt a Senate run. While it would give us all the warm fuzzies to beat down the President's brother, we might just have to wait until he himself makes a run at the White House.
Speculation: The sharks circle below the jump...
Candidate #1 United States Representative Katherine Harris:
Can you cast a better foil for the Democrats? Well, it didn't work in 2002 or 2004. But in a world where vote stealing is rewarded with a promotion to Congress, we just might get another chance in 2 years. And we will, cause she is running.
U.S. Rep. Katherine Harris' name is among the first off every political watcher's lips when sizing up the 2006 field of potential Nelson foes. Much of that is a result of her own toying with the media in early 2004 about running for the Senate this year.

Harris, a Longboat Key Republican, eventually backed off but said she would run for the Senate some day. She continues to be coy about her future, saying only that she has options in 2006.
I would wager that her not running in 2004 had something to do with not wanting to bring the results of 2000 back into the forefront. Who knew defrauding democracy could be rewarded so quickly.
Candidate #2 United States Representative Mark Foley:
Foley is the Congressman from the 16th CD of Florida; which is in the South Central part of the state if you needed some imagery. It includes the West and Northern borders of Lake Okeechobee. You can find the map HERE.
He won his 2004 House race with 68% of the vote against now (in)famous Jeff Fisher. As for the Senate in 2006, the Herald Tribune has the skinny:
Foley, who has been in Congress since 1994, already has more than $2 million in his campaign account, putting him in a strong financial position to jump in the race.
Candidate #3 United States Representative Dave Weldon:
Here is a press piece from today about Weldon that might get the blood pumping of choice advocates.
The author of the anti-abortion amendment, Rep. Dave Weldon, R-Florida, said he is trying to preserve traditional American Values.

"Just as many of my constituents, I am concerned about the assaults on married couples, families, the unborn, and those of religious faith," said Weldon. "I will continue working to defend laws that reflect the values of the American people."
That's this years, the newest, anti-choice amendment that was included in the Omnibus Appropriations Bill. The same provision that Barbara Boxer was promised by Bill Frist a hearing on the floor to take place early next session.
I would tell you more, especially about economic positions, but he failed to fill out his Project Vote Smart NPAT.
However, his campaign issue webpage is filled with tons of information as well, and would be a great place for further research on Representative Weldon.
Candidate #4 United States Representaive-Elect Connie Mack IV:
Mack served in the Florida State House of Representatives for four years before being elected to the U.S. House for the first time this November. However name recognition and a popular family goes a long way in Florida; as the article below notes.
The Herald Tribune breaks it down again.
Although the younger Mack is starting his first term in Congress, his name recognition helps make him a potential challenger, many Republican insiders say.
The only thing I remember about Connie Mack IV was when he pushed for state taxes in Florida while a member of the state legislature. Only problem, Florida doesn't have a state income tax.
Other names on the short-list include:
Florida Attorney General Charlie Crist
Lt. Governor Toni Jennings
State Senator Daniel Webster
State CFO Tom Gallagher
It's important to remember that there is also a Gubernatorial race in Florida
this year as well. With the names mentioned above as "other names," most of the speculation is that they would run for Governor. their resumes indicate they would be better suited to challenge for that seat as well.
As time goes by and the backroom dealings that are certainly underway continue, I wouldn't be shocked to see one or more of the names above make a run for the Governor's mansion. Over the course of time, the field will settle -- some of these names will probably challenge Nelson, others make a run for Governor. The last thing the Republicans want is a bitterly contested primary in an expensive state. Hopefully they'll get just that.
Betty Castor sure is acting like someone about to attempt another state-wide run as a Gubernatorial candidate for the Dems. She just started her own Political Action Committee that will allow her to have a voice in state-wide affairs over the next few years.
Oh...
There is also one Libertarian who has voiced his intention to run for the Senate seat. At the very least candidate Karl Dickey is having meetups.
Posted at 05:40 PM in Florida | Comments (5) | Technorati
Wednesday, November 03, 2004
The Only Poll That Counts
Posted by
DavidNYC
Yesterday, the state of Florida released a new poll (definite voters, no trendlines):
Kerry: 47
Bush: 52
Other: 1
(MoE: ±0.0%)
I have to say, I find this poll a bit suspect. First off, have you ever heard a poll with a zero percent margin of error? And what do you think their "definite voter" model is? It seems like a total outlier - most other polls had Bush at 50% or less. Just one poll in the last month had Bush at 52!
Oh, wait...
Hmm.
So how did we get here? Why did Bush wind up with stronger final results than just about every single pollster predicted? It's not as though the "truth fell somewhere in between" any given sets of results. Everyone (except that one LA Times poll on 10/26) had Bush below 52%. Did the incumbent 50 percent "rule" fail us? (Research shows that it occasionally does.) Did undecideds break toward Bush?
Or was the polling all somehow screwed? Yes, I know - one or two percentage points "falls within the margin of error." But again I say, we aren't talking about a single poll. We are talking about a few dozen. The odds of them all being under don't seem that good to me.
As you all know, I based most of my analysis and projections on polling. I'm not a statistician or any kind of expert - my approach is that of an interested lay person. I was wrong about Florida (and Ohio, too). I'm not looking to "blame" anyone or anything for that, but I think my "output" was off because the "input" (ie, the polls) were off. I can't really think of any good reasons as to why they were so consistently off, though. As I say, it's also possible that the incumbent rule didn't work properly here. But again, I'm not sure as to why this might have happened.
I obviously realize that the question of why one lefty blogger was wrong about the election is hardly of major importance right now. But I think a lot of people were wrong about how things would turn out, and a lot of them were wrong for the same reasons that I was. (Some people were wrong for different reasons, largely having to do with arguments that Dem voters were being under-polled and that a disproportionately and atypically big turnout for our side would carry the day.) I think we need to understand where we all went wrong this time so that we can avoid the same mistakes again.
Lastly, I just want to let you all know that I definitely plan on keeping the site going for a little bit longer in the near term. Posts won't be as fast and furious as they were at peak times, but I'd like to be able to do some post-mortem analysis, in conjunction with all of you.
So what do you think? Was the polling data bad, and if so, why? Was the incumbent rule wrong, and if that was the case, then why? Or was it something else entirely?
(And a note to the Bush supporters who are acting like the worst kind of sore winners: Cut it out.)
UPDATE: Mark Blumenthal says the incumbent rule "obviously" failed. The only possible reason he cites is that given by another Democratic pollster, Mark Mellman, who said that "we simply do not defeat an incumbent president in wartime."
This may be right. But the problem with this thinking is that the sample size is SO tiny. We've fought several big wars, but we've seldom had an incumbent seeking re-election during one.
Yes, Nixon won a crushing re-election victory in 1972 in the midst of a very unpopular war (Vietnam). But Lyndon Johnson chose not to run again in 1968 - and would very likely have been defeated if he had. Truman was barred by the 22nd amendment from running again in 1952 (during the Korean War). I don't know if he would have run again, but he might very well have lost to the popular Ike (who beat Stevenson by 11 points).
FDR, of course, won re-election in 1944, but with the smallest margin of his four victories. World War I, though, was over by the middle of Wilson's second term. The same was true of McKinley and the Spanish-American War. You have to go all the way back to the Civil War to find another example of an incumbent fighting a re-election battle, when of course, Lincoln won.
So in three prior cases, incumbents have been re-elected during wartime. But I'd argue that in two other cases, had the incumbents run, they would have stood a good chance of losing. Again I say, this idea may well be right, but I just don't think we have enough data to go on.
UPDATE: Les in the comments reminds me that the 22nd Amendment did not bar Truman from running again (it only applied to presidents after him), and that he did in fact make a stab at running again in 1952. However, he realized his unpopularity was too great and chose to abandon his effort early on.
Posted at 03:09 PM in Florida | Comments (77) | Technorati
Monday, October 25, 2004
The State of the Race in Florida
Posted by
DavidNYC
By now, readers of this site are all very familiar with the 50 percent rule: An incumbent president has to be at 50% in the polls in order to win. If he's at 49%, he's looking at a photo finish, and if he's below 49%, he's going to lose. With that in mind, I want to take a snapshot look at all the polls from Florida in the month of October, helpfully provided by Race2004.net:
Pollster

Polling Date

Bush

Kerry

Nader

MoE

24-Oct

48.50%

46.40%

---

4.10%

21-Oct

46.00%

46.00%

1.00%

3.50%

21-Oct

49.00%

48.00%

1.00%

4.50%

21-Oct

47.00%

48.00%

2.00%

4.00%

21-Oct

46.00%

46.00%

---

2.00%

20-Oct

49.00%

46.00%

1.00%

3.00%

20-Oct

49.00%

47.00%

---

3.00%

19-Oct

48.00%

47.00%

1.00%

3.50%

19-Oct

49.00%

47.00%

---

3.50%

18-Oct

50.10%

48.90%

0.30%

2.10%

18-Oct

50.00%

49.10%

---

2.10%

17-Oct

47.00%

46.00%

---

??

17-Oct

49.00%

50.00%

---

4.10%

16-Oct

48.00%

45.00%

---

4.00%

15-Oct

44.00%

45.00%

2.00%

4.00%

14-Oct

49.00%

45.00%

1.00%

3.00%

14-Oct

44.00%

48.00%

2.00%

5.00%

14-Oct

49.00%

46.00%

---

3.00%

12-Oct

47.00%

44.00%

2.00%

5.00%

10-Oct

48.00%

48.00%

1.00%

4.00%

10-Oct

49.00%

45.00%

---

??

6-Oct

49.00%

44.00%

1.00%

3.00%

6-Oct

49.00%

45.00%

---

3.00%

5-Oct

48.40%

49.70%

---

2.20%

4-Oct

49.10%

49.50%

0.50%

2.20%

4-Oct

45.00%

47.00%

2.00%

4.00%

4-Oct

48.00%

44.00%

2.00%

4.00%

4-Oct

46.00%

48.00%

---

4.00%

4-Oct

51.00%

Posted at 08:00 AM in Florida | Comments (44) | Technorati

Friday, October 15, 2004

Who Is Insider Advantage, and What Do They Know About Florida?

Posted by DavidNYC

Insider Advantage is a polling firm I've heard very little about, yet they've popped up with not one but two Florida polls in just three days' time. Their website doesn't offer very much - I'm getting everything from Race2004.net, which is in turn getting its info from the National Journal.

Anyhow, in a poll that concluded on October 12, Bush was up 47-44. Just two days later, they had Kerry up 48-44. A seven-point swing in just two days seems quite improbable to me, though one major event (the final debate) did take place during that time. Both of these polls apparently have 5% margins of error, which is bigger than any other pollster's margin in any Florida poll, ever.

What do you think?

P.S. A totally unrelated topic: If you have subscribed to the Bloglet e-mail updates for this site, please let me know if you've been receiving them lately. Thanks.

Posted at 02:50 PM in Florida | Comments (17) | Technorati

Tuesday, August 24, 2004

Gallup Shows a Tight Race in FL

Posted by DavidNYC

Gallup (which doesn't often poll specific states, it seems) has a new survey out for Florida. The first set of numbers is for likely voters (July in parens):

Kerry: 47 (47)
Bush: 48 (50)
Undecided: 5 (3)
(MoE: ��4%)

The second set (which is rather similar) is for registered voters (July in parens):

Kerry: 46 (45)
Bush: 46 (49)
Undecided: 8 (6)
(MoE: ��4%)

This poll has a slightly different flavor to it: The original question included Nader, but these respondents were then asked what they'd do if Nader were not on the ballot. So the numbers listed here represent the net results after the Naderites were re-queried. Ralph may well be on the ballot here, though.

No favorability numbers in this survey, unfortunately. Though this poll shows things a lot closer than some others, the trendlines look good (if they hold). As always, a tie now is a win for us later, due to our well-founded expectation that undecideds will break for us heavily.

Posted at 11:54 PM in Florida | Comments (2) | Technorati

Thursday, August 12, 2004

More Good News for Kerry in Florida

Posted by DavidNYC

Ah, silly major news organizations. They all but snickered when they determined that Kerry didn't see a post-convention bounce, or a big enough post-convention bounce, or a post-convention bounce that was the size of Moby Dick after an eating binge. Or whatever it was they were looking for. As is typical of our decrepit media, though, they couldn't be bothered to look hard enough, or even in the right places. I say this because the good swing state news (be sure to see Chris's post below) keeps rolling right on in.

Quinnipiac just released a Florida poll today, and it's all smiles (registered voters, late June in parens):

Kerry: 49 (46)
Bush: 42 (44)
Other/Undecided: 9 (10)
(MoE: ��3%)

This is the second poll in the past week or so to show Kerry stretching his lead in Florida. And thanks to the large sample size here (N=1,094), we know that this lead is outside the MoE.

Other highlights: Bush's job approval is way below the Mendoza line at 44-54 (and sinking from June's 46-52). Favorability ratings are also U-G-L-Y for Dubya: 38-43, with 17% saying "mixed." Kerry's in positive territory at 39-31-21, and again, his numbers have improved since June (30-33), again demonstrating that Bush's plan to drive up Kerry's unfaves has moved into Edsel territory. Only 10% of respondents say they are "very satisfied" with "the way things are going in the nation today." And finally, 49% of people say that the war in Iraq was the "wrong thing" while 45% say it was the right thing.

Florida's late Senate primary is coming up soon (Aug. 31st). Polling indicates that Betty Castor is likely to win for the Dems. Any thoughts on what her chances might be, and if Kerry-Edwards might have coattails? (As an aside, I absolutely hate late primaries. We have them in September in New York - just six weeks before the general election - and the only thing they do is provide protection for incumbents, who don't have to face bloody primary battles that last all summer.)

(Q-Poll thanks to reader science in comments.)

Posted at 03:05 PM in Florida | Comments (16) | Technorati

Wednesday, August 11, 2004

ARG: Wide Kerry Lead in FL

Posted by DavidNYC

ARG polled Florida last week (likely voters, July in parens):

Kerry: 52 (49)
Bush: 44 (45)
Undecided: 6 (4)
(MoE: ��4%)

This latest surge all but pushes Kerry outside of the MoE. Even better are the favorability ratings. Kerry now stands at 54-41, an improvement from last month's 51-44. Bush, meanwhile, stands at at 45-48, and has been trickling downward lately. Perhaps most striking is the fact that back in March, Kerry was at an even 41-41. This indicates that Bush has been unable to push Kerry's unfavorables up at all in five months, despite spending millions of dollars toward that end. As Chris has observed in the past, heightening Kerry's unfavorables seems to be the main plank of Bush's re-election strategy - and it appears to be failing badly, at least in Florida.

The undecideds have all but vanished in this poll, but what few remain definitely cannot be breaking for Bush. Kerry also has a ten-point edge among independents (but they don't seem to be quite the force they are in other swing states, such as Arizona - just 16% of those polled here). And the results are still strong even with Nader - 50-43-2-5 (K-B-N-U) - who may apparently make the ballot here.

Even if Bush were to peel off Iowa & Wisconsin, Kerry-Edwards would still win (270-268) if we win Florida. For Bush to win without Florida, he'd also have to nab a second-tier state (say, MN, OR, or NM - all of which would be reaches for him) in addition to IA and WI. (I'm assuming those are our two most vulnerable states.) Bottom line is that when you run the numbers, it's hard to find a way for Bush to win without Florida.

Posted at 08:20 PM in Florida | Comments (7) | Technorati

Monday, July 26, 2004

Another Batch of Polls

Posted by DavidNYC

I've been quite busy the past few days. Many law schools have a wonderful process called "Early Interview Week," a hellish few days during which you interview with about 8,000 different law firms to get a job for summer 2005, and for many people, the rest of their lives. (Firms wind up giving almost every summer associate a full-time offer for after graduation.) It sucks to have to think about next summer while this one is still just in July, but there it is.

Anyhow, every students who participates in EIW bids on the firms they want to interview with. (Each firm only has so many interview slots available.) So my bid list is due in a couple of days, and assembling it has been occupying a lot of my time. Sussing out the differences between Dewey, Cheatem & Howe versus Oliver & Dunne is a little bit like trying to distinguish between Dick Cheney and Donald Rumsfeld... and right here, in case any potential employers are reading, I'm gonna quit with the analogy. But if you have any thoughts about any of the big New York firms, let me know.

Oh, yes, there was an actual point to this thread. Kos has another battleground poll roundup. There may be some repeats, but it does include the new SUSA Nevada poll (PDF) which was mentioned in comments here that I hadn't yet posted:

Kerry: 49
Bush: 45
Other: 4
Undecided: 3
(MoE: ��3.5%)

SUSA's low undecideds have always made me a bit uncomfortable, yet despite their all-automated surveying, they apparently have a pretty good track record. All things being equal, Bush can afford to lose NV - in a way, it's sort of a neither-here-nor-there state. That is to say, if we take Nevada, it means we've held NM, but I don't think it says anything about AZ. In other words, NV is part of a very small group of states which could change hands without a single other state changing hands.

Posted at 02:42 AM in Florida, Missouri, Nevada, Ohio | Comments (18) | Technorati

Monday, July 19, 2004

ARG: Kerry Up in FL & WI

Posted by DavidNYC

Florida (likely voters, June in parens):

Kerry: 49 (48)
Bush: 45 (46)
Undecided: 6 (unavail.)
(MoE: ��4%)

Bush's favorability: 44-46. Kerry: 51-44. I have to say, it looks like Bush has done a pretty good job driving up Kerry's unfaves here, given that down in Florida six months ago, he was probably just some little-known Senator. On the flip-side, if we pick up Florida, Bush would still lose even if he won Oregon and Wisconsin. (I can't imagine him winning PA if we win FL.)

Wisconsin (likely voters):

Kerry: 49
Bush: 44
Undecided: 7
(MoE: ��4%)

ARG doesn't bother to archive their old poll results, so I'm unable to find directly comparable trendlines. With Nader included, Kerry leads 48-42, with Ralph at 4. In March, Kerry led 46-43-4. Bush led among independents in March, 43-42, but now Kerry has a 45-39 advantage. Bush's favorability is at 47-46 (54% unfavorable in March), while Kerry is at 51-43 (43-26 in March). And for kicks: St. Ralph has a 70% unfave rating.

It's a bit hard to keep up with what has now become a weekly flood of polls, especially when you go away for the weekend. Taegan Goddard has helpfully posted links to several new ones here. And also via Taegan, a bit of rather good news that adds further confirmation to some legit CW: A Republican polling outfit released a memo predicting that undecided voters will break for Kerry.

Posted at 02:04 AM in Florida, Wisconsin | Comments (6) | Technorati

Thursday, July 15, 2004

Florida Firefighters Endorse Kerry/Edwards

Posted by DavidNYC

Via DailyKos, we learn that the 19,000-strong Florida Professional Firefighters union has endorsed Kerry/Edwards. This is a union which endorsed Dubya in 2000 and Jeb in `98 and `02. I wouldn't be surprised if other similar groups will endorse Kerry. Bush has been criminally negligent when it comes to providing money to first responders - the kind of people who can actually protect us from and during terrorist attacks.

I was in Manhattan on 9/11. Two weeks earlier, I left a job where I had worked three blocks from the World Trade Center. There's no point in saying "I'll never forget that day" - it's utterly seared into my memory. So I'll be thrilled when John Kerry becomes president, if for no other reason than the fact that the cops and firefighters working on our streets and at our ports will finally get the resources they need. I think first responders will be pleased, too.

Posted at 12:05 AM in Florida | Comments (2) | Technorati

Wednesday, July 07, 2004

Rasmussen Florida Poll Shows Kerry Leading

Posted by DavidNYC

Taking a breaking from all-Edwards, all the time, there's a new Rasmussen poll out in Florida (May in parens):

Kerry: 48 (46)
Bush: 43 (46)
Other: 5 (4)
Undecided: 4 (4)
(MoE: ��4%)

Bush gets a 50% job approval rating, and apparently, Kerry has a double-digit lead among women, while Bush only has a "modest" lead among men. And be aware that this poll is pre-Edwards.

(Thanks to thrashbluegrass.)

Posted at 11:33 PM in Florida | Comments (1) | Technorati

Wednesday, June 30, 2004

Buncha Polls (FL, CO & Zogby)

Posted by DavidNYC

I've been behind on posting about a few recent polls, so here's an all-at-once glance:

Colorado - Mason-Dixon (no trendlines):

Kerry: 43
Bush: 48
Nader: 3
Undecided: 6
(MoE: ��3.5%)

Bush's favorability at 47-39; job approval at exactly 50-50. Don't forget that Colorado might wind up splitting its EVs this year. If so, polls like this are great news for us.

Florida - Quinnipiac (no trendlines):

Kerry: 43
Bush: 43
Nader: 5
Undecided: 9
(MoE: ��2.8%)

Kerry has a slight lead (46-44) without Nader in the mix. Job approval is 46-52. Favorability is 42-42-15 (the last number is "mixed"). Kerry's split is 30-33-23.

Also, Zogby posted an update to his bi-weekly battleground poll last week. Florida, Nevada, Michigan and West Virginia all moved into Bush's column, while Arkansas and New Mexico came over to Kerry.

And lastly, if you haven't already, you should go read Chris's post over at MyDD about Ralph Nader's failure to get the Green Party nomination. Chris says it's the end of the line for Ralph, because now he's got no ballot lines and virtually no money. I still think a late infusion of GOP cash could turn the tide for Nader, but this is nonetheless a very good development for Kerry.

Posted at 12:34 AM in Colorado, Florida, General | Comments (5) | Technorati

Monday, June 21, 2004

Jeb Bush Goes After Drug Re-Importers in Florida

Posted by DavidNYC

Florida Governor Jeb Bush is cracking down on drug re-importers in Florida. As you probably know, most prescription drugs are much cheaper in Canada. Lots of firms (especially on the Internet) have sprung up to re-import these drugs back to the US at a cost that is much lower than what you'll find at your local pharmacy. Obviously, Big Pharma hates drug re-importers. Hilariously, the industry's defenders claim that American consumers might be endangered by re-importation - because, you know, all those Canadians taking Lipitor and Prozac are just dying by droves.

Anyhow, whether or not the practice of drug re-importation is legal according to Florida law, this strikes me as a major political loser for the state GOP. I know that in my mind, Jeb Bush is permanently wedded to George - and I'd imagine most people automatically link the two as well. So it would seem that Florida's considerable senior citizen population would get mighty pissed both at Jeb and, by extension, at Dubya, whose administration also opposes drug re-importation.

John Kerry - who supports re-importation - should use this opportunity to take to the airwaves on this specific issue & blast away at the Bush boys. I think this topic works in other states with large senior populations, too. Florida, of course, has the highest percentage of residents over 65 - 17.6% as of the 2000 census. But important swing states PA, WV and IA are second through fourth, and several other bigs (like Ohio and Missouri) are in the top twenty. (The Palm Beach Post article linked above mentions that there have been crackdowns in other states as well.)

Like Yucca Mountain, I think this issue is solid gold for Kerry. I also think any ad on this subject could be structured very nicely: Start out hammering Bush for not supporting re-importation, then put Kerry on-screen talking about how he's in favor of it. So you get to work in an attack, but you don't leave viewers with a bad taste in their mouths because the ad ends on a positive note: "I'm John Kerry, and I approve this message because I want to make sure our seniors have affordable access to prescription drugs." You get the idea.

I think this is also a pretty good issue because it's a promise that Kerry can actually carry through on (at least partially), even without a Democratic Congress. That's because much of the law governing re-importation involves FDA rule-making, which essentially lies in the hands of the executive branch. If Kerry can loosen the restrictions on re-importation via the FDA when he takes office, it'll be a concrete success he can point to, to help ward off the inevitable media whore stories about the "failed Kerry presidency." (And yes, those will appear almost immediately after Kerry takes office.)

(Thanks to torch.)

UPDATE: I should have done a little more research before penning this piece. It turns out that the Media Fund is already running an ad on this topic - I think it's rather good. I'd still like to see an ad modeled the way I suggest, which illustrates Kerry's positive plan.

(Thanks to Luke, of course.)

Posted at 12:46 AM in Florida | Comments (6) | Technorati

Thursday, May 20, 2004

ARG: Tie in Florida

Posted by DavidNYC

ARG's new numbers show that Florida looks like, well, Florida:

Without:

Bush: 47
Kerry: 47
Undecided: 6

And with (April numbers in parens):

Bush: 47 (46)
Kerry: 46 (45)
Nader: 3 (3)
Undecided: 4 (6)
(MOE: ��4%)

You've probably already seen the NYT main-pager about Kerry wooing Nader. So maybe the "without" numbers are what we'll soon be focusing on, with any luck.

(Thanks to Paleo, who seems to get updates on polls before even Polling Report does.)

UPDATE: Noam Scheiber adds his two cents on the Kerry-Nader summit, calling it a good move on Kerry's part.

Posted at 11:21 AM in Florida | Technorati

Florida Archive: