« Netroots: The Internet is for Politics, Not Just Fundraising | Main | OH-Gov: Beyond Coingate »
Tuesday, June 07, 2005
FL-Sen: Cruella De Vil for U.S. Senate
Posted by
Bob Brigham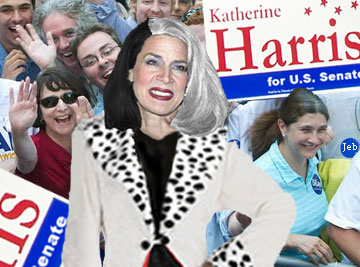 TALLAHASSEE -- Representative Cruella De Vil (FL-13), who was vilified for her role as Florida's secretary of state in the 2000 presidential voting scandal, said Tuesday she will run for the U.S. Senate next year against Senator Bill Nelson.

Her announcement brings a french-sounding nickname and the potential to waste substantial amount of money on a race Republicans had assumed they would lose.

"Those who called me 'czarina,' or 'Cruella de Vil' ... they still can't point to a single solitary thing that I did wrong," she said.
Posted at 07:53 PM in 2006 Elections - Senate, Florida | Technorati