International Archive:



Wednesday, October 05, 2005
DCCC Incumbent Protection Message on Iraq
Posted by
Bob Brigham
Two months ago today, David Sirota rightly blasted the Democratic Congressional Campaign Committee for a disconnect on Iraq:
On the issue of the Iraq War, the disconnect between the Washington, D.C. Democratic Party establishment and political reality in America is growing by the day. Case in point is the Democratic Congressional Campaign Committee's attitude towards the tremendous special election run by Paul Hackett in the staunchly Republican Cincinnati suburbs.

Hackett, an Iraq War veteran, made headlines in the campaign for taking a strong position against the original decision to go to war in Iraq, even calling the President of the United States an SOB. And while it's true, Hackett didn't support full withdrawal from Iraq, few would deny that his position opposing the war was a key part of his campaign.

Ultimately, the anti-war position defined his candidacy, and was the clear reason he was able to do so well in such a Republican district. That should be no surprise: polls have been telling us for months that America agrees with Hackett in believing going to war in Iraq was a mistake. Meanwhile, Americans' view of President Bush's handling of Iraq is at its lowest level ever.

Incredibly, however, in a memo sent to all Democratic House Members about what Democrats should learn from the Hackett race, the DCCC makes not one mention of the Iraq War and its effect on the election. Not one. It is as if the party is going out of its way to deny the importance of Democrats taking a strong position against the war, or making the war a serious issue in their campaigns.
In the two months since the infamous DCCC Chair Rahm Emanuel sent this memo, more than 150 US troops have made the ultimate sacrifice and public opinion polls have moved another 5-10 points against Emanuel and Bush.
Any Democrat serious about challenging an incumbent Republican member of Congress is wise to make Iraq a defining issue in the race. Yet the DCCC has remained silent on Iraq because the message is quite different for incumbent Democrats who -- like Congressman Rahm Emanuel -- are on the wrong side of the issue. As long as the DCCC remains silent, it is clear that their message and priority is incumbent protection -- trying to minimize losses instead of winning seats.
Yesterday, Chris Bowers noted that Congressman Rahm Emanuel never mentioned "Iraq" when talking about the difference between Democrats and Republicans on Meet the Press:
This is despite the fact that recent polling has repeatedly shown that the number one difference between rank and file Democrats and rank and file Republicans is, in general, differing views on national security policy and the use of military force and, in particular, the decision to go to war in Iraq. This is despite the fact that back in May, during the first vote on withdrawal in the House, Republicans voted 98% against and over 60% of Democrats voted in favor. And that was in May.

So, it would appear that the DCCC wants to sweep the number one issue that separates Democrats from Republicans under the rug. This issue also happens to be the number one issue in the country. And oh yeah--it is an issue on which the majority Democratic position has overwhelming national support, including a near majority among Republicans.

.

But hey, let's not run on said issue. In fact, let's not even mention it. Let's take it off the table, because that worked really well in 2002. Let's brag, like Schumer did in 2002, that Bush was winking at us during his speech when he was stating his case for war--a war which DSCC head Schumer voted for--rather than arguing that said speech and said war was based upon lies. Let's not talk about Iraq, because we are Democrats, and we don't want to win, and we don't want to address the important issues of the day, and we don't have the guts to stand up and support what the vast majority of our caucus, our rank-and-file, and our entire nation supports.

If Iraq isn't on the Democratic agenda in 2006, we will lose. A party will never sweep to power if it holds the same minority position on the most important issue of the day as the current governing party. I am starting to wonder if Democrats in D.C. have the ability to grasp this, or if they even care.
That last line brings up an important question and the answer is the difference between Rahm Emanuel's DCCC being incompetent or just lacking an interest in anything other than protecting incumbent Democrats. Because I would hate to think it is the former, I'm going to assume it is the latter. Regardless, I think it is clear that the DCCC is not focused on winning additional seats in 2006.
A few hours later, Bower's post was linked on the most popular Democratic blog where Kos said:
The DCCC's top dog, Rep. Rahm Emmanuel, is putting together a pretty solid foundation for a "Democratic agenda". Yet he continues to avoid Iraq like the plague, ignoring the most pressing and important issue of the day.

A reminder to those blinder-wearing DC Dems -- support for the Iraq War is crashing.
Two months ago, Sirota smacked Emanuel upside the head and it played out in the papers:
"This sentiment gives Democrats an opening," he said recently. "We can now make the case that an exit strategy from Iraq will actually strengthen our national security. We have to stand up for our principles. There is strength in national-security prudence. There is weakness in national-security impulsiveness, as Bush has demonstrated. People will believe us. They have the evidence in front of their eyes every night on the evening news."

Unfortunately, he argued, the top Democrats are boxed by their own past complicity: "They were proponents of this war... . They can't speak out now with any moral authority."

Some net-roots liberals are even demanding that the pro-war Democrats show some contrition. Bob Brigham, who runs Swingstateproject.com, said: "We as a party can't run from this issue any longer. Some people need to admit being wrong about the war. And we all need to show some political courage. That's what voters respect. If you have core convictions, and aggressively demonstrate that, voters will respect you, regardless of whether they agree with you on individual issues."

Brigham and Sirota, among others, cite the results of an Ohio congressional race on Aug. 2. In a die-hard Republican district where Democrats routinely lose by 40 points, Democrat Paul Hackett, an Iraq veteran who contended that Bush has been "incredibly stupid" on the war, lost by only two. Yet the Washington Democrats seemed not to notice; when the Democratic Congressional Campaign Committee analyzed Hackett's strong showing in a memo, it never cited the war as a factor.
Congressman Emanuel needs to make a major adjustment in strategy. As long as the DCCC ignores Iraq, it is not an organization worth supporting unless your goal is to waste money on incompetence or fund an effort focused on Democrats minimizing losses.
Bloggers are calling bullshit on this strategy and something tells me we are close to another round of this playing out in the press. While I'm pulling together some choice quotes for reporters, I hope Congressman Emanuel begins dealing with a subject he has avoided for far too long.
The 2006 midterm elections could be tidal for Democrats, but we need some leadership on the most important issue of the day to pull it off. The current leadership vacuum will be filled, if not by the DCCC then from the ground up with a message they can't control.
While I would love to see 2006 be a Democratic year, the establishment Democrats lack of contrast with the Republicans means it could very well be a "throw the bums out" cycle. If Emanuel cares about keeping incumbent Democrats in congress, the quickest route is to join the American people on the most important issue and have some contrast with the GOP. This is also the quickest route to pick up seats, but I think we all realize that isn't the goal.
UPDATE: Sirota piles on.
UPDATE: Looking at the transcript, we see that Emanuel was asked about Iraq:
MR. RUSSERT: So, for example, should we withdraw troops from Iraq?

REP. EMANUEL: Well, I--let me--let's take what the general just said. Let's deal with that.
The correct answer is, "damn straight" but since Emanuel wants to sit on the fence and not offer a yes or no answer, he gets questioned again.
MR. RUSSERT: But what are the Democratic ideas?

REP. EMANUEL: I'm going to lay them out. I here to answer it. You know, what you guys have provided, Tom, is a set of old policies, even in this crisis we have with Katrina, that got us to this result, which is a failed set of policies, where, in fact, we've added up $3 trillion in the nation's debt, more people are losing health care, and poverty's going up. Democrats want to offer big ideas to change the direction of this country because we can do better.

On Iraq, we have a false choice between stay the course and get the same results and just pull up. I think Senator Levin laid out a very good agenda, which is we're going to have measurements. You can't say after two and a half years, like you asked the general before, two and a half years, nearly $400 billion, and we have one Iraqi battalion? We're going to set standards every way and measurements from the political process, economic process and also on the military and national security where Iraq has to stand up.

MR. RUSSERT: OK. So--so...

REP. EMANUEL: Let me go over--let's go...

MR. RUSSERT: No, no, wait. So if the Iraqis do not stand up, if there are not 10 battalions, 15 battalions in place, we withdraw?

REP. EMANUEL: See, Tim, that's the wrong question, in my view.

MR. RUSSERT: Well...

REP. EMANUEL: I'll tell you why, because when we...

MR. RUSSERT: But it's the question I asked.

REP. EMANUEL: But the Congress has an obligation to hold a standard. We have given the president a blank check. It's been a rubber-stamp Congress that sent troops in there without Kevlar vests, without Humvees. We have to have a standard in which Iraq and the administration measure up over the two years, and at that point we'll evaluate where we are.
There is an answer that fits nicely on a bumper sticker.
MR. RUSSERT: So was it a mistake for Democrats in the Senate and House to vote to authorize the war?

REP. EMANUEL: Given the information that we were given them, they made their decision. What has been a mistake is to let this type of administration basically run a policy of incompetence when it comes to Iraq.
The problem is that Bush is able to continue his "policy of incompetence" because of weak Democratic leaders who were on the wrong side of the vote, have been hiding from the issue, and won't give a simple answer that voters can digest.
Why Democrats don't have a message on Iraq as part of what is the difference between Democrats and Republicans is a major, major problem. Emanuel needs to get his act together.
Posted at 11:25 AM in 2006 Elections, 2006 Elections - House, Culture of Corruption, Democrats, International, Ohio, Polls, Scandals | Comments (5) | TrackBack (1) | Technorati
Tuesday, October 04, 2005
Harriet Miers Paper Trail
Posted by
Bob Brigham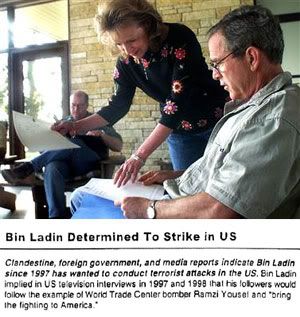 Conservative bloggers were outraged to learn of Harriet Miers Homosexual Agenda of support gays and lesbians. Conservatives lost it when they found out Miers had donated money to Al Gore's campaign. During the first 24 hours, the Harriet Miers paper trail was nothing but bad news for her nomination.
Now we have the photo trail, an event that the mainstream media won't touch. From Editor and Publisher:
On its front page Tuesday, The New York Times published a photo of new U.S. Supreme Court nominee Harriet Miers going over a briefing paper with President George W. Bush at his Crawford ranch "in August 2001," the caption reads.

USA Today and the Boston Globe carried the photo labeled simply "2001," but many other newspapers ran the picture in print or on the Web with a more precise date: Aug. 6, 2001.

Does that date sound familiar? Indeed, that was the date, a little over a month before 9/11, that President Bush was briefed on the now-famous "PDB" that declared that Osama Bin Laden was "determined" to attack the U.S. homeland, perhaps with hijacked planes. But does that mean that Miers had anything to do with that briefing?

As it turns out, yes, according to Tuesday's Los Angeles Times. An article by Richard A. Serrano and Scott Gold observes that early in the Bush presidency "Miers assumed such an insider role that in 2001 it was she who handed Bush the crucial 'presidential daily briefing' hinting at terrorist plots against America just a month before the Sept. 11 attacks."
The significance?
The PDB was headed "Bin Laden Determined to Strike in U.S.," and notes, among other things, FBI information indicating "patterns of suspicious activity in this country consistent with preparations for hijackings or other types of attacks."
This is the probably with Bush promoting cronies -- they aren't fit for jobs they are giving. It appears Harriet Miers is earning the nickname, Brownie Miers
Posted at 03:14 PM in International, Scandals, Supreme Court | Comments (2) | TrackBack (0) | Technorati
Monday, August 29, 2005
National Guard Belongs in the Nation
Posted by
Bob Brigham
Maybe Katrina will kickstart the debate on how Bush is destroying the National Guard. Montana Governor Brian Schweitzer has been trying to get the conversation started for some time. From Roll Call:
It's forest fire season in the Mountain West.

But if disaster were to strike in drought-stricken Montana, many of the people who would be expected to fight the fires are half a world away.

Fully half of Montana's National Guard — and most of its helicopters — are deployed in Iraq. And Gov. Brian Schweitzer (D) is fired up about it.

Schweitzer wants to start a dialogue about the way the military has changed its ratio of active-duty to Reserve and Guard forces — a policy in place long before the war in Iraq but one whose full impact is only now being felt.

"One of the things they didn't consider in this policy," said Schweitzer, "is that there are governors who are commanders-in-chief of the Guard and they have important missions for them at home."
We should never have to see quotes like this:
JACKSON BARRACKS -- When members of the Louisiana National Guard left for Iraq in October, they took a lot equipment with them. Dozens of high water vehicles, humvees, refuelers and generators are now abroad, and in the event of a major natural disaster that, could be a problem.

"The National Guard needs that equipment back home to support the homeland security mission," said Lt. Colonel Pete Schneider with the LA National Guard.
I wrote about this yesterday because we need to have the debate about why the Louisiana National Guard is in Iraq instead of defending their state. Why?
Posted at 11:16 AM in International, Republicans, Scandals | Comments (1) | Technorati
Sunday, August 28, 2005
Katrina Proves Bush is a Failure
Posted by
Bob Brigham
Three reasons why George Bush has failed the entire gulf coast -- especially New Orleans -- and should be held accountable for the result of Katrina:
3. The Louisiana National Guard is in Iraq
2. The energy of the storm is compounded by the higher sea tempurature that is forced upon a hurricane by Global Warming
1. Bush received warnings that this was one of the "three likeliest, most castastrophic disasters" and did nothing but stay on vacation and cut funding
Posted at 09:09 PM in Culture of Corruption, International, Republicans, Scandals | Comments (5) | Technorati
Katrina and Global Warming
Posted by
Bob Brigham
From WWLTV's great coverage:
Katrina could be strongest storm in recorded history
Mayor Ray Nagin ordered an immediate mandatory evacuation Sunday for all of New Orleans, a city sitting below sea level with 485,000 inhabitants, as Hurricane Katrina bore down with wind revved up to nearly 175 mph and a threat of a massive storm surge.

The storm had the potential for storm surge flooding of up to 25 feet, topped with even higher waves, as much as 15 inches of rain, and tornadoes, the National Hurricane Center said.

Only three Category 5 hurricanes - the highest on the Saffir-Simpson scale - have hit the United States since record-keeping began. The last was 1992's Hurricane Andrew, which leveled parts of South Florida, killed 43 people and caused $31 billion in damage. The other two were the 1935 Labor Day hurricane that hit the Florida Keys and killed 600 people and Hurricane Camille, which devastated the Mississippi coast in 1969, killing 256.
Category 5's are rare, but for how long?
The strongest hurricanes in the present climate may be upstaged by even more intense hurricanes over the next century as the earth's climate is warmed by increasing levels of greenhouse gases in the atmosphere. Although we cannot say at present whether more or fewer hurricane will occur in the future with global warming, the hurricanes that do occur near the end of the 21st century are expected to be stronger and have significantly more intense rainfall than under present day climate conditions. This expectation is based on an anticipated enhancement of energy available to the storms due to higher tropical sea surface temperatures.
When you hear "global warming" think "George Bush". Global warming is now a national security crisis. Bush's oil buddies have endanged American soil with their corrupt refusal to deal with the consequences of their greed. Bush doesn't get it.
Posted at 01:37 PM in Culture of Corruption, International, Republicans, Scandals | Comments (2) | Technorati
Wednesday, August 24, 2005
RI-Sen: Matt Brown Demands Timetable and Plan for Iraq
Posted by
Bob Brigham
From Matt Brown, Democrat for US Senate in Rhode Island:
Today I am calling on President Bush to set a timetable to start bringing American troops home from Iraq in six months. I'm asking all of my supporters to sign my petition to President Bush and to send it to their friends and families to sign it. The brave men and women of our Armed Forces have risked everything and done their job with courage and distinction. The President owes it to the American people to get this job done and bring our men and women home to their families.
Full petition after the jump:
"Mr. President, the American people are looking for leadership and strength in this difficult time. Like all Rhode Islanders and all Americans, I'm proud of our troops. They are the finest citizen soldiers in the world. They have left their homes and families, risked everything and done their job with courage and distinction.

"Last week you said withdrawing our troops from Iraq would be "a terrible signal to the enemy" and you again refused to set a timetable for withdrawal. That's wrong. Continuing in Iraq without a plan, without a timetable for withdrawal is a terrible signal to Americans and our troops. It's a failure of leadership.

"Mr. President, the United States of America – the strongest country in the world – should not let our decision about when to bring our men and women home be dictated by a group of foreign insurgents. We have set timetables for the Iraqis to establish a new government, draft a constitution and conduct free elections – and now we need to set a timetable to bring our troops home.

"We should start the withdrawal in six months, soon after the Iraqi National Assembly Elections scheduled for December 15. By early next year, our troops will have made it possible for the Iraqis to establish their own government and constitution and to hold free elections. Our troops will have done their job and it will be time to bring them home.

"Let me be clear – withdrawing our troops will not mean abandoning Iraq. Our troops should continue training Iraqi security forces for the next six months and during the gradual withdrawal process. Following the withdrawal, United States military trainers and advisors should provide continued training and technical assistance to Iraqi security forces and the new Iraqi government, as we do in many nations around the world.

"Mr. President, in just the last week, different officials in your administration have suggested very different timelines for withdrawal. The President is the Commander-in-Chief. You need to set the timetable and plan. You owe it to the American people to get this job done and bring our men and women home."
I signed here.
Posted at 01:57 PM in 2006 Elections - Senate, International, Rhode Island | Comments (2) | Technorati
Thursday, August 18, 2005
Today's New York Times
Posted by
Bob Brigham
Headline: Roadside Blast Kills Four U.S. Soldiers
Headline: Bombings Kill 43 at Key Terminal for Buses in Iraq:
BAGHDAD, Iraq, Aug. 17 - Three car bombs exploded Wednesday in quick succession in and around a crowded bus station in Baghdad, killing at least 43 people, injuring 88 and paralyzing one of Iraq's most important transportation networks.
Headline: Turning Out to Support a Mother's Protest:
CRAWFORD, Tex., Aug. 17 - Supporters of Cindy Sheehan held more than 1,500 candlelight vigils across the country on Wednesday night in solidarity with this mother of a soldier killed in Iraq, who has set up a protest encampment down the road from President Bush's ranch here.
Headline: Bad Iraq News Worries Some in G.O.P. on '06
WASHINGTON, Aug. 17 - A stream of bad news out of Iraq, echoed at home by polls that show growing impatience with the war and rising disapproval of President Bush's Iraq policies, is stirring political concern in Republican circles, party officials said Wednesday.

Some said that the perception that the war was faltering was providing a rallying point for dispirited Democrats and could pose problems for Republicans in the Congressional elections next year.

Republicans said a convergence of events - including the protests inspired by the mother of a slain American soldier outside Mr. Bush's ranch in Texas, the missed deadline to draft an Iraqi Constitution and the spike in casualties among reservists - was creating what they said could be a significant and lasting shift in public attitude against the war.

The Republicans described that shift as particularly worrisome, occurring 14 months before the midterm elections. As further evidence, they pointed to a special election in Ohio two weeks ago, where a Democratic marine veteran from Iraq who criticized the invasion decision came close to winning in a district that should have easily produced a Republican victory.
Time to fight in every precinct in every district in every state -- every day.
Posted at 04:06 PM in 2006 Elections, International | Comments (1) | Technorati
Thursday, July 14, 2005
Bush Botching to Blame for Bombing???
Posted by
Bob Brigham
ABC News just reported that the British authorities say they have evidence that the London attacks last week were an operation planned by Al Qaeda for the last two years. This was an operation the Brits thought they caught and stopped in time, but they were wrong. The piece of the puzzle ABC missed is that this is an operation the Bush administration helped botch last year.

1. The London bombers, per ABC, are connected to an Al Qaeda plot planned two years ago in Lahore, Pakistan.

2. Pakistani authorities recovered the laptop of a captured Al Qaeda leader, Mohammed Naeem Noor Khan, on July 13, 2004. On that laptop, they found plans for a coordinated series of attacks on the London subway. According to an expert interviewed by ABC, "there is absolutely no doubt that Khan was part of a worldwide Al Qaeda operation, not just in the United States but also in Great Britain and throughout the west."

3. ABC reports that names in the computer matched a suspected cell of Britain's of Pakistani decent, many of who lived near the town of Luton, England. According to ABC, authorities thought they had stopped the subway plot with the arrest of more than a dozen people last year. Obviously, they hadn't.

4. Those arrests were the arrests that the Bush administration botched by announcing a heightened security alert the week of the Democratic Convention. Because the US let the cat out of the bag, the media got a hold of Khan's name, his Al Qaeda contacts found out he was co-opted, and they fled. The Brits had to have a high speed chase to catch some of them as they fled, and, according to press reports, the Brits and Pakistanis both fear that some slipped away.

Again, these were guys involved with the plot to blow up the London subway last week. Some may have escaped because of Bush administration negligence.
I'm sure John Aravosis will have more...
Posted at 08:15 PM in International, Republicans, Scandals | Technorati
Thursday, July 07, 2005
Bloggers for Accountability - London Edition
Posted by
Bob Brigham
Today many progressive bloggers responded to the London attacks like angry shareholders. The angst level was visible, the people were pissed -- why is Bush failing America in the War on Terror?
Today, many a blogger focused on accountability, here is a sampling:
[A]s Tony Blair oversees the carnage and anger in his country, he may want to ask his good buddy George W. Bush why his administration crippled Blair's domestic anti-terror efforts to track down and stop Al Qaeda cells inside Great Britain by exposing a known Al Qaeda asset at a time when the Brits were very close to nailing a ring of Al Qaeda cells inside the country? With today's tragedy in front of them, don't you think that British intelligence would have wanted to finish their work last fall in smashing London's Al Qaeda cells before the Bush Administration blew a covert operation just so Bush could be reelected?

But as the Plame case shows, the Bush Administration has never let national security here or abroad get in the way of their Number One priority anyway, have they?
Kos:
Bush's latest rationale for maintaining the course in Iraq adventure has been the "flypaper strategy" -- it's better to fight the terrorists over there than at home. Nevermind that the Iraqis never asked to have their country turned into a dangerous den of terrorism, insurgency, violence and death. For war supporters looking for an excuse, any excuse, to justify the continued disastrous American presence in Iraq, the flypaper rationale was as good as any.

Except that it's not working. The war isn't making the West any safer. In fact, it's creating a whole new class of terrorists. Today it was London. Next time it could easily be the United States. And waging the war in Iraq, rather than make us safer, is further motivating Islamic terrorists to strike at the West. [...]

But Bush (and Blair) took their eyes off the prize -- neglected to finish the job in Afghanistan, let Al Qaida off the hook to rebuild and reorganize, and helped swell its ranks with an unecessary and inept campaign in Iraq.

There are consequences to the mess in Iraq. And today, we're seeing one of them. Unfortunately, it won't be the last.
George Bush decided to place a significant number of this country's resources and effort into Iraq. Every Delta Force member, every CIA paramilitary and officer in Iraq, is one which is not hunting the Taliban and Al Qaeda in Central and South Asia. In the two years we have been bringing democracy training terrorists in Iraq, Al Qaeda has attacked our allies in Iraq at home, first the Spanish, now the British. This is no surprise, since it has been expected for years that the British would be attacked in some way. [...]

And of course, our ineffectual right wing, who, like teenage girls, like the fashion of the moment, will call for something ot be done, but because Iraq hangs around our neck like a massive security albatross, Al Qaeda has freedom of movement and there is little to do. If Osama had a couple of divisions chasing his ass, this wouldn't be happening. Or at least we wouldn't be seeing him on video in the next few weeks gloating.

What will we do? Arrest a few naive, angry young men, toss them in jail, and have American idiots blather about "Islamofascism" and puff their chests up, while keeping their kids safe at home. AQ knows the content of the character and it is that they will fight for nothing, do nothing, except talk. They blather and whine, and America's real enemies see this and understand this. When these cowards talk of the right to their opinion while not serving, people see that, they understand that, and they see how willing we are to leave Afghanistan to molder.
AmericaBlog's Michael in New York:
Bush's failure to make our country safer is a sign of weakness and incompetence.

It's been 4 years since 9-11 and we STILL don't have a combined list of terrorists that can be checked against people coming into our country by plane, car or boat. It was crazy we didn't have this before 9-11. It's criminal that we don't have it now.

It's been 4 years and Bush has failed to strengthen security around our highly vulnerable chemical and nuclear energy plants. Why? Because big business doesn't want to pay for increased security and Bush is putting their concerns ahead of the safety of America.

It's been 4 years and Bush is delaying the strengthening of our coastlines and ports to two and a half DECADES. Any reasonable person would speed up the strengthening of our coastlines and ports. Why isn't Bush?

It's been 4 years and Bush has failed to hunt down and kill Osama Bin Laden.

It's been 4 years and Bush can't even ferret out a felon in the White House.

What else has Bush failed to do in this country to make our nation safer?

The American people aren't worried they'll lose the war on terror. They're worried that Bush is too weak to win it.
The threat of terrorism is very real, especially in major cities. But with respect to the folks who want to lasso this into a pillar of support for a disastrous policy in Iraq, frankly, we already knew terrorism was real. Most people are sick to death of our bumbling in Iraq because it's distracted us from actually defending ourselves.

The immediate answer to this is to hunt down the people immediately responsible, root out the primarily-non-state terror networks that support, plan and make these attacks possible and start getting about serious homeland defense -- port security, rail security, nuclear power plant security.

On that last count, what we've accomplished in the US over the last few years has been painfully inadequate, largely because of our focus on nation-states that have only a tenuous connection to this threat -- a lot of lies, mumbojumbo, and scurrilous and dark motives by the usual suspects notwithstanding.
The idea that, because our troops are in Iraq, terrorists will only attack us there and not "in the streets of our own cities" is, first and foremost, an insult to our troops because it treats them as if their entire mission is to serve as bait for terrorists. That's not what our troops – or America – was told this was all about.

Secondly, are we really supposed to believe the same terrorists who masterminded the 9/11 attack can't walk and chew gum at the same time? I mean, maybe George W. Bush and the dolts around him are so intellectually impaired they can't do two things at once – but Al Qaeda sure can, and any sentiment to the contrary is idiotic.

But the fact that this line of reasoning insults our intelligence shouldn't be the biggest concern with it. The fact that this rationale has justified spending billions on a war in Iraq while shortchanging basic homeland security is what's really troubling. For years now, experts have begged the Bush administration to adequately fund key homeland security priorities - but they have been rejected at almost every turn.

Instea, the White House has knowingly left our ports, our borders and yes – our transit systems – totally vulnerable to terrorist attacks because they have refused to spend adequate resources, even as they have insisted on cutting taxes for the wealthy and plunging us into a war in Iraq. When Democrats have tried to reduce those tax cuts to pay for critical homeland security needs, they have been voted down. Meanwhile, GOP leaders in Congress have gone along: for instance, just a few weeks ago they gutted funding for transit security.
Whoever carried out these attacks managed with a minimum of expense and a modest amount of planning and ruthless execution to upstage the G8 Summit, instantly deflate London's euphoria over winning the Olympic nod for 2012, and wipe the smile off of Tony Blair's face--Blair, for whom the G8 summit was to be his big comeback stage and an opportunity to get out from under his poodle image by taking the high moral ground over Bush on the issues of global warming and African relief. It's been over three years since 3000 Americans died on 9/11, Bin Laden is still at large, Iraq is turning into quicksand, oil has crested $60 a barrel, and yet the Steadfast and Resolute politicians and pundits still insist on underestimating the strategic and tactical intelligence of Al Qaeda. Why, I don't know.
Quantifiably, the numbers prove Bush and the Radical Right are losing the War on Terror. We are losing because Bush values the Radical Right more than winning the War on Terror.
Today, my train ride was better than normal. This morning, there were bomb dogs when I got on (yet not this afternoon). But the entire security system on this critical rail line -- the commuter line through Silicon Valley -- is a mess. There is no security system, today's security was provided by an officer from AmTrak and by the Sheriff's Department (of the next county over). It was an emergency show of force, it wasn't adequate, and regular commuters will tell you it was not the norm (in fact, the TV camera suggested that covering one stop of the rail through Silicon Valley was newsworthy). The only reason it happened was based on a formula put in place when the Terror Level was raised for cities with mass transit. Yesterday, this critical artery of the new economy, was completely unsecured.
In the days following 9/11, we all knew we need to secure America -- Bush has failed.
After Madrid, we all knew we had more to do to secure our transportation infrasture -- yet Bush failed.
Now that we've seen this attack on BOTH of the major countries who invaded Iraq, how can we question whether we should stop wasting time and money in the War on Itaq when we need to focus our energy in the War on Terror.
Bush fucked up and Bin Laden reigns free. Democracy requires accountability. I'm proud to see bloggers carrying the responsibility of the press, but it would be nice if the press could at least do their jobs when lives are being lost.
Most bloggers, but not Kevin Drum:
A WISH....If I could have one small wish for today, it would be for the blogosphere on both left and right to refrain from political point scoring over the London attacks. Just for a day. Isn't tomorrow soon enough to return to our usual arguments?
I have a giant fucking problem with people who wish for politeness instead of justice. People are dying and Drum's one wish is to refrain from accountability? This premium on getting along instead of getting it write right is a major reason why Washington Democrats are so fucked up.
My wish is for reporters to focus upon accountability as well as most bloggers have been doing today.
Posted at 06:01 PM in International, Scandals | Technorati
GOP: Bad Day for London Commuters and Neocons
Posted by
Bob Brigham
Gotta love the way the people riding public transit pay the ultimate price for the oily neocons' decision to focus on Iraq instead of Bin Laden. Any discussion of the London terrorist attacks must include the simple fact that it has been 1,395 days since 9/11 -- yet Bin Laden is still at-large.
Bush and Blair failed by invading Iraq and the Down Street Memo clearly shows that the people were mislead for the Radical Right's crusade adventure in Iraq.
We're losing the war in Iraq. We're losing the war on terror.
Instead of capturing Bin Laden and breaking al Qaeda, we invaded Iraq. And every dollar wasted in the quagmire is one less dollar spent securing America.
I'm going to hop on a train not that different from the tubes in London. This train is the main artery through the Silicon Valley. This train is NOT secure. You want some terror, freak out the geeks who run the economy (imagine what happens when Google workers are scared to go to work).
It didn't have to be this way. In the days following 9/11, there was more good will towards the United States than we may ever see again. But Bush didn't rise to the occassion. He didn't enlist the American people in defending America, he used 9/11 as an excuse to push a radical foreign policy. It didn't have to be this way.
Now, 1,395 days after 9/11, it is time for Bush to make capturing Bin Laden a priority. Go sign the petition:
Dear President Bush:

Four years after the murder of nearly 3,000 Americans, Osama bin Laden remains free to plan further attacks on our nation. Your failure to make his capture your top priority endangers American lives -- and is an insult to everyone who lost a loved one on September 11.

Just six months after the attacks, you told America, "I truly am not that concerned about him." It's time for you to get concerned. Capturing Osama bin Laden should be your top priority.

Your CIA chief recently told TIME that he has an "excellent idea" where bin Laden is hiding. If your administration knows his whereabouts, than there is no possible excuse for allowing him to remain free.

I demand that you change your priorities immediately and get Osama bin Laden.
Posted at 10:37 AM in International | Technorati
Monday, June 13, 2005
Not Winning War on Terror
Posted by
Bob Brigham
George Bush has utterly failed in the War on Terror. I'm lucky enough to live in San Francisco, but for economic reasons I join many of my neighbors in commuting to the Silicon Valley. As a public transit aficionado, I either car-pool or take Caltrain.
Caltrain is a critical piece of public transit -- from San Francisco to San Jose it is the artery of Silicon Valley. Considering Silicon Valley's unique status as the brains of the new economy, you would think safeguarding Caltrain would be a primary focus -- especially after the Madrid train bombings. You would be wrong.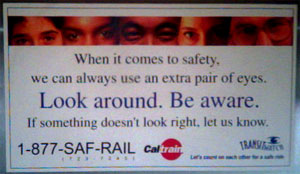 This morning, upon boarding in San Francisco, I noticed a black backpack that was unattended, and left on a second-level storage rack in a manner so as it would not be seen by the engineers as they make their way down the aisle. So I told an employee, before we left San Francisco. He replied that it probably belonged to somebody using the bathroom. I boarded (on another car) and read the paper while the train travelled through tunnels and over bridges.
As I was getting off (45 minutes later), the engineer saw me taking the above pic, came up, and asked if I had referred to the black bag with the waterbottle. He said it was still there and he'd turn it in when they got to San Jose.
So Bush can spin conviction numbers all he wants. But we aren't safer, not at all. Fifteen months after the Madrid train bombings, Bush has failed to secure one of the most critical train lines in America.
Posted at 12:24 PM in International | Technorati
Friday, May 27, 2005
Boycott Bali
Posted by
Bob Brigham
In solidarity, I suggest you join the Boycott of Bali.
Posted at 12:48 AM in International | Technorati
Thursday, May 26, 2005
Bush Losing War on Terror
Posted by
Bob Brigham
Senator Harry Reid, via Talk Left:
As of this month, more time has passed since 9-11 than the time between Pearl Harbor and the defeat of Japan. During those three years and eight months – sixty years ago – we invaded North Africa and Normandy. We freed people from the Philippines to France. Hitler lay dead and Tojo was in chains. We had defeated fascism around the world and had begun to build the new United Nations.

But today Osama bin Laden is still on the loose, our homeland is still not secure, we're still not energy independent, and – in many ways – Americans are less safe than we were before 9-11.
If Bush and Rice wouldn't have been so incompetent, Osama would have faced justice by now. Instead, Bush decided to invade Iraq, pushing our country into a needless war which we ARE LOSING.
Not only are we losing, but Juan Cole says we're going to keep losing. In the process of losing the war in Iraq, Bush has destroyed the perception of U.S. invulnerability.
In the days following 9/11, the entire world rallied for America. Each day since then, Bush's disasterous policies have turned much of the world against us. Bush has lost a war, lost the lives of far too many American soldiers, and lost a once in a lifetime opportunity.
In the time it took FDR (Democrat) to kick ass worldwide, Bush (Republican) couldn't even kick Osama's ass. It isn't just that Bush doesn't measure up against America's great leaders, but with each passing day he is ensuring a legacy: Worst. President. Ever.
Posted at 02:49 PM in International | Comments (1) | Technorati
Tuesday, May 24, 2005
Numbers in Iraq
Posted by
Bob Brigham
CNN:
Nine American troops killed in Iraq

BAGHDAD, Iraq (CNN) -- Insurgent attacks during the past 24 hours have killed nine U.S. troops in Iraq, the military said Tuesday.

Three soldiers died in a car bombing in central Baghdad on Tuesday and a fourth -- who was manning an observation post -- was killed by a drive-by gunman, Task Force Baghdad spokesman, Maj. Darryl Wright said.

Four other American soldiers were killed by a bomb on Monday, the military said. They were assigned to the 155th Brigade Combat Team, 2nd Marine Expeditionary Force.

The explosive "detonated near their vehicle" in fighting in Haswa, south of Baghdad.

A ninth American -- a Marine -- died Monday after an "indirect fire attack" on Camp Blue Diamond in Ramadi, the Marines said.

The deaths bring the number of U.S. troops killed in the Iraq war to 1,643, according to U.S. military reports.
As more and more service members die for Bush's unnecessary war, it is easy to get lost in the numbers. Lots of numbers, but each of these numbers is a story, a son or daughter, a brother or sister. There is a great number of families and communities that are hurting -- for no reason. Each number has a story, and in addition to the wounded and the mentally scarred, the soldiers who won't be coming home now number 1,643:
# # # # # # # # # # # # # # # # # # # # # # # # # # # # # # # # # # # # # # # # # # # # # # # # # # # # # # # # # # # # # # # # # # # # # # # # # # # # # # # # # # # # # # # # # # # # # # # # # # # # # # # # # # # # # # # # # # # # # # # # # # # # # # # # # # # # # # # # # # # # # # # # # # # # # # # # # # # # # # # # # # # # # # # # # # # # # # # # # # # # # # # # # # # # # # # # # # # # # # # # # # # # # # # # # # # # # # # # # # # # # # # # # # # # # # # # # # # # # # # # # # # # # # # # # # # # # # # # # # # # # # # # # # # # # # # # # # # # # # # # # # # # # # # # # # # # # # # # # # # # # # # # # # # # # # # # # # # # # # # # # # # # # # # # # # # # # # # # # # # # # # # # # # # # # # # # # # # # # # # # # # # # # # # # # # # # # # # # # # # # # # # # # # # # # # # # # # # # # # # # # # # # # # # # # # # # # # # # # # # # # # # # # # # # # # # # # # # # # # # # # # # # # # # # # # # # # # # # # # # # # # # # # # # # # # # # # # # # # # # # # # # # # # # # # # # # # # # # # # # # # # # # # # # # # # # # # # # # # # # # # # # # # # # # # # # # # # # # # # # # # # # # # # # # # # # # # # # # # # # # # # # # # # # # # # # # # # # # # # # # # # # # # # # # # # # # # # # # # # # # # # # # # # # # # # # # # # # # # # # # # # # # # # # # # # # # # # # # # # # # # # # # # # # # # # # # # # # # # # # # # # # # # # # # # # # # # # # # # # # # # # # # # # # # # # # # # # # # # # # # # # # # # # # # # # # # # # # # # # # # # # # # # # # # # # # # # # # # # # # # # # # # # # # # # # # # # # # # # # # # # # # # # # # # # # # # # # # # # # # # # # # # # # # # # # # # # # # # # # # # # # # # # # # # # # # # # # # # # # # # # # # # # # # # # # # # # # # # # # # # # # # # # # # # # # # # # # # # # # # # # # # # # # # # # # # # # # # # # # # # # # # # # # # # # # # # # # # # # # # # # # # # # # # # # # # # # # # # # # # # # # # # # # # # # # # # # # # # # # # # # # # # # # # # # # # # # # # # # # # # # # # # # # # # # # # # # # # # # # # # # # # # # # # # # # # # # # # # # # # # # # # # # # # # # # # # # # # # # # # # # # # # # # # # # # # # # # # # # # # # # # # # # # # # # # # # # # # # # # # # # # # # # # # # # # # # # # # # # # # # # # # # # # # # # # # # # # # # # # # # # # # # # # # # # # # # # # # # # # # # # # # # # # # # # # # # # # # # # # # # # # # # # # # # # # # # # # # # # # # # # # # # # # # # # # # # # # # # # # # # # # # # # # # # # # # # # # # # # # # # # # # # # # # # # # # # # # # # # # # # # # # # # # # # # # # # # # # # # # # # # # # # # # # # # # # # # # # # # # # # # # # # # # # # # # # # # # # # # # # # # # # # # # # # # # # # # # # # # # # # # # # # # # # # # # # # # # # # # # # # # # # # # # # # # # # # # # # # # # # # # # # # # # # # # # # # # # # # # # # # # # # # # # # # # # # # # # # # # # # # # # # # # # # # # # # # # # # # # # # # # # # # # # # # # # # # # # # # # # # # # # # # # # # # # # # # # # # # # # # # # # # # # # # # # # # # # # # # # # # # # # # # # # # # # # # # # # # # # # # # # # # # # # # # # # # # # # # # # # # # # # # # # # # # # # # # # # # # # # # # # # # # # # # # # # # # # # # # # # # # # # # # # # # # # # # # # # # # # # # # # # # # # # # # # # # # # # # # # # # # # # # # # # # # # # # # # # # # # # # # # # # # # # # # # # # # # # # # # # # # # # # # # # # # # # # # # # # # # # # # # # #
Posted at 04:07 PM in International | Technorati
Wednesday, April 20, 2005
US Elections: New Pope a Campaigner
Posted by
Bob Brigham
This is a troubling history, via AmericaBlog, from AFP:
German Cardinal Joseph Ratzinger, the Vatican theologian who was elected Pope Benedict XVI, intervened in the 2004 US election campaign ordering bishops to deny communion to abortion rights supporters including presidential candidate John Kerry. [...]

A footnote to the letter also condemned any Catholic who votes specifically for a candidate because the candidate holds a pro-abortion position. Such a voter "would be guilty of formal cooperation in evil, and so unworthy to present himself for holy communion," the letter read.

The letter, which was revealed in the Italian magazine L'Espresso last year, was reportedly only sent to US Catholic bishops, who discussed it in their convocation in Denver, Colorado, in mid-June.

Sharply divided on the issue, the bishops decided to leave the decision on granting or denying communion to the individual priest. Kerry later received communion several times from sympathetic priests.

Nevertheless, in the November election, a majority of Catholic voters, who traditionally supported Democratic Party candidates, shifted their votes to Republican and eventual winner George W. Bush.
The new Pope has "intervened" in our elections because his wants to limit our rights to satisfy his dogma. Bill Frist has launched a holy war against dissent with plans to take it nuclear. Stopping the Theocoms from achieving absolute power will be a defining battle for the 80% of the public who doesn't want government run by zealots. I can't imagine a rationalization for a Democrat ending up on the wrong side.
Posted at 12:23 AM in Democrats, International | Technorati
Monday, April 11, 2005
Joe Lieberman is a disgrace
Posted by
Bob Brigham
While Reuters headlines, "Democrats Seek to Block Bolton as UN Ambassador" we have quite a different message coming from Senator Joe Lieberman.
Lieberman is being used alongside Oliver North to bash Democrats for blocking Bolton.
Over at DailyKos there is a comment that deserves to be printed out, framed, and mailed to Senator Lieberman. From IGrantius:
You know, here's the thing I think Joe never quite understood:

When you're just some senator or congressman, or governor or mayor, you're always free to criticize the party over anything. We need disparate voices, challenging voices, we're a big tent, all that.

BUT. The moment that you accept a presidential or vice presidential nomination, you also agree to represent the entire party, and the unspoken agreement is, you will do it for the rest of your life. It is no small thing for 40 some million Democrats to invest their hopes in you. In exchange for that support, we ask only one thing. Win or lose, you will spend the rest of your life staunchly defending the party, laboring to get Democrats elected wherever you can. You can leave the moralizing, the deal breaking, and what have you to the next generation of young Turks. You have just graduated to Senior Statesman.

That's why Democrats love Teddy Kennedy. It's how Bentsen wound up in the Clinton administration. It's how Dole survived Ford. None of those men ever shat on their friends. They danced with the girl who brung them.

Not Joe. Somehow he thinks that he can return to his cozy position as the Grand Poohbah of Centrist Scolding.

It doesn't work like that. We get one chance every four years to nominate two people. If you accept our invitation, you owe us your blood sweat and tears. Now and forever. If you can't life up to that, fuck you. You're gone.
I'll second that "fuck you" and add a friendly reminder to Stop Bolton.
Posted at 03:19 PM in 2006 Elections, 2006 Elections - Senate, Activism, Connecticut, Democrats, International | Technorati
Saturday, April 09, 2005
Why does the US military target journalists?
Posted by
Bob Brigham
Not everyone works for CNN, so some people can say the truth.
Posted at 06:39 PM in International | Technorati
Sunday, April 03, 2005
Vatican Politics: Papabili
Posted by
Bob Brigham
The Papal election really should be brought into the open. The dymanics of campaigning for Pope are more complicated than almost any election. Reuters has profiles of potential candidates to be the next Pope, including:
FRANCIS ARINZE (NIGERIAN)
JORGE MARIO BERGOGLIO (ARGENTINE)
DARIO CASTRILLON HOYOS (COLOMBIAN)
GODFRIED DANNEELS (BELGIAN)
IVAN DIAS (INDIAN)
CLAUDIO HUMMES (BRAZILIAN)
NICOLAS DE JESUS LOPEZ RODRIGUEZ (DOMINICAN)
JOSE DA CRUZ POLICARPO (PORTUGUESE)
JOSEPH RATZINGER (GERMAN)
GIOVANNI BATTISTA RE (ITALIAN)
OSCAR ANDRES RODRIGUEZ MARADIAGA (HONDURAN)
CHRISTOPH SCHOENBORN (AUSTRIAN)
ANGELO SODANO (ITALIAN)
DIONIGI TETTAMANZI (ITALIAN)
Cardinals and archbishops, all with extensive resumes. Who knows what will go on behind the closed doors, but I have a feeling it will feel like Chinatown.
The Cardinals must take an oath when they first enter the Conclave that they will follow the rules set down by the Pope and that they will maintain absolute secrecy about the voting and deliberations. The penalty for disclosing anything about the conclave that must be kept secret is automatic excommunication.

The Cardinals all take seats around the wall of the Sistine Chapel and take a ballot paper on which is written "Eligo in summum pontificem" -- "I elect as supreme Pontiff...". They then write a name on it, fold it, and then proceed one by one to approach the altar, where a chalice stands with a paten on it. They hold up their ballot high to show that they have voted, then place it on the paten, and then slide it into the chalice. The votes are then counted by the Cardinal Camerlengo and his three assistants. Each assistant reads the name, reads the name aloud, writes it down on a tally sheet and then passes it to the next assistant. The third assistant runs a needle and thread through the centre of each ballot to join them all together. The ballots are then burned, as well as all notes made. If a new Pope has been elected, the papers are burned with chemicals (it used to be wet straw) to give white smoke. Otherwise, they give off black smoke, so that the waiting crowds, and the world, know whether their new Holy Father will soon emerge from the Sistine Chapel.

Until the conclaves of 1978, each Cardinal was provided a throne, a table and a canopy (or baldachino) over their heads. Paul VI abolished the practice because, with the internationalization of the College of Cardinals, there was simply no room any more. Whereas there were only 80 electors before then, the number had risen to 120. The thrones used to be arranged in two rows, along the wall facing each other. The canopies and thrones symbolized that, during the sede vacante when there is no Pope, the Cardinals all share responsibility for the governance of the Church. To further this symbolism, once the new Pope was elected and announced the name he would use, the Cardinals would pull on a cord and the canopy would collapse.

To be elected Pope, one Cardinal must receive more than two-thirds of the votes. Except that, under the new rules established by Pope John Paul II, if 30 ballots have taken place without any Cardinal being elected Pope, then the Cardinals may then elect by simple majority. This is an important change and may well be the most important change made. In the past, it has often been the case that a particular candidate has had solid majority support but cannot garner the required two-thirds majority, eg, because he is too conservative to satisfy the more moderate Cardinals. Therefore a compromise candidate is chosen, either an old Pope who will die soon and not do much until the next conclave (which is what was intended with John XXIII!) or someone not so hard-line wins support. The difference now will be that if, in the early ballots, one candidate has strong majority support, there is less incentive for that majority to compromise with the cardinals who are against their candidate and they simply need to sit out 30 ballots to elect their man. This may well see much more "hard-line" Popes being elected, and given the conservative trend of most appointments to the College by Pope John Paul II, it is almost certainly going to be a man cut from the same cloth. There will also be far less incentive for the Cardinals to finish quickly as in the past. After such a long papacy, they may need time to arrive at a strong consensus on what type of papacy the Church now needs. They will also be staying in comfortable lodgings, rather than sleeping in foldaway cots in hallways and offices in the Sistine Chapel.

The cardinals vote on the afternoon of the first day, then twice each morning and once each afternoon. If they have not elected someone within the first nine votes, then they may devote up to a day to prayer and discussion before resuming. They may do the same every seven unsuccessful votes after that.

The Cardinals are not permitted any contact with the outside world: no mobile phones, no newspapers or television, no messages or letters or signals to observers. There will be regular sweeps of all relevant areas for listening devices. The Cardinals will for the first time be visible, at least twice daily, to the observing world, when they move the 350 metres from the Domus Sanctae Marthae to the Sistine Chapel and back again. No doubt, Vatican "experts" will be hired to expound at length on what the countenance of certain key Cardinals indicates as they are filmed moving to and from the Chapel!
From Wikipedia on modern practice:
In 1996, John Paul II promulgated a new apostolic constitution, called Universi Dominici Gregis (Shepherd of the Lord's Whole Flock), which, unless superseded by later regulations, now governs the election of the Pope's successor. The procedures outlined, however, in many cases date to much earlier times. Universi Dominici Gregis is the sole constitution governing the election; it abrogates all constitutions previously issued by Popes. Under Universi Dominici Gregis, the cardinals are to be lodged in a purpose-built edifice, the Domus Sanctae Marthae, but are to continue to vote in the Sistine Chapel.

Several duties are performed by the Dean of the College of Cardinals, who is always a Cardinal Bishop. If the Dean is not entitled to participate in the conclave due to age, his place is taken by the Sub-Dean, who is also always a Cardinal Bishop. If the Sub-Dean also cannot participate, the senior Cardinal Bishop participating performs the functions.

Since the College of Cardinals is a small body, some have suggested that the electorate should be expanded. Proposed reforms include a plan to replace the College of Cardinals as the electoral body with the Synod of Bishops, which includes many more members. Under present procedure, however, the Synod may only meet while called by the Pope. Universi Dominici Gregis explicitly provides that even if a Synod or ecumenical council is in session at the time of a Pope's death, it may not perform the election. Upon the Pope's death, either body's proceedings are suspended, to be resumed only upon the order of the new Pope.

It is considered poor form to campaign for the position of Pope. However, there is inevitably always much speculation about which Cardinals have serious prospects of being elected. Speculation tends to mount when a Pope is ill or aged and shortlists of potential candidates make appearances in the media. A Cardinal who is considered to be a prospect for the papacy are referred to informally as being papabile (plural: papabili), the term being coined by "Vaticanologists" in the mid twentieth century. [...]

Beginning of the election

On the morning of the day ascertained by the Congregations of Cardinals, the cardinal electors assemble in St Peter's Basilica to celebrate the Eucharist. Then, they assemble in the afternoon in the Pauline Chapel of the Palace of the Vatican, proceeding to the Sistine Chapel while singing the Veni Creator. The Cardinals then take an oath to observe the procedures set down by the apostolic constitutions; to, if elected, defend the liberty of the Holy See; to maintain secrecy; and to disregard the instructions of secular authorities on voting. The Cardinal Dean reads the oath aloud in full; in order of precedence the other cardinal electors merely state, while touching the Gospels, that they "do so promise, pledge and swear."

After all the cardinals present have taken the oath, the Master of the Papal Liturgical Celebrations orders all individuals other than the cardinals and conclave participants to leave the Chapel. The Master himself may remain, as may one ecclesiastic designated by the Congregations prior to the commencement of the election. The ecclesiastic makes a speech concerning the problems facing the Church and on the qualities the new Pope needs to have. After the speech concludes, the ecclesiastic leaves. Following the recitation of prayers, the Cardinal Dean asks if any doubts relating to procedure remain. After the clarification of the doubts, the election may commence. Cardinals who arrive after the conclave has begun are admitted nevertheless. An ill cardinal may leave the conclave and later be readmitted; a cardinal who leaves for any reason other than illness may not return to the conclave.

Each cardinal elector may be accompanied by two attendants or conclavists (three if the cardinal elector is ill). The Secretary of the College of Cardinals, the Master of Papal Liturgical Celebrations, two Masters of Ceremonies, two officers of the Papal Sacristy and an ecclesiastic assisting the Dean of the College of Cardinals are also admitted to the conclave. Priests are available to hear the confession in different languages; two doctors are also admitted. Finally, a severely limited number of servant staff are permitted for housekeeping and the preparing and serving of meals3. Secrecy is maintained during the conclave; the cardinals as well as the conclavists and staff are not permitted to disclose any information relating to the election. Cardinal electors may not correspond or converse with anyone outside the conclave, by post, radio, telephone or otherwise. Universi Dominici Gregis specifically prohibits media such as newspapers, the radio, and television.
[edit]

Voting

On the afternoon of the first day, only one ballot is held. If no-one is elected on the first ballot, four ballots are held on each successive day: two in each morning and two in each afternoon. If no result is obtained within three days, the process is suspended for one day for prayer and an address by the senior Cardinal Deacon. After seven further ballots, the process may again be similarly suspended, with the address now being delivered by the senior Cardinal Priest. If, after another seven ballots, no result is achieved, voting is suspended once more, the address being delivered by the senior Cardinal Bishop. After a further seven ballots, the cardinal electors may reduce the two-thirds majority requirement to a simple majority requirement. The cardinals may also eliminate all candidates except the two who have received the greatest number of votes in the previous ballot; in this case as well, a simple majority suffices for an election.

The process of voting comprises three phases: the "pre-scrutiny," the "scrutiny," and the "post-scrutiny." During the pre-scrutiny, the Masters of the Ceremonies prepare ballot papers bearing the words Eligo in Summum Pontificem ("I elect as Supreme Pontiff") and provide at least two to each cardinal elector. As the cardinals begin to write down their votes, the Secretary of the College of Cardinals, the Master of Papal Liturgical Celebrations and the Masters of Ceremonies exit; the junior Cardinal Deacon then closes the door. The junior Cardinal Deacon then draws by lot nine names; the first three become Scrutineers, the second three Infirmarii and the last three Revisers. New Scrutineers, Infirmarii and Revisers are not selected again after the first ballot.

Then the scrutiny phase of the election commences. The cardinal electors proceed, in order of precedence, to take their completed ballots (which bear only the name of the individual voted for) to the altar, where the Scrutineers stand. Before casting the ballot, each cardinal elector takes a Latin oath, which translates to: "I call as my witness Christ the Lord who will be my judge, that my vote is given to the one who before God I think should be elected." If any cardinal elector is in the Chapel, but cannot proceed to the altar due to infirmity, the last Scrutineer may go to him and take his ballot after the oath is recited. If any cardinal elector is by reason of infirmity confined to his or her room, the Infirmarii go to their rooms with ballot papers and a box. When the Infirmarii return to the Chapel, the ballots are counted to ensure that their number matches with the number of ill cardinals; thereafter, they are deposited in the appropriate receptacle. The oath is taken by all cardinals only at the first vote.

Once all votes have been cast, the first Scrutineer chosen shakes the container, and the last Scrutineer removes and counts the ballots. If the number of ballots does not correspond to the number of cardinal electors present, the ballots are burnt, and the vote is repeated. If, however, no irregularities are observed, the ballots may be opened and the votes counted. Each ballot is unfolded by the first Scrutineer; all three Scrutineers separately write down the name indicated on the ballot. The last of the Scrutineers reads the name aloud.

Once all of the ballots have been opened, the final post-scrutiny phase begins. The Scrutineers add up all of the votes, and the Revisers check the ballots and the names on the Scrutineers' lists to ensure that no error was made. The ballots are then all burnt by the Scrutineers with the assistance of the Secretary of the College and the Masters of Ceremonies. If the first election held in any given morning or afternoon does not result in an election, the cardinals proceed to the next vote immediately; the papers from both ballots are burnt together at the end of the second vote. The colour of the smoke signals the results to the people assembled in St Peter's Square. Dark smoke signals that the ballot did not result in an election, while white smoke signals that a new Pope was chosen. Originally, damp straw was added to the fire to create dark smoke; now chemicals are used.
Now here is some good stuff, who can win. From about.com:
Technically, any Catholic male who has reached the age of reason, is not a heretic, is not in schism, and is not "notorious" for simony can be elected pope — there is no other requirement for election (although there are several requirements before a person can actually assume the papacy once elected). It might even be technically possible for them to elect a non-Catholic male, if they had reason to believe that he would immediately convert to Catholicism.

The lack of a long list of formal requirements is probably due to the fact that, in times past, it was possible for the elector cardinals to elect a new pope not through formal ballots but rather through sudden acclamation after being inspired.
However, that would involve a great deal of paper work:
If for some reason a lay person were elected, the Dean of the College of Cardinals would first have to ordain him to the appropriate clerical offices, from priest through bishop, before he could take over the post of Bishop of Rome that is required of all popes. If he is already a bishop somewhere, it is tradition that he set aside that post.
So I'm going to keep my eye on the papabili. A dark horse could emerge, but the odds are far greater that it will be a cardinal or archbishop than a bishop.
In fact, I'd be worried if it were a bishop. While such a scenario could spring forth from a deadlock, it would be far more likely that it would occur if there was a consensus to choose a young candidate to extend and further institutionalize the reign of Pope John Paul II.
Posted at 02:03 AM in International | Technorati
Sunday, February 06, 2005
The 101st Fighting Keyboarders
Posted by
Tim Tagaris
Normally I don't write about Iraq, despite my strong feelings on the topic. For a few reasons, the past few days have really gotten me steamed about the situation overseas. Then this about sent me over the edge tonight...
Rising Hegemon picked up on a qoute from Jonah Goldberg of the National Review, detailing why Goldberg declares himself ineligible to fight in a war him and other warrior typist have been vociferously promoting for almost two years now.
As for why my sorry a** isn't in the kill zone, lots of people think this is a searingly pertinent question. No answer I could give -- I'm 35 years old, my family couldn't afford the lost income, I have a baby daughter, my a** is, er, sorry, are a few -- ever seem to suffice.
Well Jonah, Atrios found the first thirty-something who gave his life in Iraq and left a child behind--I found five more. I would imagine these families might not have had quite the "nest egg" your family has built up either.
Here's the first. You can also read the letters he wrote to his unborn child whom he never got to meet.
Army Pfc. Jesse Givens, 34, of Fountain, Colo.

Givens was killed May 1, 2003, when his tank tumbled into the Euphrates River when a riverbank gave way. He wrote what follows to his sons, Dakota, 5, and Carson, who was born four weeks after Givens' death:

"Dakota -- You are more son than I could ever ask for. I can only hope I was half the dad. You taught me how to care until it hurts, you taught me how to smile again. You taught me that life isn't so serious and sometimes you have to play. You have a big, beautiful heart. Through life you need to keep it open and follow it. [...]

"Bean (his pet name for the unborn Carson) -- I never got to see you but I know in my heart you are beautiful. I will always have with me the feel of the soft nudges on your mom's belly, and the joy I felt when we found out you were on the way.

"I dream of you every night, and I always will. Don't ever think that since I wasn't around that I didn't love you. You were conceived of love and I came to this terrible place for love. Please understand that I had to be gone so that I could take care of my family. I love you, Bean."
Four more in the extended entry, Jonah...
Sad to the depths of his 4-year-old soul, Jack Shanaberger knew what he didn't want to be when he grows up: a father.

"I don't want to be a daddy because daddies die," the child solemnly told his mother after his father, Staff Sgt. Wentz "Baron" Shanaberger, a military policeman from Fort Pierce, Fla., was killed March 23 in an ambush in Iraq.
Or how about this?
Pfc. Stephen Downing, 30, of Burkesville, Ky., gave up his truck-driving job to join the Army to provide a better life for his children, Taylor, 9, and Stephen, 5.

"His kids were everything in the world for him," Downing's ex-wife, LeAnn Emmons, told a local newspaper.

A man with a soft spot for all children, Downing -- killed Oct. 28 by a sniper in Ramadi -- told his family he would also be fighting for the children of Iraq. "He told his kids that he wanted Iraqi kids to have the same opportunities (American) kids do," Emmons said.
How about this one, Jonah?
It was his own bottomless love for his wife and two daughters that gave rise to the worst fear for Army Chief Warrant Officer William Brennan, an Army helicopter pilot killed in a crash Oct. 16 on a mission to protect Iraqi civilians fleeing under fire from insurgents.

"It's not the fear of death that wears me down. It is the feeling of not being there for my three girls," Brennan, 36, of Bethlehem, Conn., wrote in an Easter letter to his sister. Only 2 years old when his own father died, Brennan worried that, if he were killed, his children "would never know me."
Not good enough yet? How about this one?
Army Sgt. Pamela Osbourne, 38

Less than a week after Cawvey died, Osbourne was killed by shrapnel from a rocket attack on her camp in Baghdad. A native of Jamaica, Osbourne came to America when she was 14 with two dreams -- to become a U.S. citizen and to serve in the military.

A medical condition could have kept her out of Iraq duty, but Osbourne was determined to serve her country, her husband Rohan Osbourne told a local newspaper in Hollywood, Fla.

While she was deployed, her husband tended to their three children, ages 9 to 19. A supply specialist, Osbourne managed to call home almost every day, between 5 a.m. and 6 a.m.
I am really getting pissed off right now.
Posted at 12:54 AM in International | Comments (1) | Technorati
Saturday, January 29, 2005
Iraqi vote legitimacy
Posted by
Bob Brigham
Swing State Project is the place for US elections, but on the eve of the "elections" in Iraq, I want to point out prior to the ballots being cast what it will take to legitimize the election. The BBC reported:
If the Sunni Muslim minority do not vote in significant numbers, that could rob the elections of credibility.

Many Iraqis, Sunnis in particular, view the election with indifference. They don't trust the new political class and see it as incapable of dealing with their pressing concerns - security, unemployment, inadequate infrastructure - while Iraq remains under US-led occupation.

The worst case scenario is that an election that lacks legitimacy for a large number of Iraqis could pitch the country towards civil war and territorial break-up. (emphasis mine as a supporter of democracy)
So don't let the Bush Administration fool you with turnout numbers, the only question that needs answering is whether this election is legitimate. That is the question that needs to be asked and the Iraqis know far more about legitimate elections than Bush.
If we care about Democracy then we must stand up against a sham election. Democracy deserves better.
Posted at 11:06 PM in International | Technorati
Monday, January 24, 2005
$105 billion more
Posted by
Tim Tagaris
Gimme the loot.

The Bush administration plans to announce as early as Tuesday that it will seek about $80 billion in new funding for military operations this year in Iraq and Afghanistan, administration and congressional sources said on Monday.
The new supplemental budget request would come on top of the $25 billion in emergency spending already approved for the current fiscal year, and will push total 2005 funding for military operations and equipment close to a record $105 billion, the sources said on Monday.
Seriously, how many appropriations will it take to fully armor all of the troops?
Posted at 05:53 PM in International | Technorati
Thursday, January 20, 2005
Putting the world on notice
Posted by
Tim Tagaris
Pre-released quote from President Bush at today's inauguration:
"The survival of liberty in our land increasingly depends on the success of liberty in other lands. The best hope for peace in our world is the expansion of freedom in all the world."
From President Bush's 48 hour ultimatum to Saddam Hussein (3/2003)
Unlike Saddam Hussein, we believe the Iraqi people are deserving and capable of human liberty, and when the dictator has departed, they can set an example to all the Middle East of a vital and peaceful and self-governing nation.

As we enforce the just demands of the world, we will also honor the deepest commitments of our country. Unlike Saddam Hussein, we believe the Iraqi people are deserving and capable of human liberty, and when the dictator has departed, they can set an example to all the Middle East of a vital and peaceful and self-governing nation.

The United States with other countries will work to advance liberty and peace in that region. Our goal will not be achieved overnight, but it can come over time.
I guess that means China is next. (11/2003)
Our commitment to democracy is tested in China. That nation now has a sliver, a fragment of liberty. Yet, China's people will eventually want their liberty pure and whole.
Posted at 02:03 AM in International | Technorati
Wednesday, December 08, 2004
Ukraine: The Plot Thickens
Posted by
Tim Tagaris
At this point, most of us know about the "flawed" election that took place in the Ukraine several weeks ago. Since then, supporters of Viktor Yushchenko (the one who got screwed) have filled the streets of Kiev for 16 days straight while blockading government buildings. Prime Minister, Viktor Yanukovych (the screwee), is officially on vacation. Ukraine's Supreme Court invalidated the results and called for a recount on December 26th. All caught up? Good.
The Plot Thickens - Yushchenko Was Poisoned:

It has been long suspected that somewhere along the election trail, a Yanukovych supporter actually poisoned Yushchenko. This would account for his transformation from handsome politico to something out of a Stan Lee comic book. Don't believe me? Here is the picture (click to enlarge - at your own risk)
Score one for the tin-foil-hatters. Doctors at a clinic in Austria confirmed today that Yushchenko was poisoned. This was not the result of bad sushi, as Yanukovych supporters claimed. Or, to be blunt...
Asked if the aim had been to kill him, Dr Korpan said: Yes, of course.

The confirmation came with an assist from American and British specialists who think it was most likely a very rare poison that did the damage. Doctors believe they are days away from identifying the specific substance used in the attempted hit.

If At First You Don't Succeed - Strip The Power Of The Presidency:

Faced with a popular insurrection and potential fall-out from "assassination gate," it would appear Yushchenko is in good shape to win the re-vote on December 26th. In response, outgoing President, Leonid Kuchma, is calling for constitutional changes that would shift the balance of power from the President to the Parliament.
"[The draft law] stipulates that the Rada will get practically all powers of the president. If it's approved, the presidential elections will lose all meaning," Yuliya Tymoshenko, a top Yushchenko ally, told the Russian Nezavisimaya Gazeta Tuesday. "This would betray millions of people who are struggling for Yushchenko's victory."

Ironically, there are quite a few Yushcenko supporters who are in favor of the measure. In large part, this election is a struggle between those who prefer ties to the West vs. those who favor a continued strong relationship with Russia. Yushchenko's supporters, who prefer the European ties, think this will bring their country more in line with western style democracies.
Discussions are continuing in Ukraine on how to ensure the next set of elections are fair and free from tampering.

Posted at 02:50 AM in International | Technorati
Thursday, November 11, 2004
Yasser Arafat: R.I.P. or Good Riddance?
Posted by
Tim Tagaris
By now, most of us know that Yasser Arafat has passed away at a hospital in France Wednesday night. So, I pose the following questions about one of the most divisive figures in modern times:
Rest in Peace or Good Riddance? Nobel Peace Prize Winner or Terrorist Murderer? Did he want peace with Israel, or was he the roadblock on the "road map?"
I am going to take the easy route and say there is enough blame to go around and that hopefully we can sieze upon this moment and make some progress towards peace.
But don't cop out like me. What do you think?
Here are the quick notes in the immediate aftermath, and links to articles if anyone wants to read further.
President Bush calls the death a "significant moment in Palestinian history." Arafat's Funeral will be in Egypt. He will be burried in a stone "coffin," and hopes to be transfered to Jeruselum down the road. Prime Minister Howard of Australia says "History will judge Arafat harshly."
Juan Cole (for those of us who simply adopt his opinions on the Middle East)
Tim
Posted at 01:54 AM in International | Comments (31) | Technorati
International Archive: