DNC Chair Archive:



Friday, July 22, 2005
Karen Hughes and Karl Rove Scandal
Posted by
Bob Brigham
Via email, I received an important DNC Press Release on Karen Huges: Queen of the Spin-Doctors and Captain of the White House Smear Campaign. Full post in extended entry.
Karen Hughes, Queen of the Spin-Doctors
and Captain of the White House Smear Campaign


President Bush has nominated his closest adviser, Karen Hughes, to be Under Secretary of State for Public Diplomacy. In this new position, Hughes will be responsible for kick-starting America's diplomatic marketing effort in the Muslim world. However, Hughes' involvement in the Bush Administration's manipulation of pre-war intelligence, her leadership role in the White House smear campaigns against Joe Wilson and Richard Clarke, and her potential involvement with the Plame leak, makes her an unlikely candidate for this position.

Hughes Involved in Pre-War Manipulation of Intelligence...Hughes Part of Iraq Working Group, Which Set Strategy for Marketing War in Iraq. Despite formally leaving the White House in July of 2002, Hughes was one of the regular participants in the White House Iraq Group which set the strategy for going to war in Iraq. The "internal working group", which was began its formal coordination in August of 2002, was responsible for marketing the war in Iraq and involved other political strategists such as Mary Matalin, Karl Rove, Lewis "Scooter" Libby, and Andy Card. Card hinted at the WHIG's mission to the New York Times saying "From a marketing point of view, you don't introduce new products in August." [Washington Post, 8/10/03; KTVT, 7/8/02]

Escalation of False Rhetoric Regarding Iraqi Threat Came After Formation of White House Iraq Group. The Washington Post reported that the "escalation of nuclear rhetoric" during the pre-war stage, " including the introduction of the term 'mushroom cloud' into the debate, coincided with the formation of a White House Iraq Group, or WHIG, a task force assigned to 'educate the public' about the threat from Hussein, as a participant put it." [Washington Post, 8/10/03]




Hughes Was Intimately Involved In Preparation Of Discredited 2003 State Of The Union. The Houston Chronicle reported that Hughes "was involved in drafting the speech." Hughes said that convincing Americans of the dangers of Iraq was a primary goal of the speech. Hughes: "What people want to hear is the comprehensive logic: Why is Saddam Hussein's continued defiance a threat to our country and to peace in the world?" [Houston Chronicle, 1/27/03; NBC Today, 1/28/03]


…And Led White House Smear Campaigns to Cover Up the Lies


HUGHES PROMISED TO ELEVATE POLITICAL DIALOGUE




Hughes Claimed She Would Not Engage In Anonymous Attacks And Wanted To "Elevate Political Dialogue." "I worry that Christians, myself included, give Christianity a bad name because we so often fail to model the love and humility displayed by the life of Jesus Christ," she writes [in her new book "Ten Minutes from Normal"]. Hughes, in what she called an effort to elevate political dialogue, vowed that she will no longer provide quotes to reporters without attaching her name to them. "I admit in the book: In the past, I've done it myself," she said. "You tend to be harsher and meaner when you can make those charges anonymously." [Washington Post, 3/29/04]




BUT LED SMEAR CAMPAIGN AGAINST CLARKE AND WILSON




Hughes Led Attempts To Smear Richard Clarke. The New York Times reported, "Ms. Hughes was an advocate of the howitzer treatment of Mr. Clarke, the former counterterrorism chief who was attacked by the White House as politically motivated and dishonest. She was also a sounding board for Condoleezza Rice, the national security adviser, who reached out to Ms. Hughes this week for advice on how to present her case against the criticisms of Mr. Clarke, who said she had ignored his dire warnings about terrorism." [New York Times, 3/28/04]




Hughes Admitted To Being Involved In Attempts To Smear Clarke. When asked by Barbara Walters on 20/20 whether she was involved in the White House's response to Richard Clarke's allegations, Hughes said, "I'm involved in White House discussions about those issues, and I try to help… I think, from personal knowledge, that many of the things he said are not true." [ABC's 20/20, 3/29/04]




Hughes Constructed Strategy To Defend Against Criticisms Of Bush's Use Of False Evidence In The State of the Union, Focusing On Discrediting Democrats. After the Niger/uranium scandal escalated, the White House struggled to confront the charges. Hughes helped to devise a communications plan. As reported by USA Today, the plan was to: "Most important: Question the motives of Democrats who supported the war but now are criticizing the president." [USA Today, 7/24/03]




AND POSSIBLY EXPOSED VALERIE PLAME AS A CIA OPERATIVE




White House Iraq Group Subpoenaed In Leak Probe. In March 2004, the investigation of who leaked the identity of undercover CIA operative to the media subpoenaed all White House records pertaining to the White House Iraq Group (WHIG) from July 6 through July 30, 2003. Hughes was a member of the WHIG. [Newsday, 3/6/03]




Hughes Defended Rove In Leak Charge. Hughes said that the public disclosure of a CIA operative's name was a disservice to the president and "very disruptive to democracy." Hughes "said she was confident that her fellow Texan and sometime rival, Karl Rove, the president's chief political adviser, didn't leak the name to a syndicated columnist because 'Karl has said that he was not involved.'" [Houston Chronicle, 10/2/03]


WIDESPREAD CONCERN ABOUT HUGHES APPOINTMENT


GAO Said Administration Failing To Develop A Strategy To Improve US Image Abroad. The GAO criticized the administration in April 2005 for failing to develop a strategy to improve the image of the United States as "recent polling data show that anti-Americanism is spreading and deepening around the world." The report warned that anti-American sentiments could increase support for terrorism. [Washington Post, 4/18/05]




Despite Administration Failures, Hughes Delayed Reporting to State Department. Hughes isn't slated to arrive in Washington, where she still faces a confirmation vote, until the fall. The frustration of some diplomats has prompted quiet criticism of Hughes for waiting so long after her March nomination to join the team. "She should have joined immediately," said one diplomat. [The White House Bulletin, 6/23/05]




Arab Leaders Worried About Hughes Appointment. James Zogby, director of the Arab-American Institute, who has advised several administrations on both policy and public diplomacy in the Arab world, worries that Hughes will adopt "what seems to be in vogue today - the explanation that (the Arabs) don't really dislike us, they dislike their own governments, so if we advocate freedom, we'll win" as the main message for Washington to crank out to the region. [Inter-Press Service, 3/15/05]




Muslim Community Skeptical of Hughes Appointment. Muslims are skeptical of Hughes's appointment, saying that Bush administration policies, chiefly the war in Iraq, remain sources of animosity and distrust in the Muslim world. "We can reduce anti-Americanism, but it is difficult to salvage anti-Bushism," said Muqtedar Khan, director of international studies at Adrian (Mich.) College. If Hughes makes it her task to defend the Bush administration, her appointment will prove to be "a waste of time and money," Khan said. [Religion News Service, 3/16/05]


HUGHES USED 9/11 FOR POLITICAL GAIN


Hughes Defended Politicizing 9-11 In Campaign Ads. In March 2004, during the early stages of the presidential campaign, the Bush campaign released an ad showing the charred shell of the World Trade Center, and another showing firefighters removing shrouded remains from ground zero. A firefighters union and relatives of victims objected to the politicization of 9-11. Discussing the campaign on CNN, Ms. Hughes said of the ads: ''I think it's very tasteful." [NYT, 3/5/04]




Hughes Linked Pro-Choice Supporters to Terrorists. "Wolf Blitzer asked the Bush adviser whether abortion would be an issue in this election. 'Well, Wolf, it's always an issue,' she answered. 'And I frankly think it's changing somewhat. I think after September 11th the American people are valuing life more and realizing that we need policies to value the dignity and worth of every life.' Just in case anyone didn't get it, she added that 'the fundamental difference between us and the terror network we fight is that we value every life.'" [Goodman, Washington Post Writers Group, 4/30/04, accessed on workingforchange.com]
For more information on the scandal, visit our Karl Rove Blog.
Posted at 01:25 PM in DNC Chair, Plamegate, Republicans | Technorati
Tuesday, July 19, 2005
SCOTUS: Ethically Challenged John Roberts (Another Partisan Hack)
Posted by
Tim Tagaris
An ethically challenged lawyer appointed by an ethically challenged "win-at-all-cost" administration.
U.S. v. Smithfield Foods - Roberts representing a pork processing company against Clean Water Act violations. This is what the court had to say about Roberts the litigator:
"The mischaracterization and distortion of this Memorandum is frustrating to the court. Quotes are being taken out of context, and it appears that words are being conveniently deleted or added for purposes of argument." "A totally misleading argument presented to this court."
I am not sure the amount of cases he has argued is very compelling if that is the way that he argues them.
UPDATE: Roberts on Roe v. Wade -- Brief field in Rust v. Sullivan
"We continue to believe that Roe was wrongfully decided and should be overturned." "[T]he Court's conclusions i Roe that there is a fundamental right to an abortion and that government has no compelling interest in protecting prenatal human life throughout pregnancy find no support in the text, structure, or history of the Constitution."
UPDATE (Bob) John Aravosis has info from NARAL Pro-Choice America on John Roberts and the huge oppo file from Alliance for Justice on John Roberts.
UPDATE (Tim) Aravosis has more, including Roberts' weak resume, and militant crusade to erode a woman's right to privacy, choice, and apparently right to live free from violence.
UPDATE (Tim) Jeralyn already debunks the Right's first talking point, that he was approved by the Senate to the Appeals Court overhwlemingly.
UPDATE (Bob) Here is PFAW on John Roberts (PDF)
UPDATE (Bob) Update the dkosopedia page on John Roberts and the Wikipedia page on John Roberts.
UPDATE (Bob) The John G. Robert's 2003 Confirmation Hearings
UPDATE (Bob Chris Bowers is right, John Roberts is a Partisan Hack:
The Bush administration has clearly stepped up the nomination of John Roberts in order to deflect attention from Karl Rove. Really, it makes sense. One partisan hack is deflecting attention from another.

Karl Rove is a lifetime Republican operative. John Roberts has been filing briefs and providing legal support for recounts (Roberts worked for Bush-Cheney 2000 in Florida) on behalf of Republicans for two decades. John Roberts is a partisan hack taking the heat for another partisan hack. He has only been a judge for two years. He has been a partisan Republican hack for twenty years.

The Bush administration was elected by the Supreme Court, and now it is electing a member of its campaign team to the Supreme Court in order to deflect attention away from ethics violations by the head of its campaign team, Karl Rove. The is partisan hackery at its best. The Bush administration has decided to treat the Supreme Court as an ambassadorship.

And so the fight is enjoined--the Bush administration wants to nominate a partisan hack who helped elect Bush to the Supreme Court, which elected Bush, in order to deflect attention from possible the possibly treasonous activates of another partisan hack who led the Bush campaign in 2000 and 2004. And so this is our fight--the Supreme Court is not the Northern Mariana Islands. The Supreme Court is not a way to reward those who helped get you elected. The Supreme Court is not a way to help deflect attention from the ethics violations of those who helped elect you. The Supreme Court is not a place for partisan hacks, but the Bush administration thinks it is. And so this is our fight--country over partisanship. And so it begins.
Howard Dean (from a press release):
Washington - Faced with a growing scandal surrounding the involvement of Deputy White House chief of Staff Karl Rove and Vice President Cheney's Chief of Staff Lewis Libby in the leaking the identity of a covert CIA operative, President Bush announced his nomination of John Roberts to the Supreme Court late this evening. Democratic National Chairman Howard Dean today issued the following statement on the nomination:

"It is disappointing that when President Bush had the chance to bring the country together, he instead turned to a nominee who may have impressive legal credentials, but also has sharp partisan credentials that cannot be ignored.

"Democrats take very seriously the responsibility to protect the individual rights of all Americans and are committed to ensuring that ideological judicial activists are not appointed to the Supreme Court. The Senate Judiciary Committee will now have the opportunity to see if Judge Roberts can put his partisanship aside, and live up to a Supreme Court Justice's duty to uphold the rights and freedoms of every American and the promise of equal justice for all."
Posted at 08:02 PM in Activism, DNC Chair, General, Netroots, Nuclear Option, Plamegate, Scandals, Supreme Court | Technorati
Monday, July 18, 2005
Dean: Bush Must Keep His Word
Posted by
Bob Brigham
A press release from the DNC:
Dean: Bush Must Keep His Word

Washington - This weekend, newspapers from around the country, responding to the scandal surrounding the White House, called on President Bush to keep his word with the American people and put our national security interests above his personal politics. Now that it's clear that both President Bush and Vice President Cheney's top aides, Karl Rove and Lewis "Scooter" Libby, spoke to reporters as payback against a political opponent, Democratic National Committee Chairman Howard Dean reiterated his call for President Bush to keep his earlier promise to fire any aide who improperly disclosed the identity of an undercover CIA operative.

"Faced with a question about whether or not he will keep his promise to fire those involved in leaking the identity of an undercover CIA agent while we are at war, President Bush backed away from his initial pledge and lowered the ethics bar," said Democratic National Committee Chairman Howard Dean. "With several sources now citing Rove and Libby as two sources of the leaks, Bush should be prepared to keep his word, and to enforce a high standard of ethics in the White House as he promised from the beginning of his administration."

Newspaper Editorials From Across the Country: Scandal Erodes White House Credibility and Bush Must Keep His Word
Associated Press: Rove Episode A "Disgrace." "The whole episode is a disgrace. It's also a sad reminder of how this administration plays fast and loose with truth." [AP, 7/12/05]

Costa Times: Scandal "Does Not Look Good for [Rove]...Bush." "On Wednesday, Bush did not defend Rove. That does not look good for the president's deputy chief of staff, nor does it look good for Bush, who either knew or should have known about high-level leaks in the White House. [Contra Costa Times, 7/14/05]

San Francisco Chronicle: "Rove Should Be Put On Leave." "The official silence from the White House on Monday was quite disturbing...At a minimum, Rove should be put on leave while the evidence that he may have used top-secret information for political purposes is being sorted out." [The San Francisco Chronicle, 7/12/05]

Denver Post: Rove Should "Come Clean About His Role." "It's time for Bush administration power broker Karl Rove - and others in the White House - to come clean about his role in the 2003 outing of CIA operative Valerie Plame...Rove's hairsplitting is an inadequate explanation for us." [Denver Post, 7/12/05]

St. Petersburg Times: Rove's Involvement "Erodes the Bush Administration's Credibility." "The revelation that the White House aide was indeed involved with the outing of a CIA operative further erodes the Bush administration's credibility." [St. Petersburg Times, 7/14/05]

Atlanta Journal-Constitution: White House Statements "Look Like Lies." "The White House and Rove have denied for two years that he played any role whatsoever in Plame's exposure as an undercover agent. Even under the most friendly of interpretations, those statements now look like lies." [Atlanta Journal-Constitution, 7/13/05]

The Record (Bergen County, NJ): Rove "Attempted to Destroy Credibility of 2 National Security Veterans." Observed an editorial in The Record (a Bergen County newspaper), "If you can't shoot the messenger, take aim at his wife. That clearly was the intent of White House Deputy Chief of Staff Karl Rove. To try to conceal the fact that the president had lied to the American public about Iraq's weapons of mass destruction program, Rove attempted to destroy the credibility of two national security veterans and send an intimidating message to any other government officials preparing to publicly tell the truth... Yet what the emerging Rove scandal demonstrates is the ease with which a wily top White House official can subvert the Bill of Rights' protection of the free press to serve the tawdriest of political ends." [ The Record, 7/14/05]

Herald News (New Jersey): Administration "Owes the American People Answers." "It is ridiculous that an administration willing to let a reporter go to jail for not breaking her pledge of confidentiality to a source is stonewalling the American public on what it knew about the leak. Rove is one of the most influential advisers to the president. Whether Rove identified Plame by name or merely suggested that she could be behind Wilson's trip to Niger, Rove's hands are not clean... Bush, McClellan and Rove owe the American people answers." [Herald News, 7/14/05]

Albuquerque Journal: Affair Puts Administration's "Credibility...Squarely at Issue." "All legal questions aside, this puts the Bush administration's credibility on this question squarely at issue... The president earlier vowed to fire anyone in his administration found guilty of leaking Plame's name. If prosecutors indict Rove, Bush will have little choice but to follow through." [Albuquerque Journal, 7/14/05]

Charlotte Observer: President Should "Get the Facts." According to a Charlotte Observer editorial, "...in September 2003 a White House spokesman said Mr. Rove had not been involved in disclosing Ms. Plame's name. The Time e-mail shows he did disclose her CIA connection... The president has the power to get the facts and tell the public the truth. He should use it." [Charlotte Observer, 7/13/05]

Cleveland Plain Dealer: Bush "Choosing to Stonewall" "The Bush administration, like many of its predecessors, when finally faced with questions of confidence and honor, apparently is choosing to stonewall the questioners - exactly the worst thing it can do." [Cleveland Plain Dealer, 7/13/05]

Philadelphia Inquirer: President Engaged in "Goofy Posturing." "Either presidential adviser Karl Rove wasn't telling the truth to President Bush about his role in revealing the identity of a CIA officer. Or Bush wasn't telling the truth to the public about Rove's involvement. Neither option is defensible...to contend that [Rove] had no role in revealing her identity is to engage in goofy posturing worthy of the old TV spy series Get Smart." [ Philadelphia Inquirer, 7/13/05]

Pittsburgh Post-Gazette: Rove "Betraying the Country." "The White House operative who blew CIA Agent Valerie Plame's cover to journalists Matt Cooper and Judith Miller was betraying the country, pure and simple." [Pittsburgh Post-Gazette, 6/28/05]

Intelligence Journal: "Rove Deserves to be Fired." "The petty and vengeful disclosure of the identity of Valerie Plame...contrasts sharply with an administration that likes to highlight its discipline and talk about its values... The president promised to fire leakers in the Plame affair. If Coopers notes are correct, Rove deserves to be fired." [Intelligence Journal, 7/13/05]

Philadelphia Daily News: Rove "Can't Be Trusted...Must Go." "It's now clear that Rove, President Bush's chief political street fighter, can't be trusted with the nation's secrets. Not when a cheap political attack can be made... There is no easy way to explain this away. And the White House shouldn't even try. Rove must go." [Philadelphia Daily News, 7/12/05]

The Herald: Rove "Lied to President...Might Have Compromised National Security." "Rove apparently lied to the president. He publicly identified a CIA agent. He engaged in an active effort to discredit and intimidate Wilson simply because he was critical of the president. He did not volunteer information about his role in this affair to federal investigators for two years. And he might have compromised national security." [The Herald, 7/14/05]

The Jackson Sun: President in "No-Win Situation." "Of course, the question that should be answered first deals with Bush's own knowledge of Rove's activities. This is a no-win situation for the president. If he admits prior knowledge of Rove's conversations with Cooper, that suggests that he approved of his actions. If he continues to claim ignorance, that suggests something far worse: that Rove was acting on his own, without presidential authority." [ The Jackson Sun, 7/1305]

Roanoke Times & World News: "Apparent Violation of Public Trust" "The Roanoke Times Rove can stick to the story that he did not actually name Plame, and hope Bush's conservative base will overwhelm critics with howls about a media witch hunt. But a public disgusted by one president's arguments over the legal meaning of the word 'is' likely will not be buying. And in this case, the apparent violation of the public trust involves matters much more serious than presidential peccadilloes. It deals with national security and war - specifically, selling the American public on the war in Iraq." [Roanoke Times & World News, 7/13/05]

Seattle Post-Intelligencer: President Must Live Up To Earlier Promise. "The President must live up to his early promises about dealing severely with the abusive leak of Plame's identity. On Oct. 6, 2003, Bush told reporters, 'This is a very serious matter, and our administration takes it very seriously.' Unless the plain meaning of those words is not their true meaning, Bush was saying that he and other top advisers were outraged at the leak and had nothing to do with it. Now, it turns out that Rove, indeed, did have something to do with using Plame's CIA activities to attack Wilson." [Seattle Post-Intelligencer, 7/12/05]

Sarasota Herald Tribune: "Americans...Are Baffled By the Changing Story." "Americans who are baffled by the changing story and troubled by the partisan defenses and attacks can only hope that Fitzgerald sets the record straight." [Sarasota Herald Tribune, 7/17/05]

Miami Herald: "Rove Violated the Spirit of the Law." "Mr. Rove violated the spirit of the law and engaged in behavior unworthy a senior administration official...Is this how President Bush wants the White House to conduct business?" [Miami Herald, 7/15/05]

Capital Times: Aggravated about Rove's avoidance of accountability. "There is no longer any question about the fact that Rove was Cooper's source. So is Rove going to jail? That's far from certain. Rove's a master manipulator, and he has a long record of avoiding accountability for wrongdoing." [Capital Times, 7/14/05]



This is why Bush has a credibility problem.
Posted at 02:08 PM in DNC Chair, Plamegate | Technorati
Sunday, July 17, 2005
Howard Dean: American People "Deserve Answers"
Posted by
Bob Brigham
The DNC issued a great press release on the abuse of power scandal. I've included the whole thing postjump.
DEAN: AMERICAN PEOPLE "DESERVE ANSWERS"

"Despite his best efforts to cloud the facts, not even Ken Mehlman and the Republican spin machine can change the fact that the Bush Administration's credibility problem is only getting worse. The list of unanswered questions surrounding the Rove scandal and its impact on our national security continue to grow," said DNC Chairman Howard Dean. "The American people deserve answers to these questions. And they deserve to know whether the President is a man of his word. Mr. President, keep your word."

See below for a new document from DNC Research:

WHAT DID ROVE KNOW AND WHEN DID HE KNOW IT?
THE UNANSWERED QUESTIONS ABOUT THE PLAME LEAK

Until recently, Karl Rove had denied even knowing Valerie Plame's name. Then, after the release of emails from Time magazine reporter Matt Cooper revealing the name of the White House source, Rove's lawyer confirmed that Rove did speak with reporters about the case. Now, previously secret Time emails demonstrate that Rove did indeed leak to Cooper information about "Wilson's wife" -- Valerie Plame, and lawyers revealed that Rove confirmed Valerie Plame's identity for Bob Novak. That means that Karl Rove spoke with both of the journalists who published original accounts about Plame, and places him squarely in the center of this scandal.

"If left unpunished, this cowardly act will not only hinder our efforts to recruit qualified individuals into the clandestine service, but it will have a far-reaching, deleterious effect on our ability to recruit foreign intelligence assets overseas."

— Larry Johnson, former CIA Analyst [Senate Democratic Policy Committee Hearing, 10/24/03]

DID ROVE DELIBERATELY MISLEAD?

McClellan Said Rove Never Told Reporters that Plame Worked for CIA. White House Press Secretary Scott McCllelan was asked whether Karl Rove, Elliot Abrams or Lewis Libby told any reporter that Valerie Plame worked for the CIA?" McClellan responded by denying that Rove or the others had leaked any classified information. "Those individuals — I talked — I spoke with those individuals, as I pointed out, and those individuals assured me they were not involved in this. And that's where it stands." [WH Briefing, 10/10/03]

THE NEXT LOGICAL QUESTION:

We know Rove's initial public statements and his statements to Scott McClellan were false. And we know that after testifying once in front of the grand jury, they called him back. Did he knowingly lie to Scott McClellan? Did McClellan knowingly mislead the press? Did Rove change his answers to the grand jury? Did Rove commit perjury in front of the grand jury? Regardless of where Rove heard about Plame, wasn't it a violation of national security policy for him to confirm her identity to Novak?

ROVE REVEALED "WILSON'S WIFE" TO COOPER,
CONFIRMED HER IDENTITY FOR NOVAK

Rove Told Cooper That It Was "Wilson's Wife" Who Worked on WMDs for the CIA. Rove had a conversation with Time magazine reporter Matthew Cooper on July 11, 2003. Cooper wrote an email about the conversation to his Time bureau chief, describing how Rove gave him a "big warning" that Wilson's assertions might not be entirely accurate and that it was not the director of the CIA or the vice president who sent Wilson on his trip. Rather, "it was, KR said, wilson's wife, who apparently works at the agency on wmd who authorized the trip." Wilson's wife is Valerie Plame, then an undercover agent working as an analyst in the CIA's Directorate of Operations counterproliferation division. [Washington Post, 7/11/05; Newsweek, 7/18/05]

Rove Confirmed Plame's Identity for Bob Novak. Rove indirectly confirmed the CIA affiliation of Joe Wilson's wife for Robert Novak the week before he named her and revealed her position. "Novak said he had learned that Wilson's wife worked for the CIA…"I heard that, too," Rove replied." [Washington Post, 7/15/05]

THE NEXT LOGICAL QUESTION:

Now that we know that Rove told Cooper about "Wilson's wife," who told Rove? Who was Bob Novak's original source? If Rove really didn't have first-hand knowledge of Plame's work as an operative, why did he lead Matt Cooper to believe he did? Why did Novak use the name Valerie Plame when Cooper used the name Valerie Wilson?

WHO ELSE LEAKED BESIDES KARL ROVE?

Rove Gave Cooper Permission to Testify—Allowing Cooper to Avoid Jail Time—But Miller Chose to Go to Jail. Rove's lawyer confirmed that Rove was the secret source who, at the request of both Cooper's lawyer and the prosecutor, gave Cooper permission to testify. Cooper avoided jail time last week by agreeing to testify before the grand jury about conversations with his sources, while New York Times reporter Judith Miller was jailed for refusing to discuss her confidential sources. [Washington Post, 7/11/05; Newsweek, 7/18/05]

THE NEXT LOGICAL QUESTION:

Rove has "released" Cooper from confidentiality. If Rove were Miller's source, wouldn't he do the same for her? So who was Miller talking to? If everyone is cooperating with this investigation, why hasn't Miller's source released her from her promise of confidentiality? If everyone is cooperating with investigators, why hasn't Bush fired those that have refused to sign waivers of confidentiality?

ROVE HAD PREVIOUSLY DENIED HIS INVOLVEMENT—WHY?

Rove Had Previously Denied Any Involvement: In August 2004, Rove Claimed He Did Not Know Who Plame Was. In August of 2004, facing questions of his role in the Plame leak scandal, Rove denied his involvement, saying that he did not even know who Plame was at the time of the leak. "I didn't know her name and didn't leak her name." [CNN, 7/4/05]

Rove Spoke With Novak Five Days Before Plame's Name Became Public. Novak telephoned Rove in the week before the publication of the July 2003 column. Rove confirmed Plame's identity for Novak, saying that he too had heard that she was a CIA operative. [Washington Post, 7/15/05]

Rove Spoke to Cooper Three Days Before Plame's Name Became Public. To be considered a violation of the law, a disclosure by a government official must have been deliberate, the discloser must have known that the CIA officer was a covert agent, and he or she must have known that the government was actively concealing the covert agent's identity. Although Cooper's email does not prove that Rove knew Plame was a covert operative, "… it is significant that Rove was speaking to Cooper before Novak's column appeared; in other words, [three days] before Plame's identity had been published." [Washington Post, 7/11/05; Newsweek, 7/18/05]

In Rove's Defense, His Lawyer Claims that Rove Did Not Identify Plame by Name—But Who Else Could "Wilson's Wife" Be? According to the Washington Post, "Rove's lawyer said yesterday that his client did not identify her by name." Yet, the substance of the email from Cooper to Time editors states that it was "Wilson's wife." Since there is as yet no evidence that Wilson was a bigamist, just who else "Wilson's wife" could be besides Plame is unclear. [Washington Post, 7/11/05]

THE NEXT LOGICAL QUESTION:

If Rove is innocent, then why would he claim that he didn't know who Plame was? Why was he so careful, saying that "I didn't know her name and didn't leak her name"? Even though Cooper's email does not indicate that Rove knew what Plame's job was, couldn't this fact simply mean that Rove did not reveal any more than he needed to Cooper?
Get the latest scandal news.
Posted at 07:35 PM in DNC Chair, Democrats, General, Plamegate, Republicans, Scandals | Technorati
Thursday, July 07, 2005
Frontier PAC Has Dean's Back
Posted by
Tim Tagaris
Frequent Swing State Project user Patton Price started a Political Action Committee called Frontier PAC (you may have seen his ad here). His organization focuses on winning elections out West as the future of the Democratic Party. He is also a staunch defender of Governor/Chairman Howard Dean. So like many of us, when Democratic leadership questioned Dean's strategy of focus on the Republican Party's "culture of corruption," Patton was dissapointed.
Frontier PAC has Dean's Back (petition).
You'll notice on their homepage, the message is about "Integrity, Independence, Reform," so this is right up their alley. I am a big fan of what they trying to accomplish, and the manner at which they are attempting it; I also and agree with the Westward march--that's one of the reasons Swing State Project adopted Jon Tester as our first endorsed candidate for 2006.
Posted at 10:00 PM in DNC Chair | Technorati
Sunday, June 05, 2005
Brigham Walks Into a Flaming Bag of Dog Poop
Posted by
Tim Tagaris
UPDATE 10:32 P.M: (Tim): Bob just called me to say Donnie Fowler Jr. just threw a punch at him--and missed. I'm sure he'll have more when he returns.
------------------------------------------------------------------
Long-time Swing State Project readers and bloggers at Kos & MyDD remember the contentious race for DNC chair that took place online. Of course, Howard Dean had his legion of supporters evetually propelling the Governor to Chairmanship. Simon Rosenberg put up a great fight with the help of people like Matt Stoller. Tim Roemer's chances went up in smoke after Chris Bowers laid the smack-down on the ultra-conservative Democrat from Indiana. And then there was Donnie Fowler "reaching out" directly to the blogosphere on places like Kos & MyDD.
Unfortunately for Donnie, he ran into a buzzsaw with the last name of Brigham, first name Bob, co-author at Swing State Project that had his own favorite candidate in the race for chair. Donnie failed to gain any serious traction in the netroots because he had to spend much of his time deflecting criticism for posting and running without sticking around to read or comment. A phrase was coined -- "The flaming bag of dog poop."
For the first time since the race, Brigham ran into Fowler Jr. at a Democratic event in San Francisco earlier this evening. I just got off the phone with Bob, who told me he walked up to Jr. to extend a hand of "no hard feelings," and to say that "we were all pros"--that he was just working in the primaries for his choice. When Jr. asked Brigham what his handle was, the dog poop hit the fan. Bob responded, and after that, Fowler used the word "asshole" a minimum of 6 times during the brief exchange.
What's amazing to me is, here is a guy that headed up the Michigan field operation for Kerry in 2004, boasts of himself as a lifelong organizer, ran for DNC Chair, and still doesn't recognize the necessity of talking with people, not at them. He used the blogs as a billboard for his brouchereware, got called on it, and has the audacity to get pissed.
UPDATE 10:44 P.M.: (Bob): Yup, Fowler threw a punch at me. Of course, he missed...and looked like a complete ass (keynote speaker throwing punches at members of the audience). Thank God we have a democracy instead of a monarchy.
UPDATE 10:12 A.M.: (Bob): This probably won't come as a surprise, but if you fashion yourself a "Democratic Strategist" and then come unhinged and try to hit a blogger, other bloggers will link to it. Like Atrios, Talk Left, Crooks & Liars, The Agonist, Matt Stoller, DC Media Girl, Political Dog Fight, Ezra Klein. And Steve Gilliard wrote an piece that I begs a response:
Ok, here's the deal: Donnie Fowler is a coward and an asshole. To throw a punch at Bob Brigham because he got nailed is a chickenshit move at best and now he's gonna look like a total asshole for it. Lucky this wasn't in New York, because his ass would have been in the Tombs recovering from the bottle lodged up his ass.

I know I might receive a hard time for not giving Junior what he was asking for, but to be perfectly honest, I was too busy laughing...
Maybe he was just a brawling drunk, maybe not, but if it was me, the cops would have dragged him out of there. In my earlier days, I would have just hit his ass with a chair, a bottle, whatever was handy according to NY street rules, but as an adult, I think anyone using violence should have to deal with the police.

Hitting Donnie with a bottle wasn't necessary, Don's kid is perfectly harmless.
And this little punk wanted to run the DNC?


I think we can say that's never gonna happen.

Thank God we live in a democracy instead of a monarchy.
Let's make this clear: there are no free shots. Like that idiot lawyer lying about Kos for spite, Fowler throwing a punch at Brigham is gonna be one costly fucking mistake. See, when people toss shots at my nominal employees, I take offense. I think other people will too. Fowler think he had problems? Now he's made a bunch of enemies he didn't have to make. Anyone stupid enought to hire him for a campaign is gonna have one rough fucking time.

Hiring Donnie Fowler would not be a wise move.
If Donnie Fowler is a man, he'd offer a full written apology to Bob. Because he had no cause to act like a drunken fratboy. And he was wrong. But if wants to act like nothing happened, I can promise this: any campaign which hires this guy won't get a dime from me, and that won't be a passive act, either. I'll say openly: do not give money to these people until they fire Donnie Fowler or he offers up an apology.



Lets say you happen to employ somebody mentally unstable, maybe you shouldn't. If you freak out on people because you are mentally unstable, maybe you should apologize.
There was no reason for him acting so stupidly

No shit.

One final update: From the comments at BOPNews (Tinheart):
This is just another of Donnie Fowler's failed attempts to connect with other Democrats.
Posted at 09:42 PM in DNC Chair, Democrats, Netroots | Comments (6) | Technorati
Dean: Our Values are More Consistent with Montana Values
Posted by
Bob Brigham
Big weekend for discussions about Democrats' western strategy. From the A.P.:
The Rocky Mountain West, long a Republican stronghold, is fertile ground for Democrats hoping to take back Congress and the White House in coming years, Democratic National Chairman Howard Dean told supporters here Saturday.

Democrats have more in common with Westerners than the GOP, the former Vermont governor said.

They appreciate the free-spirited, independent thinking that dominate states like Montana, and understand the wish for a balanced budget and a strong military, as well as treating soldiers well when they get home, something Dean said the Bush administration has neglected.

"I think we're going to have a very appealing message in the Rocky Mountain West," he said. "We want to be everywhere. We don't think just because George Bush won this state by a lot of votes means that Montana is going to be Republican state forever.

"I think our values are more consistent with Montana values than Republican values are."
A true national party needs a winning strategy everywhere. Expanding infrastructure often yields only modest returns if you are scoring by wins and loses. But we need to get away from milestone evaluations. By moving away from wins and loses, Democrats can focus on a winning strategy every day.
Dean, speaking to about 100 people at a meeting of the DNC's Western States Caucus, continued his call for unity and consistency among Democrats, calling on local and state leaders to rally voters on key issues and no longer allow Republicans to "define our party."

"The Democratic party for too long has been a group of constituencies instead of a party. ... We're going to define our party. I'm not going to let them do it anymore," he said.

Dean's comments drew heavy applause from Democratic leaders representing more than a dozen Western states, as well as several key Montana officials. The audience included state Superintendent of Public Education Linda McCulloch, a handful of state lawmakers, and Senate President Jon Tester, a leading Democratic candidate to unseat U.S. Senate Conrad Burns, R-Mont.
None of us know whether Montana will be a swing state in the 2008 presidential race. But it will be a swing state in the 2006 battle for the senate.
Montana is one of the most cost-effective states when it comes to outside political investment. That is why everyone in D.C. is planning to get involved -- it is cheap, Democrats have the momentum, Jon Tester is a dream candidate, and we need to do better out west.
The 2006 backlash narrative is brewing and it could be a very powerful force during the mid-terms. I'm glad to see the DNC realizing the importance of a western strategy (Governor Dean will be back in Montana on July 16 for the State Party convention in Great Falls).
Win the west. Contribute to Jon Tester:
Posted at 12:47 PM in 2006 Elections, 2006 Elections - Senate, DNC Chair, Democrats, Montana | Technorati
Tuesday, April 05, 2005
Howard Dean to speaks to politics of old
Posted by
Bob Brigham
AP:
LITTLE ROCK - Howard Dean, former governor of Vermont and now chairman of the Democratic National Committee, will be the keynote speaker Friday at the Association of State Democratic Chairs luncheon.

Dean will highlight the committee's agenda to strengthen the state parties in his speech.
That couldn't be a better topic for the ASDC. Under Mark Brewer's reign ASDC has been a disaster.
Posted at 01:49 AM in Activism, Arkansas, DNC Chair | Technorati
Saturday, February 12, 2005
Blogosphere United
Posted by
Bob Brigham
BlogPAC is leading an effort to unite the blogosphere behind Howard Dean.
Here at the Swing State Project, we've been very focused on the future of our Democratic Party. We've covered the campaign for DNC Chair extensively. DavidNYC travelled to the Eastern Regional Caucus, I travelled to the Western Regional Caucus, and Tim has written dozens of posts on the campaign. We did this because we care about the future of our Party. Now that we have a reform Democrat leading the DNC, it is time for the blogosphere and the netroots to come together and support our leader.
If you have a blog, syndicate this and join a united blogosphere. You can also help by emailing your friends and sending them to:
UPDATE (DavidNYC): I just kicked in 25.01 - and I'm a poor student in debt up to my ears! So please, please contribute. Nothing could be more important than showing we are united in our support for Dean, and at this precise moment in time, dollars are the way to send that message.
UPDATE: $10467.69 from 215 donors in the first hour.
UPDATE 2: Be patient, ActBlue is running a little slow due to the response.
UPDATE 3: $22871.55 from 458 donors in the first two hours.
UPDATE 4: Interesting Times says Actblue, "appears to be swamped"
UPDATE 5: $34263.77 from 675 donors in the first three hours.
UPDATE 6: $43082.20 from 883 donors in the first four hours.
UPDATE 7: Kos says, "the ActBlue servers were so hammered that many went over and donated directly at the DNC site."
UPDATE 8: Blogsnow is tracking this as one of the most talked about items in the blogosphere.
UPDATE 9: Timeline: Atrios posted at 12:03 PM eastern, Markos posted the syndication code four minutes later at 9:07 AM pacific.
UPDATE 10: In five hours, 1000 people donated.
We've set up a blogosphere-wide donation page, so show your support.

Remember: money talks. So, one way to get Candy Crowley to shut the fuck up is to play to Dean's strengths, which include gettting lots of turkee from the netroots.
Now that "Chairman Dean" is official, let's get Dean's back.

That fundraising link is being shared by a great deal of blogs.[...]

Remember, the GOP will unload on Dean. Everytime you hear the "Dean Scream" without context, consider donating. When you hear some empty head talk about the party "moving left" with Dean, consider donating. When you hear about unnamed big dollar Democratic donors whining about pulling their money out of the party, consider donating.
Congratulations, Dr. Dean. Let's give him the ammunition he needs to successfully reform our party. Here's a blogosphere-wide contribution page.
The button may not work. ActBlue, the site handling the contributions, appears to be swamped right now. This is a good thing. If the button doesn't work you can go to the contribution page directly.
Those of us who have followed Dean through the highs and lows know that he's got our back. It's time to get his. Donate to the DNC and show Howard that we support his efforts to reform this party!

I am a Reform Democrat.

For a trip down nostalgia lane, here's a video link to Dean's famous "What I Want to Know" speech two years ago at the DNC winter meeting. Now he's DNC chairman.

What a country!
The GOP didn't want this. The status quo Democrats, like Lieberman, didn't want this. Dean represents a driving force that will give the party back to the people. This is a threat to those in power. As long as we are ignorant, they can rule. Dean refuses to allow us to remain ignorant any longer. As such, those in the GOP will open up with both barrels on him, probably starting tomorrow on the Sunday talking bobble head shows. We must watch Dean's back, and close ranks in support of him.

One way we in the Blogosphere can do this is through showing our support with our wallet. Please consider donating NOW to the DNC in support of electing Howard Dean to the chairmanship.
Posted at 12:11 PM in Activism, DNC Chair, Netroots | Technorati
Monday, February 07, 2005
Bush's "budget man" hates the troops...
Posted by
Tim Tagaris
From the third presidential debate: George Bush
I propose a detailed budget, Bob. I sent up my budget man to the Congress, and he says, here's how we're going to reduce the deficit in half by five years.
When the president first told the American people about his "budget man," I envisioned a tiny fella that looked like Buddy Lee running around Capitol Hill with a briefcase, screaming about how low low low his prices are and how crazy he must be for slashing them everywhere.
Little did we know that the "budget man" carried a big stick, and instead of swinging at the reckless tax cuts for the wealthiest among us--he is reaching out of the strike zone and attacking the troops. In fact, the budget man and the president HATE the troops.
Now the VA and the same troops "we support" are forced to fight a war on two fronts: One in Iraq & Afghanistan, and another for the most basic care and fulfillment of benefits promised when they signed the contract that the government wrote:
President Bush's budget would more than double the co-payment charged to many veterans for prescription drugs and would require some to pay a new fee of $250 a year for the privilege of using government health care, administration officials said Sunday. [...]

The government had no immediate estimate of how many veterans would be affected if the user fee and co-payment proposals were adopted. But veterans' groups said that hundreds of thousands of people would end up paying more and that many would be affected by both changes. [...]

Mr. Fuller added that the budget would force veterans hospitals and clinics to limit services. "We are already seeing an increase in waiting lists, even for some Iraq veterans," he said.

In Michigan, for example, thousands of veterans are on waiting lists for medical services, and some reservists returning from Iraq say they have been unable to obtain the care they were promised. A veterans clinic in Pontiac, Mich., put a limit on new enrollment. Cutbacks at a veterans hospital in Altoona, Pa., are forcing some veterans to seek treatment elsewhere.
What a dick. I can't wait to see Jonah Goldberg and his fellow warrior typists defend this bullshit budget. The contract that the men and women of our armed services sign is apparently only good for the promises they make to our government, and not the ones we owe in return for their service.
As if the stick wasn't short enough for existing veterans and new ones returning from Iraq. Currently:
1.) At least 250,000 veterans are forced to wait for their disability claims to be resolved by the Veterans Administration (VA). Sometimes up to two years. Despite the fact that thousands of veterans returning from Iraq will file disability claims, the FY 2005 budget reduces to number of staff responsible for processing those claims.
2.) A 2002 study showed that 150,000 veterans wait more than six months for an appointment for primary care.
Oh yeah, here is the kicker.
3.) For every dollar in disability these wounded warriors will collect, they will have to forgo a dollar of their Social Security benefits. That is, of course, if the president can't take away social security from those troops (and the rest of us) first.
And after all of the bullshit that our veterans have to endure when they come back home from combat, they are forced to take a stick in the eye with this 2006 budget while they listen to Republicans scream "support the troops," while they dip their fingers in purple ink in the most spectacular show of grandstanding and hypocrisy of all time.
So let's be honest with ourselves from now on. I don't care what color the stink finger you wave at me is; if you supported the troops, you would fulfill the promises made when you wrote the contract.
Posted at 03:53 PM in DNC Chair | Technorati
Tuesday, February 01, 2005
And there was joy in Mudville
Posted by
Tim Tagaris
Martin Frost just withdrew from the race for DNC Chair.
"I am calling my supporters to thank them and to inform them of my decision today to withdraw from the race for DNC Chair. I have also called Governor Dean and congratulated him for running a strong campaign. The challenge ahead for Governor Dean will be to unite the Party, rebuild the DNC and win elections in every region of the country.
Read the rest of Frost's press release here.
Posted at 04:10 PM in DNC Chair | Technorati
Fowler Done: Chairman Brewer Next?
Posted by
Tim Tagaris
From the Detroit Free Press:
People who said they were familiar with the situation told the Free Press that national party activist Donnie Fowler and Michigan campaign officials notified national party leaders they needed an extra $2.5 million on the last weekend before the Nov. 2 vote.

They said they would have to curtail the state campaign if the money wasn't forthcoming, used lax accounting practices and were so disorganized that several campaign vans turned up missing, said the Democrats, who spoke on condition of anonymity.

Fowler and Michigan Democratic Party Chairman Mark Brewer vigorously disputed those charges Monday, which they said were part of an effort by party rivals to undermine Fowler's DNC candidacy.
That should serve as the death blow to a Fowler DNC candidacy that was, if you listen to him, picking up steam. But will the fallout end there?
ASDC Chairman Brewer, who personally kicked Jerome and Matt Stoller out of the ASDC sponsored candidate Q&A, is running for Chairman of the Michigan Democratic Party. He has already has the endorsement of Governor Granholm. The election takes place February 19th at the state party convention.
Governor Granholm's Opinion Form
Posted at 01:16 PM in DNC Chair, Michigan | Technorati
Saturday, January 29, 2005
The DNC Eastern Regional Caucus
Posted by
DavidNYC
Today I went to the DNC's eastern regional caucus in New York City, the last of the candidate forums for DNC chair before the big final meeting & vote in DC on Feb. 10-12. I'll be forthright (what's the point of blogging if you aren't?): This was not a scintillating event. Most of these candidates are known quantities - in terms of what they stand for, how they'll lead, and what they want to do as DNC chair. There were no surprises.
So what can I tell you? Simon Rosenberg clearly "gets it," as Markos is fond of saying. At a press event last night, he rightly observed that we need to focus on persuasion - which is how the GOP is successful - and not just turnout, which worked for us when we were the clear majority party. During the candidate forum, Simon was also the only candidate who spoke out in favor of changing the primary system - to strong applause.
I asked Simon (on Friday night) if we'd see him post a diary on DailyKos - after all, Barbara Boxer just stopped by. He admitted that he's "obsessed with blogs," and with the slight hesitation of a man who clearly has no free time to spare, he said he would. Don't worry, Simon, we won't hold it against you if you can't make it here before Feb. 12th - but win or lose, we'd like to see you visit DKos afterward.
Howard Dean, in the five minutes he had to speak, made me fall in love all over again. I have no doubt that he, too, gets it. I don't think anyone here needs me to tell them more about Dean.
I can also tell you that there is no chance Tim Roemer will be DNC chair. Roemer received the only jeers dished out all morning: When he said, "We shouldn't let special interest groups decide our position on choice," a number of attendees actually hissed. This one-trick pony (the 9/11 Commission) just ain't gonna win.
Marty Frost complained about "anonymous e-mails" attacking him for his campaign ads. Talk about not getting it: They were blog posts, not e-mails, and they were most certainly not anonymous.
In response, Donnie Fowler, Jr. opined that if you can't handle a "rough game of basketball" and still be friends the next day with the guys on your own team, then perhaps you aren't fit to take on the Republicans as DNC chair. I've got to agree - I don't want a whiner as the head of our party. I think that Fowler gets it - he spoke forcefully about not listening to the same old beltway consultants who keep making the same old mistakes - but I also think he can't win this race.
Wellington Webb seemed to think that understanding and working with the grassroots means going to lots of "Jeff-Jack dinners." Sorry, but I have to classify that as "not getting it" - Jefferson-Jackson events may occupy a useful niche in our party, but I don't think you can talk about the grassroots without talking about the netroots. Webb also went on record in favor of keeping NH and IA first, on their own. Weak.
And then, well, there's Ohio's David Leland. I have no idea what he's doing in this race, except perhaps to raise his profile, ala Carol Moseley-Braun's presidential run.
The bottom line is this: Dean, Frost and Rosenberg have a shot. (Rosenberg is trying to position himself as the guy whom everybody can like - if you have reservations about Dean or Frost, go with Simon!) Fowler seems like a bright guy, but it's just not his time yet. From what I've read, it seems like Webb just doesn't have much support. And Roemer and Leland are just dreaming at this point.
I personally would be happy with either Dean or Rosenberg - Dean because he's Dean, and Rosenberg because he's also a tireless worker who is clearly "one of us." (And he was also, in the few minutes I got to chat with him alone, exceptionally friendly. And he's a Mets fan.)
There were a ton of people who came via DrivingVotes, and I believe they'll be posting their reports via the MyDD diaries, so keep a lookout there if you want to see more coverage. And I should be headed to the big meeting next month as well. Give me a holler if you'll be going, too.
Posted at 09:59 PM in DNC Chair | Technorati
Tuesday, January 25, 2005
Google Me This...
Posted by
Tim Tagaris
When you need to find information about an individual or organization, what do you do?
The same campaigns that take pride in a perfectly placed yard sign would be wise to take note of what people see when they get "Googled."
Just ask Tim Roemer and Martin Frost...
Google results for Martin Frost
Excerpts from the first page (10 entries) -- ie. what people see without clicking on a single link offered.
#3) From Kos: "Piling on Martin Frost" ... "As such, Martin Frost is grossly unqualified for the position."
#4) From Kos: "Frost's strong support for President Bush"
#5) The Hamster: "The DNC chairmanship is a partisan position. As such, Martin Frost is grossly unqualified for the position."
#7) Annatopia: "martin frost must be stopped."
#9 & #10) Both have nothing to do with former Congressman Martin Frost or his race for DNC Chair.
This doesn't even include the fact that you see advertisements for Donnie Fowler and Simon Rosenberg on the right-hand-side of the Google results page.
It only gets worse for Tim Roemer: Google results for Tim Roemer
#2) MyDD: "Tim Roemer Should Not Become DNC Chair. by Chris Bowers"
#3) MyDD: "Tim Roemer, Republican Noise Machine Member. by Chris Bowers Dave Johnson uncovers something extremely disturbing about Tim Roemer:"
#5) CNN: "Anti-abortion Roemer joins race for Dems top job"
#7) DailyKos: "Roemer on board of right wing think tank" ... "Tim Roemer, who is Reid and Pelosi's latest choice for DNC chair, looks worse and worse by the day."
#8) DailyKos (diary): "DNC Chair Tim Roemer? The netroots reaction" ... "DNC Chair Tim Roemer? ... Can the Democratic Party afford to elect Tim Roemer as DNC Chair? Really, can we afford it?"
#9) Change for America: "Tim Roemer for DNC Chair - netroots response" ... "Can the Democratic Party afford to elect Tim Roemer as DNC Chair?"
#10) Seeing the Forest: "More on Roemer/Mercatus TAPPED has more info about the Mercatus Center, a right-wing-financed "think tank" where DNC candidate Tim Roemer currently works."
And yes -- there is a blog ad for Donnie, Simon AND someone who placed a Google ad with the question, "Are You Happy Bush Won? Respond Now And You Can Get A Free Laptop!"
Gotta love targeted advertising.
Posted at 08:50 PM in DNC Chair, Netroots | Comments (1) | Technorati
Sunday, January 23, 2005
Sacto Meeting
Posted by
Bob Brigham
"What you're seeing is the transformation of the old party into the new party, which is the Internet party, which is going to fund the party." -Bob Mulholland
I've written about Mulholland before. Let's give the guy some props, he credentialed me and let me plug a mic plug into the mult box so I have press pool audio of the event. Mulholland was the first person to credential bloggers when he asked Kos and Jerome Armstrong to blog the 2003 Democratic Convention. Cheers to Bob...go check out Bob's Blog -- it is a model other state parties would be wise to copy. Mulholland isn't some 20-something geek, but an old school political hack who has realized that the internet allows him to take advantage of his political instincts and great writing to slap around his adversaries. Mulholland is the example of why old school political operatives shouldn't be scared of the net, the tools that made them successful in 20th century politics will allow them to triumpth in 21st century politics (if they are willing to allow their message to spread in real-time).
I say this because of the dynamics for DNC Chair. Many in the press are too simple-minded to see the race as more than a left-right battle. But the dynamics have always been more aptly described as reform vs. status quo; advancing vs. treading water.
The reform vs. status quo dynamic is now manifesting itself in a value-the-netroots vs. hate-the-netroots division. Frost and his staff are said to "hate" the netroots and I had a Roemer staffer tell me he has "no affinity" for DailyKos (most popular Democratic blog) and MyDD (blogfather's blog). I had scheduled an interview with Roemer to get his view on the Mercatus Scandal but I ended up blowing him off. You see, Nancy Keenan, the head of NARAL, snubbed Roemer last week. Nancy Keenan has been hero of mine and is a western Democrat legend -- I figure if it is good enough for her, it is good enough for me.
The small donor is the backbone of the 21st century political party. Frost and Roemer are politicians looking for a job so they don't care about the netroots -- and they won't get netroots money!
I have hours of audio and a lot more to say. But I can tell you two things out of today's Western Caucus:
Roemer and Frost are unacceptable
Leland and Fowler are not contenders
much more to come
Posted at 01:09 AM in Activism, DNC Chair, Netroots | Comments (3) | Technorati
Saturday, January 22, 2005
Update #4: DNC Western Regional Caucus
Posted by
Tim Tagaris
Some good stuff the blog of Adriel Hampton, political editor of the San Francisco Examiner.
Quality in-depth journalism, from an actual journalist. If you like to look behind the curtain, check it out.
Posted at 11:15 PM in DNC Chair | Technorati
Update #3: DNC Western Regional Caucus
Posted by
Tim Tagaris
Just got off the phone with Bob again and there is alot to report.
1.) He said the speeches were pretty boring. Howard Dean had a lot of support among the spectators and Wellington Webb delivered a surprisingly strong effort that elicited good response.
2.) Bob says that the buzz about Simon Rosenberg inside the hall is that he continues to improve dramatically as the events progress and today was no exception.
3.) He met briefly with a staffer of Tim Roemer who said the Mercatus stuff has been taken completely out of context on the blogs, and he has no affinity for DailyKos and MyDD.
He agreed to let Bob interview Roemer on the topic in one hour, but Bob is blowing it off to have dinner with the future of the party -- the other bloggers who are there.
4.) The LaRouche "crazies" were singing merrily in the background throughout our entire conversation, it got a bit annoying.
5.) Al Sharpton was fired up, as always. He was very supportive of the blogosphere.
6.) I know it's not important, but Bob what captivated Bob most about Donnie Fowler's speech was his choice of tie. He wore a black and white diagonal tie; that's a no-no on television.
7.) Bob was sitting next to SF Examiner reporter Adriel Hampton who will be blogged about the event later this evening as well.
Much more later. Bob said he has about 5 pages of notes and all kinds of audio.
Posted at 06:33 PM in DNC Chair | Comments (4) | Technorati
Update #2: DNC Western Regional Caucus
Posted by
Tim Tagaris
Bob just called with the second update of the day. He has now made it inside.
He says there are "hundreds and hundreds of people" still waiting to get inside! And that doesn't even count who has already made it in.
He reports that people are wearing candidate shirts, there are bumper stickers, signs, buttons, and that the "ground campaign" is 100% on. When I asked him who was most represented among the candidates, he told me he wanted to get a better feel for that before giving me an answer.
There is "all kinds of media" at the event. Bob was fortunate enough to speak with Bob Mullholland, Political Director for the California Democratic Party, who said, "this is bigger than the Iowa Caucuses." Interesting comparison...
From the background noise during our conversation, it sounded like the hallways outside an arena before a sports game -- People were cheering and yelling. Festive atmosphere indeed.
The actual event starts in one hour (1 PM PsT - 4 EsT).
Posted at 02:54 PM in DNC Chair | Comments (1) | Technorati
Update #1: DNC Western Regional Caucus
Posted by
Tim Tagaris
I will be in constant touch with Bob throughout the day, giving you updates here on the DNC Western Regional Caucus. So far:
1.) Driving Votes filled FOUR cars this morning, all destined for the event in Sacramento. Bob reports fifteen or sixteen people from San Francisco alone are heading to the event because of their work. Great job by Leighton and co.
2.) Bob is about to get his credentials and has been offered the chance to interview Tim Roemer and Martin Frost. He is going take that opportunity and has some good questions in the hopper.
More later. The reporting will conclude with a text and audio (mp3) run-down from Bob at the end of the night
Posted at 01:09 PM in DNC Chair | Comments (1) | Technorati
DNC Western Regional Caucus - Sacramento
Posted by
Bob Brigham
In the SF Chronicle, Carla Marinucci suggests Midgen is considering jumping ship.
The Contra Costa Times on the West:
Democrats also enjoyed significant gains in Montana, where Bush defeated Kerry by 20 percentage points. The state elected its first Democratic governor in 20 years, Brian Schweitzer, and Democrats captured control of both the state Senate and House.

Montana Democratic Party executive director Brad Martin credited strong grassroots organizing and a concerted effort to frame "family values" in terms that play to Democratic strengths.

"It's a family value to have better wages, and it's a family value that people have health care," Martin said, noting Montana's poor economy and large number of uninsured residents. "We regularly organized with a values-based message."
and don't forget the other end of the Rocky Mountains:
Southwestern states, with their rapid population growth and large representation of Hispanic voters, may be Democrats' biggest target of opportunity.

Arizona and New Mexico have Democratic governors, while Democrats in Colorado in 2004 regained control of both houses of the Legislature and picked up a U.S. Senate and U.S. House seat previously held by Republicans. Nevada Sen. Harry Reid became Senate minority leader after South Dakota Sen. Tom Daschle lost his bid for re-election.

But all four of those states went for Bush in 2004, frustrating some activists who felt the national party did not realize the potential for success in that region.
I'll be blogging today's caucus meeting from a western perspective. There is talk about western convention among other regional solidarity issues that may come up today.
Posted at 10:43 AM in DNC Chair | Comments (1) | Technorati
DNC Chair Race: Western Caucus Today
Posted by
Tim Tagaris
I know Bob is going to be at the regional meeting of DNC candidates, but if anyone else is there and blogging, please forward me your reports.
I would like to put them on the front page. My email address is in the upper right hand corner.
Thanks!
Posted at 10:14 AM in DNC Chair | Technorati
Friday, January 21, 2005
Blogging the DNC Chair
Posted by
Bob Brigham
Internet pundits have elevated the race to new heights, racing to praise or condemn candidates in the Web's perpetual news cycle and bringing the micro-election -- complete with advertising buttons and campaign staffs -- alive for thousands of small donors and volunteers. ...

"It's really interesting to see the blogosphere cover a story with such depth and such passion that's to some extent flying under the radar screen of the national press," said Bob Brigham, a local political consultant working with BlogPAC, a fund-raising vehicle backed by top left-wing bloggers including Markos Moulitsas of DailyKos.com and Duncan Black of Atrios.blogspot.com.
Full disclosure, I'm only doing Social Security work for BlogPAC. But, I will be in Sacramento tomorrow to blog the Western DNC Caucus meeting. And because I love it, I also want to point out that the political editor of the Examiner has a blog.

From the CA Democratic Party press release:
DNC CHAIR CANDIDATE FORUM SPONSORED BY WESTERN REGIONAL CAUCUS As the members of the Democratic National Committee prepare to elect a new national Chair, the DNC's regional caucuses are hosting a series of forums featuring potential Chair candidates. The election of the new Chair will be held February 12 in Washington D.C. The Western Caucus is made up of Alaska, American Samoa, Arizona, California, Colorado, Guam, Hawaii, Idaho, Montana, Nevada, New Mexico, Oregon, Utah, Washington, Wyoming, Democrats Abroad (1/2 vote). We understand that all seven DNC Chair candidates will be attending the Western Regional Caucus meeting: Howard Dean, Martin Frost, Donnie Fowler, Wellington Webb, Simon Rosenberg, Tim Roemer, and David Leland.
Posted at 01:40 PM in DNC Chair | Comments (1) | Technorati
Monday, January 17, 2005
Martin Frost
Posted by
Bob Brigham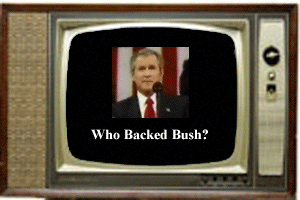 Annatopia has the full video that will end talk of Martin Frost as DNC Chair. Kos had more on this yesterday.

In the comments, Annatopia says:
but most of all, he HATES the netroots. anybody reading this post needs to realise that martin does not value nor respect you as an activist unless his own butt is on the line. he fears you, as you represent change and reform. i have dealt with the guy's staff, i have dealt with him a few times in person, and i promise you that i'm telling the truth.
Posted at 09:49 PM in DNC Chair | Comments (1) | Technorati
Roeming with Frostbite
Posted by
Tim Tagaris
There is no. And then there is hell no.
No.
First we have Tim Roemer, the anti-choice (edit), pro-retirement tax, right-wing think tanking candidate running for DNC Chair. Roemer is currently complaining about negative campaigning because people dare to question whether his positions on key Democratic issues should be a factor in the choice for DNC Chair.
Tack on this choice quote from Roemer over the weekend:
Roemer said Democrats should learn from the Republican Party, which has allowed former New York Mayor Rudy Giuliani and California Gov. Arnold Schwarzenegger to play prominent roles. Both of them support abortion rights.

"Republicans have a big tent; why can't we?" he asked.
Hell No.
Now there is Martin Frost...
From annatopia.
[T]his news report features a real small snippet of a frost ad that used images of the trade towers on fire and falling down (in other words, he went along with the bush administration's "all fear all the time" campaign strategy)
Then Kos drops the hammer while citing the Dallas Morning News.
So who loves President Bush the most?

It's hard to tell if you're watching the TV ads that the candidates are airing in the 32nd Congressional District race.

Both Democrat Martin Frost and Republican Pete Sessions have produced spots that attack the other for being out of touch with the mainstream, while attaching themselves to the president.

"In the real world, Sessions loves Bush far more," said Southern Methodist University political science professor Cal Jillson. "But in the artificial world, it's not clear."

Mr. Frost - running in a mostly Republican district - is trying to appeal to GOP voters in North Dallas.

Some of his campaign commercials show Mr. Sessions being in opposition to President Bush, while portraying himself as a tough, moderate Democrat.

He uses popular Republicans like Sens. Kay Bailey Hutchison of Texas and John McCain of Arizona to make his point. And one ad even casts fellow Democrat Ted Kennedy in the same liberal boogeyman role as some Republicans do.
Is this the best the anything but reform contigent can do?
Posted at 08:05 PM in DNC Chair | Comments (1) | Technorati
Live-Blogging Fowler for DNC Conference Call
Posted by
Tim Tagaris
BlogPAC is sponsoring their latest in conference calls with candidates for DNC Chair. Today, the call is with candidate Donnie Fowler.
The call starts at 4 PM EsT and I have the honor of being on it along with Bob. I have also decided to follow in the footsteps of anna (of annatopia) and live-blog the conference call. So click back and forth between the two of us. Together we make up the most powerful tandem of poor spelling and grammar in the blogosphere. It should get interesting...
Once again, this conference call is brought to you by BlogPAC. Take a minute, sign up on their website, and join leaders of the Democratic Party in "waging politics online." (That sounded like a commercial)
The live-blog begins in the extended entry in 5, 4, 3, (2), (1)...
I am going to give it to you raw, just like the Ol' Dirty Bastard, R.I.P.
Update 1: I am in the conference call room right now. There is some terrible music playing, and its loud. Who prefers this music to silence anyway?
You can check out Donnie's first "firewire chat," podcasted message.
Update 2: I must be on the watch-list. Someone just came on to verify what "company" I was with. Call should start any second now.

Update 3: Donnie's opening remarks (paraphrased unless in quotes).
Thanks us for "hopping on" especially since its Dr. Kings birthday, "an important day." Dr. King represents values of progressive/liberal movement.
Founding fathers who might be considered conservative today; were radicals back then because they believed government should be representative.
"We are not a group of issues." "Cannot be run by an artistocracy of consultants who forget to talk about what is in our soul."
"I was grassroots before grassroots was cool."
"I enjoy grassroots, that's the pleasure, the benefit I get out of doing campaigns."
"National message talking about our heart, talking about our soul." Tearing down national barriers. Access. Access to health care, jobs, decent education. The heart of the Democratic Party is about getting a fair shake. We have to talk about core values first.
Ask the strong state parties, what works?
DNC should be asking the netroots, how do we get to reach new voters? How do we understand and embrace the potential of this new movement?
He is talking a lot. An awful lot. Gonna wait for the questions for another update.

Jerome Armstrong from MyDD: Sumarize what he thinks the actual state of the field operation in the DNC is:
Donnie: "An easy question." DNC is a superb org. for electing a president that lasts six months every four years.
The DNC should not just be for the top of the ticket or a part-time presidential campaign committee. The DNC has been oriented at president.
The DNC has regional political organizing staff and press secretaries should not live in Washington as they always have. The DNC needs to be a full-time political message delivering organization.
DNC needs to strengthn parties and grassroots leaders in all 50 states. Alot of DNC candidates think we are going to run a presidential campaign as if there are 50 battleground states, there aren't. We cant have a 50 state strategy.
Activists need to say, "how can we help you get there?"
My question: You talked about the fact that we are on even footing with Reps in fundraising because of the netroots. How much of netroots fundraising was because of real DNC outreach and do you really believe that if the DNC continues as is, that funding will always be there?
Donnie: When he went to the clark campaign in fall of 2003 – netroots got senior staff seat. When Clark raised a lot of money from the netroots, conventionalists began to jump on the bandwagon and wheels broke.
Response was that they are just a bunch of kids and cooks, why do they have a seat at the table. Netroots started because people outside of the traditional means of organizing got involved.
To keep the netroots engaged… Financially, ideas, and boots on the ground.
1. Give them something to believe in. A message they can understand.
2. Provide them strength at the national level. "we will stand up with you.
3. Give the netroots the respect it deserves. Don't ever say the only thing they are good for is raising money. Democratic national party will include the netroots in the movement.
4. If Democratic party fails to understand the power of the new movement, we will never win elections again.
Eric from ? There is a problem getting the message from the top down. Noticed Donnie wants to broaden the DNC, but letting local people lead because they know better. What do you mean by that and how can you ensure the locals get national message across?
Donnie: Its not an easy task. Its a tough exercise to take a national strategy and themes and apply them locally.
In Michigan, they couldn't look to Washington for a national message. The issue of trash in the water forced Michigan to look toward the national party.
"Local people know better." Local people know accents, dialect, and style to use.
I am kind of lost right now. I feel like Fowler is fillibustering the phone call. We have been on for 33 minutes and he has answered 2 and a 1/4 questions.
He is talking about Dean and Clark right now. "The river that was the Dean movement, was wild and raging." Wild and raging river flooded Dean in Iowa.
The Draft Clark Movement: Created a candidate but when the conventionalists came on, there answer was the damn up the river.
The moral: A Fowler DNC doesn't want to dam up the river, but wants us to take lead from DNC. "Its not easy daming a river.

Question from Bob: Why did you go and work for technet? Something to do with a firm run by a Republican Congressman.
There is an exchange that I wish I was doing a better job of following between Bob and Donnie. Bob talked about Donnie helping take away Dem. advantage in silicon valley.
Donnie: His job in Silicon Valley. TechNet founded in 1997 and 1998 by a bi-partisan group of Democrats and Republicans. Founded by a moderate Republican named John Chambers.
Technet was never intended to be a partisan organization. It is explicitly in its chater, non-partisan. Donnie was hired because of his political background. His title was vice-president for Democratic outreach. There was only a Republican CEO at TechNet because Republicans control power in Washington.
"If you want to call some of those Republicans, they'll tell you how partisan I was." Raised several million dollars for Democrats only. Still has alot of good friends back there. Going back home again this week. He would not have gone there if he had to work for Republicans.
Bob follow-up: Why did you choose to focus on leveling the playing field.
Donnie: It wasn't. He got in trouble for fighting back. There was no leveling of the playing field. I didn't do anything for Republicans. TechNet, in some ways, would have been a completely partisan company had I not been there.
DNC does not stand for do not concede. Actually, it should stand for do not concede, it cannot stand for do not change.
I missed the questioner: We all admire your field work. Another job of the chair is communicating the message. What experience do you have in communicating on TV and proposals for message delivery system
Donnie: (pause)
First campaign he manged was 1995. One of his mentors is a media producer named Bill Kerik out of LA. His media comm. experience includes appearances over the years on national TV and talk radio. Includes work on the sort of state versions of these national sunday morning programs. Whether its a cable political forum, or the equivalent of meet the press in Michigan.
I am not a talking head national pundit, and I have better things to do than that. "I am not concerned at all about my ability." We need a face that can speak to the new movement. Ken Mehlman the new RNC chair is my age.
If you live in Washington long enough, you think the only thing that matters is whats in the washington post and what Tim Russert says. The DNC needs to get its head out of Washington. It needs to get its head out of the web of conventional wisdom it is stuck in.
DNC needs to hold forums and meetings, and take cues from people who live in states. DNC needs to dramatically improve its technological prowess.
If you go to DNC website, you cant even click on the link to Florida, its broken.
Question from Stirling Newberry: Alot of interal fights within Dem. party, how can you solve that?
Donnie: Rahm Emmanuel is an operative, he is a take no prisoners, kick your ass congressman. The DSCCC chair has worked in Washington, but also been out in the field which is a plus.
If you get a true agent of change into the DNC we can eliminate some of the historical question. There also needs to be better communication.
Alot of the fighting has to do with money and sharing lists.
The worst tension is between the Dem. National Party and the folks that made their careers in Washington. The state party doesn't trust the DNC, and the DNC doesn't trust the state parties.
Many of the state parties first reaction is "screw you" "go away and leave us alone." That antagonstic relationship exists because the folks in Washington think they know better than the voters, netroots activists, and state parties about how to get votes.
Because I have been in the states, with alot of the chairs, I have already had to be an arbitor between the DNC and the state parties. That is the kind of DNC Chair that we need. That's how we are going to eliminate alot of this tension.
Question for Jerilyn from Talk Left: She has seen Donnie say, "Im a Democrat because Im a Christian not inspite," Are you going to craft a religous message as a DNC Chair. How much will you emphasize religion.
Donnie Answer:Need to emphasize values and that doesnt always meen in a religious sense. We need to talk about our heart and soul, whether that is religious or not.
We need to go straight to the issues.
The reason Bush won is because people would be more comfortable inviting Bush to dinner rather than Kerry. The budweiser test? I'd love to see Bush with a beer in his hand.
We cannot concede. We do not have to change who we are as progressives. Talk to voters first about our core principles. Everyone should have an equal opportunity to do their best. Education is an opportunity issue, jobs are opportunity issues, college is as well.
When I talk about not giving up the values fight, when I say we cant concede religious voters. Not everyone thats religious supports Pat Robertson and Jerry Falwell. Most of the worlds religions teach tolerance, fairness, and taking care of the least among us.
Republicans using religion as a weapon. Patriotism as a weapon. The flag does not belong to the Republican party, and we just let it go. How dare you use religion and patriotism as weaponse. In the grassroots, among the netroots, there is a real hue and cry for Democrats that will fight back.
I am taking one question off, sorry. It's a question about MSNBC trying to beat Fox News by being more Republican. What is the strategy to deal with cable networks.
(Looks like Im not taking one off)
Donnie Answer: We cannot choose between talking to base Democrats or swing voters. It comes down to creating a circular firing squad when we do that. It is a tired old argument. It is a false choice. If you have been in the states on the ground where you have to collect votes you have to appeal to all kinds of voters to end up with a majority.
Another problem with left/right, is fighting over values and issues that we dont believe in. Democrats believe in 80% of core principles and issues. But we fight over free trade, abortion, and quibble over medicare benefits. Democratic Party cannot afford to have this debate.
Now to the question, media and cable.
Networks are driven by the bottom line and profit. We need to develop the kind of punditry/spokespeople that can make these companies money. Ed Schultz for example. FCC has now been taken over by Colin Powell's son. They have relaxed ownership rules so much that we are getting media concentration. We end up with Rupert Murdoch and Clear Channel choking off communication.
De-regulation is a good thing because it created jobs, but it chokes us off with communication in mainstream media.
I am lost again. Bob is IMing me and I have no idea where he is with this question. Something about MoveOn stopping CBS. I need a cigarette so bad.
Donnie's closing remarks:
DNC has to change. Among the 7 candidates who are the candidates who know how to bring the change we need right now. We lost the election, because we are not learning the lessons of the past.
Aristocracy of consultants, again. National party needs someone that understands state parties. I have worked on ground for 20 years, it's what I love to do.
State parties need to embrace the new electorate, like the netroots. And someone ready to do it on day one.
He's done.
Posted at 03:40 PM in DNC Chair | Comments (2) | Technorati
Thursday, January 13, 2005
Political Bit Torrent
Posted by
Bob Brigham
John Aravosis has the mp3 of yesterday's BlogPAC call with Governor Dean. Go visit Americablog.
Posted at 10:47 AM in DNC Chair | Technorati
Tuesday, January 11, 2005
Trippi Endorses Rosenberg for Chair
Posted by
Tim Tagaris
On the day that Howard Dean officially declared his candidacy for Chairman of the Democratic National Committee, Joe Trippi endorsed Simon Rosenberg for the same post.
If our party is to win in the 21st century, we have to have a strategist who knows how to practice 21st century politics. That means expanding participation, embracing technology, and building an apparatus that can counter the Republican machine.

Simon Rosenberg was among the first in politics to acknowledge the power of the movement we built with Dean for America and he wasn't afraid to speak up about how we were fundamentally changing politics. He knows that in the age of the Internet, our politics must be interactive and participatory to engage citizens.

He knows the Internet is not just an ATM for candidates and parties, but a tool for bringing in millions of Americans who want to be a part of the political process. For Simon, building a new progressive politics for our time is not just lip service, it is a passion backed up by his record. I'm backing Simon for chair because I know I can work with him to help build a modern, winning Democratic party.
Posted at 08:24 PM in DNC Chair | Comments (7) | Technorati
Saturday, January 08, 2005
DNC Chair Election
Posted by
Bob Brigham
Last month, I wrote about the DNC Chair Election rules. Matt Stoller now has an in-depth guide: How a DNC Chair is Elected that is posted over on Simon Rosenberg's campaign blog.
Since there are at least a thousand times more people paying attention to this DNC Chair campaign than ever before, I believe it is important for us to familiarize ourselves with the process.
Posted at 06:06 PM in DNC Chair | Comments (1) | Technorati
DNC: Western Regional Caucus
Posted by
Bob Brigham
On January 22nd, the Western Regional Caucus of the DNC will meet in Sacramento California. Bob Mulholland (the first Democratic Party official to credential bloggers) is going to allow me to blog the meetings. BTW: Read Bob's Blog -- it is the best use of blogging by any state party.
Note that the DNC Western Regional Caucus isn't so much as a geographic descrpition but rather it is 1/4 of the DNC. As such, it includes: Alaska, American Somoa, Arizona, California, Colorado, Guam, Hawaii, Idaho, Montana, Nevada, New Mexico, Oregon, Utah, Washington and Wyoming.
The conference doesn't have internet access so I won't be live blogging. But you'll have the opportunity to get the inside scoop on the hopes, disappointments, and gossip from western Democrat leaders. There will also be a Q&A that is expected to be attend by all candidates for DNC Chair.
Kari Chisholm at Western Democrat asks, "Western Super Tuesday? Convention in the West?":
The first is a Western Super Tuesday - a single day when many (if not most) of the Western states would host a primary election. Obviously, this would require action by the many state legislatures - and would probably have to be lead by the Secretaries of State in those states.

The second idea is a Democratic Convention in the inland West - something that's never happened. Since 1960, the convention has been in California twice (SF 1984, LA 2000) but otherwise never west of Chicago. This would require action by the DNC, perhaps more achievable.
I'm a believer in fundamental reform of the Democratic primary calendar. Power grabs are how we ended up here in the first place and I think our primary calendar should be created strategically. That said, I think such reform will inevitably benefit the west and should create a situation where a western state has the influence currently monopolized by New Hampshire and Iowa. The best strategy for increasing the voice of the west may be as strategy of supporting reform.
As for the second point, I believe it is a brilliant idea and long overdue.
Posted at 04:00 PM in DNC Chair | Comments (1) | Technorati
Friday, January 07, 2005
Simon Rosenberg's DNC Blog Plan
Posted by
Bob Brigham
Yesterday, Simon Rosenberg announced an aggressive draft blog plan for the DNC. BlogPAC has posted the details:
As DNC Chair, I'd like to take the DNC and make it a full part of the blogosphere. The principle behind what I offer here is to foment a continual and robust online discussion that the DNC actually is part of and that reinforces an overall Democratic political strategy.
This visionary document was said to only be a draft that would be revised after further input from the blogosphere. This is a once-in-a-lifetime opportunity for the netroots to help choose future tactics before the future leader is elected. The day he announced he unveiled a plan for blogs that he wants us to refine. To take advantage, I am going to evaluate each of Rosenberg's nine points. Netizens, it is time for a discussion.
1. Regular conference calls, conferences, and a blog committee of 'netroots' representatives to advise various DNC departments on strategy, research, messaging and outreach.
Well I'll be damn. That is what I'm talking about. Full integration of the blogosphere into all aspects of campaigning. This is visionary stuff. The conference calls and conferences could go a long way towards building a team approach that unites the DNC with the netroots. The coordination in terms of strategy would allow us to harness the collective wisdom of the blogosphere while ensuring that Team Democrat is using the same playbook. Research is also an amazing opportunity for the netroots to help create open-source oppo that would allow anyone to put forth effective reasons why their republican representation should be sent packing. Message is also a vital area of importance -- working together we will find better wording while helping to build consistency. Outreach provides the most potential. Democrats are far from peaking when it comes to activating our supporters. A team approach could increase our results along the same astronomical curve we have seen during the last few years.
2. A consistent non-election year blogad budget dedicated to framing and testing messaging, as well as potential seed money for specialty blogs.
Now we are talking. The DNC investing in message creation instead of message distribution. This is post-modern politics at it's best. This is a far more effective alert system than relying solely upon emails and allows the DNC to "blog through ads" across the internet. Tim Tagaris calls this "thinking outside the website" and this approach provides an unlimited expansion ability. I would love to see the DNC message of the day on every liberal blog I visit.
3. An internal champion in the DNC to break news on blogs and connect elected Democrats and high level staffers with blogs, bloggers, and effective use of the internet with the goal of having the blogosphere surpass cable news networks in reach and influence.
A DNC that is ready to commit acts of news online? This reads like my wildest dream. And that is before the line of having the blogosphere surpass cable news networks in reach and influence. Rosenberg has true vision and when he's elected I look forward to working with the DNC's Blogosphere Champion. And what a great benefit for DNC staff, help leveragig the internet to increase their productivity.
4. To use the DNC's 3.7 million person email list to create community and promote interesting spinoff projects like and grassroots created quality video and audio content.
My guess is that 3.7 million person email list will double in size during Rosenberg's first year once this plan is enacted. But the key here is that he wants to use email for interaction, not just fundraising. Rosenberg has Tim's ATM pin. The multimedia aspect is equally important. Online, ads aren't constricted by time limits which allows unhindered, real-time campaigning potential. The spinoff project idea shows how Rosenberg is re-writing the job description for DNC Chair. This is really good stuff.
5. Regular guest-posting from DNC representatives on willing blogs to talk through organizational, operational, and policy issues.
This appears to be the deal. Rosenberg will help us with everything we've asked for and more, but we need to let the DNC have a voice on our blogs in return. Where do I sign?
6. To work with blogs to figure out how to use Meetup effectively as a political tool for state and local parties.
Meetup vs. Get Local is a discussion that we need to continue. We know that there is vast potential but we all know it could be used more effectively. Bloggers need to work with the DNC to make this work better.
7. To promote a dialogue in which the blogs continue their discussion of the Democratic Party so that we can create the social networks critical to a vibrant progressive movement.
The social networking future is something that we could catapult under the framework Rosenberg is suggesting in his Blog Plan. Rosenberg is years ahead of the pack on this one. The fact that he realizes it isn't about campaigns, but rather a movement is a critical observation. Bloggers need to constantly push the Democratic Party to do more, to do it better, and then to expand. Rosenberg's thirst to foster this dialogue is revolutionary.
8. To integrate blogs fully into the progressive messaging machine that targets and unseats Republicans and Republican initiatives.
One thing I've noticed about Rosenberg is that instead of running for Chair of the DNC he is running to create a Democratic Party Empire. Better yet, he is focused on winning. The right is far ahead of us at this point but Rosenberg's embrace of the netroots could provide the catapult for us to rapidly catch up -- and then surpass -- the vast right wing conspiracy.
9. A New Politics Think Tank inside the DNC that fosters the sharing of best practices among those involved in netroots politics so as to allow for a supported network of savvy operatives to permeate progressive organizing. This organ would also investigate new technologies like RSS, wikis, podcasting, and their applicability to organizing at every level.
As far as I know, Rosenberg is the first candidate to ever mention podcasting. RSS as a message distribution tool proves that Rosenberg is an online visionary. When I encountered Wiki my first thought was oppo. My next thought was elected official achievement. My final thought was that my first two thoughts were only the tip of the iceberg. Rosenberg is embracing open-source politics and cutting edge technology. Wow.
Conclusion
Wow. What else can I say? Rosenberg "gets it" and is asking us to help him get it even more. This isn't a candidate willing to accept technological tools, rather Rosenberg is a leader focused on ruthlessly exploiting technology to provide Democrats -- as in each of us -- the tools to realize his vision of a Democratic Party Empire.: tools to match our passion:
We have to recognize how the Internet and the passion of Americans are fundamentally changing American politics. And when we think of the DNC in the years ahead and the Democratic Party, I hope that we don't think of 447 people but we think of millions of Americans going to work every day to make their country a better place. That's a better vision of what a Democratic community can be.