« Roeming with Frostbite | Main | Take it Back: MO-3 »
Monday, January 17, 2005
Martin Frost
Posted by
Bob Brigham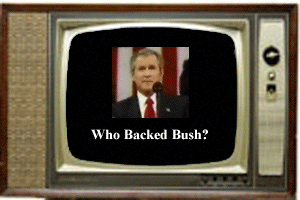 Annatopia has the full video that will end talk of Martin Frost as DNC Chair. Kos had more on this yesterday.

In the comments, Annatopia says:
but most of all, he HATES the netroots. anybody reading this post needs to realise that martin does not value nor respect you as an activist unless his own butt is on the line. he fears you, as you represent change and reform. i have dealt with the guy's staff, i have dealt with him a few times in person, and i promise you that i'm telling the truth.
Posted at 09:49 PM in DNC Chair | Technorati
Comments
i haven't seen much talk of Howard Dean's candidacy here. regardless of whether you think he'd make a good chair, how about a little discussion of him?
Posted by: theshelldog at January 18, 2005 01:46 AM | Permalink | Edit Comment | Delete Comment