Illinois Archive:



Tuesday, October 03, 2006
Creepy Old Men Defending Creepy Old Men
Posted by
James L.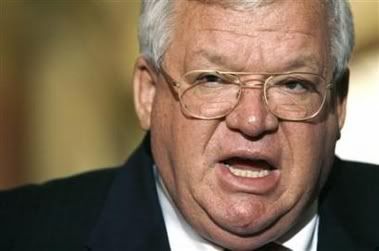 One of the worst aspects of the media swarm on the House Republican cover-up of Rep. Mark Foley's predatory relationship with young congressional pages for the GOP this fall has got to be the face of Dennis Hastert.
Parents are grasping to rationalize how the House Republican leadership, who knew of Foley's creepy come-ons to underage pages for at least a year before ABC news busted the story wide open, could let Foley off with only a "warning" rather than a serious investigation. When they turn on their TVs, when the open their daily newspapers, Hastert's face is all over the coverage of this scandal. There's got to be something unsettling for parents to see old men like Hastert spin and lie as they stubbornly refuse to accept responsibility for their failure to protect children working in Congress. And with Hastert refusing to step down as Speaker, he will remain in the media's crosshairs as more sickening details surrounding Foley's conduct are revealed and the House Republican Leadership's failures to protect children are questioned even harder. The GOP has no one at the top with a motherly image to do damage control: Hastert, Boehner, Reynolds, Shimkus... all negligent old men defending their irresponsible attitude towards child sex predators on Capitol Hill. And yes, when Dennis Hastert slams the abused former pages for speaking up on Foley, saying that they're threatening the Republicans' capacity to keep America safe from terrorism, you're goddamned right that I'm calling him a creep, too.
Posted at 06:09 PM in 2006 Elections, 2006 Elections - House, Illinois | Comments (6) | TrackBack (0) | Technorati
Wednesday, May 24, 2006
IL-14: Hastert Under FBI Investigation... Or Maybe Not
Posted by
James L.
Try as they may, the Republicans cannot escape the taint of the Jack Abramoff scandal; with each passing day, the threads of corruption in Washington are being unraveled and are leading to some surprising places. ABC's Brian Ross has the bombshell:
The Speaker of the House of Representatives, Dennis Hastert, is under investigation by the FBI, which is seeking to determine his role in an ongoing public corruption probe into members of Congress, ABC News has learned from senior U.S. law enforcement officials.

Federal officials say the information implicating Hastert was developed from convicted lobbyists who are now cooperating with the government.

Part of the investigation involves a letter Hastert wrote three years ago, urging the Secretary of the Interior to block a casino on an Indian reservation that would have competed with other tribes.

The other tribes were represented by convicted lobbyist Jack Abramoff who reportedly has provided details of his dealings with Hastert as part of his plea agreement with the government.

The letter was written shortly after a fund-raiser for Hastert at a restaurant owned by Abramoff. Abramoff and his clients contributed more than $26,000 at the time.
It's no wonder Hastert was getting antsy about the FBI's weekend raid on the office of blatantly corrupt Rep. William Jefferson (D-LA). It's not the Constitution that he's so concerned about, it's his own corrupt ass. Suddenly, Fighting Dem John Laesch may not be quite the long shot that he once seemed.
UPDATE: The Hotline posted a pretty blunt Department of Justice statement: "Speaker Hastert is not under investigation by the Justice Department." Not yet, maybe? (The AP has the story.)
UPDATE (II): ABC's sticking to its guns (thanks bosdcla14), though it seems to me that while there may not be a specific probe into Hastert, investigators are looking at a broader group of lawmakers that would include him--hence the comment that Hastert is "in the mix" of the investigation.
Posted at 08:15 PM in 2006 Elections - House, Culture of Corruption, Illinois | Comments (1) | TrackBack (0) | Technorati
Tuesday, March 28, 2006
IL-17: Lane Evans (D) Retires
Posted by
DavidNYC
As some commenters in the previous thread noted, Democratic Rep. Lane Evans (IL-17) is retiring due to health reasons. He's been slowed by Parkinson's disease in recent years. This is a very serious neurological disease with several treatments but no known cures. I know everyone joins me in wishing Rep. Evans the very best in what are no doubt extremely difficult circumstances.
Of course, we can't ignore the political implications of Evans' departure. This is a definite swing district - it went just 51-48 for Kerry. However, Charlie Cook does give it a D+5 rating. Because Evans dropped out after the filing deadline, his replacement will be chosen by party officials. It remains to be seen if the proverbial smoke-filled back room can produce a candidate as strong as Evans, who ran 10 points ahead of Kerry last time out. One name under discussion, according to CQ, is state Sen. Mike Jacobs. If you know anything about him, let us know in comments.
One person we do know about is the GOP candidate, a woman named Andrea Zinga. She got crushed by Evans in 2004 and barely eked out a win in the primary this year. She's best known for her ghoulish remarks about Evans' health:
"He becomes less effective all the time, probably because of his declining health," Zinga told an individual recently at an event she attended in Dunfermline, a small village south of Canton. She said voters should be aware of his health status.

"The fact of Mr. Evans' health is a fact and we stated it as a fact: He is not well," Zinga said Tuesday.
It's widely believed that Zinga's attempt to make Evans' health an issue backfired badly on her, and I don't doubt it. I'm sure her last campaign won't be forgotten - or forgiven. And at the very least, it suggests she's not a very wise politico. That said, CQ knocked this race down a notch, from Safe Dem to Lean Dem. No matter how weak our opponent, our task just got that much more difficult in IL-17.
Posted at 07:51 PM in 2006 Elections - House, Illinois | Comments (4) | TrackBack (0) | Technorati
Wednesday, March 22, 2006
Illinois Results
Posted by
DavidNYC
So Duckworth ekes out a narrow win, 44-40 (give or take). Bowers says he heard over and over that Duckworth would win in a landslide, and takes the small margin as a sign that the establishment powers are in weak shape. I consider any "blowout" talk to have been mostly bluster - was any of it even on the record? - and I always expected this one to be relatively close.
I wonder, though, if Cegelis supporters are unhappy with Lindy Scott right now. As another "outsider" candidate, I have to believe he took more votes away from Cegelis than from Duckworth. That's just Monday morning quarterbacking, though. The real issue is will Cegelis supporters show up for Duckworth - and what will Duckworth do to make that happen?
In any event, Topinka (unfortunately) pulled out a narrow win of her own over uber-right-winger Jim Oberweis, 38-32. Blago will have a serious fight on his hands this fall, no doubt about it. And in IL-08, David McSweeney (one of the rich self-funders) won with 43 percent of the vote. Bean, fortunately, has raised a lot of money herself, and I think she'll be able to hold off her challenger quite ably.
One other piece of related news: Fighting Dem John Laesch also won his primary against Ruben Zamora in IL-14. Laesch now gets to take on Speaker of the House (remember him?) Denny Hastert.
Posted at 12:02 PM in 2006 Elections, Illinois | Comments (10) | TrackBack (0) | Technorati
Tuesday, March 21, 2006
Illinois Primaries are Today
Posted by
DavidNYC
The key races:
• IL-06: Cegelis v. Duckworth. Do I even need to say anything about this? I'm just glad that this race will finally be over. There is no primary on the GOP side - the candidate will be state Sen. Peter Roskam.

• IL-08: Freshman Melissa Bean's seat. Six Republicans are fighting to unseat her, including a couple who have spent millions of their own money. Bean may be somewhat vulnerable, but personally, I think there are several other Democrats who are in much more precarious shape than she is.

• IL-Gov: If you want to talk about endangered incumbents, here's one for ya: Democratic Gov. Rod Blagojevich, also known as "Blago". Blago himself has a primary opponent, but I think the real danger comes from the GOP side. Treas. Judy Baar Topinka has successfully cast herself as a moderate and has also raised a lot of money. If Republican voters in Illinois have any sense, they'll nominate her. It's kind of amazing to me that just two years after the IL GOP sank to tapping out-of-state joker Alan Keyes to run for Senate, any Democrat could be vulnerable in Illinois, but there it is.
Anyone care to make predictions on the outcome of IL-06? List the winner, plus the percentages. (Don't forget there's a third candidate in the race, a college prof. named Lindy Scott.)
Posted at 09:38 AM in 2006 Elections, Illinois | Comments (38) | TrackBack (0) | Technorati
Tuesday, February 07, 2006
IL-Gov: Yikes! Blago Looking Weak
Posted by
DavidNYC
A new poll from Rasmussen (likely voters, no trendlines):
Blagojevich: 37
Topinka: 48
(MoE: ±4.5%)
Judy Baar Topinka is the GOP's strongest candidate, but she still has to weather a primary before she takes on incumbent Dem Gov. Rod Blagojevich. Nonetheless, this poll looks very bad for Blago. Of course, it's just one survey and we don't have trendlines, so I'm not about to start wigging out. But given how devastated the IL GOP is, it's sad to think that this seat might be in any danger at all.
(Thanks to RandyMI.)
Posted at 02:11 PM in 2006 Elections - State, Illinois | Comments (1) | TrackBack (0) | Technorati
Monday, December 19, 2005
Illinois House Races: Batting a Thousand
Posted by
DavidNYC
According to frequent SSP commenter RBH, Steve Waterworth officially filed to run in Illinois' 18th CD today, the last possible day to do so. This means that all eight Republican Congressmembers in IL have Democratic challengers. Great work! Waterworth, an Air Force vet, joins the impressively long list of Fighting Dems to run for office this year.
Next up is Texas, which has a January 2nd filing deadline. Things there are not looking quite so good. The DCCC's site lists 11 GOP-held seats without a Dem challenger; Barry Welsh's page shows potential challengers in three of those seats, but apparently, they haven't filed.
If you're even remotely considering running for one of these seats (1, 2, 3, 8, 11, 12, 13, 23, 24, 26, 32), please go here and check out the Texas Democratic Party's checklist for running for office. The main things you'll need are either $3,125 for a filing fee or 500 signatures. Obviously both of those are pretty sizable hurdles - it's a lot of cash, or a lot of signatures on very short notice, during the holidays. (On the flipside, you might be able to snag large throngs outside of malls and the like.)
Just one thing to think about: It's pretty much impossible to get a candidate on the ballot after a filing deadline has passed. But it's usually a lot easier to switch candidates if you already have a name on the ballot. So if you live in one of those Texas districts and have the time or money to get on the ballot, but aren't really sure you want to run for office, your presence as a place-holder is just as important.
UPDATE: RBH, channeling the Texas Dems, says the the outlook is quite a bit better, and that only the following seats remain without challengers:
TX-02 (Beaumont/Houston Burbs)
TX-11 (Midland/Odessa)
TX-12 (Fort Worth Burbs)
TX-13 (Amarillo)
TX-24 (in-between Dallas and Fort Worth, probably Arlington too)
TX-26 (Denton/Flower Mound/Parts of Fort Worth)
Posted at 04:33 PM in 2006 Elections - House, Illinois, Texas | Comments (17) | TrackBack (0) | Technorati
Sunday, November 13, 2005
A Blog in Every District
Posted by
DavidNYC
Peacenik23 at DKos has the right idea: There ought to be a blog for every House district in the nation. Now, granted, some uber-safe Dem seats could probably afford to be last on the list of priorities. But I like the idea of localization and specialization.
Sites like Swing State can only cover so much, and only in so much depth. And sites like OurCongress, while great for covering premier races, would get swamped if people started filing reports from hundreds of districts. But local folks naturally tend to know the most about local races. (Chris Bowers likes to talk about this concept, too.) They are best-suited to track developments on the ground and research the nitty-gritty of each race.
I don't think this can really be a "project" per se - I don't think it would be fruitful to try to go around organizing 435 different blogs. Rather, I simply think that people should be encouraged to start up blogs on their home districts, especially if one does not already exist. Anyone who does so should still also be encouraged to cross-post their best stuff at OurCongress and MyDD - Jerome and Markos can worry about overload if and when that becomes a problem - or post a comment in the weekly open thread here (or e-mail me). And if you wanted to find a way to unify these sorts of blogs, you could create some kind of aggregate RSS feed.
In that vein, Peacenik is off to a good start at IL-10. Unlike most blogs, I don't think this variety need to be updated daily (though if you feel the urge to post often, don't let that stop you). Everyone realizes that blog-worthy stuff doesn't happen every day in every district. Just as long as you cover the key stuff, you'll be providing an excellent resource. And I am sure the Dem campaigns you'll be covering will be thrilled if you reach out to them. So if it's something you're thinking about, go for it - after all, Blogger is free.
P.S. I am remiss in not mentioning Dump Mike, one of the first such blogs, devoted entirely to NJ-07 and getting ride of the odious Mike Ferguson.
Posted at 12:47 AM in 2006 Elections - House, Illinois | Comments (15) | TrackBack (1) | Technorati
Monday, November 07, 2005
IL-Gov: Topinka in Against Blago
Posted by
DavidNYC
Gov. Rod Blagojevich (D) is not an especially popular guy. Among other things, he ranks in the bottom tier in gubernatorial approval, a poll in early October gave him just a 35-42 re-election number, and by most accounts, he hasn't had a very successful first term in office.
So it's not much of a surprise that the most popular - only popular? - Republican in the state, Treasurer Judy Baar Topinka, has decided to toss her hat into the Republican primary ring. There are five guys already in the race, but they are mostly low name-rec nobodies, with the possible exception of uber-conservative Jim Oberweis, best known for losing in the IL Senate primary last year to disgraced ultra-loser Jack Ryan. Topinka stands at 81% name recognition and holds an impressive lead (31-15 over her nearest challenger) in a hypothetical primary matchup.
However, don't fret too much. Blago has somehow managed to amass an enormous warchest - $14 million and counting.That's some serious Hillary-level scrilla. Plus, IL has become very blue of late, so that's a natural advantage - plus, as I need remind no one, the national GOP is imploding, which is yet another natural advantage for us. Nonetheless, this race probably just got moved into the "interesting" category thanks to Topinka.
(Trib story thanks to mlkisler.)
Posted at 12:27 PM in 2006 Elections - State, Illinois | Comments (3) | TrackBack (0) | Technorati
Tuesday, October 18, 2005
IL-06: A Perfect Opportunity to Get On the Same Page
Posted by
Tim Tagaris
It's not secret that there is a communication gap between segments of the netroots and the DCCC. While much of it stems from the 2004 election cycle, the flames were further fanned during the campaign for OH-2 earlier this year. A lot of people have their own personal pet beefs with the organization, and I have mine. I get very discouraged when out of the wildnerness comes a candidate in whom I can believe, and they receive little to no help from D.C. And while I completely understand there are only so many races they can get active in (50 I believe is the goal in 2006), I wonder why they can't meet us at least 1/50th of the way. So when I read this piece in the Chicago Sun-Times this morning, my heart sank.
Democratic congressional candidate Christine Cegelis delivered anemic third quarter fund-raising numbers, which means Rep. Rahm Emanuel (D-Ill.) will be shopping for another candidate to challenge her in the March primary. Cegelis is running for the west and northwest suburban seat being vacated by Rep. Henry Hyde (R-Ill.) in territory heavily Republican but with Democratic potential for 2006. [...]

Between January and Sept. 30, Cegelis -- currently the Democratic front-runner -- raised $159,885 and has $48,973 cash on hand, according to reports filed over the weekend. Cegelis campaign manager Pat Mogge said that Cegelis is doing better than Rep. Melissa Bean (D-Ill.) did at a comparable point in what was seen then as her uphill long shot 2004 battle to beat former Rep. Phil Crane (R-Ill.).

DCCC spokesman Bill Burton, asked if the DCCC was satisfied with Cegelis' fund-raising, said, "the field is not set yet ... we have heard from some folks who are interested there.''
And this race is the perect example of the disconnect, at least in my eyes. Here you have a candidate who took 44% of the vote against a 34 year incumbent on almost organization and message alone. Christine was selected in the second round of the Dean Dozen, another substantial grassroots accomplishment. She was tremendously popular in the netroots, and just three weeks ago finished in 3rd place during the Democracy for America candidate vote.
When I read the Sun-Times piece, I get the feeling they either don't care, or just aren't paying attention, even though I know they do. This is obviously a candidate with wide grassroots appeal in the netroots, and most importantly inside her own district. I also think this is the perfect opportunity for the DCCC to give a little. They certainly should cease recruiting efforts inside the district. If a candidate emerges on their own, fine, but they shouldn't be complicit in that effort. I would also suggest that they take another step forward and back Christine Cegelis fully in a public show that they are willing to take a larger step towards working together with the grass/netroots.
Posted at 10:57 AM in Illinois | Comments (10) | TrackBack (0) | Technorati
Wednesday, October 05, 2005
IL-06: Peter O'Malley, We Hardly Knew Ya
Posted by
Tim Tagaris
I don't know if was the improved fundraising by Christine Cegelis, her massive grassroots organization, or if it was work/family demands, but another Democratic challenger in IL-6, Peter O'Malley, has bowed out of the race. From a message sent out by the DuPage County Democrats:
Fellow Democrats: I was notified today that Peter O'Malley is formally withdrawing as a candidate for IL 6th Congressional District race. I would like to thank Peter for his consideration of running as a candidate as well as for all of his hard work up to this time.

Peter has cited that the demands of his present job as well as his young family as reasons for withdrawing and we can all certainly understand and applaud his reasons.

Let's all thank Peter for his interest and commitment for being a strong candidate as well as an excellent representative of the Democratic Party in DuPage County.
Time is running out here, and with Christine's impressive showing in the DFA-List polling over the past two weeks, I can't imagine the DCCC will attempt to step on the toes of the grassroots. For months they have flirted with the idea of bringing another Democrat into the race, one that can self-fund, but it appears we have our candidate now...time tested and grassroots approved; Christine Cegelis.
Posted at 02:15 PM in Illinois | Comments (2) | TrackBack (0) | Technorati
Thursday, September 22, 2005
IL-08: Bean Loses Critical Support From Labor
Posted by
Tim Tagaris
I guess it was only to be expected after her vote for CAFTA:
Businessman David McSweeney (R), who is challenging freshman Rep. Melissa L. Bean (D) in Illinois's 8th District, was the special guest at a "get to know you" event last week at the National Republican Congressional Committee.

What made it different from the dozens of other meet and greets on Capitol Hill is that it was hosted by the International Brotherhood of Teamsters and the International Association of Fire Fighters -- two major players in organized labor. It was the first such event for a Republican challenger the groups have hosted since the November election.
This is going to be a close election. Illinois' 6th CD certainly leans Republican (although trending Dem), and Bean's defense in 2006 will be her first. The biggest question out there for Congresswoman Bean is how much support from Democrats will she be able to retain after questionable votes on the bankruptcy bill and CAFTA (among others)? She has already lost one block, the netroots, after the votes. In 2004, bloggers like Atrios helped move essential resources in her direction for her historic upset of dinosaur Phil Crane; she now occupies the top spot on his "List of 31 Losers." Now Labor is jumping ship. It was only a month ago that Bean's "Person of the Year" award was taken back by The Northeastern Illinois Federation of Labor and it's 20,000 members.
Posted at 08:44 PM in Illinois | Comments (6) | Technorati
Monday, July 25, 2005
IL-8: Melissa Bean Dissapoints...Again
Posted by
Tim Tagaris
The final straw? I wonder if there is anyone from my hometown willing to mount a challenge to Congresswoman Bean in a Democratic Primary. I think it's safe to say the online money she received in 2004 isn't funding she can count on in 2006 (From the National Journal).
Separately, freshman Rep. Melissa Bean, D-Ill., late Friday became the sixth Democrat to publicly embrace CAFTA.
I just called her office and will have more later as they are sending me information on why she had decided to support a bill so
deeply flawed
. Every single vote counts on this one, and to see Bean side with corporate interests over the people, again, is pretty tough for me to swallow.
Posted at 04:01 PM in Illinois | Comments (6) | Technorati
Thursday, July 21, 2005
IL-8: Dear Congresswoman Melissa Bean
Posted by
Tim Tagaris
Dear Congresswoman Melissa Bean,
You will undoubtedly be facing a tough election in 2006 after slipping past long-time Republican incumbent Phil Crane. There was a lot of support in the blogosphere for you last time around and among progressives--one might even conclude it was that support that put you over the top. Though I recently moved to Ohio, I must admit that when I look at the address on my drivers license (your district), I cringe to think about how dissapointing your first term in the House has been thus far. Atrios has you on his "List of 31 losers" that supported the bankruptcy bill. Chris Bowers of MyDD outlines just how often you stray from the caucus on meaningful votes.
And now you are listed as "undecided" on the CAFTA vote by Congress Daily.
I supported you in 2004, as did many others in the netroots. I can say with confidence that, for me, this CAFTA vote is the last straw. Please do not stray from the working men and women of IL-8, and America. I would like to be able to support you again, in good conscience, during your re-election bid.
Posted at 12:47 PM in Illinois | Technorati
Friday, July 15, 2005
Chi-Mayor: Daley 2007 Re-Election in Trouble
Posted by
Bob Brigham
From the AP:
CHICAGO - City Hall is shaking from a series of corruption scandals, and Mayor Richard Daley's approval ratings are at historic lows. Add to that a possible mayoral hopeful — congressman Jesse Jackson Jr. — who won't let those scandals die, and the city that has been ruled by a Daley for 37 of the past 50 years has the potential for picking another name come 2007. [...]

Over the Independence Day weekend, at an event at his father's Rainbow/PUSH headquarters to launch a huge voter registration drive, Jackson turned the heat up several notches.

"For the last six months, we've read and seen nothing but corruption and greed and malfeasance throughout much of city government ... While the corruption has not directly touched the mayor, it's all around him."

"As a result, we've seen a defensive and angry Mayor Richard M. Daley, but we haven't seen a responsible and accountable Mayor Daley," Jackson said at the event, where some wore "Jr." buttons on shirts and jackets. "Instead of a mayor who says, `The buck stops here,' we've seen a mayor who passes the buck."
If it comes down to a competitive race, expect the blogosphere to remind often how Daley stabbed Durbin in the back.
Posted at 03:00 PM in Illinois | Technorati
Sunday, June 26, 2005
Blame Daily, Dick Daley
Posted by
Bob Brigham
In retrospect, a contrast of Durbin's apology for telling the truth and Rove's lack of an apology for an outright slanderous lie shows the extreme folly of Senator Durbin's apology.
The new White House effort to brand Democrats as weak was launched following Durbin demonstrating that a Democratic leader was personally weak.
While Rove took advantage of the situation and should be fired, the blame should be placed squarely on the shoulders of Chicago Mayor Richard Daley -- and it should be remembered and treated appropriately.
Daley is going to be on the ballot again and when that time comes, I hope he will be treated by the netroots in the way he deserves. His father had a similar folly after gooning up the Democratic National Convention, but politics moved slower in those days and the protesters whose heads were smashed didn't have nearly the power that the emerging blogosphere and netroots will have by the time Daley starts asking for support. And judging by the polls, he's going to need it...from the Chicago Tribune:
The persistent drip, drip, drip of scandal at City Hall has taken a serious toll on Mayor Richard Daley, eroding his support, cutting sharply into his popularity and making him potentially vulnerable to a challenge by U.S. Rep. Jesse Jackson Jr., according to a new Tribune/WGN-TV poll.

If a head-to-head Daley-versus-Jackson contest for mayor were held today, it would be a tossup, according to the survey of 700 registered Chicago voters.

Daley won every city ward and nearly 80 percent of the vote when he last was re-elected in 2003. But the poll found that slightly less than half of voters now say they would like him to run again, and 39 percent said they would prefer he not try for another term.
When Mayor Daley runs again, I think he'll quickly be reminding of this quote, from Kos:
As for Mayor Daley, who cut off Durbin at the knees -- a pox on his house.
Bob Novak's column today has some more background on how Daley's hatchet job on Durbin:
Senate Minority Whip Dick Durbin may never have apologized for his remarks about the Guantanamo detention camp had his fellow Democrat, Chicago Mayor Richard M. Daley, not described his comments as a ''disgrace.''

Durbin did not personally call Daley, but his frantic staffers were on the phone to the mayor's office Tuesday asking that Daley tone down or even retract what he said. Daley made clear he would do no such thing. Durbin's staffers claimed that the senator's expression of regret the previous Friday should suffice, but the mayor insisted on a full-fledged apology.
Yes, Durbin made a mistake. But his hand was forced in his home state by Mayor Daley. Comparing the fallout from this scandal to the fallout from the other Mayor Daley's attack on Democrats at the '68 Convention will serve as quite a case-study in the new power of the Democratic base. Yet another generation of Democrats now hate a Mayor Daley and this time, the grassroots have the power to provide proportional retribution...I pity the fool.
Posted at 12:55 PM in Illinois | Comments (2) | Technorati
Tuesday, June 21, 2005
Dick Durbin and The GOP Shell Game
Posted by
Tim Tagaris
Pay no attention to the what is really un-American and threatening the troops, the torture of prisoners at Guantanamo Bay and Abu Ghraib. Forget about the scores of Republicans, including leadership in the Senate who have compared Democrats (one in the last month), and the New York Times, to Hitler. Don't think about George Bush on the verge of subverting the will of the Senate, and the people, by threatening a recess appointment for John Bolton because he doesn't have the votes to get out of the Senate. Never mind those record oil prices. Editing documents that portray a culture of environmental abuse and warnings for the future--pffft. And the list goes on.
But never mind that, focus your guns on Dick Durbin who was telling the country, that as a country, we are better than this. Watching Newt Gingrich call for censure this weekend, my blood boiled as I wished the Senator from my native land, Illinois, would just fight back. The Minneapolis Star Tribune gets it right.
Durbin was spot on in his assessment of Guantanamo. That's why he was so roundly attacked. He told the truth. And his message is of vital importance; the United States is better than this.

The issue of whether Durbin's rhetoric crossed a line is small potatoes compared with the undeniable truth that American treatment of its prisoners has crossed many, many lines -- of morality, of international law, of practical benefit.
Oh the irony of a Republican Party feigning outrage at Senator Durbin fresh on the heels of a failed attempt to consolidate all political power in their own hands. But they have done it again; the GOP has effectively gotten the media to take it's eye off the ball.
Posted at 01:23 AM in Illinois | Technorati
Wednesday, April 27, 2005
IL-6: DLCer O'Malley to Challenge Cegelis
Posted by
Tim Tagaris
Christine Cegelis will have primary opposition in the race for Henry Hyde's open seat in IL-6. Peter O'Malley, a self-described "moderate" and arbitrator, announced his intentions to run against Cegelis this afternoon.
When I am back home in Illinois, I live about 3 minutes outside of IL-6. In 2004, I cheered heartily for Christine Cegelis and the grassroots machine they constructed while pushing Henry Hyde to the limit. This morning, I spoke with some people from "back home," who were at O'Malley's campaign kick-off. I was surprised to hear Peter's Ol'Boys network appeared to take shot after shot at Christine on a day that should have been about him.
"42% was not good enough; it was a moral victory and we can't have those" said by Jim Reynolds, Vice Chair of the DuPage County Democratic Party who introduced O'Malley today
Point of fact, Christine actually received 44.2% against Henry Hyde against 2004, a 30 year incumbent. Being as close as I am to the 6th, I also know that Vice Chair Reynolds did nothing to help Christine in 2004. If he did, it might have been a "real" victory, instead of just a "moral" one. But in another ironic twist, the "O'Malley Gang" seems to be set on making electability a campaign issue. O'Malley
himself added yesterday:
"Christine has done a tremendous job." But he portrayed himself as better able to win in the Republican congressional district.
Now for the irony: In 2002, O'Malley ran for the DuPage County Board, and came in exactly
fourth out of four
candidates--receiving 18% of the vote. That's not even a moral victory.
In 2004, he ran for a slot as alternate Party delegate in the 6th Congressional District, the one he is running in now, and got nine percent of the vote, a full 60% behind the winner. So, I am not sure how well that electability argument can be substantiated if and when he is called on it.
But Christine made the case that she offers the best chance for Democrats to take the seat:
"I've already had 18 months of planning, organizing, getting an organization together," she said. "I think I'm the strongest candidate to take this seat."
And with the support of Democracy for America, who named her as a second round Dean Dozen candidate in 2004, I think she is right. Jim Dean (Howard's brother) responded this morning in
an online chat
when asked about Christine Cegelis:
I will also add that both myself and others intend to keep fighting for those candidates - like Richard and Christine Cegelis - who deserve widespread support and respect within the Democratic Party. Both of these candidates have accomplished a great deal and we do not itend to let that go to waste.
Posted at 05:51 PM in 2006 Elections - House, Illinois | Comments (3) | Technorati
Monday, April 18, 2005
IL-6: Hyde to Retire
Posted by
Tim Tagaris
On his 80th birthday, today, Henry Hyde (R-IL) announced that he would not seek re-election to the United States House of Representatives in Illinois 6th Congressional District.
For the Democrats, Christine Cegelis (new website almost finished) is the most-likely challenger to whatever Republican the GOP throws her way. In 2004, Cegelis earned 44.2% of the vote against Hyde, a marked improvement from past challengers. Cegelis was buoyed by the support of a very strong grassroots network that included local DFAs that rallied around the progressive female seeking to defeat the author of the "Hyde Amendment." She was also a Dean Dozen candidate.
The candidate favored to challenge Cegelis is State Senator Peter Roskam (R-IL), a "favorite of religious conservatives." More much more coming on this race in the next few hours/days. It will be one of the most exciting of 2006.
Disclaimer: I am helping out Christine's campaign with online outreach.
Posted at 06:08 PM in Illinois | Comments (1) | Technorati
Thursday, March 31, 2005
IL-6 Christine Cegelis Open Seat Bid in 05/06
Posted by
Tim Tagaris
Neighboring my sometimes residence of Palatine, Illinois (just outside of Chicago), there is a race brewing in the 6th Congressional District of Illinois. In 2004, with the support of grassroots organizations in Nortern Illinois, like Democracy for America, Christine Cegelis challenged congressional dinosaur Henry Hyde for his seat in the House of Representatives.
When the smoke cleared, Christine fared so much better than anyone would have even imagined in 2004, earned 44.2% of the vote, and turned the heads of insiders and outsiders across the country. She is back at it and already campaigning for 2006.
She should be the Democratic nominee. The votes that she gained were votes earned. They were earned because of her committment to grassroots, and even netroots (to some extent) outreach. The only question is, who will be the Republican nominee, and when will the election take place?
Henry Hyde is going to retire. Either that or he is going to appointed as the Ambassador to the Holy See. Whenever the race is, what is clear is that Christine will be battling for an open seat, probably against Republican Peter Roskum. As such, her campaign is already in full-swing and she is reaching out to the netroots in a meaningful way. She has already posted a few times on DailyKos, and today has a new entry up on Mydd.
If you get a chance, and want to learn more about the 6th CD in Illinois, take a look at her recent post.
Much more on Christine at SSP over the next year and a half. The race is certain to be one targeted by the DCCC. If you are from Illinois, consider volunteering to help, they already have meaningful opportunities for involvement available.
Posted at 03:08 PM in 2006 Elections, 2006 Elections - House, Illinois, Open Seats | Technorati
Tuesday, March 15, 2005
More controversial than a phone book
Posted by
Bob Brigham
For some time, the DLC has been lying about Barak Obama. Kos called them on it and the DLC freaked out:
Man, talk about beams and motes. The vitriol that's been poured on the DLC by Kos and several other netwarriors in the last couple of years is endless, personal, often obscene, and frankly, a little nuts. If we're as irrelevant as he keeps insisting we are, why bother? Just ignore us, and we'll go away, right? If our only value, as Kos suggests today, is to provide right-wing media with anti-Democratic quotes, then you have to wonder why so many elected officials bother to identify with us and come to our events (e.g., one today attended by Sen. Joe Biden)?

Indeed, that question seems to bother Kos as well, since his very next post begins a process of "calling out" DLC-friendly Democratic pols and asking them to disassociate themselves from us. He even took the trouble to dig down in our web page--bypassing a few hundred thousand pages of policy work, which is what we do to pass the time while waiting for the next call from Fox News--and discover that Sen. Barack Obama is still listed in our data base! Scandal! (He's in there because he recently joined the Senate New Democrat Coalition, all of whose members are in our database, which is about as controversial as a phone book).
a few hours later...
UPDATE: Turns out I was misinformed about Obama's being a member of the Senate New Democrat Coalition. The misunderstanding was based on the two different meanings of "New Democratic Senators," but we were wrong about that, and have removed his name from our Directory.
If there are any other mistakes with the list, people should call them out. Feel free to use press releases. If you work for somebody on the list, point out this is a quick and easy way for a politician to score some points with the netroots.
Posted at 08:55 PM in Activism, Illinois, Netroots | Comments (2) | Technorati
IL-06 Hyde retiring, Cegelis leading Open Seat
Posted by
Bob Brigham
From the Chicago Sun-Times:
In a few weeks, Rep. Henry Hyde (R-Ill.), the chairman of the House International Relations Committee who as Judiciary Committee chief wielded the gavel during President Clinton's impeachment, will announce that he will not seek another term.

The public position of Hyde, 80, an icon of the conservative movement, is that he will make up his mind for sure in April. But I am told he has decided to retire and is unlikely to reverse course.
Cegelis has kept her organization running and is even posting on dailykos as she ramps up her efforts:
As seasoned political advisor told me, if I wanted to win in 2006 I needed to start in November of 2004. I took that advice to heart and kept as much of my organization in place as possible to gear up for what is now will most likely be an open seat in 2006. I have been running with a really strong sense of urgency though since there are strong rumors that Henry Hyde will be given an ambassadorship to the Vatican in 2005, kicking off a special election. I do not know if it really will happen, but I would be foolish not to be ready if it did. So in the next few months we will be running this campaign as if the election is going to happen this summer. If it does not then we will be just that much stronger in 2006. There are many who believe that the Sixth District is the best target in Illinois in 2006 for a Democratic seat.
Posted at 11:37 AM in 2005 Elections, 2006 Elections, 2006 Elections - House, Illinois | Comments (1) | Technorati
Sunday, February 13, 2005
Calling out the Illinois Democratic Party
Posted by
Tim Tagaris
Yo. Anybody there in Springfield? Cause no one is responding. I hate to call you out in public, but many have tried in private. Now I gotta shame you. Your website is the worst mechansim for any sort of meaningful communication or information I have ever laid eyes on in my life.
I am not even trying to get all Internet evangelical on you; you gotta crawl before you can walk. But seiously, as a native, I am embarassed.
Where to even begin:
1.) At the very least, most candidates/parties make sure their contribution page is up to snuff. After all, they want the loot. But you can't even contribute on the website. You have to call or email to get instructions. What happens when you call? Do they get the information and a carrier pigeon comes to pick up the check?
2.) Maybe this is a simple oversight on your party, but do you know there is no way to even call on the front page? No telephone number, no email address to an info-at. The only HINT of contact information is an email address to the webmaster. Seriously, how can you not do better than that?
3.) The links page is funny. Someone got ambitious and attempted to link us to each state parties in the country. An ambitious goal for that crew, even if it doesn't really promote activism in Illinois. However, they apparently got lazy and stopped after twenty-some states.
Out of 102 counties in Illinois, there is contact information for seventeen of them. Sure, not every county has a Democratic Party, we are working to change that--especially if you won't. But I am quite sure that the number of existing counties with local parties is more than seventeen.
No one is asking for for an exhaustive list or user-friendly splash, heaven forbid. But let's make an effort.
4.) The candidates page says, in reference to 2005 races:
Visit this section again next election. Thank you!
That made me laugh. I really believe they were thinking, "yeah, visit it on election day and see who to vote for." Well what if people want to GET INVOLVED with some of those local candidates but don't know how to find them! Unbelievable. Does anyone else find that quote funny? Especially in light of the rest of the site?
5.) The Join the Team page still talks about building off the successes of 2002. Let's assume for a second they think 2002 was home to the last successes of the party. Whatever, fine. But you are missing the point. Give us some options to, umm, "join the team." I don't know, some form where I can check some boxes or type some text. We aren't asking for much here. . . We can even pretend that when I submit it, someone will read it.
6.) The press releases page is apparently under development. Unfortunately, it has been for a few months now. It is not too tough save a release, drop it on the server, and link it. No one is asking for beauty here.
Aaarrrgggghhhhh!
7.) The calendar page is the shining light of the website. Only, there is no calendar actually. It only provides information on fundraisers. Two of them to be exact. But beggars can't be choosers--thanks for updating that part.
People have tried. Many. I know because they email me or comment on it in other blogs. I know because I have tried myself. We want to help you here. Be pissed at me as you read this, fine. But myself, and many others want to help -- ttagaris@yahoo.com
Blow up their phone lines with this number: 217.546.7404
- email here: jgyure@ildems.com
Posted at 11:15 PM in Activism, Illinois | Comments (3) | Technorati
Tuesday, February 08, 2005
Hastert to Retire? IL-14 in 2006
Posted by
Tim Tagaris
Talk about burrying the lede. I knew Dennis Hastert's career was coming to a close, but I had no idea 2006 was going to be the end.
Rep. John Boehner (R-Ohio) has circulated a document to his K Street donors that ranks the "efficiency" of the top 10 House leadership PACs, breaking down how much each of them contributed to candidates as a percentage of total expenditures.

The rankings are prompting operatives on K Street to believe Boehner will need to be taken seriously in a leadership reshuffle after the expected retirement of Speaker Dennis Hastert (R-Ill.) at the end of the 109th Congress.
So would we be able to mount a challenge on IL-14 in 2006? Probably not. It is a pretty rural area, with the exception of Aurora, that stretches from the suburbs of Chicago out west through farm country towards Iowa. In 2000, President Bush carried Illinois' 14th CD 54% to 42% over Al Gore. Dennis Hastert was initially elected in 1986 with 52% of the vote and hasn't faced a serious challenge since then. In 2004, Hastert handled Democrat Ruben Zamora 69% to 31%.
Interestingly enough, there is a growing hispanic demographic in the district that now accounts for 20% of the population. Still, the top two priorities in Illinois for 2006 should be:
1.) Taking out Henry Hyde (R) (or his replacement) in IL-6 with Christine Cegelis (D)
2.) Defending the seat of Melissa Bean (D) who upset 36 year incumbent Phil Crane (R) in IL-8.
Posted at 10:42 AM in 2006 Elections, 2006 Elections - House, Illinois | Comments (1) | Technorati
Illinois Archive: