« The Republican Playbook on Foley: "Let's Find One Lie and Stick to It" | Main | CT-Sen: Cutest Ad Ever »
Tuesday, October 03, 2006
Creepy Old Men Defending Creepy Old Men
Posted by
James L.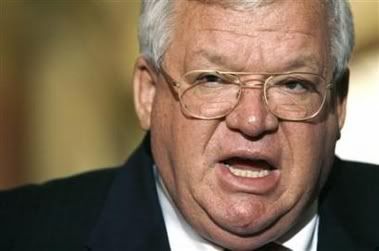 One of the worst aspects of the media swarm on the House Republican cover-up of Rep. Mark Foley's predatory relationship with young congressional pages for the GOP this fall has got to be the face of Dennis Hastert.
Parents are grasping to rationalize how the House Republican leadership, who knew of Foley's creepy come-ons to underage pages for at least a year before ABC news busted the story wide open, could let Foley off with only a "warning" rather than a serious investigation. When they turn on their TVs, when the open their daily newspapers, Hastert's face is all over the coverage of this scandal. There's got to be something unsettling for parents to see old men like Hastert spin and lie as they stubbornly refuse to accept responsibility for their failure to protect children working in Congress. And with Hastert refusing to step down as Speaker, he will remain in the media's crosshairs as more sickening details surrounding Foley's conduct are revealed and the House Republican Leadership's failures to protect children are questioned even harder. The GOP has no one at the top with a motherly image to do damage control: Hastert, Boehner, Reynolds, Shimkus... all negligent old men defending their irresponsible attitude towards child sex predators on Capitol Hill. And yes, when Dennis Hastert slams the abused former pages for speaking up on Foley, saying that they're threatening the Republicans' capacity to keep America safe from terrorism, you're goddamned right that I'm calling him a creep, too.
Posted at 06:09 PM in 2006 Elections, 2006 Elections - House, Illinois | Technorati
Trackback Pings
TrackBack URL for this entry:
http://www.swingstateproject.com/mt/mt-track-ssp.cgi/2628
Comments
This scandal is a disgrace. I don't think a majority of us moderates would peg it on the Republican leadership if it hadn't acted so disgracefully by sweeping it under the table.
What appalls me even more (though shouldn't surprise me much)is this from the Christian Coalition:
http://www.cnn.com/POLITICS/blogs/politicalticker/2006/10/christian-coalition-stands-behind.html
"Christian Coalition stands behind Hastert
From CNN Congressional Producer Ted Barrett
WASHINGTON (CNN) -- The Christian Coalition Tuesday expressed support for embattled House Speaker Dennis Hastert, R-Illinois, who is being criticized for his handling of the investigation into former Rep. Mark Foley's, R-Florida, sexually explicit correspondence with a House page.
"Christian Coalition of America stands behind you as you seek a full and an exhaustive investigation, including an FBI inquiry, regarding the disappointing actions by Congressman Mark Foley," Christian Coalition Chairman Roberta Combs wrote in a letter to Hastert Tuesday."

Wow. Talk about abandoning principles. I'm a practicing Christian (Roman Catholic), who is only slightly to left of future Sen. Bob Casey. I have disagreed with them in the past on many issues such as separation of church and state. Now, with this letter, the Christian Coalition has officially become irrelevant, if not ironic.
Posted by: BCarr
at October 3, 2006 07:13 PM | Permalink | Edit Comment | Delete Comment
The CC..well I would expect no less from an organization that declared war on gay citizens over 3 decades ago. They are a prime reason the Gop is a problem today, and the Gop will end up suffering for it. Assuming the CC's brand of hate and hypocrisy won't win out. I have faith that they won't.
So we've switched from mean Jean pics to "Fat Bastard" Hastert pics. This is Torture and, should not be allowed!...LOL.
Posted by: Predictor
at October 4, 2006 12:20 AM | Permalink | Edit Comment | Delete Comment
The ultimate creepy old man photo, in stark black and white:
BW photograph of a truly shameless moment. There's a deep sadness here -- layers upon layers upon layers of meaning in this iconic Buffalo News photo that perfectly sums up and symbolizes the whole damn Foleygate scandal, which has rapidly moved beyond the "merely" sleazy, salacious and corrupt. Now it's an utterly surreal, blame-shifting mass abdication of all personal responsibility.
Above all, there's the deep, visible moral rot that anyone can see. Look at the children in the photo. Look at the man (Rep. Reynolds) at the microphone. See the face of a party that uses children to score "family values" points but doesn't give a damn. At all.

Posted by: Madison Guy
at October 4, 2006 01:00 AM | Permalink | Edit Comment | Delete Comment
In the wake of the Foley scandal, there was one Congressperson who chose not to comment: Anne Northup (R-KY3). Worse than silence, when asked about Foley, her office said they wouldn't comment on any of it. Yet the local paper doesn't think her silence is newsworthy. Join me in emailing the the Courier Journal to find out why a nuetral stance on a child predator isn't news. Email kstewart@courier-journal.com, and join me in trying to find out where the media has gone...
Posted by: voter in the ville
at October 4, 2006 06:53 PM | Permalink | Edit Comment | Delete Comment
According to NPR, the rural "family values" voters don't care about a cover-up, either. Apparently preying on children isn't as morally reprehensible as abortion.
Posted by: Larissa
at October 5, 2006 10:48 PM | Permalink | Edit Comment | Delete Comment
Posted by: Larissa
at October 5, 2006 10:50 PM | Permalink | Edit Comment | Delete Comment