« Atlantic Monthly on Fighting Dems | Main | VT-Gov: Douglas With a Big Lead »
Tuesday, January 10, 2006
The Politics of Billboards
Posted by
DavidNYC
Back in November, GOP Rep. Jean Schmidt slandered war hero Rep. John Murtha on the floor of Congress. When we sought to take the fight straight to her back yard, Lamar Advertising refused to run the DNC's billboard, on the grounds that it constituted "negative advertising." (Nevermind this.) That really (once again) dogged my cats. Anyhow, this is what the Schmidt billboard looked like: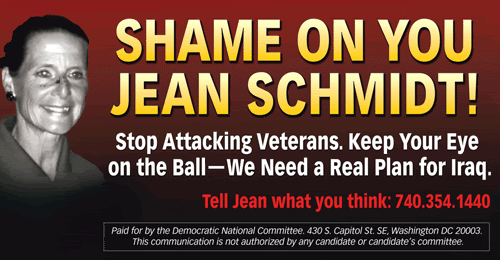 To kick off the new year, the Campaign for America's Future has launched a big-time ethics assault on the already-indicted Tom DeLay and the soon-to-be-indicted Bob Ney (OH-18). One feature of this campaign also includes a billboard, stating the simple truth about Bob Ney:
Clear, direct, to the point - and nothing hurts quite like good old Mr. Truth. CAF says that this billboard is already up, "located above the east bound lanes of Rte. I-70 at exit 126, one mile west of State Rte. 37 in Heath, Ohio where Rep. Bob Ney lives." So a pat on the back to CAF, but an obvious question remains: Why were they able to get their billboard up while the DNC was not? Oh CAF, share with us your secrets, so that organizations across the land may torment powerful kleptocrats for the entire election season!
Posted at 09:41 PM in 2006 Elections - House, Activism, Ohio | Technorati
Trackback Pings
TrackBack URL for this entry:
http://www.swingstateproject.com/mt/mt-track-ssp.cgi/2070
Comments
I think it's obvious. If you changed the Jean Schmidt sign to:
Rep. Jean Schmidt -
No Plan for Iraq, but willing to call
a Vietnam Hero a Coward
Support Our Troops with deeds, not bumper stickers Rep. Schmidt

Posted by: chuckles
at January 11, 2006 10:36 AM | Permalink | Edit Comment | Delete Comment