« NJ-Gov: A Tale of Two Campaigns | Main | Katrina: Live from Houston, TX »
Thursday, September 01, 2005
VA-Gov: Katrina - Tim Kaine and Jerry Kilgore
Posted by
Bob Brigham
We've already looked at the Katrina Contrast between Jon Tester and John Morrison (Montana Senate primary), the DLC on Katrina, and New Jersey and Katrina. So how about Virgina's gubernatorial election?
Republican Jerry Kilgore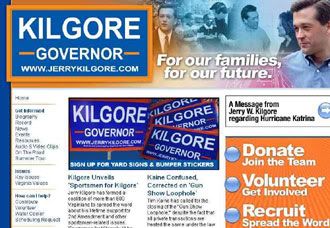 Democrat Tim Kaine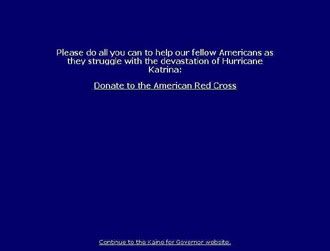 Ah, contrast...
Posted at 09:15 PM in 2005 Elections, Virginia | Technorati
Comments
Thanks for the contrast,
but I think it's the gubernatorial general election, not the primary in virginia.
Posted by: micha.1976
at September 2, 2005 04:23 AM | Permalink | Edit Comment | Delete Comment
The southern wailing continues,
and too little is being done,
violence roams the streets,
despair is everywhere,
the sick and the weak are dying.
Calling all Americans to help our own,
these are our poorest of the poor.
three leaders rise up to the call,
in Cincinnati John Cranley remembers,
"When we had our flood," he said,
"we had help from all over the country."
Laketa Cole and David Crowley agreed.
I don't want to wait until next Tuesday
- after the holiday weekend -
I'm a Cincinnati Firefighter send me now.
We'll take that bus that my Congresswomen has,
she's wants it only for her swearing in party,
at a time like this in America,
what's wrong with that picture?
We should send it to New Orleans,
and for the suffering we'll find a home,
use it for our country's largest ever catastrophe,
is not the time to sing the songs she speaks of…
99 bottles of beer on wall?
Is this woman lost?
Americans are dead or dying!
Congresswoman Schmidt!
Americans are trapped in their attacks!
We need to help the living,
we need to bury the dead!
And that $8,000 earmarked for your party,
should be given to a Red Cross cause.
Put us on the bus.
Send us now!
I'll Go!
Peter Deane
http://thesmokeeater.blogspot.com/
Posted by: The Smoke eter
at September 2, 2005 08:28 AM | Permalink | Edit Comment | Delete Comment
whoops, thanks Micah.
Posted by: Bob Brigham
at September 2, 2005 10:53 AM | Permalink | Edit Comment | Delete Comment
All the other blogs are reporting on horrible devistation and tragedy that resulted from Katrina. Bob, it seems that majority of your attention is focused on the the possible implications this could have on an election. Maybe it is just me, but I think our attention should be focused on the humanitarian crisis going on in New Orleans, not the possible political benefits.
Posted by: Andy_Duphrane
at September 2, 2005 03:39 PM | Permalink | Edit Comment | Delete Comment
Here's another point of contast in West Virginia's Second CD.
Incumbent Shelley Moore Capito (R) http://www.shelleymoorecapito.com/
Potential Challenger Mike Callaghan (D)
http://www.mikewv.com/
Posted by: Travis Owsley
at September 2, 2005 04:13 PM | Permalink | Edit Comment | Delete Comment
Bob, I agree with what others have said about you seeming overly political about this. I agree with about 95% of what you and Tom post on this site, and I like your aggressive, in-your-face approach. However, I have a friend-of-a-friend who survived the horror outside of the New Orleans Convention Center, and I find the overtly political focus you've taken on this really quite offensive.
Posted by: IndianaProgressive
at September 4, 2005 03:06 AM | Permalink | Edit Comment | Delete Comment