« PLAN: Sirota Leads the Charge | Main | Scott McClellan Cancelling Daily Press Briefings »
Friday, July 15, 2005
DCCC: Fire Karl Rove
Posted by
Bob Brigham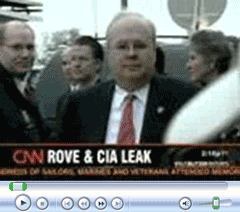 The The Stakeholder has a ton of information on Rove, including a new video (click on image), letters and fact sheets.
Jesse Lee is fired up, calling it a "blitz" and judging by the amount of action by Democrats in Congress, this is scandal is going to get even bigger next week.
I'm glad to see the DCCC throwing the anvil.
"Is the President going to stand by his word...or stand by his man?"
The DCCC smells blood, this is going to be an elections issue. Bush lied on Iraq, Bush tried to privatize Social Security, Bush over-reached on Schiavo, and now Bush is covering up for a traitor.
Posted at 04:32 PM in 2006 Elections - House, Plamegate | Technorati
Comments
The Karl Rove issue is finally center stage in the U.S. Media. The Republicans are claiming partisan politics. This is merely a smoke screen for an even larger story brewing. The very fact that an investigation into the practices of a member of the Bush administration is underway implies that a weakening in the armor of Republicanism is underway. Newsweek's Michael Isikoff confirmed that Cooper did indeed talk to Rove for his story, but Rove's lawyer denied he was the key leaker in the case. This is a slippery slope for Karl Rove. His strategy of denial will not slow the investigation down. Echoes of a previous era (The Nixon Years) are a reminder of how this plays out. Expect a major Congressional re-evaluation of our reasons for entering the War in Iraq. This story has all the components of a "ROVE-GATE". Stay tuned my fellow Americans, this should be a revealing 3 years until 2008!

Posted by: coolrock.com
at July 15, 2005 09:39 PM | Permalink | Edit Comment | Delete Comment