« Red State, Blue State | Main | Trippi Endorses Rosenberg for Chair »
Tuesday, January 11, 2005
Knuckle Up: It's gonna be on in OH-16
Posted by
Tim Tagaris
When Congressman Ralph Regula was passed over for Chairman of House Appropriations Committee, many believed he might not even stick around to finish his 17th term. That speculation was put to rest by Regula in the Akron Beacon Journal yesterday.
However, chances are the people of Ohio's 16th District will be selecting a new Congressman when 2006 rolls around. Passed over for his career capstone, Regula will probably hang it up and advocate for the Republican of choice during the next election cycle.
Stark County, the largest in the 16th district, comprises 55% of the total vote in the CD. It also went for John Kerry in the presidential race. Due to redistricting Medina County is also part of the 16th district now; Before the gerrymander, Medina consistently elected Democrat Sherrod Brown to the House of Representatives. The other two counties are solid Republican, Ashland and Wayne. Looking at the total picture, this race will be a toss-up in every sense the word.
From what I witnessed during the 2004 election cycle, the field is going to be a crowded one as well. Get to know these names; you will be seeing them highlighted as a top tier race during the 2006 campaign season.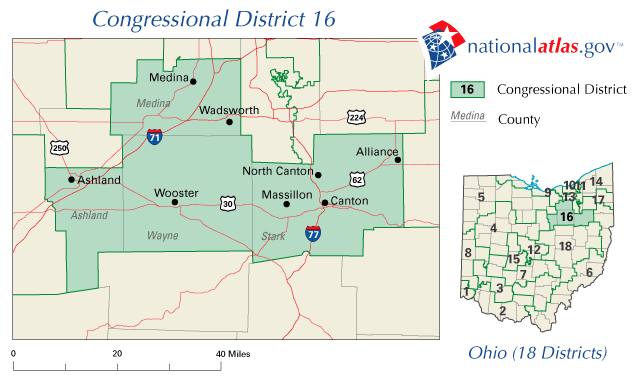 The Democrats have a few options. First, Stark County Democratic Party Chairman Johnnie Maier seems to be the favorite to emerge from the primary if he runs. He has had designs on the seat for some time now, patiently waiting until Regula retired.
As the party chair, his name recognition in Stark County will start out high, and his tenure in Ohio' State House should bolster his credibility and ability to fundraise.
That being said, there are quite a few people, Democrats, who would like to take Maier out in the primary. During the 2004 presidential race with a spotlight on Stark County, Maier managed to piss off almost every outside organization that came in to help the Kerry campaign. His selective support of Democratic candidates running for local office lost him future support as well.
Then there is option number 2. I know these people personally, so let me start by saying this is purely speculative...
Recently elected to a first term in the Ohio State House of Representatives, William J. Healy II would be a formidable challenge for a Democratic field and whatever Republican emerges from the other side's contest.
Healy has great name recognition in Stark County and his father was a well respected local politician. In 2004, Healy trounced his opponent Mandwell Patterson in the State House race, earning around 70% of the total vote. Healy has a great team around him as well, if and when his aspirations for the future manifest themselves.
Then there is Jeff Seemann. Seemann was the candidate who squared off against Regula in 2004. Even though he only garnered 34% of the vote at the end of the day, his campaigns use of the Internet received world-wide acclaim from L.A. to Australia.
Seemann will have to nurture the grassroots support he cultivated during his quixotic 2004 campaign if he is to be taken seriously in attempt to represent the party in 2006.
With a field of prominent Democrats beginning to jockey for position, the road ahead might be a long one for Seemann who has already declared his intention of running for the U.S. House again. In the post, Seemann recognizes the field will be a crowded one. The only way Seemann gets out of the primary is if he has the full support of an Internet community that carried his campaign as far as it went in 2004.
For the Republicans, three names appear on most people's short list.
State Senator Kurt Schuring: Schuring was chairman of the Bush/Cheney campaign in 2004. He is a well respected State Senator by people on both sides of the aisle. There was a point in time where some Democrats believed he was going to switch to the "blue team," but that hasn't happened yet. At the end of the day, some pretty nasty, and still private, opposition research will doom this candidate's bid.
Stark County Commissioner Richard Regula: Richard is the son of current Congressman Ralph Regula. His last name recognition would allow him to mount a serious bid. After all, it carried him into the Commissioner post.
Regula would seem to be the anointed favorite by the Republican Party faithful. It is that belief that led many to conclude Schuring was going to switch parties and run as a Democrat for the seat in 2006.
Scott Oelslager, Ohio State House of Representatives: Oelslager is a pretty moderate Republican as well. In 2004, he broke with his party to quash major "tort reform" legislation. He is another well-liked Republican that will fare well in a labor heavy, yet socially conservative part of the Buckeye State.
At the end of the day, I would have to say this seat is lean Republican, assuming Regula does retire. The reason it wouldn't lean into the Democratic column is Chairman Johnnie Maier's fault. In 2004, Democrats had a good opportunity to condition 16th district voters to vote against Ralph Regula; Lord knows there were enough reasons to do so.
Jeff Seemann generated the seed capital necessary to make the race a competitive one, but the local party dropped the ball. They failed to support the campaign in any substantive way, and Regula was elected in an overwhelming fashion once again.
If Johnnie Maier would have the foresight to get involved with the campaign, he would have not only been earning votes for Seemann in 2004, but conditioning voters for himself, in 2006.
Posted at 09:52 AM in 2006 Elections, 2006 Elections - House, Ohio | Technorati
Comments
Awsome analysis.
Posted by: Chris Baker at January 11, 2005 10:30 AM | Permalink | Edit Comment | Delete Comment
Nice analysis.
I think the Beacon-Journal article seemed too much like a "what a nice career, let's recap it as it closes" piece. I don't really buy it that he's going to stay.
Also, you are 100% right with the Maier comments. If he'd helped, we still wouldn't have won, but he would have set it up for a 2006 win, for either himself or the '04 candidate. His ego was too big to do that, though.
Posted by: A friend at January 11, 2005 03:06 PM | Permalink | Edit Comment | Delete Comment
Your post reminds me of the movie disclosure; From "A Friend."
Are you, "a friend?"
Anyway, I am a dork. I just think its funny how you posted that comment.
Yeah, if you thought the BJ article was ridiculous wait until the Canton Repository calls for parades and a golden shrine in the center of the city when Regula retires.
Mayor Creighton will require the loyal citizens of Canton to report to the shrine three times a month to pay homage. The Rep will follow suit with editorial after editorial on why Regula was the closest thing to the second coming yet and how he could do no wrong.
Then they will write an editorial about how they are non-partisan in their editorials and go on to endorse 5 more candidates, all Republicans, all Federal.
Tim
Posted by: Tim T. at January 11, 2005 03:15 PM | Permalink | Edit Comment | Delete Comment
I'd like to rebut your contention that Seemann generated the necessary seed capital to win. According to the latest report (it's 9/30, but, it's all we got) on tray.com, Seemann raised a paltry $76K. Regula spent nearly $600K. Today, safe incumbents spend around $250K and in the most competitive races, challengers and incumbents spend $1 - 2 million each.
Posted by: seemann's $$ at January 12, 2005 07:14 PM | Permalink | Edit Comment | Delete Comment
Well, at the end of the day, he raised over $100,000.
Alot of that money came early as well; by early, I mean April. If the local folks would have stepped in, he could have had over $100,000 by the 2nd major reporting period.
By that point, he had already raised more money than any candidate against Regula, ever. Save one.
By seed, I mean early, not his *final* report that he filed. Compare what he and Regula had at the end of the 2nd reporting period, it was within 50k.
Tim
Posted by: Tim T. at January 12, 2005 10:10 PM | Permalink | Edit Comment | Delete Comment