« Harriet Miers & 2006 | Main | TN-03: Zach Wamp's New Challenger is a Vietnam Vet »
Monday, October 03, 2005
OH-Sen: Decision Consistency Agility
Posted by
Bob Brigham
It is pretty common knowledge how the senate positioning unfolded in Ohio. Congressman Sherrod Brown had the pole position, but called no joy. Congressman Tim Ryan then pulled over and waived Hackett around. Now Hackett is putting the pieces in place -- as everyone knows -- to challenge embattled Republican Senator Mike DeWine in 2006.
I'm glad Hackett got a some family time. Major Hackett went from War straight into a sprint of a Special Election. Hackett campaigns hard, and he knows he's going to have to do it for a year.
And then? From today's (subscription only) Hotline:
Rep. Sherrod Brown (D-13) spokesperson Joanna Kuebler, on Brown's previous statement he would not run: "His statement has not changed at this time. However, Congressman Brown continues to be asked by state and national supporters to run for the United States Senate in Ohio. Personal and professional obligations have changed since his initial decision. He is consulting with supporters and his family about a possible run" (Hotline reporting, 10/3).
Made me think about the map of Hackett supporters.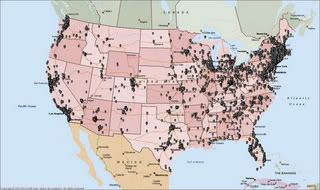 Posted at 01:42 PM in Ohio | Technorati
Trackback Pings
TrackBack URL for this entry:
http://www.swingstateproject.com/mt/mt-track-ssp.cgi/1762
Listed below are links to weblogs that reference OH-Sen: Decision Consistency Agility:
» Pre-06 GOP Upsets from Simianbrain
Rep. Capito has decided not to challenge Sen. Robert Byrd in West Virginia. Capito was viewed as the GOP's strongest challenger for the seat, which Byrd will be seeking a ninth term in. Link. Meanwhile, in Ohio, Republican Mike DeWine... [Read More]
Tracked on October 3, 2005 02:39 PM
» Brown In Then Out Then In? from Ohio 2nd
Chris Cillizza blogs over @ the Washington Post the he's hearing rumors that Rep. Sherrod Brown is once again considering running for Senate. Democracy Guy has confirmation from a "good" source of the rumor. A while ago when I talked... [Read More]
Tracked on October 3, 2005 04:22 PM
Comments
I would be happy with either Hackett or Brown. Maybe Brown now thinks he can pull a win off, and it looks like he has more support from Ohio Dem party officials. In any case, we should support whoever challenges DeWine. That alone should be our focus.
But goodness, somebody at the DSCC better get their act together -- looks a whole month or two of potential fundraising efforts has been wasted.
Posted by: purpleday
at October 3, 2005 02:16 PM | Permalink | Edit Comment | Delete Comment
Both would be good candidates. Sherrod Brown has statewide name recognition from his time as Ohio Secretary of State many years ago and his anti-CAFTA agenda will help him in Ohio. Hackett is a great candidate, but if Brown runs for Senate, then Hackett can challenge in OH-2 again. It is a win-win situation no matter what happens.
Posted by: Ian in DC
at October 3, 2005 03:07 PM | Permalink | Edit Comment | Delete Comment
Hackett's a bit of a gamble because his "Bush is worse than Hussein" comment would be played over and over again on TV ads that could "Swift Boat" him out of contention if he doesn't distance himself from those comments. On the other hand, he's a better candidate geographically in a statewide race as he'd be more likely to peel off Republican votes in the Cincinnati area where Brown would perform poorly. Where in Ohio did DeWine come from? That knowledge could be helpful in deciding whether Brown or Hackett is the better challenger.
Posted by: Mark
at October 3, 2005 05:14 PM | Permalink | Edit Comment | Delete Comment