« 75 House Races | Main | Conspicuously Missing »
Wednesday, August 03, 2005
OH-2: Election Night Video & Photos
Posted by
Tim Tagaris
I thought people would like to know that I just posted video and photos from election night in Ohio's 2nd over at Grow Ohio. I urge you to read the entire entry, but if you must, scroll down a bit for video links. Until we have more tomorrow on how this all went down, here is a picture of Bob and I with Marine Corps Major Paul Hackett (I'm wearing the hat).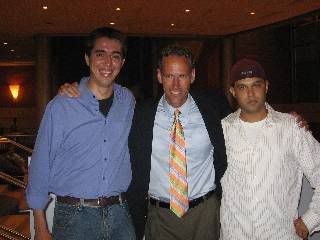 Posted at 10:12 PM in Ohio | Technorati
Comments
Tim you are a superhero ---
Posted by: TracyJoan
at August 4, 2005 01:22 AM | Permalink | Edit Comment | Delete Comment
You look like one agry mofo, Tim! I like having that kind of guy on my team.
P.S. Love the tie, Major! :)
Posted by: DavidNYC
at August 4, 2005 10:59 AM | Permalink | Edit Comment | Delete Comment
Very glad to see Paul Hackett lose the special election.
I'm a Gulf War Vet too - and I'm disgusted with Hackett for aligning himself with a Party who has, for selfish political gain, undermined this war from the get-go.
The Democratic Party pulled out all the stops to lose Vietnam a war their President started. So it's not surprising to see them do all they can to lose this war. If MAJ Hackett can't see that, he's too blind to be anyone's representative.
Posted by: NoDonkey
at August 4, 2005 11:42 AM | Permalink | Edit Comment | Delete Comment