« OH-02: Email from Hackett Campaign | Main | OH-02: Hackett Update »
Tuesday, July 19, 2005
OH-2: Grassroots Produced Commercial
Posted by
Tim Tagaris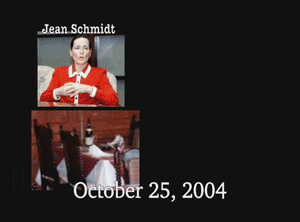 Earlier this week, I wrote an entry entitled "10/25/2004: What a Difference a Day Makes" over at Grow Ohio. The piece was received well across the blogs, with offers to turn it into a literature piece and television commercial.
You can imagine my excitement when I received an email last night from a video producer/editor from Las Vegas with a high-quality spot based upon the entry. Here is a link to the 30 second commercial.
So, take a look at the video, and be sure to contribute to Paul Hackett. This is the start of something special today in the Netroots. More coming soon.
Posted at 12:14 PM in Ohio | Technorati
Comments
This is fantastic. The visual juxtaposition in the ad, especially when "under investigation" gets stamped onto Schmidt's side of the screen, is very faithful to the tone of Tim's blog entry, and I think it will be very effective.
Posted by: Frontier PAC
at July 19, 2005 12:38 PM | Permalink | Edit Comment | Delete Comment
Tim-
I saw your post on MyDD the other week and was thinking that it would make a great add. It's amazing how the net can connect brilliant minds!
I may disagree with your positions sometimes, but man, you do some kick ass work! I hope Pennachio is paying you well, you deserve it...
Posted by: Alex Urevick
at July 19, 2005 07:29 PM | Permalink | Edit Comment | Delete Comment
heh.
Thanks, but I don't work for Chuck any longer. However, if he wants to start paying me, I wouldn't mind it at all!
I am actually working for Sherrod Brown now-a-days at Grow Ohio.
Posted by: Tim Tagaris
at July 19, 2005 09:06 PM | Permalink | Edit Comment | Delete Comment