« PA-Sen: Casey Still Leads Santorum Climbs | Main | We're back up »
Wednesday, July 13, 2005
MT-Sen: Pearl Jam Concert News
Posted by
Bob Brigham
The rumors are confirmed, Pearl Jam will be playing a fundraising concert for Jon Tester, Democrat for US Senate in Montana. Not only that, but the Tester campaign has made a bold decision and is hosting the event at the Adams Center (holds 7,500 people -- 1/8th of the entire county's population over 18). It is a very big room, but it will be full.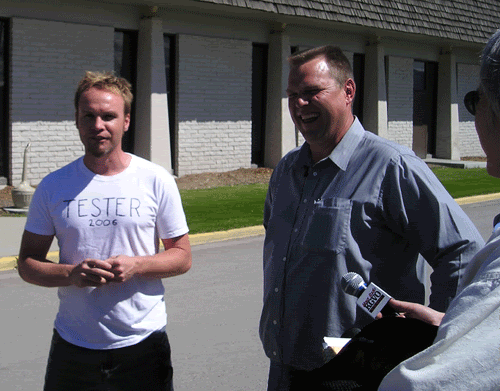 Peal Jam's Jeff Ament at Jon Tester's Kickoff in Missoula, MT

Via Big Sky Democrats, Courtney "scoop" Lowery has the scoop at New West:
Rocker Jeff Ament and U.S. Senate candidate Jon Tester have a lot in common. They're both Big Sandy, Mont. boys who want Jon Tester in Washington D.C.

And Ament is ready to help. He and his buddies (who you may know as the multi-national rock band Pearl Jam) are playing a benefit concert in Missoula on August 29 to help finance Tester, who is currently president of the Montana state senate and aims to take on Sen. Conrad Burns next year. Tickets go on sale June 23 and are available through ticketswest.com or locally at Rockin' Rudy's. Regular tickets will be $46 and require concert-goers to sign a disclaimer acknowledging they are making a campaign contribution. There will also be some more expensive special tickets up for grabs that include a reception afterward with Tester and the band.
Ah yes, the smell of a thousands getting together to fund a grassroots candidate.
Ament told us in May that Pearl Jam was trying to scrape something together to show support for Tester because "we have to keep rural Montana alive." Jon Tester, he said, is the man for the job. Tester and Ament go way back. In fact, Jeff's dad, George, gave Tester his very first signature flattop haircut.
(check out Tester website for pics of the famous haircut.
The announcement is not only exciting for Missoula, which has been waiting for two years to see Pearl Jam live again, but it also may just be the money fillip Tester needs to first fight a rough primary battle against long-time politician and State Auditor John Morrison, and then to challenge a large and in charge incumbent like Burns. A farmer from the hi-line, Tester has admitted that keeping up financially could be a struggle.

Morrison has already raised $400,000 - and with his strong political pedigree, solid performance as state auditor, and good reputation among the state's intelligentsia, he's a formidable candidate. But Tester has something that Morrison can't match, and may be crucial in mounting a credible challenge to Burns: he's a plain-spoken working man from rural Montana, and voters in this state tend to respond to that. For national Democrats who salivate at the prospect of taking down a right-wing incumbent in a red state, Tester may ultimately be the more appealing candidate.
If you can't fly to Montana for the concert (which you should), you can join Swing State Project in supporting Tester now with a contribution
Posted at 09:44 AM in 2006 Elections - Senate, Montana | Technorati
Comments
That will go awesome for Montana and Mr. Tester. We're talking about a band that, two years ago, sold out Madison Square Garden two nights in a row. Here's hoping for a big boost for what seems like a pretty awesome Senate candidate.
Posted by: griswald11
at July 13, 2005 05:26 PM | Permalink | Edit Comment | Delete Comment
Tickets are still available for the Pearl Jam show for U.S. Senate candidate Jon Tester on Aug. 29th in Missoula. It is sure to be a great night for PJ fans and dems across Montana. Be sure to have your friends go to TicketsWest to get their tickets before they sell out. This is a great way to support Senator Tester.
Posted by: Cooper
at July 25, 2005 08:36 PM | Permalink | Edit Comment | Delete Comment
I just found out and wanted to pass this along to Pearl Jam fans and Tester supporters. Looks like there are plenty of good tickets still available for the special Pearl Jam benefit concert set for August 29th at the Adams Center in Missoula. Ticket buyers should visit TicketsWest soon though before it does sell out. Good cause too. I am longtime democrat and am thrilled that PJ is doing this.
Posted by: epiper
at July 28, 2005 12:21 PM | Permalink | Edit Comment | Delete Comment