« OH-2: Jean Schmidt Advisor Smears Hackett Service | Main | OH-2: Hackett Calls out Chickenhawks »
Tuesday, July 26, 2005
MD-Sen: Michael Steele and Karl Rove
Posted by
Bob Brigham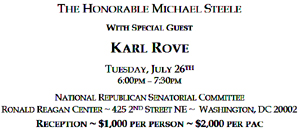 While Karl Rove's schedule is jammed back with political retribution and lessons on walking in shackles with a coat over his head, he is also busy playing bagman for politicians willing to continue the Republicans' Carnival of Corruption in Washington. Karl Rove's man in Maryland, Lt. Governor Michael Steele, has shown incredibly poor judgement by not cancelling a fundraiser with somebody who betrayed a CIA agent.
Here is the host committee: SENATOR ELIZABETH DOLE, CURT ANDERSON, WAYNE BERMAN, CHARLIE BLACK, KIRK BLALOCK, MANUS COONEY, RICK HOHLT, BRUCE MEHLMAN, JACK OLIVER, BILL PAXON, and DAVID URBAN.
Join Rove and his man in Maryland tonight from 5:30 - 7:30 at the Ronald Reagan Center, 425 2nd Street NE.
Posted at 10:40 AM in 2006 Elections - Senate, Activism, Maryland, Plamegate | Technorati