« Save the Republic | Main | Hip Hop Rally Broadens Coalition Against Nuclear Option »
Thursday, May 19, 2005
Lautenberg To Invoke Star Wars on Floor at 2:30?
Posted by
Tim Tagaris
UPDATE 2:47 (Bob) - Senator Kennedy just mentioned bloggers. He sounds good in the elder-statesman, post-presidential role. I hope he realizes that is where we need him, not gearing up for 2008.
UPDATE 2:31 (Tim) - Senator Byrd is still speaking, and it looks like Lautenberg's speechifying has been moved back.
I have always wondered about the merging of mainstream culture and politics, if and when they would fuse completely, and what the impact on our democracy would be. Will it be entertaining? Sure. Will it help to educate voters that otherwise might not pay attention to the political process? Probably, just like Jay Leno & David Letterman do when they include political content in their monologues. Will it help us defuse the nuclear option? I guess we'll find out.
Last night, Revenge of the Sith came out in theaters across the country, and the connection to the current state of our country and the nuclear option has been debated in and out of the "mainstream media." In the movie, Senator Palpatine changes the rules to consolidate power.
MoveOn is running a television spot that draws the connection. They are distributing literature at movie theaters across the country. And at 2:30 P.M. rumor has it that Senator Frank Lautenberg is going to "go Star Wars" on Bill Frist and use photos that compare his over-reaching power-grab with that of Senator Palaptine of Star Wars fame. We'll see how it goes.
You can watch it HERE.
UPDATE 2:26 PM (Tim) - Last time Lautenberg brought a picture to the floor, it was his now famous image that defined the word, "chickenhawk." Photo in the extended entry.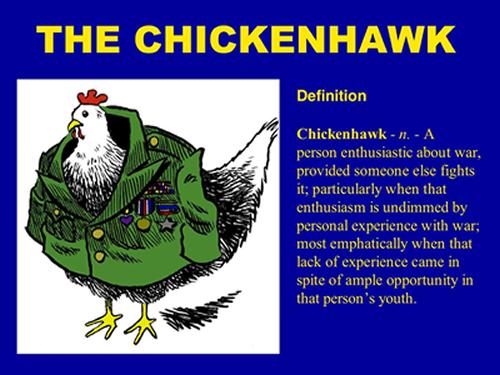 Posted at 02:13 PM in Nuclear Option | Technorati
Comments
Tim,
You meant Sen. Kerry, not Kennedy, right?
Posted by: Steve M
at May 19, 2005 05:34 PM | Permalink | Edit Comment | Delete Comment