« PA-Sen: Update on Santorum Scandal | Main | PA-Sen: Under the Radar Wingnuttery From Santorum »
Friday, May 20, 2005
CNN on Santorum Scandal and Swing State Project
Posted by
Bob Brigham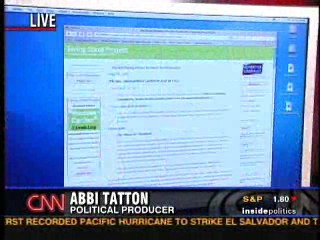 CNN's Inside the Blogs mentioned Swing State Project for our post on the Santorum Scandal. Of course, Crooks and Liars has the video.
The scandal is still breaking, I'm sure we'll have more on the Ricky Santorum Scandal, the GOP's Nuclear Option, and information on what is moving with the campaigns in the states.
Posted at 06:28 PM in Site News | Technorati
Comments
Awesome! We made CNN twice in one week! First Bob, now the SSP itself!
Posted by: DavidNYC
at May 21, 2005 12:04 PM | Permalink | Edit Comment | Delete Comment