June 2005 Archive:



Thursday, June 30, 2005
NJ-Gov: Sierra Club Opposes "Great Environmentalist"?
Posted by
Bob Brigham
A new nominee for the Idiot of the Month Award:
Jeff Tittel, director of the New Jersey Sierra Club, said his board is considering rescinding its two- week-old endorsement of Corzine, adding, "Jon Corzine may be a great environmentalist, but is he willing to stand up to the bosses?"
Mr. Tittel wants to defect against a "great environmentalist" because of a single issue? I hope his face gets the message after he chops of his nose.
Posted at 08:01 PM in New Jersey | Comments (2) | Technorati
MT-Sen: Support Jon Tester
Posted by
Bob Brigham
The Top 10 reasons why it is critical to contribute to Jon Tester:
Senator Conrad Burns (R-MT) has a re-elect number of only 36 % -- conventional wisdom says an incumbent Senator with a re-elect number under 40 is pretty much screwed.

Senator Conrad Burns is bolo-tie deep in the Jack Abramoff corruption scandal, in fact, he's a key figure in multiple federal investigations along with Shawn Vasell, Burns former State Director, who just pleaded the 5th and is also under investigation in Montana for a major hunting scandal.

While the netroots are loving on Tester, Montanans are not donating to Conrad Burns.

The Montana press are not buying Burns' spin and are taking extreme steps to call him on his bullshit.

Montana State Senate President Jon Tester has lots of momentum following a very successful legislative session.

Tester is running the type of populist campaign that elected Brian Schweitzer Governor and allowed Tester's leadership to deliver a sweep of both legislative chambers in 2004.

Wellstone had the bus, but Tester has an 18 wheeler.

Jon Tester is on track to beat Conrad Burns.

We need to keep the Montana Miracle moving. Jon Tester is the who can both pick up a Senate seat and make us proud when he gets to DC. We need Jon Tester!
Posted at 05:03 PM in 2006 Elections - Senate, Activism, Montana | Technorati
Fundraising Deadline
Posted by
Tim Tagaris
As many of you know, and Bob indicated below, today is an important fundraising deadline for a number of candidates, and I couldn't ask Swing State Project readers to make a contribution without making one of my own. While I have worked on, and helped, a few campaigns in the past two years, today I made my first (modest) campaign contribution(s) ever.
I gave to Jon Tester, Christine Cegelis, and Chuck Pennacchio. And as a reminder, Jon Tester is the first endorsed candidate of Swing State Project. For what it's worth, these are three candidates I believe in.
Posted at 11:41 AM in 2006 Elections | Comments (1) | Technorati
Join Swing State Project
Posted by
Bob Brigham
We ask two things of Swing State Project readers: 1. Keep us up-to-date on what is going on in your state via the comments and email; 2. Don't be a stranger and feel free to stop by anytime.
Today, we're asking one more: Join us in contributing to Jon Tester (contribute TODAY, the final day of the reporting period).
As you know, Jon Tester is the President of the Montana Senate and is positioned as one of the best senate pick-up opportunites for Democrats. The netroots have embraced Tester because he is one of those rare candidates who people support not just because he can win, but because he's hella good people and would be a U.S. Senator that would make us all proud.
In 2004, the Montana Democrats (with Tester's leadership) swept both chambers of the legislature and elected Brian Schweitzer Governor. This year, Senator Conrad Burns is in serious trouble and Tester is on track to beat him.
By serious trouble, I'm talking about Burns pushing pesticides on kids. Burns is also bolo-tie deep in the Abramoff corruption scandal and his former State Director is pleading the 5th. Burns troubles are taking a toll and his re-elect number is under 40.
Invest in keeping the Montana miracle momentum moving -- make a contribution TODAY:
UPDATE: Right now, Swing Staters have contributed only $885 while Left in the Westers have contributed $1,040. Help put us over the top!
Posted at 11:02 AM in Montana | Technorati
Blogging Dies to Save Blogging
Posted by
Bob Brigham
I kind of feel like I won the lottery today, for socially I am living a rags to riches fairytale. Yesterday, I was friends with a bunch of "bloggers" but today I'm friends with honest to goodness "members of the press" -- living the high life like a member of the Gang of 500. You too can improve your social standing with a single post, just ask The Talent Show, Atrios, Americablog, and Crooks and Liars.
Posted at 10:38 AM in Netroots | Comments (1) | Technorati
Carol Darr Scandal at George Washington
Posted by
Bob Brigham
Carol Darr, Director of the Institute for Politics, Democracy and the Internet at George Washington University is under fire:
That GWU suffers this fool is extraordinary. Given that IPDI is supposed to promote a space where democratic values may thrive, it's shocking that Darr is more concerned with protecting the special priviliges and privileged status of the old media than in promoting the explosion of grassroots media.

Given her inability to embrace the blogging revolution, and the transformative effects it is having on our democracy, it's time GWU transfers her to a more appropriate setting.
Carol Darr has damaged the reputation of IPDI. She has been abusing her position at IPDI, her focus on journalism instead of democracy suggest a solution that could save IPDI from this scandal.
Call GWU President Stephen Joel Trachtenberg at 202-994-6500, for the good of IPDI, Carol Darr should move on.
Posted at 10:13 AM in Netroots | Comments (3) | Technorati
Wednesday, June 29, 2005
MT-Sen: Conrad Burns Supports Testing Pesticides on Kids
Posted by
DavidNYC
Well, I threatened to do it over at DailyKos, and so here I am. The story formerly known as "EPA Human Pesticide Testing & Anti-Democracy Republicans" has been appropriately re-christened.]
GOP opponents of the filibuster like to claim, among other things, that it's undemocratic. But it's no surprise, of course, that the GOP is utterly hypocritical when it comes to issues of democratic process. While I could probably spend a lifetime documenting GOP hypocrisy - and while the Republicans may never be shamed by it - that won't stop me from highlighting a current egregious example.
Today, the Senate passed an amendment (proposed by Sen. Boxer) by a wide margin (60-37) prohibiting the EPA from testing pesticides on humans. What the EPA has been doing is pretty awful: They promise families some cash in order to carry out experiments, often on kids and often in low-income neighborhoods. Take this one example:
The tests include a 2002-04 study by University of California-San Diego in which chloropicrin, an insecticide that during World War I was a chemical warfare agent, was administered to 127 young adults in doses that exceeded federal safety limits by 12 times.
Lovely. But believe it or not, the typically incorrigible House also passed an amendment barring this practice, with language identical to the Senate bill. What's the problem, you ask, apart from a potential veto threat by Bush?
A nasty little thing called the conference committee. Conference committees are supposed to hammer out differences between House and Senate bills so that one bill can be presented to the President. But they've been repeatedly abused by the GOP to kill legislation even when there are no disagreements to work out. And guess who's behind this?
Ordinarily, approval by both House and Senate would ensure the language is retained in the final version of the bill. But GOP floor manager Conrad Burns, R-Mont., opposed Boxer's amendment, and as lead Senate negotiator on the bill, is well-positioned to kill it in future talks with the House.
Ahh, our good friend Conrad Burns. So one lone jerk (though probably tacitly backed by his 36 other GOP colleagues who also voted against the Boxer amendment) stands between a bill supported by majorities in both houses of Congress. Now that's democracy!
Anyhow, I could have headlined this piece "Burns Supports Testing Pesticides on Kids" and it would have been entirely accurate. While I don't expect the GOP to change course and actually allow the Boxer amendment to become law, at least we can hope that Jon Tester can turn this into a powerful issue on the campaign trail in Montana.
And even if Burnsie does back away from his conference committee trickery, he is still on record as voting against the Boxer amendment. Would you want this man protecting your children?
Posted at 06:35 PM in Montana, Republicans | Technorati
Political Pride T-Shirts
Posted by
Bob Brigham
In San Francisco, there is a tradition among politicians to demonstrate popularity by getting a bunch of people together to march in the Pride Parade. Showing the number of people is easier by getting everyone wearing the same T-Shirts. Since it is Pride, the T-Shirts have colorful messages:
And how was the humor at this year's Pride Parade? Well, DA Kamala Harris' corps marched in T-shirts emblazoned "Kamala Harris — She Has Convictions." But Public Defender Jeff Adachi and his 100 marchers wore shirts that said, "SF Public Defender — Getting You Off Since 1921."
Posted at 03:49 PM in California | Technorati
New DNC Website
Posted by
Tim Tagaris
You can check it out here.
I am about to go fiddle around in it right now. I also want to give a hat tip to the DNC for their committment in not only reaching out to the blogosphere, but investing in it. First they have purchased a slew of blogs ads (look left), and just yesterday, Governor Dean made personal, 1 on 1, phone calls to bloggers across the country. You can read the write-up from one at Talk Left.
UPDATE: (Bob) I also received a call from the Good Doctor -- I've have more later...
Posted at 03:43 PM in General | Technorati
CA-Gov: Nosedive at Pepsi Co. Governor's Mansion
Posted by
Tim Tagaris
Just when you thought it couldn't get any worse for the Kindergraden Cop. He has been protested here, there, and seemigly everywhere he goes. Then Ahnold was booed at a commencement ceremony last week. His poll numbers have been getting ugly, but just when you thought it couldn't get any worse at the PepsiCo. Governor's Mansion, "The Field Poll" called California residents:
"Do you approve or disapprove of the way Arnold Schwarzenegger is handling his job as governor of California?" N=954 adults (MoE ± 3.2) -- Conducted by The Field Poll:
Approve: 31%
Disapprove: 58%
Don't Know: 11%
And the trend? Public Policy Institute of California Statewide Survey. May 10-17, 2005. N=2,003:
Approve: 40%
Disapprove: 49%
Don't Know: 11%
Rose Institute, Claremont McKenna College. April 12-16, 2005. N=800 -- MoE ± 3.5:
Approve: 47%
Disapprove: 42%
Don't Know: 11%
The lowest approval rating ever in California Field Poll History for a Governor is 24%; that was Gray Davis on April 14, 2003--and we all know what happened there. Talk of a recall began well before that poll was taken when Davis had numbers closer to the current figures Schwarzenegger is touting.
The two candidates for Governor in 2006 are Phil Angelides and Steve Westley. More on the two challengers coming soon.
Posted at 02:33 PM in California | Technorati
Dems 2008: Biden Starts a PAC
Posted by
Bob Brigham
Senator Joe Biden has started a new PAC and website ~ www.UniteOurStates.com. The theme seems to be that Biden can unite, which he recently proved after he attacked Howard Dean. The problem is that Biden united people against him, which probably isn't what the credit card industry's lapdog had in mind.
Posted at 12:51 PM in 2008 President - Democrats | Comments (1) | Technorati
Tuesday, June 28, 2005
US-ED: 28.5 say WaPo Sucks
Posted by
Bob Brigham
From Americablog:

The Washington Post released a poll today, and in their story accompanying it they claimed that only one in eight Americans (12.5%) supports an immediate pull out of US troops from Iraq. In fact, the St. Louis Independent Media Center discovered that if you look at the Post's own data they post on their Web site, it's actually 41% of Americans who said pull the troops out, the second highest number ever in their polling over the past two years.
How many troops will die before the press gets it right?
Posted at 11:23 PM in General | Comments (1) | Technorati
Bush Speech: What Bush Didn't Say
Posted by
Bob Brigham
Bush didn't offer a plan to win. Bush didn't offer a strategy. Bush offered nothing to our troops. Bush failed.
While Bush recycled Washington Republican talking points, he didn't tell the American people why today was any different day. He still has no plan and our problems in Iraq continue to grow.
Bush failed tonight just like he's failed in the everything relating to his war.
Tonight the American people saw a failed speech by a failure of a President.
Posted at 09:49 PM in Republicans | Comments (2) | Technorati
Bush Talks: Applause is Fake
Posted by
Bob Brigham
Posted at 09:35 PM in Republicans | Technorati
Bush Speech Response
Posted by
Bob Brigham
Think Progress is slapping Bush like he's the doormat at an ATV convention.
Like this:
References to "September 11″: 5

References to "weapons of mass destruction": 0

References to "freedom": 21

References to "exit strategy": 0

References to "Saddam Hussein": 2

References to "Osama Bin Laden": 2

References to "a mistake": 1 (setting a timetable for withdrawal)

References to "mission": 11

References to "mission accomplished": 0
Posted at 09:29 PM in Republicans | Technorati
Sen. Feingold: Bush Disappoints
Posted by
Bob Brigham
Senator Russ Feingold on Bush speech at Fort. Bragg:
"I am disappointed in the President's failure to lay out a clear and candid assessment of where we stand in Iraq today, where we are going, and how we plan to get there. I share the President's broad goal of helping to support a free and stable Iraq. But lofty goals are no substitute for a strategic plan and our excellent and courageous troops deserve sound policy.

The President urges us to remember the lessons of 9/11. But it is with those lessons in mind that I oppose the Administration's current approach to Iraq. The U.S. military presence in Iraq has become a powerful recruiting tool for terrorists, and Iraq is now the premier training ground and networking venue for the next generation of jihadists. We need a strategy to win the global fight against terrorism, and that strategy has to include a timetable for achieving the remaining military mission in Iraq and then bringing American troops back home."

Feingold introduced a resolution, S. Res. 171, earlier this month -- the first resolution of its kind in the Senate -- that calls on the President to create a timetable for achieving clear goals and bringing American troops home from Iraq.
It is important to note that Bush once agreed with Senator Feingold:
In 1999, George W. Bush criticized President Clinton for not setting a timetable for exiting Kosovo, and yet he refuses to apply the same standard to his war.




George W. Bush, 4/9/99:




"Victory means exit strategy, and it's important for the president to explain to us what the exit strategy is."




And on the specific need for a timetable, here's what Bush said then and what he says now:

George W. Bush, 6/5/99






"I think it's also important for the president to lay out a timetable as to how long they will be involved and when they will be withdrawn."





[ed. note: article originally ran in the Seattle Post-Intelligencer on 6/5/99]




VERSUS

George W. Bush, 6/24/05:





"It doesn't make any sense to have a timetable. You know, if you give a timetable, you're — you're conceding too much to the enemy."
Posted at 09:01 PM in Republicans | Technorati
Bush Supports Yellow Elephant
Posted by
Bob Brigham
President George Bush is only slightly more non-gay than Jesus General. So it isn't surprising that the two Men agree on Operation Yellow Elephant. In tonight's speech, Bush said:
And to those watching tonight who are considering a military career, there is no higher calling than service in our Armed Forces.
No higher calling, not even a career in the College Republicans is a higher calling. I'm glad to see the President embrace, with no qualification, Operation Yellow Elephant. I hope Karl Rove will use his impressive communication apparatus to let all College Republicans know that there is NO HIGHER CALLING. Godspeed Young Republicans (who aren't too chickenshit to act as tough as they talk).
Posted at 08:46 PM in Republicans | Technorati
Reid: Bush Blew Speech Like he Blew Post-War Planning
Posted by
Bob Brigham
Senator Reid's remarks:
(Washington, DC) "Tonight's address offered the President an excellent opportunity to level with the American people about the current situation in Iraq, put forth a path for success, and provide the means to assess our progress. Unfortunately he fell short on all counts.
Indeed.
"There is a growing feeling among the American people that the President's Iraq policy is adrift, disconnected from the reality on the ground and in need of major mid-course corrections. "Staying the course," as the President advocates, is neither sustainable nor likely to lead to the success we all seek. "The President's numerous references to September 11th did not provide a way forward in Iraq, they only served to remind the American people that our most dangerous enemy, namely Osama bin Laden, is still on the loose and Al Qaeda remains capable of doing this nation great harm nearly four years after it attacked America.

"Democrats stand united and committed to seeing that we achieve success in Iraq and provide our troops, their families, and our veterans everything they need and deserve for their sacrifices for our nation. The stakes are too high, and failure in Iraq cannot be an option. Success is only possible if the President significantly alters his current course. That requires the President to work with Congress and finally begin to speak openly and honestly with our troops and the American people about the difficult road ahead.

"Our troops and their families deserve no less."
Posted at 08:35 PM in Republicans | Technorati
Bush Tells the Truth (Unless You're a College Republican)
Posted by
Bob Brigham
From tonight's speech:
And to those watching tonight who are considering a military career, there is no higher calling than service in our Armed Forces.
Unless you are a (chickenshit) College Republican:
"Frankly, I want to be a politician. I'd like to survive to see that," said Vivian Lee, 17, a war supporter visiting the convention from Los Angeles,

Lee said she supports the war but would volunteer only if the United States faced a dire troop shortage or "if there's another Sept. 11."

"As long as there's a steady stream of volunteers, I don't see why I necessarily should volunteer," said Lee, who has a cousin deployed in the Middle East.

In an election season overwhelmed by memories of the Vietnam War, the U.S. military's newest war ranks supreme among the worries confronting much of Generation Y'ers. Iraq is their war.

"If there was a need presented, I would go," said Chris Cusmano, a 21-year-old member of the College Republicans organization from Rocky Point, N.Y. But he said he hasn't really considered volunteering.
Posted at 08:31 PM in Republicans | Technorati
Bush Lies
Posted by
Bob Brigham
From tonight's speech:
These are savage acts of violence – but they have not brought the terrorists any closer to achieving their strategic objectives. [...] They failed to break our Coalition and force a mass withdrawal by our allies.
Actually, Bush failed:
United Kingdom 8,761 12,000


South Korea 3,600 2,800

Italy 3,600 3,169 (pullout begins 9/05)


Poland 1,700 2,400 (zero by end of '05)

Ukraine 1,450 1,400 (zero by 10/05)


Georgia 898 0

Romania 730 700


Japan 550 750

Denmark 496 496


Bulgaria 450 485

Australia 400 920


El Salvador 380 380

Mongolia 180 180


Azerbajian 151 151

Latvia 122 122


Czech 110 110

Lithuania 120 105


Slovakia 105 105

Albania 71 71


Estonia 55 55

Armenia 46 0


Macedonia 33 28

Kazakhstan 29 29


Norway 10 10

Netherlands 0 1,345


Hungary 0 300

Portugal 0 128


Tonga 0 45


Moldova 0 12
Posted at 08:26 PM in Republicans | Comments (1) | Technorati
Bush Speech on Iraq
Posted by
Bob Brigham
MEMO
TO:
PRESIDENT BUSH
FROM:
SOME BLOGGER
DATE:
JUNE 28, 2005
RE:
MEMORIES OF NEW YORK
This is on open memo to all members of the Republican Administration. As all facts have proven, Iraq had nothing to do with 9/11. Please refrain from cheapening the legacies of those who were slaughtered on 9/11 by linking the issue to the war in Iraq.
This memorandum applies to all events by all Republican Administration events.
While it is no longer acceptable to exploit 9/11 for our Crusade in Iraq, please feel free to continue wrapping all Administration events in the flag.
Posted at 08:06 PM in Republicans | Technorati
Bloggers Converge on D.C. Part II
Posted by
Tim Tagaris
Kos hits it out of the park:
COMMISSIONER SMITH: All right, Mr. Moulitsas, you've got this guy Armando who posts on your site with some regularity. I don't know who he is; he's just Armando.

KOS: Yes.

COMMISSIONER SMITH: Armando [correcting pronunciation. First, he pronounced "Armando" with the second syllable with the "a" sounding like in the word "at."] He's been publishing some stuff saying that the Republican Commissioners all want to regulate the Internet. It's part of a Bush administration plot to silence the left. Now, it's hard for me to imagine reporting that would be more counterfactual and incorrect and goofy, all right? Why on earth--most of your comments are devoted to the press exemption, your written comments--why should you get the press exemption when you're publishing something so irresponsible as that and so factually inaccurate?

KOS: You know, I'd say the same thing about Bob Novak and Charles Krauthammer and Tucker Carlson and--I mean, I could go down the list. We don't deem--we don't give the press exemption based on the content, the political leanings or whether it't 100 percent factual or not. Armando, you know, in addition to that, also led the charge against Alberto Gonzalez being confirmed as Attorney General and actually moved a lot of people to actively oppose Alberto Gonzalez. So he was right. That was true. Gonzalez is a torturer.
Much more later, I am sure. I can't wait to read the reactions from Kos, Atrios, and Matt Stoller. As an aside, the AP wrote
an article
already about the exchange between the FEC and bloggers.
Posted at 04:28 PM in Netroots | Technorati
Dems 2008: Hillary and the DLC
Posted by
Bob Brigham
Swing State Project founder DavidNYC saves his best stuff for Daily Kos:
To me, it doesn't really matter what Clinton's role in the DLC is. What matters is the message that this move sends. No matter how many times Ed Kilgore tries to tell us that our disgust with the DLC is misplaced, most of us won't soon forget the frequency and vigor with which Al From baselessly bashed Howard Dean, his supporters, and by extension, much of the progressive activist base.

I'm keeping an open mind about 2008 - I definitely do not have a favorite candidate, or even a group of favorites. I recognize that different candidates will try to position themselves differently, and I am not demanding fealty to the netroots. (I know as well as anyone that the blogosphere is not the be all, end all of politics.) But if and when Hillary Clinton tries to reach out to us, it's going to be hard for me to forget that she's aligned herself with Al From and the DLC.
I've said it before and I'll say it again, a candidate for President doesn't want to play porter with Al From's baggage. Paybacks are a bitch and I for one have very little tolerance for the DLC triangulation technique of attacking fellow Democrats to try to appear moderate.
As Stirling says:
I Believe that the Democratic Party will not win elections until Democrats go after Republicans with the same joy they go after fellow Democrats.
That is the problem with the DLC -- they are only relevant to the extent they triangulate against other Democrats. When the Democratic Party needs them (i.e. nuclear option), they are nowhere to be found.
The DLC is in debt for the hatchet job against (now DNC Chairman) Howard Dean and in 2007 the bill will come due. Under the turnabout is fair play rule this is certainly valid and the score will not only be settled, but settled with interest. Bayh, Vilsack, Clinton...it doesn't really matter who, for the result is the same when one lies down with dogs.
Posted at 12:18 PM in 2008 President - Democrats | Technorati
FEC Hearing Against Blogs
Posted by
Bob Brigham
Jerome Armstrong is live-blogging the FEC hearings.
Also, the A.P. has a story.
Remember, Armando was right about Gonzalez...
Posted at 12:17 PM in Netroots | Technorati
Monday, June 27, 2005
MT-Sen: Conrad Burns Staff
Posted by
Bob Brigham
Normally, I don't make too much of who a politician keeps on payroll. But Burns former State Director is now pleading the 5th (i.e. not talking because he could incriminate himself) in a major corruption investigation. In fact, 3 former Burns staffers -- Will Brooke, Ryan Thomas, and Shawn Vasell -- are the focus of multiple investigations.
So my question is, how do you get hired by Conrad Burns?
When I visited Sen. Burns in Washington I had a chance to chat a while with a couple of his sprightly young interns. Both had thick southern accents. I remember how overly eager I was to ask them what they thought about some of the pressing issues that were facing my home state at the time. And I was surprised to find out that neither had ever even been to Big Sky Country. When I pointed this out to Burns he just chuckled, patted me on the back, and divulged in his raspy voice, "I don't hire the cute ones for their brains, kid. I hire 'em cuz they are easy on the eyes." (emphasis mine)
If Burns personally hires the interns, I think it is safe to assume he personally had a role in hiring senior staff.
Posted at 05:17 PM in 2006 Elections - Senate, Montana, Scandals | Comments (3) | Technorati
Warner Flips, then Flops...Breaking Hand
Posted by
Bob Brigham
From The Guardian:
RICHMOND, Va. (AP) - Gov. Mark R. Warner broke his bill-signing hand Monday in a spill from his bicycle.

Warner, 50, was treated at a hospital after suffering two broken bones in his right hand, said press secretary Kevin Hall. [...]

Warner lost control as he was approaching a railroad track and holding a water bottle in one hand, leaving him unable to apply pressure evenly to brakes for the front and rear wheels, Hall said. Warner apparently squeezed the front brakes too hard, flipping the bike.
I'm trying not to laugh, really, I am.
Hat Tip to David Boyle.
Posted at 05:04 PM in 2008 President - Democrats | Technorati
Dems 2008: Evan Bayh Blog
Posted by
Bob Brigham
Senator Even Bayh now has a blog. It will be interesting to see if such efforts are successful in countering the notion that he's a DLC tool. Blogs are powerful, but not magical, so I'm not holding my breath...
Posted at 02:56 PM in 2008 President - Democrats | Comments (1) | Technorati
Nuclear Option Redux
Posted by
Bob Brigham
Tomorrow at 10:30 AM, Senator Bill Frist will be speaking at the Heritage Foundation. On Friday's Inside Politics, Bob Novak said that the speech would serve to kick-off another "nuclear option" war.
Judging by how the event is being billed, friends of the institution of the Senate should be very worried about the next Frist Holy War.
Posted at 02:15 PM in Nuclear Option | Technorati
2008: Bill Frist Bid FUBAR
Posted by
Bob Brigham
A couple of months ago, Senator Bill Frist was widely viewed as a front-runner for the GOP nomination in 2008. But now that seems almost laughable. Today it is a rib-breaking laughable.
First, the Washington Post headlines, Is Frist Up to Task Of Being President?. Of course, any time the press feels the need to ask such a question, the answer is no.
But Frist is in more trouble for this:
Washington, DC – Earlier today, Citizens for Responsibility and Ethics in Washington (CREW) filed a complaint with the Federal Election Commission (FEC) against Senate Majority Leader Bill Frist and his 2000 Senate campaign committee, Frist 2000, Inc.

The complaint alleges that the Frist 2000, Inc. failed to disclose a $1.44 million loan taken out jointly by Frist 2000, Inc. and by Frist's 1994 campaign committee, Bill Frist for Senate, Inc., making it appear that Frist 2000, Inc. had significantly more money that it actually had.

In June 2000, Senator Frist took $1 million of the money that had been contributed to his 2000 Senate campaign and invested it in the stock market, where it promptly began losing money. In November 2000, Senator Frist sought to collect $1.2 million he had lent his 1994 Senate campaign committee. As a result of the stock market losses, however, Frist 2000, Inc. did not have enough money to repay the loan. Senator Frist solved this problem by having the 1994 and the 2000 campaign committees jointly take out a $1.44 million bank loan at a cost of $10,000 a month interest. Frist 2000, Inc. did not report this debt on its FEC disclosure forms.

The Federal Election Campaign Act (FECA) requires full disclosure of any loans taken out by campaign committees. Yet only the 1994 campaign committee, which had been largely dormant, disclosed the loan. The loan papers, which are attached to CREW's complaint, are signed by Senator Frist personally on behalf of each of the campaign committees.

Melanie Sloan, CREW's executive director, said "it appears that Senator Frist deliberately broke the law by failing to disclose the $1.44 million loan in Frist 2000, Inc.'s FEC filings. Senator Frist was clearly trying to hide the fact that his 2000 campaign was over a million dollars in debt. Given the large sum of money involved and the fact that the violation appears to have been knowing and willful, the FEC should refer this matter to the Department of Justice for possible criminal prosecution." (emphasis mine)
Somewhere between incompetent and corrupt is not a favorable position for a candidate. Frist has gone from Flop to FUBAR and trending worse.
Posted at 12:59 PM in 2008 President - Republicans | Comments (2) | Technorati
PA-Sen: Santorum a Friend to Dog Lovers & Primary Update
Posted by
Tim Tagaris
In the past, Rick Santorum has been a vocal supporter of animal rights. But it isn't his vocal opposition to "man on dog" sex that has animal rights activists vowing to "campaign aggressively for him."
Puppies and kittens likely are not the first things that come to mind when many think of Sen. Rick Santorum--the conservative No. 3 Senate Republican known for his tough stance against abortion and gay marriage.

But Santorum, R-Pa., has won high praise from the Humane Society of the United States for pushing legislation aimed at ending breeding facilities known as puppy mills.
Actually, I would argue that puppies are the first thing that many think about when the name Rick Santorum is brought up.
In other PA-Sen news, according to an email sent out by MoveOn today, Bob Casey Jr. was victorious over Chuck Pennacchio in their online primary poll. I am not sure how close it was, although they did use the word "overwhelming" in the email. "Overwhelming" comes as a surprise to me, but I would guess that the early "primary" was conducted to give MoveOn the politcal cover needed to endorse the Conservative Casey over the Progressive Pennacchio. By holding the vote this early, Casey was almost assured a victory. They are now fundraising for Casey Jr.
There is some disbelief over the endorsement on MoveOn's action forum.
Posted at 12:13 PM in Pennsylvania | Technorati
SCOTUS: Re-Draw the Battle Lines or Cease Fire?
Posted by
Tim Tagaris
Today's the big day. Will Supreme Court Chief Justice William Rehnquist retire? How about Justice Sandra Day O'Connor? Big decisions on several issues including protecting journalists from revealing sources, "The Ten Commandments," file sharing, and the death penalty.
Hopefully David will have something at some point in the near future on some of the decisions. Until then, follow the "court wire" for up to the minute information.
As for the retirements; I am ready for another fight.
UPDATE: Supreme Court rules against 10 Commandmnents Displays (Kentucky Case). We are still waiting to see if there is a retirement today. If there is, rest assured, the Fristians will use this decision as a rallying cry.
UPDATE 2: Supreme Court decides against hearing reporters cases in Valerie Plame case.
UPDATE3: File sharing companies liable for file-swapping (eh, David corrects me on Kos--this decision only means that a case against a company can go to trial).
UPDATE 4: Instead of covering the Supreme Court decisions and possible retirements, CNN and Fox News have found it perfectly reasonable to air some mass murderer's painstaking descriptions of 10 counts of murder, how he did each, in detail, and his sexual fantasies while he was killing them.
This could be a new low.
UPDATE 5: Supreme Court rules that you can display the 10 Commandments outside the Texas State House(Texas case).
UPDATE 6: Supreme Court adjourns with no retirements announced.
Posted at 09:49 AM in Nuclear Option | Technorati
Sunday, June 26, 2005
TX-22: Tom DeLay TAB
Posted by
Bob Brigham
AUSTIN - Documents released in a civil lawsuit Friday show that Texas Association of Business officials were trying to influence the outcome of state House races when they ran a $1.7 million "voter education project" paid for with corporate money.

"Of the nine incumbents ... we went after, seven were defeated. This is huge news," a TAB executive said in a 2002 e-mail the day after the group helped Republicans win control of the Texas House for the first time since Reconstruction.

TAB officials have claimed that their corporate spending was meant to educate voters, not affect elections. [...]

Indictments have been returned against three associates of U.S. House Majority Leader Tom DeLay in connection with how corporate money was spent by the political action committee Texans for a Republican Majority. TRMPAC coordinated its activities with TAB. The TRMPAC defendants say they are innocent.
...down, down, down
And the flames leapt higher...
Posted at 10:12 PM in 2006 Elections - House, Texas | Technorati
MT-AL: Monica Lindeen Challenges Dennis Rehberg
Posted by
Bob Brigham
From the Billings Gazette:
HELENA -- Eastern Montana legislator Monica Lindeen launched her congressional campaign Wednesday with announcements in Billings and Helena, saying she knows how to get things done and is willing to cross partly lines to provide better access to health care and a world-class education system for Montanans.

Rep. Lindeen, D-Huntley, said she would emphasis a background as a businesswoman and legislator in seeking the U.S. House seat of Rep. Denny Rehberg, R-Mont.
Rehberg is a rube and I'm glad to see him getting serious opposition this year. You can find out more at www.Lindeen.net
Posted at 01:39 PM in Montana | Technorati
Blame Daily, Dick Daley
Posted by
Bob Brigham
In retrospect, a contrast of Durbin's apology for telling the truth and Rove's lack of an apology for an outright slanderous lie shows the extreme folly of Senator Durbin's apology.
The new White House effort to brand Democrats as weak was launched following Durbin demonstrating that a Democratic leader was personally weak.
While Rove took advantage of the situation and should be fired, the blame should be placed squarely on the shoulders of Chicago Mayor Richard Daley -- and it should be remembered and treated appropriately.
Daley is going to be on the ballot again and when that time comes, I hope he will be treated by the netroots in the way he deserves. His father had a similar folly after gooning up the Democratic National Convention, but politics moved slower in those days and the protesters whose heads were smashed didn't have nearly the power that the emerging blogosphere and netroots will have by the time Daley starts asking for support. And judging by the polls, he's going to need it...from the Chicago Tribune:
The persistent drip, drip, drip of scandal at City Hall has taken a serious toll on Mayor Richard Daley, eroding his support, cutting sharply into his popularity and making him potentially vulnerable to a challenge by U.S. Rep. Jesse Jackson Jr., according to a new Tribune/WGN-TV poll.

If a head-to-head Daley-versus-Jackson contest for mayor were held today, it would be a tossup, according to the survey of 700 registered Chicago voters.

Daley won every city ward and nearly 80 percent of the vote when he last was re-elected in 2003. But the poll found that slightly less than half of voters now say they would like him to run again, and 39 percent said they would prefer he not try for another term.
When Mayor Daley runs again, I think he'll quickly be reminding of this quote, from Kos:
As for Mayor Daley, who cut off Durbin at the knees -- a pox on his house.
Bob Novak's column today has some more background on how Daley's hatchet job on Durbin:
Senate Minority Whip Dick Durbin may never have apologized for his remarks about the Guantanamo detention camp had his fellow Democrat, Chicago Mayor Richard M. Daley, not described his comments as a ''disgrace.''

Durbin did not personally call Daley, but his frantic staffers were on the phone to the mayor's office Tuesday asking that Daley tone down or even retract what he said. Daley made clear he would do no such thing. Durbin's staffers claimed that the senator's expression of regret the previous Friday should suffice, but the mayor insisted on a full-fledged apology.
Yes, Durbin made a mistake. But his hand was forced in his home state by Mayor Daley. Comparing the fallout from this scandal to the fallout from the other Mayor Daley's attack on Democrats at the '68 Convention will serve as quite a case-study in the new power of the Democratic base. Yet another generation of Democrats now hate a Mayor Daley and this time, the grassroots have the power to provide proportional retribution...I pity the fool.
Posted at 12:55 PM in Illinois | Comments (2) | Technorati
Saturday, June 25, 2005
Poll: Iraq Disaster Bush's Fault
Posted by
Bob Brigham
June 23, 2005--Forty-nine percent (49%) of Americans say that President Bush is more responsible for starting the War with Iraq than Saddam Hussein. A Rasmussen Reports survey found that 44% take the opposite view and believe Hussein shoulders most of the responsibility.

In late 2002, months before the fighting began, most Americans thought that Hussein was the one provoking the War. Just one-in-four thought the President was doing the provoking at that time.

The biggest change in perceptions has come among Democrats.
This proves that the Democratic base is capable of learning what some Democratic "leaders" refuse to admit. On such a major issue, the degree the people have moved on this issue is overwhelming. As a new ARG poll on job performance shows:
Among Independents (26% of adults registered to vote in the survey), 17% approve and 75% disapprove of the way Bush is handling his job as president.
The weak Democrats need to show some spine, if for no other reason than it is pragmatic. Bush can receive no free passes, no compromise...Democrats need solidarity and boldness -- the incompetence of the Washington Republicans will take care of the rest. Throw the anvil. And then another.
Posted at 08:50 PM in Republicans | Comments (1) | Technorati
AZ-Gov: John Greene Running for Governor
Posted by
Bob Brigham
From the A.P.:
PHOENIX - Former state Senate President John Greene announced Thursday he's running for the Republican nomination for Arizona governor in hopes of ousting first-term Democratic incumbent Janet Napolitano.
A new statewide telephone poll of 357 registered voters conducted by KAET-TV/Channel 8 and the Walter Cronkite School of Journalism and Mass Communication at Arizona State University between May 17 - 22, 2005, found that 79 percent of registered voters in Arizona rate Gov. Janet Napolitano's performance in office very good (32 percent) or good (47 percent). Sixteen percent gave her a negative rating. Almost two-thirds (63 percent) of the Republicans interviewed gave the governor a good performance rating, as did 95 percent of the Democrats and 80 percent of the political independents.
Adios Mofo.
Posted at 08:22 PM in 2006 Elections - State, Arizona | Technorati
Friday, June 24, 2005
MT-Sen: New Report on Conrad Burns - Jack Abramoff Scandal
Posted by
Bob Brigham
The latest installment in the Jack Abramoff sleaze-fest that's been playing out in Senate hearings this week involves Republican Conrad Burns and his questionable ties to Abramoff.

A few days ago, former Conrad Burns (R-MT) staffer Shawn Vassal invoked his right against self-incrimination before a Senate Committee investigating DC lobbyist Jack Abramoff, his former boss. Vassell began his career as an analyst for Greenberg Traurig, Abramoff's old lobbying shop. After that, he went on to serve as state director for Conrad Burns.

In January 2003 Vassell returned to Greenberg Traurig to serve as director of governmental and administrative affairs. The Constitutionally protected silence of Shawn Vassell is the latest news in an unraveling story detailing Senator Burns' ties to scandal-plagued Jack Abramoff.
The link also has the PDF of a new report on the scandal.
Posted at 02:18 PM in 2006 Elections - Senate, Montana, Scandals | Technorati
GOTC: Get Out The Crab
Posted by
Bob Brigham
In San Francisco the past-time is politics, world-class league…enjoyed by spectators, players, fans, and crowds. San Franciscans also like baseball and the intersection of politics and baseball is blossoming online in campaign that shows the breadth to which the netroots can extend influence beyond campaigns and elections, media and legislation. From (the Giants Sports Leader) KNBR's Morning Show:
(Host) BRIAN MURPHY: I was one of those guys who hated the crab, I just was like, "the crab's stupid"

(Host) TIM LIOTTA: That's a nice way to introduce our next guest.

BRIAN MURPHY: But now I see the crab for the genius it was and this guy is ahead of the curve.
The guest then began talking about the Giants "nuclear option" and his website, which has been written about by McCovey Chronicles (twice), and the SFist.
(Guest) CHRIS STACEAN: There was nothing about the Crab on the internet, so I decided I must fill that void.

MURPHY: It's a good looking website. Rehab the Crab dot com. Our guest comes under the pseudonym Chris Stacean – which is good for you marine biologists out there. My man, what would be the mission statement of www.RehabtheCrab.com

STACEAN: Oh. No, this is a totally purposeless cause. But I think it would be fair if the Giants, you know maybe, trotted him out once game until we have a team that's over 500 again…

LIOTTA: Chris, is this what's we've come to? Is this what the Giant's season is? We're looking for voodoo and internet and pulling ghosts out of a closet?

STACEAN: Pretty much.
What is this about a grassroots internet voodoo campaign involving the San Francisco Giants and Crazy Crab? From the www.RehabtheCrab.com:
BRING BACK THE CRAZY CRAB!
The website dedicated to the return of baseball's greatest & worst mascot ever.

The Crab is DUE! He's ready to break out. […] Its time for the call up.

Back to the KNBR interview (audio available on www.RehabtheCrab.com - click on KNBR logo to download):
MURPHY: You can sign a petition to get this grassroots movement going so we can see him one day back at Pac Bell/SBC.

GUEST: That's right, absolutely grassroots. [...]

LIOTTA: In the spirit of Rehab the Crab, we can't thank you enough. We'll check in with you down the road because we want to see how this is going along.

MURPH: If you guys get any kind of movement on the petition, let us know, cause we'll help out.

GUEST: Well let me do one quick plug, if I may. Also on the website you'll see that there's an actual event coming up on July 9th called, "Crustacion Commotion" where we're going to get a bunch of idiots together at one of my favorite watering holes near Pac Bell Park called The Park Bar and Grill and sometime before first pitch we'll do a couple laps around the ballpark with protest signs and all, raising essentially the injustice of keeping the Crazy Crab locked up.
Judging from the pics on the "Crustacion Commotion" event page, I'm sure this will be quite a party protest. With support from KNBR's Morning Show and Giants blog McCovey Chronicles, I'm sure this will stay in the limelight and is due for more attention from the local press.
The internet is a great tool for savvy individuals to leverage support and influence control over the things they care about. Sometimes that's politics, sometimes it's baseball, and only in San Francisco would you see a large grassroots campaign supporting a mascot meant to be hated. Loving to hate is a powerful emotion and Giants fans deserve an outlet for the disappointing season. It's time to bring back the crab:
Posted at 02:16 PM in Netroots | Technorati
NJ-Gov: Karl Rove Scandal Scalds Doug Forrester
Posted by
Bob Brigham
I knew the Karl Rove scandal would have impacts in local elections when I received the following email with an hour of the scandal blowing up:
Vicious Karl Rove Just Raised Money for Republican Doug Forrester

I'm sure you've heard about Karl Rove calling liberals and Democrats traitors, and the White House supporting his comments.
link

I think it's interesting that Karl Rove was just in New Jersey raising money for Republican gubernatorial candidate Doug Forrester: link
Now there is an Action Alert to contact NJ Gubernatorial candidate Doug Forrester, New York City Mayor Michael Bloombloog and New York state Governor Bill Pataki. This already has support from Americablog, Eschaton, Steve Gilliard's News Blog, and Chris Bowers at MyDD.
From AmericaBlog:
Anti-Karl Rove Action Alert

1. CALL THE NJ GOP CANDIDATE FOR GOVERNOR
Atrios suggests we all do the following. I agree:

This week Karl Rove headlined a couple of fundraisers for the Republican candidate for governor of New Jesrsey, Doug Forrester.

Call his campaign office and demand to know if Forrester stands by Karl Rove's assertion that Democrats like Dick Durbin are motivated by a desire to see troops die (especially if you live in New Jersey or imagine that you do). Demand that he return the money he raised. Find out if he's proud to stand with Karl Rove, and if also thinks that New Jersey Democrats are motivated by a desire to see our troops die.

609-452-0101
email: info@doug2005.com


2. CALL MAYOR BLOOMBERG OF NYC
GOP Mayor Bloomberg of NYC has refused to repudiate what Rove's, Mehlman's, and the White House's assertion that YOU want to kill the troops and didn't give a damn about September 11. And remember folks, this is New York City, if they want to play that "liberal" card, let them. 80% of the city would call itself "liberal." So Bush thinks 80% of New Yorkers didn't give a damn about September 11. You're traitors, you dishonor the dead. When your friends died that day, you wanted to give Osama a hug.

Call Mayor Bloomber and demand he publicly repudiate the White House's slander against New Yorkers and all those who survived September 11. Bloomberg's wishy-washy statement about how we wishes all sides would stop politicizing September 11 is cute, but "all sides" weren't politicizing it. Only one party has. That would be the party he invited to hold its patriotic orgasm of a convention there last fall, the one that politicized September 11.

It's time for Bloomberg to tell New Yorkers, is he with them or against them? Does he stand by the White House's words that 80% of New Yorkers are motivated by a desire to kill our troops, and that 80% of NYers didn't give a damn about September 11? Answer the damn question, or don't be mayor.

Email bloomberg here.

Then make some phone calls to Bloomberg's press people:

Edward Skyler, Robert Lawson, Jennifer Falk (212) 788-2958


3. CALL GOP NY GOVERNOR PATAKI
Pataki refused to even give a wishy-washy answer yesterday about the White House's slander of NYers and all Americans. He stood by Rove 100%. Give him a call too, and demand that he publicly repudiate this disgusting use of the 9/11 dead to help George Bush's polls.

Main governor's office phone: 518-474-8390, 212-681-4580
Email the governor here

Lynn Rasic (Governor)
(212) 681-4640

Forrester, Bloomberg and Pataki need to do the right thing by denouncing Karl Rove and returning the poisoned money.
Posted at 12:59 PM in 2005 Elections, 2006 Elections - State, Activism, New Jersey, New York, Republicans, Scandals | Technorati
Thursday, June 23, 2005
Fire Karl Rove
Posted by
Bob Brigham
Karl Rove has got to go. No apology, no compromise, no more White House access. Earlier today, I launched a Fire Karl Rove Petition that has been signed by over 1,000 people -- including many bloggers.
Now the DNC has a petition, headlined Fire Karl Rove:
White House Deputy Chief of Staff Karl Rove, desperate to save a presidency sinking under the weight of its own failures, stooped to lying about Democrats' reaction to the terrorist attacks of September 11th. He said that Governor Howard Dean and others wanted to, "offer therapy and understanding to our attackers."

The truth is, Dean and others supported the war in Afghanistan because they believe the top priority in the war on terror should be capturing or killing Osama bin Laden and ensuring that Afghanistan and the region no longer provide a safe haven for terror.

Nearly four years later, a Republican administration and the Republican Congress have failed to catch bin Laden, and major forces have been diverted away from the hunt. Meanwhile, Afghanistan has again become the engine of an international drug trade that fuels terrorism in the region and elsewhere.

The American people pay Karl Rove's salary. If his only response to the administration's serious failure to capture or kill bin Laden is to smear political opponents with lies, he should be fired immediately.

Sign this petition urging George W. Bush and Chief of Staff Andrew Card to fire Karl Rove immediately.
Last night, the White House manufactured a scandal to divert attention from the fact the Republican Leadership is politically impotent. The White House is lashing out in desperation as more and more Americans realize that the Republicans have failed America. We are better than this and we deserve better from those who serve at the pleasure of the President of the United States. Karl Rove has disgraced our goverment, our White House, our America -- he needs to either resign or be fired. With haste.
Posted at 08:59 PM in Scandals | Comments (1) | Technorati
Journalists Failing on Karl Rove Scandal
Posted by
Bob Brigham
The problem with he said/she said journalism is that the truth isn't the average of Democrats and Republicans. This may come as a surprise to many of you, but sometimes politicians lie. No really, it happens.
It is a rare day when a reporter cares more about the truth than hiding in the safety of he said/she said. Today, in response to Karl Rove going out and lying to attack Democrats, Salon's Peter Dauo called bullshit:
I'm devoting much of today's report to Karl Rove's vile comments denigrating half of the American public. My office overlooks Ground Zero, and I'm looking at the gaping footprint as I write this. My wife and I were in New York that day, on our way to the WTC for a morning meeting. A chance phone call dragged on a few minutes too long and most likely saved our lives. I lost friends in the towers, and when I walk past the site, as I do almost every evening, the pain is as real as it was on September 11th, 2001.

I spent my youth in Beirut during the height of Lebanon's civil war, and I fought the Syrian presence in Lebanon long before the "Cedar Revolution." I watched young boys give their lives and mothers cradle their dying children in blood-soaked arms. I've seen more bloodshed, war, and violence, and shot more guns than most of the 101st Fighting Keyboardists combined. I wouldn't presume to question the strength or dignity of a stranger, and I pity those who blithely push the right=strong, left=weak rhetoric. It says far more about their inadequacies than it does about the target of their scorn. Today, Karl Rove took that rhetoric to a new, filthy low.
Indeed. Go sign the petition.
Posted at 08:16 PM in Scandals | Technorati
MT-Sen: Shawn Vasell Pleads the Fifth
Posted by
Bob Brigham
Swing State Project has written on Shawn Vasell before:
Now the Washington Post reports Shawn Vasell took the Fifth Amendment when asked to testify under oath about his role in the Conrad Burns & Jack Abramoff corruption scandal.
Abramoff, who is also at the center of a corruption investigation by the Justice Department, laundered tribal money by directing the Indians to donate to tax-exempt groups that the lobbyist later used for his own purposes, the Senate committee said. [...]

Three former associates of Abramoff and Scanlon who were summoned to testify declined to do so, citing their Fifth Amendment right against self-incrimination. They included former Greenberg lobbyist Kevin Ring, who continues to represent the Choctaw tribe as a lobbyist, and Shawn Vasell, who like Ring was a congressional aide before joining Abramoff's lobbying team.
Big Sky Democrats and Left in the West have more.
Posted at 07:23 PM in 2006 Elections - Senate, Montana, Scandals | Technorati
Democrats vs. Republicans -- See the Difference
Posted by
Bob Brigham
In response to the outrageous statements by Bush Political Chief Karl Rove (which resulted in the Fire Karl Rove Movement), the DNC blog Kicking Ass reminded us of the true differences between the two parties:
Democrats
Believe capturing the person primarily responsible for the attack should be a top priority.

Republicans
It's been four years, and Osama bin Laden is still free, even though Bush's CIA chief says he knows where he is.

Democrats
Investigate the intelligence failures that led to 9/11.

Republicans
Do everything in their power to block the 9/11 Commission from doing its work.

Democrats
Propose creating the Department of Homeland Security.

Republicans
Push tax cuts for the wealthiest Americans.

Democrats
Believe we should have stayed the course in Afghanistan, not allowing the Taliban to resurge, the warlords to take power, and the opium trade to skyrocket.

Republicans
Ignore Afghanistan as the situation worsens.

Democrats
Believe that we should be honest with our troops about the reasons we go to war, give them everything they need to be safe, and make sure we go in with an exit plan.

Republicans
Manipulate intelligence to trump up reasons to go to war, don't give our troops the support they need, constantly mislead the public about the direction the war is going, and fail to make an exit plan. And turn Iraq into the ultimate terrorist training ground.
Differences indeed.
Posted at 06:19 PM in Democrats, Republicans | Comments (2) | Technorati
Let This Be a Lesson
Posted by
Tim Tagaris
Ken Mehlman and RNC released a statement countering Democratic attacks on Karl Rove for his ridiculous statements earlier today. I hope both of the comments, Karl's and Ken's, are the final lesson to all the faint-hearted Democrats out there who have capitulated and appeased this adminstration at every turn possible.
They go right down the list--picking off Democrats who stand up for peace. MoveOn (of course), Dennis Kucinich, Marcy Kaptur, Barbara Lee, Michael Moore (shock), Joe Biden, Howard Dean, John Kerry, and others.
You see, it doesn't matter how you voted on war in Afghanistan. It doesn't matter how you voted in Iraq. Republicans will attack you, and your party, for being faint-hearted and soft in the war on terror.
It doesn't matter, Dick Durbin, that you apologized. Because they turn around and call your comments "libelous." They cite people who stood by you, before you caved, as evidence that our outrage is "faux."
Lesson Learned? We might as well start standing together on issues of principle, because the Republicans will try and hang us all together anyway.
Posted at 05:27 PM in General | Technorati
Rove Resignation Watch
Posted by
Bob Brigham
UPDATE: Sign the petition.
America has never been as united as we were following September 11th. In fact, the whole world stood with us in our time of need. But Bush squandered that moment, that rare opportunity. Since then, support for both Bush and America has been in a tailspin because of the abuse of power by the Republican Administration. Now Karl Rove is seeking to further divide Americans to distract from the fact that Bush is losing the war on terror, has lost the war in Iraq, failed to privatize Social Security, was checked upon trying to eliminate the filibuster, and is widely considered to be a failed, lame-duck. Karl Rove's desperate maneuver must be dealt with promptly, Rove must either resign or be fired.
Here are the ACTION ITEMS, this entry will serve as a home for the blogswarm calling upon Rove to retire. It will be updated, feel free to send track-backs to be included and of course, feel free to repost:
AmericaBlog: "Fire this asshole, now."
Kos: "as their fortunes circle the drain, they resort to outrageous attacks in an attempt to distract from their own incompetence."
Paul Waldman: "Karl Rove's comments are even more despicable than what we've come to expect from Republicans. There is no depth to which they will not sink, no tragedy they will not exploit for political gain."
Talking Points Memo: "Rove should apologize or resign."
Mixter's Mix: "Seems our favorite neo-fascist is back to identifying enemies/scapegoats as a unifying cause. (#3 on the list of The 14 Characteristics of Fascism by Laurence W. Britt.)"
Pissed on Politics: "Rove, sensing Bush is in trouble, has decided to harkin back to the dark days of 9/11 in hopes of re-vitilizing that blind patriotism and mindless flag waiving this administration so desperately needs in order to propagate their agenda."
A Liberal Marines Progressive Perspective: "My only response to this kind of lame nonsense is to say, Mr. Rove...shut the f**k up! See, people like this guy should be VERY QUIET when it comes to the subject of warfare or anything that even remotely pertains to warfare and warfighting. People like Rove, et al. are extremely dangerous and should be taken with a grain of salt whenever they start flapping their gums about military service, war or any other activity in which they have no real knowledge. George C. Scott (as General George S. Patton) said the following about clowns like Mr. Rove in the opening monologue of the Academy Award winning movie 'Patton' (http://www.simplyscripts.com/oscar_winners.html):
"...They don't know any more about real fighting, under fire, than they do about fornicating...""
Patridiot Watch: "Karl Rove's Pants Are on Fire"
Capitol Buzz: "Call the White House and tell him to shut the fuck up!!!"
Yowling from the Fencepost: "Rove, hubris, and foot-in-mouth disease."
Born Angry: "You know, when this is all over--if it is ever all over--Karl Rove and the entire Bush Bundestag should be sent to Gitmo!"
Democratic Planks: "How dare he say that as I sat terrified in my New York apartment and watched the twin towers crumble, my thoughts were "let's give therapy to these people... these poor people are just misunderstood."
No, Karl, you are totally fucking wrong.
How dare you play petty politics with the tragedy of 9/11?
And isn't it convenient that you are raking up the mud at the point when your brainchild administration's poll numbers are in the toilet? [...]
Rove's statement is simply gross, and right now I want to kick him in the head. What he suggested said out loud at a ballroom event held only a few miles from gound zero is reprehensible, dispicable and totally characteristic of the entire Bush administration."
Posted at 02:08 PM in Republicans, Scandals | Technorati
Karl Rove Must Resign
Posted by
Bob Brigham
The Rove Must Resign blog swarm is gathering momentum quickly, because Rove needs to resign. There must be a zero tolerance policy.
Here are the action items:
Are you represented by a Republican? Enter First-Draft's contest with a quick letter or call them
Take a moment and call Rove, demand he resign: (202) 456-2369

UPDATE


Sign the petition
The following statement from Senator Harry Reid is spot-on:
"I am deeply disturbed and disappointed that the Bush White House would continue to use the national tragedy of September 11th to try and divide the country. The lesson our country learned on that terrible morning is that we are strongest when we unite together, that America's power is in its common spirit of democracy and freedom.

"Karl Rove should immediately and fully apologize for his remarks or he should resign. The lesson of September 11th is not different for conservatives, liberals or moderates. It is equally shared and was repeatedly demonstrated in the weeks and months following this tragedy as Americans of all backgrounds and their elected representatives rallied behind the victims and their families, united in our common determination to bring to justice those responsible for these terrible attacks.

"It is time to stop using September 11th as a political wedge issue. Dividing our country for political gain is an insult to all Americans and to the common memory we all carry with us from that day. When it comes to standing up to terrorists, there are no Republicans or Democrats, only Americans. The Administration should be focused on uniting Americans behind our troops and providing them a strategy for success in the war on terror and the conflict in Iraq. I hope the president will join me in repudiating these remarks and urge Mr. Rove to take appropriate action to right this terrible wrong."
An apology isn't good enough, this conduct is so out of line that the only appropriate remedy is for Karl Rove to resign or be fired -- immediately.
Posted at 01:27 PM in Scandals | Technorati
Wednesday, June 22, 2005
PA-10: Greg Skrepenak
Posted by
Bob Brigham
Tagaris posted earlier on Chris "Iraq/Al Qaeda Meme" Carney looking to challenge scandal-plagued Congressman Don Sherwood for Pennsylvania's 10th District. In the comments, Swing State Project regular BCarr noted that there may be another Democrat in the race. From the Scranton Times Tribune:

Luzerne County Commissioner Greg Skrepenak is considering a run at the Democratic nomination for U.S. Rep. Don Sherwood's seat. [...]

"Congress has always been in the back of my mind," Mr. Skrepenak said. "Timing is everything in this business. It would sure appear the timing is right for the Democrats to take over that seat. I have to explore the opportunity wholeheartedly."

Mr. Skrepenak is intrigued by higher office because he feels "true policy change" has to be implemented on the federal or state level, not locally. If he enters the race, some of his key issues would be health care, social security and economic growth.
Commissioner Skrepenak also coaches football at Crestwood High School and went to high school in Wilkes-Barre before going to Michigan (where he was the "largest player ever") and a career in the NFL (lineman: HEIGHT: 6'6" WEIGHT: 315 lbs).
Posted at 05:07 PM in 2006 Elections - House, Pennsylvania | Technorati
PA-10: Dem. Challenger Responsible for Iraq/Al Qaeda Meme?
Posted by
Tim Tagaris
Don Sherwood (R-PA), now on the butt end of a lawsuit for allegedly abusing a twenty-nine year old mistress during a five year adulterous bonanza, has always had a pretty safe seat in the U.S. House of Representatives. Not anymore. Political Science professor, and Democrat, Chris Carney is going to take his shot at Sherwood and believes there are "some cracks in Mr. Sherwood's armor now."
Unfortunately, Carney works as a "special consultant for the Department of Defense," and was part of the intelligence team that alleged the link between Saddam and Al-Qaeda.
Critics of the Iraq war have criticized Carney's conclusions, saying much of the information was outdated and inconclusive. They claim President Bush used Carney's research to help bolster his case for war. Carney stands by his work.

"On this issue with the president, I agree," he said. "I firmly believe there were links between Iraq and al Qaida. There's no question in my mind. I'm comfortable with that. What I'm uncomfortable with is the problems within the intelligence community at large."
Can't say that I feel too comfortable about that.
Posted at 10:41 AM in Pennsylvania | Comments (1) | Technorati
Tuesday, June 21, 2005
CA-50: Duke Cunningham Smacked Down
Posted by
Bob Brigham
Congressman Pete Stark (CA-13) publically smacked down scandal-tainted Congressman Duke Cunningham. Stark spent $500 of his own money for web ads that ran on the D.C. insider sites Congress Daily and Hotline. As is to be expected with any investment in bold action, Stark earned traditional media, from The Hill:
Rep. Pete Stark (D-Calif.) spent $500 of his own money to place an ad online lampooning Rep. Randy "Duke" Cunningham's (R-Calif.) recent controversial sale of his home to a defense contractor.

"Attention Powerful Lobbyists! House for Sale By Influential Member of Congress … From recent practices by defense contractor lobbyists, it appears that you may be able to slip a cool million to a Member of Congress with little fear of ethics violations," read the ad, which ran yesterday on the National Journal website.

Stark said in a statement that he acted out of frustration with the House's stalled ethics process, adding, "It is ridiculous that the House is still without a working ethics committee that can investigate abuses of power."
Props to Congressman Stark for creatively bringing attention to the ethics-free zone the Republican Leadership has created.
Posted at 01:55 PM in 2006 Elections - House, Activism, California, Scandals | Technorati
Dick Durbin and The GOP Shell Game
Posted by
Tim Tagaris
Pay no attention to the what is really un-American and threatening the troops, the torture of prisoners at Guantanamo Bay and Abu Ghraib. Forget about the scores of Republicans, including leadership in the Senate who have compared Democrats (one in the last month), and the New York Times, to Hitler. Don't think about George Bush on the verge of subverting the will of the Senate, and the people, by threatening a recess appointment for John Bolton because he doesn't have the votes to get out of the Senate. Never mind those record oil prices. Editing documents that portray a culture of environmental abuse and warnings for the future--pffft. And the list goes on.
But never mind that, focus your guns on Dick Durbin who was telling the country, that as a country, we are better than this. Watching Newt Gingrich call for censure this weekend, my blood boiled as I wished the Senator from my native land, Illinois, would just fight back. The Minneapolis Star Tribune gets it right.
Durbin was spot on in his assessment of Guantanamo. That's why he was so roundly attacked. He told the truth. And his message is of vital importance; the United States is better than this.

The issue of whether Durbin's rhetoric crossed a line is small potatoes compared with the undeniable truth that American treatment of its prisoners has crossed many, many lines -- of morality, of international law, of practical benefit.
Oh the irony of a Republican Party feigning outrage at Senator Durbin fresh on the heels of a failed attempt to consolidate all political power in their own hands. But they have done it again; the GOP has effectively gotten the media to take it's eye off the ball.
Posted at 01:23 AM in Illinois | Technorati
Monday, June 20, 2005
WV-Sen: Byrd Discusses Checkered Past
Posted by
Tim Tagaris
I cringe everytime I see Republicans refer to Senator Byrd's involvement with the KKK decades ago. I often wonder how he has been elected so many times in West Virginia. And I am certain that it will be come a campaign issue in 2006. So is Senator Byrd, and now he is talking about it:
"It has emerged throughout my life to haunt and embarrass me, and has taught me in a very graphic way what one major mistake can do to one's life, career and reputation," the West Virginia Democrat says in an autobiography being released Monday. "I displayed very bad judgment, due to immaturity and a lack of seasoned reasoning." [...]

Even now, with the 2006 election more than 18 months away, Republicans are using it in their campaign to oust him.
It's a pretty enlightening article. I think it also instructive for West Virginians, and Americans, to read it in the context of a Republican Party that still has Senators who refuse to co-sponsor legislation apologizing for the lynchings that took place during the biggest stain in our country's past. Senator Byrd was a co-sponsor of the bill.
Posted at 01:38 PM in West Virginia | Technorati
Sunday, June 19, 2005
OH: Down Ballot Statewide Run-Down
Posted by
Tim Tagaris
I received an email this morning alerting me to an excellent summary of down ballot races in Ohio's 2006 elections. The piece was written by Frank Szollosi, a Toledo City Councilman. It is a first-person report from a meeting in Cincinnati of potential statewide candidates, and it is well worth the read.
Kilroy threw a blistering shot at Pat DeWine, son of the sitting U.S. Senator from Ohio, and who lost badly in the 2nd Congressional GOP Primary this past Tuesday. "I pledge not to leave behind my pregnant wife for another woman." Ouch. Bocceri is a recent entrant into the SoS race, and just returned from Air Force duty in Iraq. Refering to the problems of SoS Ken Blackwell and Ohio elections, he noted that fighting for democracy in the Midwest is just as important as fighting for democracy in the Mideast.
As an aside, I am back in Ohio right now. In 2004, some of you know that I worked Communications for Kos Dozen candidate, Jeff Seemann in OH-16. I just returned last week to work on an online/offline collaborative project I'll be writing about in a few days.
Until then, Frank's piece is a great read.
Posted at 01:20 PM in Ohio | Technorati
Friday, June 17, 2005
CA-48: Special Election Polling
Posted by
Tim Tagaris
So, it's closer than I thought it might be:
Conducted by Probolsky Research (R). June 10-14, 2005. N=325 likely special election voters districtwide. (MoE +/- 5.5%)
John Graham (D): 22%
John Campbell (R): 31%
Marilyn Brewer (R): 8%
Don't Know/Undecided: 39%
The Democrat, John Graham is a university professor. For the Republicans, John Campbell is a State Senator and Marilyn Brewer is a business woman.
Posted at 02:29 AM in 2005 Elections, California, Polls, Special Elections | Comments (3) | Technorati
Thursday, June 16, 2005
Progressive Legislative Action Network
Posted by
Tim Tagaris
An interesting email I had forwaded to me this morning by David Siorta. Check out their website.
A coalition of present and former state legislators and policy experts today announced the upcoming launch of the Progressive Legislative Action Network (PLAN), a new organization to support forward-thinking, progressive state legislators with the policy, communication, and strategic resources to help them fight the progressive battle at the state level.

The organization will be co-chaired by Steve Doherty, the former Minority Leader of the Montana Senate, and David Sirota, who will be leaving his position as a Fellow at the Center for American Progress to assume his new role at PLAN.
The kickoff event will be headlined by John Edwards and and Montana Governor Brian Schweitzer. The release itself, was also datelined Montana--home of Swing State Project endorsed
U.S. Senate candidate Jon Tester.
Posted at 05:57 PM in Montana | Technorati
PA-10: Republican Family Values
Posted by
Tim Tagaris
Champion of moral/family values Congressman Don Sherwood was just slapped with a $5.5 million dollar civil suit filed by a woman who claims Sherwood choked and beat her during an adulterous relationship that lasted five-years.
U.S. Rep. Don Sherwood repeatedly punched and choked a Maryland woman during a "five-year intimate relationship" with her, according to a lawsuit filed Wednesday.

Cynthia Ore, 29, of Rockville, Md., says that after each "unprovoked and vicious attack" Sherwood, 64, promised he wouldn't do it again and begged her not to leave him [...]

Sherwood, who is married and has three daughters, struck Ore on her face and body with a closed fist while she attempted to sleep and he began "violently choking her."
Family values, indeed. It could be worse, he could have informed his wife that he wanted a divorce, in a phone call, after cheating with a Washington lobbyist--that's the prefered method of
other Republican Congressmen.
Posted at 05:47 PM in Pennsylvania | Technorati
PA-08: Clearing the Field, Again in PA?
Posted by
Tim Tagaris
It must be something in the water in Pennsylvania. Another Democrat is waiting for a cleared primary field if she is to throw her hat in the ring. This time, the candidate's name is Robin Wiessmann. Who is Robin, and what gives her the right to think she deserves a clear field. PoliticsPA has the skinny:
She serves as a Commissioner on the Delaware River Joint Toll Bridge Commission and is President of Brown/Wiessmann Group, a financial consulting firm in Newtown.

Wiessmann is the wife of prominent Democrat Ken Jarin, a Rendell fundraiser, member of the 2002 Rendell Transition Team and partner at the law firm of Ballard Spahr. Jarin was ranked #15 in the PoliticsPA List of Pennsylvania's most powerful unelected personalities.
The second paragraph is really what it's all about. I was on the phone with Chris Bowers of MyDD looking over her and her husband's past campaign contributions. It's impressive. Probably well over $100,000 given to Democratic (and Republican) candidates over the past decade or so. I would venture to guess that if you looked at the contributions made by her partners at her husband's law firm as well, it would probably knock your socks off as well.
I don't know where Pennsylvania Democrats like Bob Casey Jr. and Robin Wiessmann get off thinking they deserve a free ride to anything--and then assuming our immediate support for the General Election. I am going to have a lot more to say about Casey within the next few weeks, but let me leave you with a quote from Bob Casey Jr, in the 2002 Gov. Primary in Pennsylvania.

There are plenty of examples where this state has had a lot of tough primaries and then come together. In fact, the history shows, if you look at it, that the party with the tough primary usually wins.
And yes, there are already two declared Democratic candidates in the primary field, with a third, Ginny Schrader, potentially jumping in sometime soon.
(Disclaimer: I no longer work for Chuck Pennacchio's campaign for U.S. Senate in Pennsylvania, and any opinions I will express are my own and not of the campaign)
Posted at 01:12 AM in Pennsylvania | Comments (22) | Technorati
Wednesday, June 15, 2005
VA-2005: General Election Ballot
Posted by
Bob Brigham
From the Richmond Times Dispatch:
The Republican and Democratic tickets were set yesterday for the Nov. 8 general election.

State Sen. Bill Bolling of Hanover County and Del. Robert F. McDonnell of Virginia Beach won the Republican nominations to run for lieutenant governor and attorney general.

Former U.S. Rep. Leslie L. Byrne won a four-way Democratic primary contest for lieutenant governor.

Bolling and McDonnell will join former Attorney General Jerry W. Kilgore on a GOP ticket with an especially conservative bent. As expected, Kilgore brushed aside Warrenton Mayor George B. Fitch for the gubernatorial nomination.

Because he was unopposed for the Democratic nomination, Timothy M. Kaine of Richmond is the Democratic nominee for governor. His name was not on the ballot yesterday. Also unopposed was State Sen. R. Creigh Deeds of Bath County, the Democratic standard-bearer for attorney general.
With New Jersey the only other state with important state-wide offices on the ballot, Virginia is going to see an infusion of out-of-state money and people that will have significant impacts on all of the races. Nationally, both sides want to do well, and will be spending accordingly. Democrats are in better position, with a likely win in New Jersey, Democrats worst case scenario is a split with a best case being a sweep.
Posted at 11:07 AM in 2005 Elections, Virginia | Technorati
NJ-Gov: Corzine in Control
Posted by
Bob Brigham
A new poll for New Jersey's gubernatorial race, from Quinnipiac:
Democratic U. S. Sen. Jon Corzine leads Republican Douglas Forrester 47 – 37 percent in the race for Governor of New Jersey, according to a Quinnipiac University poll released today. Republican voters back Forrester 77 – 12 percent, as Democrats back Corzine 82 – 9 percent, and independent voters tip to Forrester 39 – 37 percent.

In an open-ended question by the independent Quinnipiac (KWIN-uh-pe-ack) University poll, where voters can give any answer, 40 percent list taxes, including 31 percent who list property taxes, as the most important problem in New Jersey today. No other issue rises to double digits as a voter concern.
Fifty-four percent of New Jersey voters dislike the property tax the most, followed by 13 percent who most dislike the federal income tax, with 9 percent each disliking the Social Security tax, the state income tax and the state sales tax.

"There is little indication Doug Forrester got any significant bounce from his GOP primary victory in New Jersey, since Sen. Corzine still leads by 10 points. In fact, Corzine is polling near the magic 50 percent mark while four in 10 voters don't know enough about Doug Forrester to form an opinion," said Clay F. Richards, assistant director of the Quinnipiac University Polling Institute.
Corzine is in good shape.
Posted at 11:04 AM in New Jersey | Technorati
Tuesday, June 14, 2005
OH-2: Special Election Results/Open Thread
Posted by
Tim Tagaris
And they're off. Polls closed about 13 minutes ago. My sentimental favorite on the Democratic side is Victoria Wulsin, for what it's worth. - - (Updates are coming in VERY slow - Infact, the updates are terrible - Now they're coming in)
OH-2 Special Election: Hackett (D) v. Schmidt (R)
Last Update: 10:04 P.M. -- Percent Reporting: 100%
Democratic Candidates:
Paul Hackett: 33.4% - 52.1% - 53.66% - 56.19% 56.19%
JamesParker: 5.3% - 7.47% - 5.85% - 5.67% 4.85%
Charles Sanders: 18.5% - 14.12% - 11.08% - 10.34% 9.04%
Jeff Sinnard: 5.3% - 2.85% - 2.39% - 2.44% 2.05%
Victoria Wulson: 37.2% - 23.27% - 26.89% - 25.17% 27.71%
Republican Candidates:
Steve Austin: 1.4% - .75% - .55% - .70% .53%
Tom Bemmes: 1.4% - .81% - 1.08% - .97% 1.66%
Tom Brinkman: 32.0% - 18.98% - 23.67% - 21.32% 21.3%
Pat DeWine: 15.6% - 14.17% - 13.16% - 13.17% 12.45%
Peter Fossett: 2.0% - 1.08% - 1.60% - 1.40% 2.41%
Bob McEwen: 22.1% - 30.82% - 26.48% - 28.43% 26.63%
Eric Minamyer: 6.1% - 3.58% - 4.51% - 4.10% 4.79%
Douglas Mink: .55% - .36% - .33% - .26% .24%
Jeff Morgan: .49% - 1.23% - .82% - 1.20% .95%
Jean Schmidt: 17.8% - 27.16% - 26.88% - 27.53% 28.37%
David Smith: 1.4% - 1.07% - .91% - .94% .84%
For the best run-down of the candidate slate, read over the OH-2 Blog. Cincinnati Blog is also a great read.

Posted at 07:43 PM in Ohio | Technorati
OH-2: Primary Day
Posted by
Tim Tagaris
Today is primary day for the the special election in Ohio's 2nd congressional district. You can get live updates on Swing State Project throughout the evening, but the best updates from the blogs can be found at the following site:

http://blog.oh02.com/
Chris Baker has been doing a bang-up job covering this special election, giving people across the country a window into the race for both the Republican and Democratic nominations. I have left Pennsylvania and am now in Ohio and plan on doing a good deal of work in the General Election. This will be a tremendous opportunity to incubate ideas in netroots outreach -- namely, getting online support to lead to offline success.
Again, updates throughout the evening.
Posted at 05:01 PM in 2006 Elections - House | Technorati
Signatures Missing From Anti-Lynching Bill
Posted by
Tim Tagaris
John Aravosis starts the ball rolling (again), in what is a "ready to go campaign for Tuesday."
By a voice vote last night, the U.S. Senate finally passed "S.Res. 39, Official Title: A resolution apologizing to the victims of lynching and the descendants of those victims for the failure of the Senate to enact anti-lynching legislation."
Nevermind the fact that even Senator George Allen (R-VA) a co-sponsor of the bill is man who proudly hung a noose in his law office and confederate flag in his home. The problem is that 20 Senators did not co-sponsor the bill and it gets worse. Twelve Senators would not support the bill, that's why there was a voice vote as opposed to an actual roll-call vote where Senators would be forced on the record. We must find those 12.
80 Senators co-sponsored the bill in total. Right now, Thomas has 60 of the names up, and will add the rest within a day or two. From those 80, leaves 20 who did not sponsor (a sad statement in itself), 12 of which were spared from going on the record because no Senator stood up and called for a roll-call vote.
F comity at this point. There should have been a roll-call. Who were the 12? Democrat or Republican--re-election or not--These names should be uncovered.
The names of the 100 U.S. Senators and their office phone numbers are in the extended entry. co-sponsors are crossed off. John's advice, call your Senators:
Don't let them get away with telling you it passed the Senate tonight, we know that. We want to know if your two Senators were cosponsors or not of the resolution - yes or not. And if they weasel and can't give you an answer, tell them you're reporting back to the blogs, we're making a list, and we want an answer. I'm serious. We can report back as the day goes on.
List is in the extended entry
Akaka, Daniel- (D - HI) Class I
(202) 224-6361
E-mail: senator@akaka.senate.gov
Alexander, Lamar- (R - TN) Class II
302 HART SENATE OFFICE BUILDING WASHINGTON DC 20510
(202) 224-4944
Web Form: alexander.senate.gov/index.cfm?FuseAction=Contact.Home
Allard, Wayne- (R - CO) Class II
521 DIRKSEN SENATE OFFICE BUILDING WASHINGTON DC 20510
(202) 224-5941
Web Form: allard.senate.gov/contactme
Allen, George- (R - VA) Class I
204 RUSSELL SENATE OFFICE BUILDING WASHINGTON DC 20510
(202) 224-4024
Web Form: allen.senate.gov/index.cfm?c=email
Baucus, Max- (D - MT) Class II
511 HART SENATE OFFICE BUILDING WASHINGTON DC 20510
(202) 224-2651
Web Form: baucus.senate.gov/emailmax.html
Bayh, Evan- (D - IN) Class III
463 RUSSELL SENATE OFFICE BUILDING WASHINGTON DC 20510
(202) 224-5623
Web Form: bayh.senate.gov/WebMail1.htm
Bennett, Robert- (R - UT) Class III
431 DIRKSEN SENATE OFFICE BUILDING WASHINGTON DC 20510
(202) 224-5444
Web Form: bennett.senate.gov/contact/emailmain.html
Biden, Joseph- (D - DE) Class II
201 RUSSELL SENATE OFFICE BUILDING WASHINGTON DC 20510
(202) 224-5042
E-mail: senator@biden.senate.gov
Bingaman, Jeff- (D - NM) Class I
703 HART SENATE OFFICE BUILDING WASHINGTON DC 20510
(202) 224-5521
E-mail: senator_bingaman@bingaman.senate.gov
Bond, Christopher- (R - MO) Class III
274 RUSSELL SENATE OFFICE BUILDING WASHINGTON DC 20510
(202) 224-5721
Web Form: bond.senate.gov/contact/contactme.cfm
Boxer, Barbara- (D - CA) Class III
112 HART SENATE OFFICE BUILDING WASHINGTON DC 20510
(202) 224-3553
Web Form: boxer.senate.gov/contact
Brownback, Sam- (R - KS) Class III
303 HART SENATE OFFICE BUILDING WASHINGTON DC 20510
(202) 224-6521
Web Form: brownback.senate.gov/CMEmailMe.htm
Bunning, Jim- (R - KY) Class III
316 HART SENATE OFFICE BUILDING WASHINGTON DC 20510
(202) 224-4343
Web Form: bunning.senate.gov/index.cfm?FuseAction=Contact.Email
Burns, Conrad- (R - MT) Class I
187 DIRKSEN SENATE OFFICE BUILDING WASHINGTON DC 20510
(202) 224-2644
Web Form: burns.senate.gov/index.cfm?FuseAction=Home.Contact
Burr, Richard- (R - NC) Class III
217 RUSSELL SENATE OFFICE BUILDING WASHINGTON DC 20510
(202) 224-3154
Web Form: burr.senate.gov/index.cfm?FuseAction=Contact.Home
Byrd, Robert- (D - WV) Class I
311 HART SENATE OFFICE BUILDING WASHINGTON DC 20510
(202) 224-3954
Web Form: byrd.senate.gov/byrd_email.html
Cantwell, Maria- (D - WA) Class I
717 HART SENATE OFFICE BUILDING WASHINGTON DC 20510
(202) 224-3441
Web Form: cantwell.senate.gov/contact/index.html
Carper, Thomas- (D - DE) Class I
513 HART SENATE OFFICE BUILDING WASHINGTON DC 20510
(202) 224-2441
Web Form: carper.senate.gov/email-form.html
Chafee, Lincoln- (R - RI) Class I
141A RUSSELL SENATE OFFICE BUILDING WASHINGTON DC 20510
(202) 224-2921
Web Form: chafee.senate.gov/webform.htm
Chambliss, Saxby- (R - GA) Class II
416 RUSSELL SENATE OFFICE BUILDING WASHINGTON DC 20510
(202) 224-3521
Web Form: chambliss.senate.gov/Contact/default.cfm?pagemode=1
Clinton, Hillary- (D - NY) Class I
476 RUSSELL SENATE OFFICE BUILDING WASHINGTON DC 20510
(202) 224-4451
Web Form: clinton.senate.gov/email_form.html
Coburn, Tom- (R - OK) Class III
172 RUSSELL SENATE OFFICE BUILDING WASHINGTON DC 20510
(202) 224-5754
Web Form: coburn.senate.gov/index.cfm?FuseAction=Contact.Home
Cochran, Thad- (R - MS) Class II
113 DIRKSEN SENATE OFFICE BUILDING WASHINGTON DC 20510
(202) 224-5054
Web Form: cochran.senate.gov/contact.htm
Coleman, Norm- (R - MN) Class II
320 HART SENATE OFFICE BUILDING WASHINGTON DC 20510
(202) 224-5641
Web Form: coleman.senate.gov/index.cfm?FuseAction=Contact.ContactForm
Collins, Susan- (R - ME) Class II
461 DIRKSEN SENATE OFFICE BUILDING WASHINGTON DC 20510
(202) 224-2523
Web Form: collins.senate.gov/low/contactemail.htm
Conrad, Kent- (D - ND) Class I
530 HART SENATE OFFICE BUILDING WASHINGTON DC 20510
(202) 224-2043
Web Form: conrad.senate.gov/webform.html
Cornyn, John- (R - TX) Class II
517 HART SENATE OFFICE BUILDING WASHINGTON DC 20510
(202) 224-2934
Web Form: cornyn.senate.gov/contact/index.html
Corzine, Jon- (D - NJ) Class I
502 HART SENATE OFFICE BUILDING WASHINGTON DC 20510
(202) 224-4744
Web Form: corzine.senate.gov/contact.cfm
Craig, Larry- (R - ID) Class II
520 HART SENATE OFFICE BUILDING WASHINGTON DC 20510
(202) 224-2752
Web Form: craig.senate.gov/email/
Crapo, Michael- (R - ID) Class III
239 DIRKSEN SENATE OFFICE BUILDING WASHINGTON DC 20510
(202) 224-6142
Web Form: crapo.senate.gov
Dayton, Mark- (D - MN) Class I
123 RUSSELL SENATE OFFICE BUILDING WASHINGTON DC 20510
(202) 224-3244
Web Form: dayton.senate.gov/contact/email.cfm
DeMint, Jim- (R - SC) Class III
340 RUSSELL SENATE OFFICE BUILDING WASHINGTON DC 20510
(202) 224-6121
Web Form: demint.senate.gov/index.cfm?FuseAction=Contact.Home
DeWine, Mike- (R - OH) Class I
140 RUSSELL SENATE OFFICE BUILDING WASHINGTON DC 20510
(202) 224-2315
Web Form: dewine.senate.gov
Dodd, Christopher- (D - CT) Class III
448 RUSSELL SENATE OFFICE BUILDING WASHINGTON DC 20510
(202) 224-2823
Web Form: dodd.senate.gov/webmail/
Dole, Elizabeth- (R - NC) Class II
555 DIRKSEN SENATE OFFICE BUILDING WASHINGTON DC 20510
(202) 224-6342
Web Form: dole.senate.gov/index.cfm?FuseAction=ContactInformation.ContactForm
Domenici, Pete- (R - NM) Class II
328 HART SENATE OFFICE BUILDING WASHINGTON DC 20510
(202) 224-6621
Web Form: domenici.senate.gov/contact/contactform.cfm
Dorgan, Byron- (D - ND) Class III
322 HART SENATE OFFICE BUILDING WASHINGTON DC 20510
(202) 224-2551
E-mail: senator@dorgan.senate.gov
Durbin, Richard- (D - IL) Class II
332 DIRKSEN SENATE OFFICE BUILDING WASHINGTON DC 20510
(202) 224-2152
Web Form: durbin.senate.gov/sitepages/contact.htm
Ensign, John- (R - NV) Class I
356 RUSSELL SENATE OFFICE BUILDING WASHINGTON DC 20510
(202) 224-6244
Web Form: ensign.senate.gov/forms/email_form.cfm
Enzi, Michael- (R - WY) Class II
379A RUSSELL SENATE OFFICE BUILDING WASHINGTON DC 20510
(202) 224-3424
Web Form: enzi.senate.gov/email.htm
Feingold, Russell- (D - WI) Class III
506 HART SENATE OFFICE BUILDING WASHINGTON DC 20510
(202) 224-5323
E-mail: russell_feingold@feingold.senate.gov
Feinstein, Dianne- (D - CA) Class I
331 HART SENATE OFFICE BUILDING WASHINGTON DC 20510
(202) 224-3841
Web Form: feinstein.senate.gov/email.html
Frist, Bill- (R - TN) Class I
509 HART SENATE OFFICE BUILDING WASHINGTON DC 20510
(202) 224-3344
Web Form: frist.senate.gov/index.cfm?FuseAction=AboutSenatorFrist.ContactForm
Graham, Lindsey- (R - SC) Class II
290 RUSSELL SENATE OFFICE BUILDING WASHINGTON DC 20510
(202) 224-5972
Web Form: lgraham.senate.gov/index.cfm?mode=contact
Grassley, Chuck- (R - IA) Class III
135 HART SENATE OFFICE BUILDING WASHINGTON DC 20510
(202) 224-3744
Web Form: grassley.senate.gov/webform.htm
Gregg, Judd- (R - NH) Class III
393 RUSSELL SENATE OFFICE BUILDING WASHINGTON DC 20510
(202) 224-3324
E-mail: mailbox@gregg.senate.gov
Hagel, Chuck- (R - NE) Class II
248 RUSSELL SENATE OFFICE BUILDING WASHINGTON DC 20510
(202) 224-4224
Web Form: hagel.senate.gov/index.cfm?FuseAction=Offices.Contact
Harkin, Tom- (D - IA) Class II
731 HART SENATE OFFICE BUILDING WASHINGTON DC 20510
(202) 224-3254
Web Form: harkin.senate.gov/contact/contact.cfm
Hatch, Orrin- (R - UT) Class I
104 HART SENATE OFFICE BUILDING WASHINGTON DC 20510
(202) 224-5251
Web Form: hatch.senate.gov/index.cfm?Fuseaction=Offices.Contact
Hutchison, Kay- (R - TX) Class I
284 RUSSELL SENATE OFFICE BUILDING WASHINGTON DC 20510
(202) 224-5922
Web Form: hutchison.senate.gov/e-mail.htm
Inhofe, James- (R - OK) Class II
453 RUSSELL SENATE OFFICE BUILDING WASHINGTON DC 20510
(202) 224-4721
Web Form: inhofe.senate.gov/contactus.htm
Inouye, Daniel- (D - HI) Class III
722 HART SENATE OFFICE BUILDING WASHINGTON DC 20510
(202) 224-3934
Web Form: inouye.senate.gov/webform.html
Isakson, Johnny- (R - GA) Class III
120 RUSSELL SENATE OFFICE BUILDING WASHINGTON DC 20510
(202) 224-3643
Web Form: isakson.senate.gov/contact.cfm
Jeffords, James- (I - VT) Class I
413 DIRKSEN SENATE OFFICE BUILDING WASHINGTON DC 20510
(202) 224-5141
Web Form: jeffords.senate.gov/contact.html
Johnson, Tim- (D - SD) Class II
136 HART SENATE OFFICE BUILDING WASHINGTON DC 20510
(202) 224-5842
Web Form: johnson.senate.gov/emailform.cfm
Kennedy, Edward- (D - MA) Class I
317 RUSSELL SENATE OFFICE BUILDING WASHINGTON DC 20510
(202) 224-4543
Web Form: kennedy.senate.gov/contact.html
Kerry, John- (D - MA) Class II
304 RUSSELL SENATE OFFICE BUILDING WASHINGTON DC 20510
(202) 224-2742
Web Form: kerry.senate.gov/bandwidth/contact/email.html
Kohl, Herb- (D - WI) Class I
330 HART SENATE OFFICE BUILDING WASHINGTON DC 20510
(202) 224-5653
Web Form: kohl.senate.gov/gen_contact.html
Kyl, Jon- (R - AZ) Class I
730 HART SENATE OFFICE BUILDING WASHINGTON DC 20510
(202) 224-4521
Web Form: kyl.senate.gov/contact.cfm
Landrieu, Mary- (D - LA) Class II
724 HART SENATE OFFICE BUILDING WASHINGTON DC 20510
(202) 224-5824
Web Form: landrieu.senate.gov/contact/index.cfm
Lautenberg, Frank- (D - NJ) Class II
324 HART SENATE OFFICE BUILDING WASHINGTON DC 20510
(202) 224-3224
Web Form: lautenberg.senate.gov/webform.html
Leahy, Patrick- (D - VT) Class III
433 RUSSELL SENATE OFFICE BUILDING WASHINGTON DC 20510
(202) 224-4242
E-mail: senator_leahy@leahy.senate.gov
Levin, Carl- (D - MI) Class II
269 RUSSELL SENATE OFFICE BUILDING WASHINGTON DC 20510
(202) 224-6221
Web Form: levin.senate.gov/contact/index.cfm
Lieberman, Joseph- (D - CT) Class I
706 HART SENATE OFFICE BUILDING WASHINGTON DC 20510
(202) 224-4041
Web Form: lieberman.senate.gov/contact/index.cfm?regarding=issue
Lincoln, Blanche- (D - AR) Class III
355 DIRKSEN SENATE OFFICE BUILDING WASHINGTON DC 20510
(202) 224-4843
Web Form: lincoln.senate.gov/webform.html
Lott, Trent- (R - MS) Class I
487 RUSSELL SENATE OFFICE BUILDING WASHINGTON DC 20510
(202) 224-6253
E-mail: senatorlott@lott.senate.gov
Lugar, Richard- (R - IN) Class I
306 HART SENATE OFFICE BUILDING WASHINGTON DC 20510
(202) 224-4814
E-mail: senator_lugar@lugar.senate.gov
Martinez, Mel- (R - FL) Class III
317 HART SENATE OFFICE BUILDING WASHINGTON DC 20510
(202) 224-3041
Web Form: martinez.senate.gov/index.cfm?FuseAction=Contact.Home
McCain, John- (R - AZ) Class III
241 RUSSELL SENATE OFFICE BUILDING WASHINGTON DC 20510
(202) 224-2235
Web Form: mccain.senate.gov/index.cfm?fuseaction=Contact.Home
McConnell, Mitch- (R - KY) Class II
361-A RUSSELL SENATE OFFICE BUILDING WASHINGTON DC 20510
(202) 224-2541
Web Form: mcconnell.senate.gov/contact_form.cfm
Mikulski, Barbara- (D - MD) Class III
503 HART SENATE OFFICE BUILDING WASHINGTON DC 20510
(202) 224-4654
Web Form: mikulski.senate.gov/mailform.html
Murkowski, Lisa- (R - AK) Class III
709 HART SENATE OFFICE BUILDING WASHINGTON DC 20510
(202) 224-6665
Web Form: murkowski.senate.gov/contact.html
Murray, Patty- (D - WA) Class III
173 RUSSELL SENATE OFFICE BUILDING WASHINGTON DC 20510
(202) 224-2621
Web Form: murray.senate.gov/email/index.cfm
Nelson, Bill- (D - FL) Class I
716 HART SENATE OFFICE BUILDING WASHINGTON DC 20510
(202) 224-5274
Web Form: billnelson.senate.gov/contact/index.cfm#email
Nelson, Ben- (D - NE) Class I
720 HART SENATE OFFICE BUILDING WASHINGTON DC 20510
(202) 224-6551
Web Form: bennelson.senate.gov/email.html
Obama, Barack- (D - IL) Class III
713 HART SENATE OFFICE BUILDING WASHINGTON DC 20510
(202) 224-2854
Web Form: obama.senate.gov/contact/
Pryor, Mark- (D - AR) Class II
257 DIRKSEN SENATE OFFICE BUILDING WASHINGTON DC 20510
(202) 224-2353
Web Form: pryor.senate.gov/contact/
Reed, Jack- (D - RI) Class II
728 HART SENATE OFFICE BUILDING WASHINGTON DC 20510
(202) 224-4642
Web Form: reed.senate.gov/form-opinion.htm
Reid, Harry- (D - NV) Class III
528 HART SENATE OFFICE BUILDING WASHINGTON DC 20510
(202) 224-3542
Web Form: reid.senate.gov/email_form.cfm
Roberts, Pat- (R - KS) Class II
109 HART SENATE OFFICE BUILDING WASHINGTON DC 20510
(202) 224-4774
Web Form: roberts.senate.gov/e-mail_pat.html
Rockefeller, John- (D - WV) Class II
531 HART SENATE OFFICE BUILDING WASHINGTON DC 20510
(202) 224-6472
Web Form: rockefeller.senate.gov/services/email.cfm
Salazar, Ken- (D - CO) Class III
702 HART SENATE OFFICE BUILDING WASHINGTON DC 20510
(202) 224-5852
Web Form: salazar.senate.gov/contact/email.cfm
Santorum, Rick- (R - PA) Class I
511 DIRKSEN SENATE OFFICE BUILDING WASHINGTON DC 20510
(202) 224-6324
Web Form: santorum.senate.gov/contactform.cfm
Sarbanes, Paul- (D - MD) Class I
309 HART SENATE OFFICE BUILDING WASHINGTON DC 20510
(202) 224-4524
Web Form: sarbanes.senate.gov/pages/email.html
Schumer, Charles- (D - NY) Class III
313 HART SENATE OFFICE BUILDING WASHINGTON DC 20510
(202) 224-6542
Web Form: schumer.senate.gov/SchumerWebsite/contact/webform.cfm
Sessions, Jeff- (R - AL) Class II
335 RUSSELL SENATE OFFICE BUILDING WASHINGTON DC 20510
(202) 224-4124
Web Form: sessions.senate.gov/contact.htm#form
Shelby, Richard- (R - AL) Class III
110 HART SENATE OFFICE BUILDING WASHINGTON DC 20510
(202) 224-5744
E-mail: senator@shelby.senate.gov
Smith, Gordon- (R - OR) Class II
404 RUSSELL SENATE OFFICE BUILDING WASHINGTON DC 20510
(202) 224-3753
Web Form: gsmith.senate.gov/webform.htm
Snowe, Olympia- (R - ME) Class I
154 RUSSELL SENATE OFFICE BUILDING WASHINGTON DC 20510
(202) 224-5344
E-mail: olympia@snowe.senate.gov
Specter, Arlen- (R - PA) Class III
711 HART SENATE OFFICE BUILDING WASHINGTON DC 20510
(202) 224-4254
Web Form: specter.senate.gov/index.cfm?FuseAction=ContactInfo.Home
Stabenow, Debbie- (D - MI) Class I
133 HART SENATE OFFICE BUILDING WASHINGTON DC 20510
(202) 224-4822
Web Form: stabenow.senate.gov/email.htm
Stevens, Ted- (R - AK) Class II
522 HART SENATE OFFICE BUILDING WASHINGTON DC 20510
(202) 224-3004
Web Form: stevens.senate.gov/contact_form.cfm
Sununu, John- (R - NH) Class II
111 RUSSELL SENATE OFFICE BUILDING WASHINGTON DC 20510
(202) 224-2841
Web Form: www.sununu.senate.gov/webform.html
Talent, James- (R - MO) Class I
493 RUSSELL SENATE OFFICE BUILDING WASHINGTON DC 20510
(202) 224-6154
Web Form: talent.senate.gov/Contact/default.cfm?pagemode=1
Thomas, Craig- (R - WY) Class I
307 DIRKSEN SENATE OFFICE BUILDING WASHINGTON DC 20510
(202) 224-6441
Web Form: thomas.senate.gov/index.cfm?FuseAction=Contact.Home
Thune, John- (R - SD) Class III
383 RUSSELL SENATE OFFICE BUILDING WASHINGTON DC 20510
(202) 224-2321
Web Form: thune.senate.gov/index.cfm?FuseAction=Contact.Home
Vitter, David- (R - LA) Class III
516 HART SENATE OFFICE BUILDING WASHINGTON DC 20510
(202) 224-4623
Web Form: vitter.senate.gov/contact.cfm
Voinovich, George- (R - OH) Class III
524 HART SENATE OFFICE BUILDING WASHINGTON DC 20510
(202) 224-3353
Web Form: voinovich.senate.gov/
Warner, John- (R - VA) Class II
225 RUSSELL SENATE OFFICE BUILDING WASHINGTON DC 20510
(202) 224-2023
Web Form: warner.senate.gov/contact/contactme.cfm
Wyden, Ron- (D - OR) Class III
230 DIRKSEN SENATE OFFICE BUILDING WASHINGTON DC 20510
(202) 224-5244
Web Form: wyden.senate.gov/contact.html
Posted at 01:18 AM in Netroots | Comments (7) | Technorati
Monday, June 13, 2005
NYC-02: Gur Tsabar Getting Noticed
Posted by
Bob Brigham
On Christmas Eve, Swing State Project was visited by Gur Tsabar (candidate for NYC City Council, 2nd District), who commented on Tim's famous ATM post. He seemed interested in using his campaign as an experimentation lab, which judging by the press, he's been doing (with the hustle you would expect from somebody working on Christmas Eve). The latest was from The Village Voice:
Tsabar's campaign is combining the required petition drive to get on the ballot with a clothing drive. Every morning from 7-9, at the 6 train stop at Astor Place and the F stop at 2nd Ave., Tsabar's volunteers collect signatures and donated clothing. Originally, all the donated duds were going to go to the Henry Street Settlement. "But we've just collected so much, they can't take it all," Hilary Keller, a campaign aide, tell the Voice, so other nonprofits will get the surplus.

The clothing drive is the latest installment of Tsabar's "community service-oriented campaign." Previous good deeds included a collection of 75 deactivated cell phones, which were then turned over to senior citizens so they can call 911. Back in December, the campaign collected 500 books for P.S. 63's holiday book fair. The reason for the campaign's approach, Keller says, is that campaigns have grown so expensive that "you really feel that the money can be used in different ways, for better purposes." Not to mention, it's good politics. Somebody gets the clothes they need, somebody else gets to clean out that hall closet, and Tsabar gets his signatures—as well as voters' kudos for doing something nice.
I'm going to keep my eye on this one.
Posted at 06:30 PM in 2005 Elections | Technorati
Not Winning War on Terror
Posted by
Bob Brigham
George Bush has utterly failed in the War on Terror. I'm lucky enough to live in San Francisco, but for economic reasons I join many of my neighbors in commuting to the Silicon Valley. As a public transit aficionado, I either car-pool or take Caltrain.
Caltrain is a critical piece of public transit -- from San Francisco to San Jose it is the artery of Silicon Valley. Considering Silicon Valley's unique status as the brains of the new economy, you would think safeguarding Caltrain would be a primary focus -- especially after the Madrid train bombings. You would be wrong.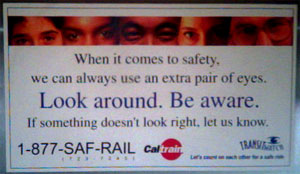 This morning, upon boarding in San Francisco, I noticed a black backpack that was unattended, and left on a second-level storage rack in a manner so as it would not be seen by the engineers as they make their way down the aisle. So I told an employee, before we left San Francisco. He replied that it probably belonged to somebody using the bathroom. I boarded (on another car) and read the paper while the train travelled through tunnels and over bridges.
As I was getting off (45 minutes later), the engineer saw me taking the above pic, came up, and asked if I had referred to the black bag with the waterbottle. He said it was still there and he'd turn it in when they got to San Jose.
So Bush can spin conviction numbers all he wants. But we aren't safer, not at all. Fifteen months after the Madrid train bombings, Bush has failed to secure one of the most critical train lines in America.
Posted at 12:24 PM in International | Technorati
Saturday, June 11, 2005
MT-Sen: Tester Email Shows Grassroots Focus
Posted by
Bob Brigham
I signed up for emails from Jon Tester, Democrat running for U.S. Senate in Montana. The first email I received was short, to the point, and shows his grassroots focus:
Saturday morning's headline reads …
Bush, Congress hit skids in poll

WASHINGTON — When it comes to public approval, President Bush and Congress are playing "how low can you go."
>> More of this story
http://www.helenair.com/articles/2005/06/11/top/a01061105_01.txt

Americans say they want change in Congress. I'm ready to provide that change as your next U.S. Senator from Montana. I'm running because Montana's challenges are plenty, but our opportunities and dreams are greater. But I need your help. Tell five friends about www.testerforsenate.com. Forward this email. Send money to Montanans for Tester .

Together we will make a difference.

Thanks,

Jon
Short and sweet. Good stuff.
Posted at 07:45 PM in 2006 Elections - Senate, Montana | Technorati
Are Athletes Hockey Players?
Posted by
Bob Brigham
I'm serious, are athletes hockey players? Some of you might wonder how how a subset could equal the full set. By definition, it is a logically challenged question. Sure some athletes are hockey players, but if you ask someboy, "Are athletes hockey players?" the person being quizzed is going to wonder if there is a language barrier or if you're just a complete idiot.
Here's similar question: Are Bloggers Journalists?
The correct answer is: Are you fucking stupid or do you just have a poor command of the English language?
Considering that most of the people who have posed this question are accomplished writers, the former tends to be the reason why such a question would be considered.
The reason this keeps coming up is because self-obsessed journalists pose it in act of wankery when wondering whether bloggers should have First Amendment protection, like journalists.
My logic professor would have lost his temper by now if he was following this examination of sets and subsets. You see, the First Amendment never mentions the word "journalist" or "journalism" -- not once. What it does mention is the word "press" -- of which journalism is a subset, but again by definition, not the entire set.
The First Amendment protects journalists, not because they are journalists, but because they work for publications that enjoy freedom from Congress "abridging" their rights as press.
The idea that Freedom of the Press would only apply to "journalists" would certainly entertain the Founding Fathers at least as much as the premise of the discussion over bloggers as journalists would enrage a logic professor.
The "press" of that era were not journalists, actually far from it. MIAMI HERALD PUBLISHING CO. v. TORNILLO, 418 U.S. 241 (1974) reminds us of the "press" in 1791:
While many of the newspapers were intensely partisan and narrow in their views, the press collectively presented a broad range of opinions to readers. Entry into publishing was inexpensive; pamphlets and books provided meaningful alternatives to the organized press for the expression of unpopular ideas and often treated events and expressed views not covered by conventional newspapers. A true marketplace of ideas existed in which there was relatively easy access to the channels of communication.
That sounds a helluva a lot more like the blogosphere than modern journalism. In fact, it is important to remember that without something very similar to a blog, we probably wouldn't have our Constitution or the Bill of Rights in the first place.
Four years earlier, in 1787, three guys started what we would now call a "group blog" and wrote under the handle or screen name, "Publius". This guys weren't journalists, they were political thinkers who were pushing quite a political agenda. Their blog was called the Federalist or Federalist Papers and it was printed as a pamphlet and picked up by some of the New York newspapers. Alexander Hamilton, James Madison, and John Jay wrote under a group pen name to push a political agenda. They were successful in the mission of their blog and our Constitution was ratified.
If you go to our government's website, you'll find this:
In lobbying for adoption of the Constitution over the existing Articles of Confederation, the essays explain particular provisions of the Constitution in detail. For this reason, and because Hamilton and Madison were each members of the Constitutional Convention, the Federalist Papers are often used today to help interpret the intentions of those drafting the Constitution.
Back to the timeline, the Federalist began four years before the 1st Amendment. When the First Amendment was written and ratified, the "press" of the day consisted of pre-computer bloggers like Publius, partisan newspapers, pamphlets and books. This is what our Founding Fathers wanted the First Amendment to protect -- not just journalists.
Unfortunately, there was a trend during most of the last century that hurt the marketplace of ideas protected by the First Amendment. Again from MIAMI HERALD PUBLISHING CO. v. TORNILLO, 418 U.S. 241 (1974):
Access advocates submit that although newspapers of the present are superficially similar to those of 1791 the press of today is in reality very different from that known in the early years of our national existence. In the past half century a communications revolution has seen the introduction of radio and television into our lives, the promise of a global community through the [418 U.S. 241, 249] use of communications satellites, and the specter of a "wired" nation by means of an expanding cable television network with two-way capabilities. The printed press, it is said, has not escaped the effects of this revolution. Newspapers have become big business and there are far fewer of them to serve a larger literate population. Chains of newspapers, national newspapers, national wire and news services, and one-newspaper towns, are the dominant features of a press that has become noncompetitive and enormously powerful and influential in its capacity to manipulate popular opinion and change the course of events. Major metropolitan newspapers have collaborated to establish news services national in scope. Such national news organizations provide syndicated "interpretive reporting" as well as syndicated features and commentary, all of which can serve as part of the new school of "advocacy journalism."

The elimination of competing newspapers in most of our large cities, and the concentration of control of media that results from the only newspaper's being owned by the same interests which own a television station and a radio station, are important components of this trend toward [418 U.S. 241, 250] concentration of control of outlets to inform the public.

The result of these vast changes has been to place in a few hands the power to inform the American people and shape public opinion.
A lot has changed since the Supreme Court used this 1974 ruling to uphold that the First Amendment mandates freedom, not journalistic responsibility. There is once again ease of access into the marketplace of ideas, fresh voices, and few barriers.
Freedom of the Press isn't about journalism, as Publius showed in using a blogger-styled campaign to ratify our Constitution. It is important to note that such freedom was not taken lightly by these men. It had only been 50 years since John Peter Zenger was aquited in a important case that set forth truth as a defense to libel.
And within a decade of the First Amendment, politicians used the Alien and Sedition Acts to jail those criticizing politicians. Thomas Jefferson pardoned those convicted under the acts and preserved our Freedom of the Press.
In the two centuries since then, there have been countless attempts to curtail Freedom of the Press. The attempts to regulate bloggers are only the latest chapter.
I thought about this on the way home from a blogger event held by KRON 4 News. The handout said:
We're beginning to understand the importance of the blogosphere, and that's why you're here. We want to listen. You're the innovators in the personal media revolution, and we want to join in the conversation.
I needed to take some pics while the sun was at a certain angle, so I wasn't able to stay long. As I walked to get my shots, I thought about the effort the journalists at KRON were making and was pleasantly surprised that instead of acting defensively, they invited us over.
But my pleasant mindset didn't last long as I grabbed a copy of the Bay Guardian as I hopped on a bus and read the following announcement:
Are bloggers journalists?
Tuesday, June 14, discuss the impact blogging has on journalism, at an event put on by the Society of Professional Journalists. Panelists include bloggers Jean Chen of Pop and Politics, Chris Nolan of Politics from Left to Right, and David Pescovitz of BoingBoing. 6-8 p.m., London Wine Bar, 415 Sansome
I visited the Society of Professional Journalists website for more information:
The advent of blogs as disseminators of news has led many to question if it is wise and appropriate to treat bloggers as journalists and accord them the rights and privileges accorded to journalists in more established media.
First of all, blogs do a helluva a lot more than disseminate news (again, back to the whole set vs. subset issue).
Next, "many" people aren't questioning the bloggers as journalists. Some defensive journalists, but that is about it.
Finally, the rights accorded journalists are granted as members of the press, not as journalists. The "privileges" accorded journalists would be better left to a panel on journalism and conflicts of interest.
Publius had far more in common with today's bloggers than with today's journalists, but the First Amendment sought to protect both by providing Freedom of the Press.
Next time the Society of Professional Journalists needs a panel discussion, I recommend: Are Journalists Journalists? I would actually show up for such a discussion on the likes of Brit Hume, Judith Miller, Jeff Gannon, Daniel Okrent, Jayson Blair, Chris Nolan, Bob Novak, Charlie Hurt, Daryn Kagan, the Christian Broadcasting Network and of course, anyone who has ever worked for the Washington Times or Fox News.
I know some journalists are nervous about the changing marketplace. But good journalists have far more to fear from their peers than from bloggers.
Posted at 04:52 PM in Netroots | Technorati
Friday, June 10, 2005
Nebraska: Media Does GOP Bidding on Non-Story
Posted by
Tim Tagaris
Most people probably haven't heard much about this story, but in Nebraska, the GOP has temporarily succeeded in getting the local media to take its eye off the ball.
You see, the Lincoln (Nebraska) Journal Star doesn't seem to think that thousands of people having a difficult time voting in northern Omaha is a big deal. But when an innocuous reference to Carlos Castillo, Douglas County election commissioner," as "Tio Thomas" appeared on the Nebraska Democratic Party blog, it was a full-feature article, complete with feigned GOP outrage and calls for resignation.
The Nebraska Democratic Party deserves tons of praise for their commitment grassroots outreach. And when its Executive Director Barry Rubin defended the comment, he was spot-on:
[It was a] description of the kind of activities that resulted in changed polling locations, long voting lines, an insufficient number of ballots and the challenge of a disproportionately large number of voters in north Omaha.

"Several hundred, if not thousands of, people were denied the right to vote," Rubin said. That's the real slur.
I'll take it a step further. The real slur is that we live in a media-society that believes faux outrage is deserving of a full-feature article, but doesn't have the time or space to devote an entire article, let alone a full-scale investigation, into voter disenfranchisement in its own backyward. This isn't news, it's "scandal" driven infotainment well beneath any organization in place to serve the public interest.
In other words, Lincoln Journal Star, do your job.
feedback@journalstar.com
This newspaper has written about voter disenfranchisement in the West Bank and Ukraine, but when I got off the phone with an editor minutes ago, his response was "nothing rings a bell" in regards to covering it in Nebraska. Go figure.
And for Carlos Castillo, I would have some serious conflict about serving the political party of James Sensenbrenner, Tom Tancredo, and the orgasmic joy some are taking in the speculation that James Gilchrist, of "Minuteman" fame, might run for Congress in CA-48.
But that shouldn't shock anyone, because its not like you are serving the people of Nebraska anyway in your role as election commissioner.
Posted at 03:13 PM in Nebraska | Technorati
Thursday, June 09, 2005
VT-Sen: Doug Racine - Big Effing Mistake
Posted by
Bob Brigham
I'm a mild-mannered person, polite, kind to animals, and generally easy going. I'm a proud Democrat (even proud to be a Proud Democrat), but sometimes a Democrat does something so stupid, so selfish, so counter-productive, so wrong-headed, so...anyway, just read the lede of the article in the Times Argus:
MONTPELIER — Former Lt. Gov. Doug Racine said Wednesday he is considering whether to run for the U.S. Senate seat to be vacated by Sen. James Jeffords, I-Vt., in 2006.

"For most of us in politics the idea of a Senate seat is intriguing," said Racine, who was a Democratic state senator and candidate for governor. "I can't rule it out."
Well Racine can certainly rule out the notion that he'll be met with anything other than extreme contempt, at least from me. Ask Donnie Fowler, when I play in primaries I play to win. And I don't think I'll be alone on this, I am confident that Racine will face extreme prejudice online and in Vermont if he is selfish enough to turn this into a three-way race. Because everyone knows the score, everyone knows that if Doug Racine runs, he is running to help himself by helping the Republicans:
"In the end I think there is going to be a Democrat in that race," Racine said. "The question is, is it going to be a strong candidate?"

Jeff Weaver, Sanders' chief of staff, said there is no agreement between Sanders and the Democrats. There is an understanding by both sides that three-way races benefit Republican candidates, he said.[...]

[State GOP chairman Jim] Barnett called Racine "a credible candidate" who could draw Democrats "who otherwise might hold their nose and vote for a Republican over Bernie."
I love the wink-wink, nod-nod quote from Barnett as he tries to get Racine in the race. Everyone knows that Racine would be giving the GOP enough of an opening to force a pile of money to be spent to keep the seat from going Republican. In short, Racine's entry would be a tax on progressives, forcing the Democrats to expend critical resources in a far from efficient manner. Political players in Vermont politics get this, including the Democratic leadership:
"A three-way race gives a significant edge to the Republican," said Senate President Pro Tem Peter Welch, D-Windsor. "If the objective is to make sure that seat is not Republican, there is an immense amount of importance in making that a two-way race instead of a three-way race."
I don't know Racine personally, but if I were to meet him today, my attention would immediately turn to his shoes. My guess is the guy wears loafers, because if he were smart enough to tie his shoes he wouldn't even be considering this. As for me, my boots are laced up and ready to go so far up Racine's ass he'll be tasting leather.
UPDATE: Racine was the sitting LG, a Democrat in a blue state, and blew his campaign for Governor. Now he wants to go from loser to spoiler?
Posted at 10:35 AM in 2006 Elections - Senate, Open Seats, Vermont | Comments (1) | Technorati
Wednesday, June 08, 2005
Nebraska Nebraska Nebraska
Posted by
Tim Tagaris
As Gov. Dean dives deeper and deeper into his plan to rebuild the grassroots of the party, state by state, those still waiting with their hands out need look no further than the great state of Nebraska. Truth be told, they were getting down to business well before the DNC selected them as one of the first benefactors of the 50 state plan.
Bob mentioned their email earlier today that didn't even ask for a penny in the communique. They simply wanted us to know they have a beautiful new site with many opportunities to get involved and activated within the state.
Frankly, I can't say enough good things about Nebraska.
Here is a state, while waiting for their new site, was so hungry to participate in two-way communication with the grassroots that they started a well-attended blogspot site.
Here is a state that the University of Nebraska-Omaha calls home. The students at that school are holding their own Frist Filibuster (like the Princeton students) RIGHT NOW! Weeks after the comrpomise, they are still keeping news of the Republican power grab/over-reach in the news. That's "throwing them an anvil."
But of course, no one should really be surprised, because that's the same school that has their own College Democrats blog--one that always seems to have all kinds of comments and discussion going on.
Here is a state, whose Executive Deputy Director for the Democratic Party, Heath Mello, has gone around emailing bloggers ASKING THEM FOR THEIR ADVICE on how to make the new Nebraska Democratic Party website the best vehicle for participation and two-way communication it can be.
So, in a word, Nebraska!
Posted at 05:32 PM in Nebraska | Comments (1) | Technorati
WA-04: Doc Hastings Abramoff Scandal
Posted by
Bob Brigham
A.P.:
WASHINGTON - The lawmaker who will head a House inquiry into trips that lobbyist Jack Abramoff arranged for House Majority Leader Tom DeLay has his own links to the lobbyist.

At one point, Abramoff touted Rep. Doc Hastings' relationship with his firm in a pitch to a prospective client.

As chairman of the House ethics committee, Hastings, R-Wash., could play a big role in determining DeLay's future. DeLay has asked the panel to review his travels, which include trips arranged by Abramoff when the lobbyist worked for the Seattle-based Preston Gates firm.

Abramoff cited close connections to Hastings in a 1995 letter to the Northern Mariana Islands government in which he urged the government to hire his firm. At the time, Hastings served on a House subcommittee that oversaw the Marianas and was considering Democratic proposals to impose minimum wage, immigration and other U.S. laws on the Pacific commonwealth, which opposed them.
The Republican leadership is in full cover-up mode. This is yet more proof that the GOP leaders will resort to near anything to cover-up Republican corruption. This is not an excellent way to conduct an investigation:
The records from the law firm, Preston Gates & Ellis, show that the firm's former star lobbyist, Jack Abramoff, a close friend of Mr. DeLay who is now the focus of a federal corruption investigation, boasted to a client in the mid-1990's that the firm had "excellent" ties to Mr. Hastings. The firm repeatedly billed the client for meetings and telephone conversations between Mr. Abramoff's lobbying team and Mr. Hastings's staff.
C-O-R-R-U-P-T
Posted at 05:18 PM in Washington | Technorati
Nebraska Growing the Grassroots
Posted by
Bob Brigham
From an email:

The media likes to paint Nebraska with a broad brush -- they like to paint us red. They don't leave room for the Democrats in our state who stand for values that every American can embrace.

We don't need political pundits to tell us what we Nebraskans already know. It's time for us to stand together as proud Democrats.

We have work to do, for sure. We've got to strengthen our party by organizing the Democrats that live in every community across our state. By building this network, we will stand up for our values and win elections -- and show those so-called experts that Nebraska shouldn't be stereotyped – that we are the home of Morrison, Exon, Zorinsky, Kerrey, and Nelson.

We cannot do this without your help. The first step is joining thousands of your fellow Democrats in our growing grassroots network. Visit your new website and be part of the action now:
Last year, we won two-thirds of our targeted state and local races. Thanks to the hard work of Democrats across Nebraska, we have more state Senators, county officials, mayors and city council people, Natural Resources District members, state School Board members, College Board members, and Public Power Board members.

But we're not stopping here. We can't wait for 2006 -- we've got to get ready now not just for the next election, but for the next decade. We can and will build a top-notch organization that will connect Democrats in every county and every community – and with your help, we will recruit great candidates at every ballot level and provide them the tools they need to compete and succeed.

We're rebuilding the NDP from the ground up, training local activists through Camp Connealy -- our top-notch political training program -- and working to develop a lasting Democratic community from Scottsbluff to Omaha.

Get on board now:

The work ahead will be tough -- but with a strong organization and the involvement of every Democrat, we can make it happen.

Thank you, and welcome to the new Nebraska Democratic Party.

With Warm Wishes,

Barry Rubin, Executive Director
An email that asks for involvement, not money. When people click-through to the new website, they're greeted with a pic of Memorial Stadium. The website looks timeless and it has a blog.
There's lots of good stuff going on in Nebraska...proud Democrats who get it.
Posted at 05:01 PM in Nebraska, Netroots | Technorati
OH-02: Blogging the Special Election
Posted by
Bob Brigham
I missed the A.P. story, but the Washington Post coverage couldn't be avoided (via Bring Ohio Home):
As the Associated Press reported, some politicians are experimenting with Weblogs to shake up districts known for predictable party-line votes.

The AP story takes place in Ohio, where liberal activist Chris Baker is trying to use blogs and other word-of-mouth techniques to muster support for a progressive candidate. The 2nd District, where Baker is working, provides the rare off-cycle opportunity to try something new after seven-term Republican Rep. Rob Portman joined the Bush administration as U.S. trade representative.

Eleven Republicans and five Democrats are jostling to fill Portman's shoes, the Cincinnati Enquirer reported, creating a pool of voters who could be receptive to messages delivered in original ways that set them apart from the competition.

Baker and his Republican counterparts said they believe the GOP will hold the 2nd District, though the Cincinnati Post reported that most of those candidates will have to struggle to distinguish themselves: "Of the 11 Republican candidates, four ... are widely viewed as the presumptive frontrunners. ... The other seven, most of them first-time candidates, offer a diversity of backgrounds and life experiences. Drawn from both the district's urban centers and remote rural outposts, they include several teachers, a part-time letter carrier, a former government worker, a lawyer, a financial analyst and a professional magician. ... Their best hope -- perhaps their only hope -- is for the better-known candidates to so seriously splinter the vote that a dark horse could perhaps slip through."

The AP said that in a field like this, liberal activist Baker will use the race "as spring training for the 2006 midterm elections and 2008 presidential contest. Baker posts reports and commentary on the campaign along with appeals from the candidates for volunteers and money. In one recent post, Baker referred to Republicans' efforts to court religious conservatives as a 'truly pathetic display,' and he continually refers to some Republicans as serving the Sith lord villains of 'Star Wars' movies."

Two of the 2nd District candidates, Bob McEwen (R) and Victoria Wulsin (D) started their own campaign blogs.
Posted at 02:53 PM in Netroots, Ohio, Special Elections | Comments (1) | Technorati
Tuesday, June 07, 2005
OH-Gov: Beyond Coingate
Posted by
DavidNYC
Pounder at Kos gives us the latest update on the nearly insane Ohio Bureau of Workers Compensation scandal. Known around most parts as "Coingate," it's gone way, way beyond coins now:
The Ohio Bureau of Workers' Compensation admitted today that it lost $215 million in a high-risk fund that few people knew about.

The bureau had invested $355 million with a Pittsburgh investment firm, MDL Capital Management, beginning in 1998.

But last year, after diverting $225 million into a fund that works like a hedge fund, the fund lost $215 million. Although the bureau has known about the loss since last year, Gov. Bob Taft was notified about it today.
Wow. I think this bolsters my speculation of a few days ago, namely that it is a certainty that other similar state funds (pension, workers comp, what have you) around the country are being mismanaged if not looted. The only reasons the Ohio scandal was brought to light was because of the highly unusual investment vehicle in question (coins), and the diligent work of the Toledo Blade. (Nice to have a tiny bit of my faith in the media restored for once.) But I have no doubt that other funds need investigating, too. Local media outlets would do well to focus their energies on hometown funds - mismanagement of public money is always an attention-grabbing story.
Pounder also informs us that a Coingate protest is being organized to coincide with Bush's visit to Columbus on Thursday:
President Bush is coming to town - and refusing to give back all of Tom Noe's dirty campaign money! Help tell Ohioans that the days of 'pay-to-play' politics are over!

When: Thursday, June 9th - 9AM to 11AM
Where: 740 East 17th Avenue across from the Ohio Expo Center (If this location is blocked due to security, please go to the secondary location: The McDonald's at the corner of Clara Ave and E. 17th Ave) - Columbus, OH
Why: A counter event (protest) to President Bush's visit. There will be lots of pre-made signs to wave at the site.
Sounds like fun!
Posted at 09:53 PM in Ohio | Comments (1) | Technorati
FL-Sen: Cruella De Vil for U.S. Senate
Posted by
Bob Brigham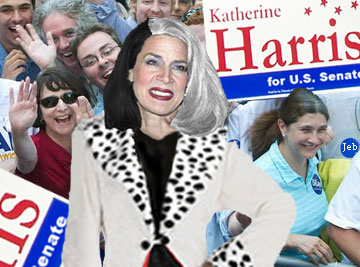 TALLAHASSEE -- Representative Cruella De Vil (FL-13), who was vilified for her role as Florida's secretary of state in the 2000 presidential voting scandal, said Tuesday she will run for the U.S. Senate next year against Senator Bill Nelson.

Her announcement brings a french-sounding nickname and the potential to waste substantial amount of money on a race Republicans had assumed they would lose.

"Those who called me 'czarina,' or 'Cruella de Vil' ... they still can't point to a single solitary thing that I did wrong," she said.
Posted at 07:53 PM in 2006 Elections - Senate, Florida | Technorati
Netroots: The Internet is for Politics, Not Just Fundraising
Posted by
Bob Brigham
Some really, really misguided people think that the internet should be used to raise money to buy ads to communicate. Others think that the internet can cut out the middleman and simply communicate -- even interact -- with the people.
Simple-minded people prefer to focus on dollars because they can quantify the results. So here's my quantification for all of the those people who insist on spam-fundraising: Bush Won:
SAN FRANCISCO--MICHAEL CORNFELD KNOWS WHY George W. Bush won last year's presidential election. Bush's camp, said Cornfeld, used the Internet to find volunteers and then gave them information to spread--via any medium at hand--to friends and neighbors. "The Bush campaign married software to Tupperware," Cornfeld, a senior consultant with the Pew Internet & American Life Project, said Monday at OMMA West. That Tupperware-software model, also known as word-of-mouth, isn't just used by politicians, said OMMA panelists. Established marketers Procter & Gamble also have been turning to word-of-mouth campaigns where consumers, in effect, become the salespeople.
In 2006, many campaigns could be run over by the cluetrain if they refuse to learn the lessons from past campaigns. The internet is part of the overall strategy, not a fundraising crutch. If the people at the top of a campaign flowchart aren't directing the online plan, then the campaign will probably fail as a post-broadcast strategy needs to be the focus of senior staff meetings, not something the youngest staffer is assigned to do following the meeting. Some people get it, some don't, and the online community will be watching as the contrast emerges.
Posted at 03:03 PM in Netroots | Comments (1) | Technorati
VA-Gov: Jerry Kilgore a Tom DeLay Republican
Posted by
Bob Brigham
Everyone knew Republicans running in 2006 would be hauling Tom DeLay's baggage across their districts, but it looks like we're going to see how it could play out this year, in the Virginia gubernatorial campaign.
Posted at 01:05 PM in Virginia | Technorati
TPM: Getting the Band Back Together
Posted by
Bob Brigham
Joshua Micah Marshall is one of America's leading defenders of Social Security. Marshall has used Talking Points Memo as an node for open source action, first on the Republican Leadership's closed-door vote to exempt Tom DeLay from ethics rules, and next to pin down individual members on privatization of Social Security.
Rock the Vote has also been a true leader in defending Social Security and it has driven the privateers crazy that young people realize privatization sucks.
The same people waging war on Social Security are now attacking Rock the Vote, so Josh is getting his open-source research band back together for a renuion tour:
In any case, this is the long march phase of the battle to end Social Security. They'll dig in and tear away at the defenders of the program, figuring they can outlast them.

Now, politics is a contact sport, as they say. So I don't think anyone's complaining. But, to my eyes, this group has all the earmarks of a classic 'astroturf' outfit. And I suspect we'd find all the usual suspects involved -- of course, along with a gaggle of twenty-something ne'er-do-wells ready to make a couple bucks in rent-a-crowds and probably more than a few operatives looking to get their ticket stamped in the DC machine so they can move up a couple rungs on the ladder.

So let's find out.

A few thousand eyes are a whole lot better for finding out what these folks are up to than just these two. So, if you're game, take a few moments and try to find out more about these groups. What they're up to? Who's behind them? What have they been planning and so forth? And let us know what you find out. Send emails to socsecturfers@talkingpointsmemo.com. We'll be giving out TPM Privatize This! T-Shirts for folks who come up with particularly choice details.

The phase-out crowd didn't get knocked on its heels out of the blue. A lot of folks worked awfully hard to do it. So let's find out who's trying to get revenge and recover lost ground.
The target?
The chop-shop du jour is an outfit called Social Security for All. SSA is "run" by Americans for Prosperity. And Americans for Prosperity also has a new project called Rock the Hypocrisy, which actually sounds a bit more like a project of SSA, seeing as it's run as a subdirectory off the SSA website.

But I digress.

Back to our aforementioned project: Who or what is Americans for Prosperity?

According to this page at the Center for Media and Democracy's Source Watch website, it was essentially set up as a pet 501c3 of Koch Industries and then 'colocated' with the Independent Women's Forum, with which it also seems to share a rather substantial number of staffers. (They share a president and a COO, for starters.
You really aren't an online political warrior until you've won a TPM Private This! T-Shirt. So send Josh anything and everything you can find: socsecturfers@talkingpointsmemo.com
Posted at 01:01 PM in Netroots | Technorati
Senator Ted Kennedy on Downing Street Memo
Posted by
Bob Brigham
Senator Ted Kennedy is up for re-election this cycle, but he hasn't been using his website -- www.TedKennedy.com -- for normal campaign organizing.
Instead, the Senator is beginning to lead with an online voice as powerful as his broadcast voice.
The Senator is a Kos diarist -- people were complaining about the Downing Street Memo not receiving enough attention so the Senator stepped-up big time to push the message every way possible.
Posted at 10:33 AM in Democrats, Netroots | Technorati
Sunday, June 05, 2005
Brigham Walks Into a Flaming Bag of Dog Poop
Posted by
Tim Tagaris
UPDATE 10:32 P.M: (Tim): Bob just called me to say Donnie Fowler Jr. just threw a punch at him--and missed. I'm sure he'll have more when he returns.
------------------------------------------------------------------
Long-time Swing State Project readers and bloggers at Kos & MyDD remember the contentious race for DNC chair that took place online. Of course, Howard Dean had his legion of supporters evetually propelling the Governor to Chairmanship. Simon Rosenberg put up a great fight with the help of people like Matt Stoller. Tim Roemer's chances went up in smoke after Chris Bowers laid the smack-down on the ultra-conservative Democrat from Indiana. And then there was Donnie Fowler "reaching out" directly to the blogosphere on places like Kos & MyDD.
Unfortunately for Donnie, he ran into a buzzsaw with the last name of Brigham, first name Bob, co-author at Swing State Project that had his own favorite candidate in the race for chair. Donnie failed to gain any serious traction in the netroots because he had to spend much of his time deflecting criticism for posting and running without sticking around to read or comment. A phrase was coined -- "The flaming bag of dog poop."
For the first time since the race, Brigham ran into Fowler Jr. at a Democratic event in San Francisco earlier this evening. I just got off the phone with Bob, who told me he walked up to Jr. to extend a hand of "no hard feelings," and to say that "we were all pros"--that he was just working in the primaries for his choice. When Jr. asked Brigham what his handle was, the dog poop hit the fan. Bob responded, and after that, Fowler used the word "asshole" a minimum of 6 times during the brief exchange.
What's amazing to me is, here is a guy that headed up the Michigan field operation for Kerry in 2004, boasts of himself as a lifelong organizer, ran for DNC Chair, and still doesn't recognize the necessity of talking with people, not at them. He used the blogs as a billboard for his brouchereware, got called on it, and has the audacity to get pissed.
UPDATE 10:44 P.M.: (Bob): Yup, Fowler threw a punch at me. Of course, he missed...and looked like a complete ass (keynote speaker throwing punches at members of the audience). Thank God we have a democracy instead of a monarchy.
UPDATE 10:12 A.M.: (Bob): This probably won't come as a surprise, but if you fashion yourself a "Democratic Strategist" and then come unhinged and try to hit a blogger, other bloggers will link to it. Like Atrios, Talk Left, Crooks & Liars, The Agonist, Matt Stoller, DC Media Girl, Political Dog Fight, Ezra Klein. And Steve Gilliard wrote an piece that I begs a response:
Ok, here's the deal: Donnie Fowler is a coward and an asshole. To throw a punch at Bob Brigham because he got nailed is a chickenshit move at best and now he's gonna look like a total asshole for it. Lucky this wasn't in New York, because his ass would have been in the Tombs recovering from the bottle lodged up his ass.

I know I might receive a hard time for not giving Junior what he was asking for, but to be perfectly honest, I was too busy laughing...
Maybe he was just a brawling drunk, maybe not, but if it was me, the cops would have dragged him out of there. In my earlier days, I would have just hit his ass with a chair, a bottle, whatever was handy according to NY street rules, but as an adult, I think anyone using violence should have to deal with the police.

Hitting Donnie with a bottle wasn't necessary, Don's kid is perfectly harmless.
And this little punk wanted to run the DNC?


I think we can say that's never gonna happen.

Thank God we live in a democracy instead of a monarchy.
Let's make this clear: there are no free shots. Like that idiot lawyer lying about Kos for spite, Fowler throwing a punch at Brigham is gonna be one costly fucking mistake. See, when people toss shots at my nominal employees, I take offense. I think other people will too. Fowler think he had problems? Now he's made a bunch of enemies he didn't have to make. Anyone stupid enought to hire him for a campaign is gonna have one rough fucking time.

Hiring Donnie Fowler would not be a wise move.
If Donnie Fowler is a man, he'd offer a full written apology to Bob. Because he had no cause to act like a drunken fratboy. And he was wrong. But if wants to act like nothing happened, I can promise this: any campaign which hires this guy won't get a dime from me, and that won't be a passive act, either. I'll say openly: do not give money to these people until they fire Donnie Fowler or he offers up an apology.



Lets say you happen to employ somebody mentally unstable, maybe you shouldn't. If you freak out on people because you are mentally unstable, maybe you should apologize.
There was no reason for him acting so stupidly

No shit.

One final update: From the comments at BOPNews (Tinheart):
This is just another of Donnie Fowler's failed attempts to connect with other Democrats.
Posted at 09:42 PM in DNC Chair, Democrats, Netroots | Comments (6) | Technorati
Dean: Our Values are More Consistent with Montana Values
Posted by
Bob Brigham
Big weekend for discussions about Democrats' western strategy. From the A.P.:
The Rocky Mountain West, long a Republican stronghold, is fertile ground for Democrats hoping to take back Congress and the White House in coming years, Democratic National Chairman Howard Dean told supporters here Saturday.

Democrats have more in common with Westerners than the GOP, the former Vermont governor said.

They appreciate the free-spirited, independent thinking that dominate states like Montana, and understand the wish for a balanced budget and a strong military, as well as treating soldiers well when they get home, something Dean said the Bush administration has neglected.

"I think we're going to have a very appealing message in the Rocky Mountain West," he said. "We want to be everywhere. We don't think just because George Bush won this state by a lot of votes means that Montana is going to be Republican state forever.

"I think our values are more consistent with Montana values than Republican values are."
A true national party needs a winning strategy everywhere. Expanding infrastructure often yields only modest returns if you are scoring by wins and loses. But we need to get away from milestone evaluations. By moving away from wins and loses, Democrats can focus on a winning strategy every day.
Dean, speaking to about 100 people at a meeting of the DNC's Western States Caucus, continued his call for unity and consistency among Democrats, calling on local and state leaders to rally voters on key issues and no longer allow Republicans to "define our party."

"The Democratic party for too long has been a group of constituencies instead of a party. ... We're going to define our party. I'm not going to let them do it anymore," he said.

Dean's comments drew heavy applause from Democratic leaders representing more than a dozen Western states, as well as several key Montana officials. The audience included state Superintendent of Public Education Linda McCulloch, a handful of state lawmakers, and Senate President Jon Tester, a leading Democratic candidate to unseat U.S. Senate Conrad Burns, R-Mont.
None of us know whether Montana will be a swing state in the 2008 presidential race. But it will be a swing state in the 2006 battle for the senate.
Montana is one of the most cost-effective states when it comes to outside political investment. That is why everyone in D.C. is planning to get involved -- it is cheap, Democrats have the momentum, Jon Tester is a dream candidate, and we need to do better out west.
The 2006 backlash narrative is brewing and it could be a very powerful force during the mid-terms. I'm glad to see the DNC realizing the importance of a western strategy (Governor Dean will be back in Montana on July 16 for the State Party convention in Great Falls).
Win the west. Contribute to Jon Tester:
Posted at 12:47 PM in 2006 Elections, 2006 Elections - Senate, DNC Chair, Democrats, Montana | Technorati
Saturday, June 04, 2005
MT-Sen: Campaign Fundraising for 2006 Senate
Posted by
Bob Brigham
In a discussion on saving Amtrak from Republican attacks, Montana state Senate President Jon Tester commented in the Havre Daily News:
"I think the president misreads the can-do attitude of the people of Montana, particularly those along the northern tier," Tester said.
Bush would be wise not to misunderestimate Montanans, especially not a hi-liner like Jon Tester.
Montana Senator Conrad Burns underestimated a Montana farmer with no name recognition in 2000. That farmer was Brian Schweitzer and Schweitzer almost beat Burns -- even though he only had $2 million to face incumbent Burns' $5 million.
This year, Burns is in such dire straights politically that he thinks he'll need "$8 million to $10 million" to buy a fourth term (after he promised he would only serve 2 terms).
For the life of me, I have no idea what a campaign would have to do to spend $10 million in Montana. Forty bucks a vote? In Montana?
The key isn't to outraise Senator Burns, a credible candidate can run a great campaign with half of that -- I mean, we're talking about Montana. Total saturation will happen...the question is whether Tester will be able to establish himself before the Burns slime operation kicks into high gear.
Everyone who gets to know Tester loves the guy, but he has plenty of room for improvement, according to the editorial board at the Helena Independent Record:
What's it take to get a little recognition in this state? Well, judging by a recent poll conducted for Lee newspapers in Montana, it apparently takes a lot.

The poll included questions designed to measure the name recognition of four prominent Democrats who have announced or are considering running against either Sen. Conrad Burns or House Rep. Denny Rehberg, both Republicans.

Essentially, the response was: "Who?" [...]

Jon Tester, president of the state Senate during the last legislation session and the lawmaker who probably had the most to do with the session's outcome, had 14 percent favorable and 4 percent unfavorable recognition. Sixty-one percent of the voters never heard of the guy.
But the IR also points out the solution:
None of this means that name recognition can't be achieved. Look at Gov. Brian Schweitzer, who came out of political nowhere just half a decade ago and almost upset Burns in his last Senate race.

But it does help us understand why little-known campaign challengers need more than a solid political agenda. To even stand a chance, they need a war chest brimming with gold.
Jon Tester is a Montanan you don't want to underestimate. Thanks to everyone who is helping give Tester the resources to compete against Burns' big money.
Posted at 12:49 PM in 2006 Elections - Senate, Activism, General, Montana | Technorati
Friday, June 03, 2005
DNC E.D. Reaches Out at DailyKos
Posted by
Bob Brigham
New Kos diarist Tom McMahon...
Posted at 07:17 PM in Democrats, Netroots | Technorati
Convio Boycotted
Posted by
Bob Brigham
John Aravosis offers a big "Fuck. You." to Convio. Almost instantly, a boycott is launched and joined.
Atrios: "I think now would be a good time for all good lefty organizations to sever relations with Convio, if there are any. The shitstorm will follow..."
The shitstorm is moving quickly today, Kos piled on 12 minutes later.
Posted at 05:53 PM in Activism | Technorati
WV-Sen: Shelley Moore Capito vs. Senator Robert Byrd Polls
Posted by
Bob Brigham
While some people are worried about the West Virginia 2006 Senate race, I'm fairly confident that Senator Byrd's re-election is looking good. There was a new poll today, but it didn't change my views on the race.
First of all, there was an NRSC poll March 15-16, 2005. N=500 likely voters statewide. MoE ± 4.3. From the subscription-only side of Polling Report:
"If the election for the U.S. Senate were held today and the candidates were Democrat Robert Byrd and Republican Shelly Capito, for whom would you vote?"

Byrd: 52%
Capito: 42%
Unsure: 8%
At the time this came out, I was 102% positive that this Republican poll was trying to make the race appear tighter than it really is. Now compare it to today's poll, RMS Strategies, May 11 & 18, 401 registered-voters (computer automated) MoE ± 4.9:
Byrd 46%
Capito: 43%
Undecided: 11%
So yeah, I'm going to call bullshit. I still think the NRSC poll was overly optimistic and this RMS poll has little value other than as a joke.
Byrd is looking just fine.
Posted at 05:17 PM in 2006 Elections - Senate, West Virginia | Technorati
Democrats: Accountability and Forward Action on Iraq
Posted by
Bob Brigham
From David Sirota:
Maybe it's just the mountain air out here in Montana...but I just can't get over how insulated D.C. pundits can spout off and claim that a handful of Beltway elites should be viewed with the same significance as the millions of people out in the American heartland who constitute the "grassroots." Beyond even the national party's lack of a position on the war issue, this is a classic symbol for what's wrong with many Washington, D.C. insiders who claim to speak for progressives: they look at ordinary people with disdain, while self-importantly pumping up the significance of the elites that they are surrounded with. It is exactly the opposite of what the Republicans do. It is arrogant, it is pathetic, and it is, well, elitist - and it's one of the big reasons national Democrats keep losing elections.
And from Atrios:
At some point the "hawks" are going to have to admit they fucked up. The only credibility they'll lose is with the kool kids klub, but they need to stop caring what they think anyway.
It really sucks that many of the Democrats in DC are back to their 2002 position of ignoring that Iraq exists. They talk as though it isn't happening, that deaths are not occurring, that treasury is not being depleted. Democrats in DC envision Iraq completely off of the table by '08, and that Clinton, Kerry, Edwards, et. al. will be able to run unencumbered from having to discuss Iraq, or face the unpleasentness of having a solution to the occupation-- that there's no need to face their defacto or clearcut support for the occupation.

I don't buy it. Unless the Democrats face the problem with a solution, they have no credibility on the issue. And perhaps worse, for the Democratic Party, the centrists continued denial places liberals and progressives into a position of compromising authenticity to go along with the duplicity. I guess they don't recall Eugene McCarthy or George McGovern anymore. It's because of the Centrist Democrats in the Senate that we are in Iraq. Without their support, we wouldn't be in Iraq right now. They owe it to the Democratic Party to demand of Bush a correction of their error.
The sooner some Democrats admit they fucked up on Iraq, the sooner we can move forward. Bush wasn't the only one to receive bad intelligence, many Democrats fell for faulty political intelligence from certain dipshits in the hawk wing who kept explaining that Democrats would look bad unless they cowardly followed Bush. These assholes are guilty of political malpractice and need to be held accountable.
Atrios is right, they are going to lose some credibility with the Kool Kids Klub, but the rest of the country already knows that they fucked up -- that should worry them more.
Posted at 03:55 PM in Democrats | Technorati
NJ-Gov: Bret Schundler Website Scandal
Posted by
Bob Brigham
Senator Jon Corzine is widely expected to easily win New Jersey's 2005 gubernatorial campaign. Republican odds are long at best, but get even longer when the GOP tricksters get busted fabricating support with photoshop. Idiots.
Posted at 02:43 PM in 2005 Elections, New Jersey, Scandals | Technorati
Bush Backs Down
Posted by
Bob Brigham
Even the Washington Times reports:
A conservative Catholic magazine and think tank that advertised a "White House briefing" in exchange for a hefty contribution was forced to cancel the event yesterday after the White House suddenly backed out of the deal.
Hmmmmm. Pay to play?
Four months after he took the oath of office in 2001, President George W. Bush was the attraction, and the White House the venue, for a fundraiser organized by the alleged perpetrator of the largest billing fraud in the history of corporate lobbying. In May 2001, Jack Abramoff's lobbying client book was worth $4.1 million in annual billing for the Greenberg Traurig law firm. He was a friend of Bush advisor Karl Rove. He was a Bush "Pioneer," delivering at least $100,000 in bundled contributions to the 2000 campaign. He had just concluded his work on the Bush Transition Team as an advisor to the Department of the Interior. He had sent his personal assistant Susan Ralston to the White House to work as Rove's personal assistant. He was a close friend, advisor, and high-dollar fundraiser for the most powerful man in Congress, Tom DeLay. Abramoff was so closely tied to the Bush Administration that he could, and did, charge two of his clients $25,000 for a White House lunch date and a meeting with the President. From the same two clients he took to the White House in May 2001, Abramoff also obtained $2.5 million in contributions for a non-profit foundation he and his wife operated.
Game. Set. Match. Busted.
Posted at 12:45 AM in 2006 Elections | Technorati
Thursday, June 02, 2005
Dems-2008: John Edwards Netroots Outreach
Posted by
Bob Brigham
Over at the The American Prospect, Garance Franke-Ruta lands an important scoop:
John Edwards isn't just taking to blogging like a fish to water over at TPMCafe, he's also doing some pretty serious outreach to those who occupy the new media space more generally. Last night the former vice-presidential candidate had a bunch of the political bloggers over for dinner at his D.C. house, I'm told, to meet with him, his internet team, and his wife. Attendees included: Taegan Goddard, Matt Stoller, Stirling Newberry, Ezra Klein, and Oliver Willis, among others.

Focusing on the blogosphere is a pretty smart way for Edwards to keep his name in print and before the eyes of the mainstream media over the next few years. And with Howard Dean declining an '08 run, there's room for a new player in the blogosphere/new media space that used to be exclusively his. Gaining the loyalty of bloggers -- which is not that hard to do if you just talk to them -- could have implications for Edwards' future fundraising and media strategies, should he decide to run for office again, either nationally or in North Carolina. And it will certainly give him a higher media profile on an ongoing basis if his goal is to be a Democratic Party and issue leader rather than a candidate.
I just finished watching John Edward's first videocast.
Swing State Project focuses a good deal of post-inches looking at the evolving nature of online politics. Tagaris and I both do this professionally and DavidNYC is an old-school leader online, so our passion for cutting-edge tactics ties in perfectly with our focus on the evolving nature of political campaigns.
First on the videocast, I like Edward's podcast efforts more because I think they offer more content, but with a candidate like him, I fully understand why his team is blazing some new ground to get his face attached to his message.
While Edwards fielded a question about online communication and immediately started thinking about the ATM, he recovered nicely by bringing it back to message distribution and interaction. I think he gets it. He realizes that the middleman isn't needed, that instead of pestering the netroots to raise money to pay to distribute message, post-modern campaigns have more latitude to simply distribute message -- focusing on the content rather than paying for the cost of the container.
Now back to the dinner. That is a helluva a group of people to share a table with. Goddard provides an answer before many know the question, Stoller is a fucking genius, Sterling a sage, Klein is a glimpse of what is to come, and Willis is one of the most detail-oriented people to ever keep people focused on the big picture -- some of the best of the best. But as Garance pointed out, it would have been nice for some of the great female voices to be included.
At the end of the day, I don't find it very interesting who Edwards had or didn't have at dinner. I don't find it interesting that he was reaching out to bloggers -- both of the grassroots presidential candidates have figured this out. What I find interesting is that this might get enough play with the inside-the-beltway crowd that politicians who are running for something other than president will follow Edwards leadership and cut out the middleman when it comes to communication.
No matter where you are running, if there are bloggers who write about your district, you should have them over for dinner. While this makes complete sense for the presidential candidates (even their consultants figured this one out), it has been slow to catch on locally.
Looking at the 2008 Democratic Primary, two candidates have really focused on reaching out to the netroots. Democrats running for statewide or federal offices would be wise to rip off the best ideas these two candidates are using. Don't worry, both gentleman want Democrats to succeed and I think would be proud to have you steal their ideas.
The one thing both candidates have realized is that more people will visit other websites than will visit their campaign websites. Tagaris calls this "thinking outside the website" and is a test that quickly shows who gets post-modern communication and who is waiting for fossilization.
The problem is, there aren't enough of us who specialize in this. The smart candidates will have grabbed all of the blog-consulting talent with experience -- by the end of the summer.
So the problem that will face candidates is how to make it without reinventing the wheel -- without being able to hire the people who built the wheel the first time around.
My advice to every Democrat I won't work for is to follow the lead of the grassroots presidential candidates and the bad-ass senate candidate. Hire young people with sound political instincts and reverse engineer the best practices at the national level.
Congressional candidates are building message structures like they are running state-wide, senate candidates are running like they're running for president, and already people are campaigning for 2008. Some know what is going on, some are complete wankers, follow the best of the pack and local campaigns will shine.
But go locally. Plan realizing that Matt Stoller isn't going to have dinner with you. Localization is the key in 2006. Yes, Edwards can nationalize and Jon Tester will nationalize, but for 99% of the candidates the key is localization.
Posted at 11:51 PM in 2008 President - Democrats, Netroots | Comments (1) | Technorati
Ohio: Reform Ohio Now
Posted by
Bob Brigham
From Pounder's DailyKos Diary on a new ballot initiative in Ohio -- Reform Ohio Now:


Campaign Finance Reform. In December 2004, the Ohio legislature increased the amount that large donors can give to politicians from $2,500 to $10,000 and weakened Ohio's century-old ban on corporate contributions. This initiative would lower contribution limits to $1,000 per election cycle for legislative candidates and $2,000 per cycle for statewide candidates, tighten the ban on corporate contributions, and prevent fat cats from skirting the limits by giving contributions through their children. (read the text of this measure here.)
Independent Redistricting. Most elections in Ohio are not competitive because politicians conspire in drawing districts that are handpicked to ensure that either a Democrat or Republican wins in a landslide. This initiative would take the redistricting process out of the hands of partisan incumbents and put this responsibility into a non-partisan commission whose members could not be lobbyists, former politicians, or party leaders. (read the text of this measure here.)
Election reform. Ohio elections are currently administered by the Secretary of State, who is elected in a partisan election. Previous Secretaries of State have Chaired the Campaigns of Presidential candidates and taken other actions that draw into question their impartiality in administering elections. This initiative would create a non-partisan elections board to adminster Ohio elections, ensuring that voters will have confidence in election outcomes. (read the text of this measure here.)

This effort needs VOLUNTEERS to collect signatures, you can sign up to volunteer right here
The corruption in Ohio is disgusting, I like the thought of citizens volunteering to collect signatures to clean up the mess.
Posted at 06:37 PM in Ohio | Comments (2) | Technorati
Scandal: Institute for Politics, Democracy, and the Internet
Posted by
Bob Brigham
Does this sound familiar?
Congress shall make no law respecting an establishment of religion, or prohibiting the free exercise thereof; or abridging the freedom of speech, or of the press; or the right of the people peaceably to assemble, and to petition the Government for a redress of grievances.
Where the fuck does the word "journalist" show up? It doesn't say anything about "fair and balanced" journalism (which is a good thing for Fox) -- instead it says "press". The founding fathers had in mind press including forms such as the Federalist Papers (written under the screen-name 'Publius') which have far more in common with blogs than with the New York Times.
This is but one of the many, many reasons why Carol Darr and the Institute for Politics, Democracy, and the Internet at George Washington University have zero credibility in the battle to attack independent voices on the blogosphere. None. Zip. Students should ask for their money back as they're being taught by idiots.
Posted at 05:52 PM in Netroots, Scandals | Technorati
Democrats: Moving On
Posted by
Bob Brigham
Sooner or later, the Democratic Party will start winning again. I'd prefer the former, actually, I'd prefer tomorrow. We can speed along the modernization process by dropping dead weight, which will happen sooner or later -- again, I'd prefer sooner. In a look at the new TPM Cafe, the most relevant review has been written by Steve Gilliard:
I like Josh, but the place reeks of the odor of Vichy water. You know, it's nice to have John Edwards blog, and I like Big Media Matt, but fuck Ed Kilgore and Marshall Wittman. They are fucking parasites who cause more harm than good to the debate among liberals. It's not my fault that Kilgore's boss doesn't have the balls to change his party enrollment and Wittman is turned off by the fundies, but both of them need to go fuck themselves hard and long.

I do not care about their useless ideas. I can't say that I hold them in the contempt I hold Peter"PNAC Bitch" Beinart, but I have to say, they're the past. The failed past and their ideas reflect the failed past. To listen to them is to take a course in buggy whip construction in 1905. To take their ideas seriously is to embrace failure in all it's glory.
I've always found it ironic that "Democrats" who favor the most agressive foreign policy are usually the most cowardly politically. So far this year, Democrats have gained serious political ground by refusing to compromise -- try as the DLC might to compromise even after we had the upper hand. As the minority party, Democrats need offense, not defense. Democrats do not have the luxury of letting our posture be compromised.
Josh Marshall is a great voice in the Democratic Party and his leadership for Social Security did wonders to bring the party together -- in spite of the DLC. The DLC's mouthpieces may have now have the word "Democrat" next to their names on the voter rolls, but as people read their thoughts on what Democrats should do, people need to remember why they are being paid to write such nonsense.
Posted at 05:31 PM in Democrats | Technorati
NY-Gov: Thomas R. Suozzi to Run
Posted by
Bob Brigham
The New York Times plays the role of trial balloon for Nassau County Executive Tom Suozzi. Steve Gilliard shoots it down:
If Tom Suozzi wants to commit political suicide, that is his right, but he should talk to Andy Cuomo first. Because he almost ruined his career running against Carl McCall.

The best thing for him to do is lay low or run for Lieutenant Governor, not challenge Spitzer, who will club him over his head with his "abortion compromise". Spitzer and NARAL will run him into the ground. While abortion is a toss in New Jersey, a NARAL attack on Suozzi would doom his candidacy. Abortion rights is so important in New York, even the GOP is pro-abortion and there is a seperate Right to Life party.

Suozzi would do well to not let his ambition get ahead of his common sense.

If he thinks Spitzer's support is shallow, I would invite him to test that theory. I think he will find it lacking when he tries it. New York Democrats want someone who is going to fight, not try and make deals. There is NO question about Spitzer's ability to fight. Suozzi seems willing to cut deals. So if he wants to run and get hammered like Dennis Vacco, that is his right. But a wise man would look elsewhere.
Indeed. Elliot Spitzer is a dream candidate and Suozzi should keep his selfish grandstanding in Long Island -- the rest of us have neither the time nor patience.
Posted at 04:37 PM in 2006 Elections - State, New York | Comments (1) | Technorati
Democrats: Harry Reid in Rolling Stone
Posted by
Bob Brigham
I mentioned this yesterday, Democratic Leader Harry Reid is agressively reaching out to young people via Rolling Stone. The full interview shows a refreshing candor -- the type that people respect. Headline, The Gunslinger:
In his first five months as minority leader, Sen. Harry Reid has come out swinging. The soft-spoken Nevadan has called George Bush a "loser," Clarence Thomas an "embarrassment" and Federal Reserve Chairman Alan Greenspan a "political hack." He has held the Democrats together to oppose Bush's plan to privatize Social Security. And he stood up to Majority Leader Bill Frist and other radical Republicans who tried to deploy the "nuclear option" to overturn the Senate tradition of judicial filibusters. In the end, the Republicans blinked first, as seven moderates abandoned Frist to cut a deal with the Democrats on May 23rd. The following day, beneath the portrait of Mark Twain that hangs in his office in the Capitol building, Reid sat down to talk with ROLLING STONE.
Reid takes a look at the 2006 mid-term elections:
What kinds of gains will Democrats make in 2006?

Well, history's on our side. Presidents who have been in Bush's situation have lost from one to thirteen senators. We are going to be competitive in races in Pennsylvania, Montana, Ohio, Rhode Island and Missouri.

Why did Kerry lose, and what do Democrats have to learn from that?

Everybody says it was about values, but I don't buy that. Senator Kerry lost because he ignored rural America. Take Nevada as an example. Ninety-one percent of the registered voters are in Reno and Las Vegas. So you would think that someone who carries those two counties by a nice margin would be the winner. Wrong. Kerry carried those counties -- but he got slaughtered in the other nine percent, where the turnout was huge. The rural vote went five-to-one against Kerry, and he lost the state by two percent. Democrats can no longer win elections in big cities. We have to go to places like Elko and Carson City and Ely and let people know who we are. Until we do that, we're going to continue to lose.
Straight talk goes a long way in rural America. Let's get the people to respect the Democratic Party, then we can worry about asking for their votes.
Posted at 12:01 PM in Democrats | Technorati
CA-48: Chris Cox Out; Open Seat
Posted by
Bob Brigham
California Republican Chris Cox will be leaving behind an Open Seat as he has been tapped for the SEC.
Of course, this seat is Orange County, but it does present Democrats an opportunity for life to imitate art...imitating political life.
This is the seat Sam Seaborn ran for on The West Wing. Viewers will remember that Seaborn took one for the team, serving as a big gun running in an awful district following a strange turn of events.
Seaborn lost, but it is important for us to fight in every district, every cycle -- all of the time. Hollywood is filled with such bigs guns talking about running for Governor or President. Right now, one of these people should can the talk and start working to take back Orange County -- starting with fighting for the California 48th.
Orange County isn't as bad as convention wisdom suggests. Congresswoman Loretta Sanchez calls it home and it has also elected Democrats like Richard T. Hanna and Jerry Patterson.
The trend could also be favorable for Democrats. Red Orange County resulted from Oakies and other midwesterners populating the area, but the current migration patterns of immigrants provided Sanchez her victory and could make the district far more competitive in years to come.
Open seats are targets of opportunity that are critical for a minority party. So let's put the Orange County jokes aside, find a good candidate ready to fight relentlessly, and give the immigrant communities a reason to vote for a Democrat.
Posted at 11:31 AM in 2005 Elections, California, Open Seats, Special Elections | Comments (2) | Technorati
2008 GOP: Aschcroft Not Running, Just Visiting Iowa
Posted by
Bob Brigham
From the Des Moines Register:
Ashcroft, in an interview, said he was not planning to run for president. "I hope (the visit) sends a signal that we understand how important Iowa is to shaping the next presidency," Ashcroft said. "I want to make it clear I'm not running."
Quite a mixed bag. On hand hand this is good news for the Republicans. If you're only as good as your last hurrah, then Ashcroft is still less desirable than a dead guy. On the other hand, this is yet the latest example of the American Taliban's plotting to ensure the GOP nomination goes to the most rabid zealot.
Following the 2006 backlash, the GOP is going to have some serious soul-searching thrust upon them. If the rank-and-file decide to continue their support for a one-party, theocratic government, then the 2006 backlash will quite likely extend through 2008.
Posted at 11:15 AM in 2008 President - Republicans | Technorati
Wednesday, June 01, 2005
Democrat Leader Harry Reid on George Bush
Posted by
Bob Brigham
From Raw Story about an upcoming Rolling Stone interview:
Reid attributes his style (which Rolling Stone refers to as "gunslinger,") in part to his days on the Nevada Gaming Commission. "It allows you to put things in perspective when there aren't bombs in your car, when your kids aren't being taken to school with armed guards, when you don't have to carry a gun every place you go. Those were some very frightening times in my life. In the Senate, I'm not worried about physical pain—just legislative pain."

Reid also sings the praises of some on the other side of the aisle: "The Republicans who signed that [filibuster] agreement, we should put up a statue to them someplace."

Most likely to cause a stir, however, is an exchange that concludes the interview:

RS: You've called Bush a loser.

HR: And a liar.

RS: You apologized for the loser comment.

HR: But never for the liar, have I?

Damn straight. Bush Lied, Soldiers Died.
Posted at 06:39 PM in Democrats | Technorati
Activism: Big Day
Posted by
Bob Brigham
Maybe it is because of the vast left wing conspiracy meetings, (more from AmericaBlog, Atrios, Jerome Armstrong, and plenty more from Oliver Willis), but today has been a big day for activism.
I don't think it is possible to get a good idea what is going on district-by-district without tracking the big moves by the national orgs.
Hence today's posts on Moveon's Fire Tom Delay, Russ Feingold's Progressive Patriots Fund, DFA's Walmart Movie Meetup, and American Progress Action Fund's Drop the Hammer. Anything I left out?
Posted at 06:06 PM in Activism | Technorati
TX-22: Drop the Hammer
Posted by
Bob Brigham
The American Progress Action Fund email update on Drop the Hammer:
Here is what you have accomplished in the Drop the Hammer Campaign so far:

* Action: 20,092 of you have emailed Delay's Corporate backers; hundreds more of you made phone calls; and still more of you helped pick and fund our radio ads that ran in more than 70 markets around the country.
* The Results: 3 of the 5 companies we targeted, American Airlines, Nissan, and Verizon, have announced they will no longer support Tom DeLay's legal defense.
* Still to come: We will continue to keep the pressure on the other two companies: Bacardi and RJR. We urge you to avoid Bacardi and RJR products until these companies publicly end their support for Rep. DeLay's legal defense. Also, we will keep track of any new corporate contributors to DeLay's legal defense fund.
* Action: You sent a total of 7370 letters-to-the-editor calling for the restoration of the House Ethics Rules and an impartial House Ethics Committee; you made hundreds of phone calls to Capitol Hill.
* The Results: The old rules have been restored and a new investigation of DeLay's ethics has been launched. Also, Tom Cole and Lamar Smith - 2 Congressmen with financial ties to Tom DeLay - have removed themselves from the DeLay investigation.
Bacardi and RJR are not operating responsibily -- it is bad business for them to continue throwing money at a corrupt politician.
Posted at 06:05 PM in Texas | Technorati
Walmart Movie
Posted by
Bob Brigham
From David Sirota:
My good friend Robert Greenwald (of Outfoxed fame) today publicly announced that his next documentary will be about Wal-Mart's unpatriotic behavior. Check out information about the movie, see the trailer, and help Robert collect as much information as possible about Wal-Mart.

It's no secret that Wal-Mart sells out average Americans. Though the company executives have always tried to wrap themselves in the flag, those PR efforts have been exposed as total shams. Wal-Mart is one of the big beneficiaries of corporate-written "free" trade deals with China - using those deals to help eliminate U.S. manufacturing jobs and exploit China's slave-like conditions. Not surprisingly, the company is now aggressively lobbying to pass the Central American Free Trade Agreement (CAFTA) - a deal that once again sells out American workers.


Wal-Mart also drives down U.S. wages. It pays its own workers so poorly, in fact, they are among the biggest recipients of welfare. This, at the same time it uses huge campaign contributions to coerce politicians to shower the company with taxpayer handouts.
Now would be a good time to sign up for the June Democracy for America meetup" (from an email):
You can expect to see an exclusive glimpse of an upcoming documentary -- a glimpse that shows you the stakes in the battle to teach the country's largest company about corporate responsibility. And you'll get to see it before anybody else.
See you there.
Posted at 01:44 PM in Activism, Scandals | Technorati
Democrats 2008: Russ Feingold's Progressive Patriots Fund
Posted by
Bob Brigham
U.S. Senator Russ Feingold has launched:
www.ProgressivePatriotsfund.com
Why?
From Senator Feingold:
The Progressive Patriots Fund is dedicated to promoting a progressive reform agenda and supporting candidates across the country.

This organization will enable me to be a part of a larger national effort to build the Democratic Party throughout America. I plan to travel across the country, listen to others, speak out on important issues and advance a progressive reform agenda.

The challenges far too many Americans face every day did not go away with the past election. I will continue to give voice to those who believe we must work to provide health care for all Americans, protect and create jobs, ensure fiscal responsibility, and fight terrorism while also protecting our freedoms.

In both so-called red and blue states, people have a voice that needs to be heard. People in every state want a dialogue that moves beyond the electoral partisan politics and ideology that divide us.

That is why I intend to help begin a dialogue about how we move forward as a country united by the values we share and the challenges we face together.
"Travel across the country"? Very interesting...
Posted at 01:30 PM in 2008 President - Democrats | Technorati
TX-22: Fire Tom DeLay
Posted by
Bob Brigham
From MoveOn PAC:
Fire Tom DeLay

House Republican Majority Leader Rep. Tom DeLay has a pattern of repeated legal and ethical scandals. Yet he remains in one of the most important positions in our government—deciding what legislation Congress considers. Sign our petition to urge Congress to fire Tom DeLay as Majority Leader. Our goal is to top 500,000 petition signers by the end of the month and deliver these petitions to Republican members of Congress and local Republican Parties during the first week in June.
His offenses?
Accepted trips from corporations and later helped kill legislation they opposed

Accepted trips from the lobbyist for a foreign government in violation of House rules

Paid family members more than $500,000 out of campaign contributions

Helped sweatshops in the Mariana Islands at the behest of a lobbyist.

Promised a role in drafting legislation to a corporate donor

Tried to coerce a Congressman for a vote on Medicare

Allegedly used corporate money given to his PAC to finance Texas campaigns in violation of state law

Used Homeland Security resources in a dispute with Democrats in Texas

Diverted funds from a children's charity for lavish celebrations at the Republican convention

Threatened retaliation against interest groups that don't support Republicans

Stacked the House Ethics Committee with representatives who have contributed to his legal defense fund

Crippled the effectiveness of the House Ethics Committee by purging members who had rebuked him

Pushed for a rules change for the House Ethics process that paralyzed the panel

Sought a rule change that would have no longer "required leaders to step aside temporarily if indicted"
Totally corrupted and abusing power to stay in power, Tom DeLay is a disgrace to Congress.
Posted at 01:14 PM in Republicans, Scandals, Texas, Texas | Technorati
MT-Sen: Conrad Burns and Mason-Dixon
Posted by
Bob Brigham
From Kos:
And take a gander at these historical M-D numbers:

May 2000

Burns (R) 54
Schweitzer (D) 30

September 2000

Burns (R) 48
Schweitzer (D) 39

October 23-24, 2000

Burns (R) 45
Schweitzer (D) 44

Final Results, November 2000

Burns (R) 51
Schweitzer (D) 47

Burns starts weaker today, over a year out, than he looked four months before the 2000 election against a then-unknown Schweitzer.
That really puts in perspective the new Mason-Dixon poll. Via Kos:
Mason-Dixon. 5/23-25. MoE 4%. (No trend lines.)

Burns (R) 49
Morrison (D) 34

Burns (R) 50
Tester (D) 26

While I generally don't get involved in primaries, I will be strongly backing John Tester, the MT Senate Majority Leader, in this race. I have no doubt he will win both his primary and the general election come November 2006.
Burns dropped a solid five points during the spring 2005 Republican legislative disaster.
Same poll, trend lines from Mason-Dixon 12/29/2004, 625 self-described voters:
Senator Conrad Burns Job Approval

Approve 59 (64)
Disapprove 39 (33)
I've never had much respect for Mason-Dixon in Montana, so I usually calculate that Dems are actually in better shape than their sample suggests. Regardless, Burns is trouble, especially contrasted with Jon Tester. As the (subscription only) Hotline headlined: MONTANA: Poll Finds What Instinct Already Was Saying, Burns Is Probably Going To Be Vulnerable
Kos also brings up an important point:
Tester's name ID is a mere 39 percent, compared to 69 percent for Morrison and 99 percent for Burns. In a small state like MT, it doesn't cost much to get your name ID up there.
We starting early and have a great candidate, join Swing State Project by helping with an early contribution.
I sent in a small donation, enough that I'm going to stay interested.

Montana is a great pickup possibility for us because of the tiny population, as Kos mentioned. At a little over 900,000, it's smaller than many left-leaning cities and urban counties. For the same power as a California senator, we only have to reach 1/30th the number of voters as in California.
Tester is an ideal western candidate and we have a huge opportunity. TMO won't be the only one to "say interested" in this race. Within months, I fully expect to see long drawn out debates over the Iron Triangle strategy, Reservation registration, and the sign war highway-by-highway.
Posted at 10:10 AM in 2006 Elections - Senate, Activism, Montana | Technorati
June 2005 Archive: